---
Summer 2008
New cross-country rig, Trek EX9:
---
March 24, 2007
Trek Store Toronto is a new Trek Concept Store at the old Sport Swap location on Yonge St., south of Eglinton. They are open now, but the "Grand Opening" is on April 7. Trek Toronto features the full line of Trek, Gary Fisher, Lemond, Bontrager and Nike bikes, parts and apparel, plus the usual plethora of parts and accessories a good bike shop should have. Sport Swap is now located on Bayview Ave., south of Eglinton.
---
September 4, 2006
Labour Day ride, Durham Forest...
---
August 6, 2006
Blue Mountain now has a progression park which includes three drops of varying size (large one shown below), a wallride, and a table top jump with various sizes of jumps.
---
March 20, 2006
Yet more bad news: Mountain Cycle may be no more. Link.
---
January 8, 2006
The End Of An Era: Trail Blazer Cycles closed its doors for good last week. Here is the official message from the owners, as posted on Dropmachine:
A message from Trail Blazer Cycles:
First off we would like to thank everyone for their kind words and support here on Dropmachine.
Due to an unfortunate set of circumstances that were far beyond our control, we were forced to shut down our operations. We will not at this time be discussing the finer details of what led to this regrettable situation, but we will say that the closure was not due to poor sales nor miss-management by the proprietors.
After over 12 years in business at our Danforth Ave. location, we would like to thank all of our loyal customers, racers, and friends for their support, and hope that they will continue their passion for the sport of cycling, as will we.
---
July 20, 2005
Just got back from Whistler. Awesome riding in the Whistler bike park, as usual. Also had the opportunity to ride from the peak of Whistler (pic below, with Blacktusk in the background upper left) down Route 66 to join up to the new Freight Train trail on the Garbanzo expansion. Very cool...
---
July 1, 2005
Been to Blue a few times in the past couple of weeks:
Bike is working awesome...
---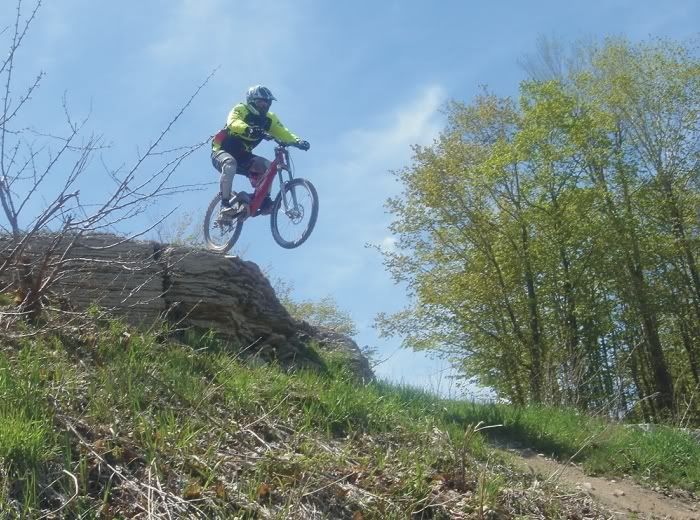 May 20, 2005
Blue Mountain opened this long weekend. We made the trek up there on the Sunday to ride the best lift accissible trails in Southern Ontario. The lineups were larger than they have ever been, but to compensate the management planned to keep the lifts open an hour longer than scheduled. Unfortunately the gondola broke down before the extra hour was done.
This year the trails have been heavily groomed, improved, added to, and new trails have been cut. "Highway" features a new hip jump and two new table top jumps, all in succession. "Showcase" has been buffed up with a set of berms that would make Brian Lopes drool. Unfortunately on this weekend "Autobahn" and "Shot Glass" were closed due to snow, but word has it that they have been heavily worked on, as well. Overall, it looks like it is going to be a great year for Blue and a great year for Ontario riders.
This weekend also marks the first time I was able to ride the new Mountain Cycle in anger. I knew going in that this was a great bike, but in the back of my mind I wondered if the bike would be heavy and sluggish, and possibly feel dead over jumps and drops. My fears were unfounded - the bike is very nimble in the tight twisty singletrack, but very stable and fast on fast open runs. The rock drop above "Highway" (below) was sucked up with buttery smoothness, and the bike sprang off of the new jumps on "Highway" with a nice livelyness. Overall I am blown away by this bike. Two thumbs up...
---
April 18, 2005
It lives! 2005 Mountain Cycle Shockwave 9.5, powdercoated "Team Red" with Romic shock, floating brake system, through-axle rear end, Hayes brakes, XT build kit, Saint cranks, ethirteen chainguide, Da Bomb rear hub, and my old 7" travel 2003 Super T fork.
Now I just have to wait for Blue to open...
---
March 21, 2005
I have made the final decision to order a Mountain Cycle Shockwave 9.5 for this season. I have started collecting parts for this frame (even though I have not quite ordered it yet), starting with a set of Saint cranks and bottom bracket.
I will be ordering the 9.5 in red, as it is the only one of the two or three colours Mountain Cycle offers that is powdercoated, and the powdercoating should be a bit more durable than the annodized finishes they offer (black and I think silver). I am waiting on the price of the brake torque arm before deciding whether the torque arm is worth it.
Next on the list of parts will be a new chain guide (my Mr. Dirt Gizmo is the DH version and is therefore a bit too big. I will need the Freeride version), rear wheel with bolt-on axle, and a set of Saint brakes.
So I now have a Mr. Dirt DH chainguide for sale. I have not decided on price yet, but if you are interested let me know - contact page. I purchased this guide in the middle of last season after my original Mr. Dirt chainguide started to derail the chain. Well, it turns out the reason why my old chainguide was screwing up was that the ISCG mount on the Stab's frame was cracked and was flexing. I decided I still wanted a new chainguide, so I went ahead and bought the new one anyway. I guess I should sell the old one, too. OK, two Mr. Dirt chainguides for sale, one the old style (black) and the one pictured.
Updates as they come...
---
March 10, 2005
Biker Bolts is a new company based out of Ottawa. They provide "a low cost, high quality alternative for hard-to-find replacement bolts and bearings for all types of mountain bikes." Check out their webpage at http://www.bikerbolts.com/
---
Archive of "What's New"
---


Questions? Comments? Click Here...