Why the SiR?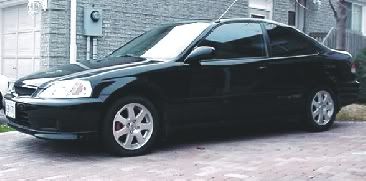 The Honda Civic SiR is a great car, there is no doubt about it. Some people just do not understand it. For maximum enjoyment and fulfilment, one must realize a couple of things about this car.
One is that if you really want to go fast, you need to rev it out and make use of the higer rpm and that silky gearbox whenever possible - you need to downshift if you want to get past traffic now. Sure, if you have a Harley or a V8 Mustang, downshifting is optional. If you have an SiR, it is necessary (but very fun).
Two is that this is essentially an economy compact car. Although I like the interior, especially the SiR's leather steering wheel and shift knob, it is still an economy car interior. I personally can take or leave leather seats, but some people really want 'em, and you can't get leather in the SiR unless your dealer knows a place that can do it aftermarket (a couple of guys at Club Si had this done). To me this is the fundamental difference between the SiR and the GS-R (besides the $7000 price difference): the GS-R interior is nicer, the seats are much nicer (more support), you can get leather (or it is standard - can't remember which), the dash is a bit nicer, etc. etc... That kind of stuff does not bother me, but it does bother some people.
Basically I love this car. It handles great, has decent power, sounds AWESOME above 5500 rpm at WOT, looks great in an understated way, and its a Honda. There are faster cars, and there are cheaper cars, but there are no faster cheaper cars than the SiR. (Update: This was originally written in 2000, when this statement was arguably true. Since then, at least one car has come in faster and cheaper - see "The New Guard" below.)

Driving It
Below 5500 rpm, it feels just like my '94 Si. Above 5500, wow! Yes, I realize it is no torquey V8 off the line, but it rips for a 1.6 litre four cylinder. Again, be prepared to take it to redline and/or shift down when necessary in order to go now. Under normal driving it feels like a regular Civic, which is fine with me - a split personality, if you will...
It handles great - much more neutral than my '94 Si, with much more outright grip. It still pushes (understeers) at the limit, but that can be corrected for those who so desire with a bit of suspension tuning.
The cupholders are absolutely unusable. A serious oversight on the part of the designers of the interior. Do not trust any cups/mugs/containers full of any liquid in these things.
Do not get the factory alarm option. Get an aftermarket of similar value (around $400 if I remember correctly) and you will have a unit with more features that is custom installed. Anyone can get the instructions for the factory alarm and will thus know exactly how it is installed and how it works. A good aftermarket unit will have a custom location for the brain, and features such as multiple/adjustable shock sensors, keyless entry, etc.
If you like the foglights, get them rolled into the price of the car new. Buying them later "feels" so expensive and you would have to take the car in to get them installed unless you do it yourself. I didn't get them and now will have to pay for them in one lump sum ($306.26 plus switch $21.50) but I don't mind installing them myself. Otherwise it will cost up to $100 in labour.
The mudguards are a great investment. The sides of the car do not get nearly as dirty in wet weather with them.
At the very least get the floormats thrown in. I've heard that they come with the car anyway and the dealers try to charge for them. Dunno if this is true, but I was able to get mine thrown in.


The Competition
There are now many cars on the market that can be considered competition in terms of price and performance for the '99-'00 SiR, including its replacements, the 2002-05 SiR hatchback, and the new 2006 Si coupe. Here is a quick rundown of some of them, old and new, and how they stack up (in my personal opinion). When considering price, the new list price is used, not used prices. Accelleration times are the average of what the mainstream automobile magazines are getting for that car. Please remember, these are my personal opinions, and many people, if not most, will not agree. Fact is, these are all great cars, and we are all lucky to live in an era where there are so many affordable sporty cars to choose from.
Contemporaries, 1999
Acura Integra GS-R: shares the same basic chassis as the Civic, only marginally faster than the '99-'00 SiR, but much more expensive. Prestigious brand, more luxury, $7000 premium.
GTI VR6 & 1.8t: far more expensive; soft handling, non-independent rear suspension. VW interiors apparently kick butt, but I would trade that for a lower price tag and/or more performance if I had to choose. 1.8t version has very similar straight-line performance at a higher price than the Civic.
Turbo Beetle: more money, not as good handling, hate the styling.
Impreza 2.5RS: more money, slower (unless traction is limited).
Impreza WRX: a great car, but for $34,900 CDN for the WRX you are in a different price category altogether.
Celica GT-S, Prelude, Eclipse, Type R: far more expensive. Brilliant cars, but $6000 to $9000 more.
Cavalier/Sunfire/Neon: the SiR is faster than all of these, and has a much higher resale value. Very poor quality and reliability, as well. You may pay less to buy one of these, but you may end up paying for it later in repairs, and you certainly won't get nearly as much back when you sell it.
The New Guard, 2002+
SVT Focus: More expensive, possible issues with quality/reliability judging by other South American built Fords. Straight-line performance only marginally better.
Nissan Sentra SE-R Spec V: Non-independent rear suspension will always hobble its handling, and the interior is yeeeeech. However, this car has officially taken the crown of 'fastest/cheapest' over the '99-'00 SiR, at least in straight-line performance.
Acura RSX: more expensive, similar performance. New chassis is said to be brilliant, but some people can't get past the Macpherson struts. Redline is too low, lower end version of VTEC.
Acura RSX Type S: for this kind of money, you could just save a bit more and buy a WRX, but then again, the WRX is overpriced. Hmmm, tough decision...
Civic SiR hatchback: heavier, more expensive, and slower than the '99-'00 SiR. More torque may be more 'driveable', but I'll take better overall accelleration over a bit of off-the-line grunt any day, plus 8000rpm is so much more sweet than 6500. Many people find the styling somewhat ugly.
2006 Civic Si coupe: this car is the real deal: RSX Type S motor with a six-speed LSD equipped transmission for $25,800. Not too sure about the styling, and the chassis is still front Mac-strut equipped, but early reports say this is the true successor to the '99-'00 SiR, and then some.
Mazda Mazdaspeed Protoge: Great handling, great powerplant (if a bit underpowered), great potential for the turbo. More expensive than the SiR, and built in very low numbers, so it would be difficult getting one, or at least getting one for a good price.
Mazda 3: a great package for the money, but slower and heavier than the SiR for those who are more performance-minded.
New Hyundai Tiburon: a beautiful design, and relatively inexpensive when you consider it's a V6, but performance numbers are a little underwhelming.
SRT-4: very limited numbers built, dealers charging a premium over list (which is higher than the SiR), and suffers from a similar stigma to the Tiburon - "it's still a Neon". But I would love to try one out, just for fun. A visit to the SRT4 forum shows quite a few quality and reliability issues, as well.
Mitsu Lancer EVO: if they finally bring it to Canada, I'm taking a second job so I can afford one. Please, Mitsubishi, Canada needs this car.
WRX STi: a whole different league in terms of price and performance, but I would take one any day.
Scion TC: named after Magnum's helicopter pilot buddy? Looks like a great car, if a bit heavy and underpowered. Not available in Canada, yet. If it does come, it's price tag will make all the difference.
Questions? Comments? ---> Click Here <---