Meus grandes AMIGOS
My best FRIENDS

O que é a vida sem amigos? Na verdade um dos valores (se não o maior valor) da cultura Brasileira é a amizade. Como já dizia o velho poeta "Mais vale amigo na praça que dinheiro na caixa".



What's life without friends? In Brazilian culture, friends are the most valuable things. The popular saying "Time is money" does not hold in Brazil, because always spending time with friends is more important than making money.

Aquí esta o Paulo Alfredo sua esposa Lurdinha, e seu filho Daniel.




These are Michael and Melissa at my house.
Antonio "Polaco", Amy e Daniella.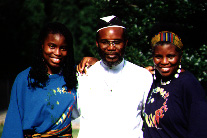 The Healing Force.
Esta é a ANGELA BASSETT. Para os que não a conhecem ela é uma atriz famosa de Hollywood. Ela trabalhou em filmes como: What's Love Got To Do With It?; Waiting To Exhale; How Stella Got Her Groove Back, etc.
I also have some famous friends like Angela Bassett, who has starred in many films.

Mr. Mair, Paqueco, and Reba.

My New Friends


This will take you to the Meetup page of my adventures group. Esta link vai lhe levar para a página do meu grupo de aventuras.