Updated Last: September 10th, 2009


Ch. Foxfire's Star Fleet Commander
Best Of Breed winner from the classes over
top ranked specials, breeder/owner handled!
BREEDING PLANNED FOR FALL/WINTER
WE HAVE PUPPIES AVAILABLE NOW!!
Here at FoxFire Kennels we are striving for correct structure and temperament but we firmly believe in the all around dog. One that can not only be your family companion, but can also compete successfully in obedience, conformation, agility and anywhere else. We feel that the AmStaff should be more than just a show dog, but also a working dog. There are far too many other breeds out there that have become nothing but show dogs, for example: Labrador Retrievers that don't have the instinct to retrieve or Border Collies that don't have the instinct to herd. We feel that this is a total waste of the dog as a breed in whole. AmStaffs can do anything that you ask of them as they are so willing to please their owners and are highly intelligent. There is a great deal of fun in competing with your dog in agility or obedience and it shows just how universal and intelligent AmStaffs really are. We were very careful in the selection of our current dogs and feel that we have some of the best bloodlines around.
**NEWS FLASH**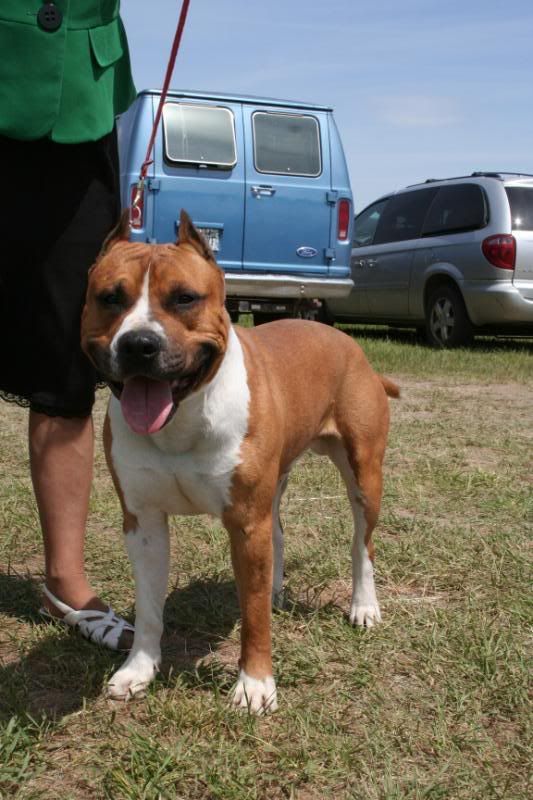 Ch. Matrix's Look Me Over
Our Stoney finishes his AKC Championship title with two 4 point majors and one 3 point major - owner handled!



Ch. Wizage Cosmopolitan Cherry, OFAf/el

July 12, 2009 under judge W M Clouss, our Cherry finishes her AKC Championship
title with a 4 point major, going Best Opposite Sex - handled by Amanda Reichelt.

Championship photos of both Stoney & Cherry soon to follow...

Copyright © FoxFire Kennels 2001-2009.
No photographs within this web site or any of it's pages may be copied, posted, downloaded, uploaded or used in any way, shape or form without written permission from the web site owner & the photographer.Violaters will be prosecuted to the fullest extent of the law.