<!!-----------------------about!!------->
ABOUT

Best viewed:
Internet Explorer
1024x768


Hover over pictures for captions. Homebound © Gio Dionisio. 4B2008. All Rights Reserved.
<!!-----------------------content!!----->
PRAYER

Kuya Jess,
Help us to remember all that we've gone through, all the paths and roads, all the highs and lows. Guide us through each step, each stop, and each visit. Send us Your Spirit so we may be enlightened to see and observe. Give us the strength to carry on in all our journeys. Give us the courage and determination to go on despite our troubles. Help us to see you during these travels. In the grubby faces of the deprived. In the sullied shanties and streets. In the simple joys of friendship. In the beauty and value of a song. In ourselves and in others.
Share with us Your Grace so we may grasp the truth and beauty of all that You have given us. Help us to live out a life full of You. Teach us, through all our journeys and visits, to go through them with the passion of Your Love.
Shelter us from the rains of sorrow. Take away our fears and our pain. Feed us with your constant fruits of life. Cover us with the robes of family and love.
Thank You for giving us all these and more.
Show us the way to You, our Home.
Amen.


LESSONS
Many things are taught in class, but these droning classroom lectures could not have prepared me for the slap-in-the-face experience I had just a few days ago.
School is meant for learning and it's commonly said that teachers learn from their students, too. Perhaps not necessarily in the same way their students learn from them, but they learn nonetheless. Tulong Dunong offers the chance for us students to possibly experience this learning as teachers. At first TD seemed like another grueling school requirement, but I've grown to understand and appreciate it. Visiting the kids weekly to tutor them truly opened my eyes. More than once, I've tried to check myself if I have learned anything yet as a teacher. I would often say to myself that I had learned something; I'd smile in the jeep on the way back to Ateneo, and I'd be glad. However, I felt that I somehow forced myself to do this as I would think of the most trivial of 'lessons' I could have possibly picked up from my students. Although, as of a few days ago, there is no doubt left in my mind for I have never learned more from any school activity and I have never had a more humbling experience than the Home Visit. Now, I can honestly say with conviction that, yes, teachers do learn from their students.
I picked up plenty of values from my one-day journey, and these are just some that rise to the forefront.
Patience.
I was waiting for my kids to arrive in the morning for around an hour and a half, before I set off with only three of my students. The others had not given reply slips, but they did say they would come in the morning, so I had to wait to make sure they weren't arriving at all. Besides, waiting wasn't a chore because I was talking cheerfully to my kids who were already there, who had waited for me previously. Angela said she had been waiting for an hour before I arrived, and I expressed my guilt, but she merely shrugged it off saying there were others and she wasn't bored. Also, she said she was sort of used to it since her father worked as the security guard in Nangka and she often waited for him before going Home, despite her house being less than a block away. Throughout the Home Visit, I saw how the kids were so patient with me even though I was being fussy at times and I had a lot of questions since the whole environment truly was so unfamiliar to me. They all waited while I spoke to each of their parents. Patience seems to be a product of their lifestyle, and sometimes I wish I could have the same patience that they've showed me. I hope I can sometimes just stop and take in everything as they do.
Perseverance.
The whole journey was one of extreme perseverance, to be honest. I personally do not get much exercise, and walking everywhere took a toll on my legs and feet. Each Home to me became like a welcome pit stop, a break from all the walking. And as much as I refused to accept any food, their families would always serve me some biscuits and RC Cola, something I had previously never even tasted since I don't drink softdrinks in general. I was awed, though, at how effortless it seemed for my kids. They never did complain about how much walking we were doing. Again it seems to be a product of their established situation, and they really have this perseverance that they need to face problems that they may be experiencing. They don't give up and in fact do every task with a smile on their face. I am humbled by this fortitude and I saw that with things, truly a little goes a long way, and if I keep on, there is no limit to what I could achieve.
Humility.
I saw this not only in my kids, but in myself. Since the beginning, my TD kids were always very courteous to me, of course, and they were very unassuming. They would openly share with me how they lived and they sometimes mentioned how embarrassing it would be for me to visit, so naturally, I was quite humble going into the Home Visit to begin with. The experience definitely brought me further down-to-earth as I saw and encountered firsthand the plight of their poverty. They showed me things that one should be truly proud of, such as their community and work. The values they possessed and virtues they exhibited. While we visited each Home, I constantly reminded myself and them how they shouldn't treat me much differently because I had come as a teacher and friend, regardless of my context. Simplicity in all things and modesty truly reigned and I was glad to feel these things.
Family.
I felt fortunate to be introduced to the families of my kids, and talking to the parents warmed my heart. They spoke about their children and their family and the troubles they had to go through on a daily basis, some even spoke of me being in the Ateneo, and they made the difference between Ateneo and Nangka clear. I suppose they would always see my expression and how this unsettled me, so they would always laugh about it soon after and even joke about it. Deep inside, though, I was being reminded of my own fortune and how they were so unfortunate. Seeing the parents with their children really touched me, because I could see the deep love and intimacy they had as a family. I learned how my kids were at Home, how they would help out with their baby siblings, perhaps, or do some laundry, and in the back of my head, I was thinking of how they did all these things and still came to class prepared, which is more than I can say for myself. The importance of family is so clear and apparent in their community, and I am also glad that I am blessed with a wonderful loving family.
Friends.
One of the things that struck me was how my classmates' kids so easily joined my own group of kids as we were walking around. Furthermore, every so often, as we were walking, my kids would walk a bit off to greet their friends around the community, and they were everywhere. We even stopped by a few houses that were not initially on our route, just because they wanted to say hi. As we were walking along the streets, my kids would point out houses and tell me who lived there, and would start saying stories about them. This made me laugh, but as I think about it, it amazes me how tight their community really is and how they are all bonded by a forceful friendship, a solid camaraderie. Once more, they made me appreciate more my own friends who are always there for me and care for me so much.
Home.
I know it's cliché, but Home is where the heart is.
Homebound.
That's where we were going, that's where I was heading. I was Homebound. No, not to my house back in Quezon City. I was on my way Home, and I didn't even realize it until further during the journey.
"Ito na po ang aming munting tahanan," the parents would tell me, even using a word of politeness reserved usually for elders. I could translate it roughly to "Welcome to our humble abode," but they seem to resound differently and mean such distant things. We were taught in class the meaning of tahanan, a place where crying stops. This was their Home. It was more than a house. In fact, for most of my kids, their parents would admit that they did not live in much a house. This fact bothered me, but my trepidation would be dissolved by seeing that it didn't matter, by realizing that what was important was Home.
These kids were at Home not only in their own houses, but with their community, their school, their friends, with me even, and their beautiful families.
It seems like the lesson of Home is not one I should've learned from this experience. It should be something I already know, but I can't deny that the Home Visit further enlightened me, made me appreciate my own, and helped me realize the unmatched significance of
Home
.
REFLECTION
With full knowledge of its triteness, I have to start with this:
Home is where the heart is
.
The Home Visit began early in the morning. I woke up early, anticipating the long day ahead. I took my usual long bath and prepared myself, having breakfast. I kissed my parents goodbye and got in the car headed for Nangka Elementary. Even if I had left at 7.00am, I still arrived in Nangka at around 8.30 since I have a poor sense of direction and we got lost on the way there. When I arrived, I noticed only one of my kids was there, Angela. She mentioned she was there since 7.30 along with a lot of the other kids, but most of them had already gone with their tutors. I apologized for my tardiness, but she immediately assured me it was no problem. My other two kids, Lovely Jane, and Mary Angeline arrived minutes later. I asked where the other three were, and they quickly responded that Dharen was ill with fever. The others, though, they were unsure of so I decided we should stay first and wait in case they would arrive.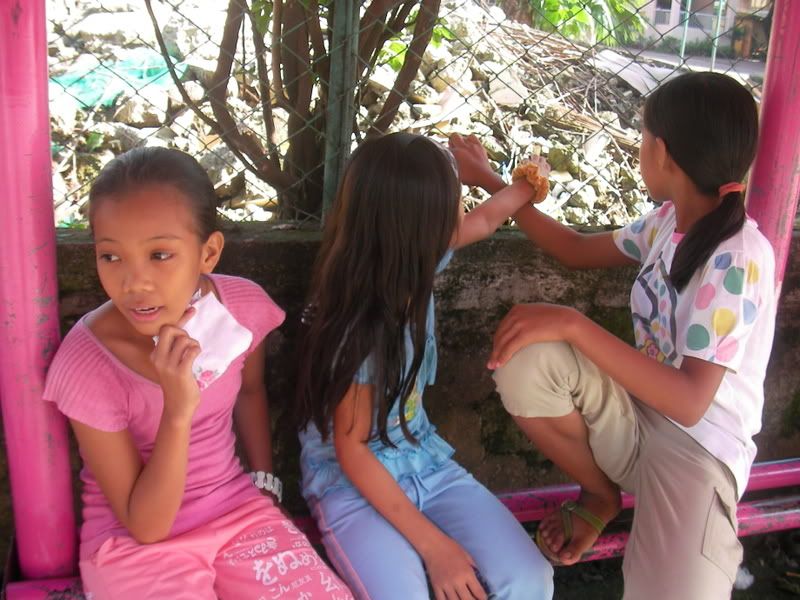 It was during this waiting that another kid, Analiza, came up to us and started asking me about her tutors, Kevin and Jobim. I promptly called them and found out that they had scheduled their Visit for the afternoon. When I told her this, she laughed about it, but instead of continuing Home to wait for them in the afternoon, she asked me if she could go with me and my kids first. I smiled and agreed, so we were then four waiting for my other kids to arrive.
At around 10.00, we decided to just leave since none of my other kids came, but I first asked them if they knew where their classmates lived, and they all did, so we resolved that we would still pass by their Homes to at least check on them.
So, with my three kids plus one, the journey began.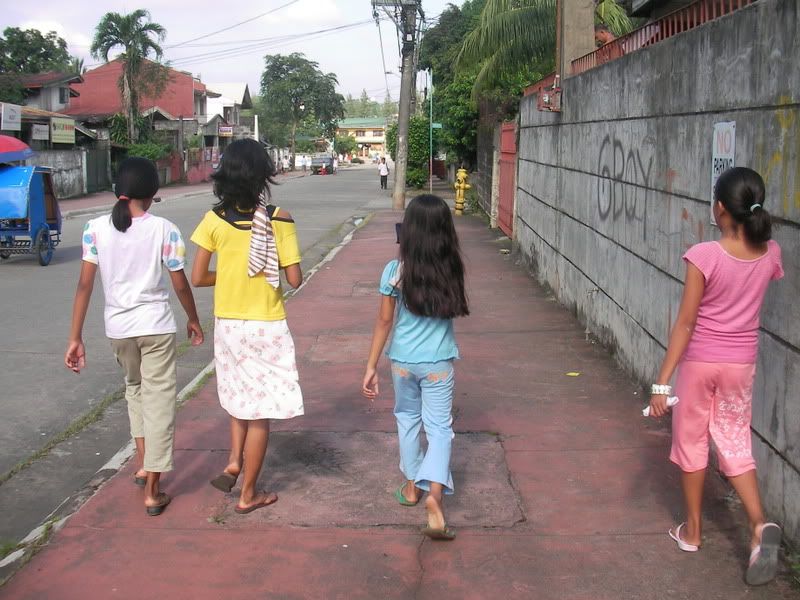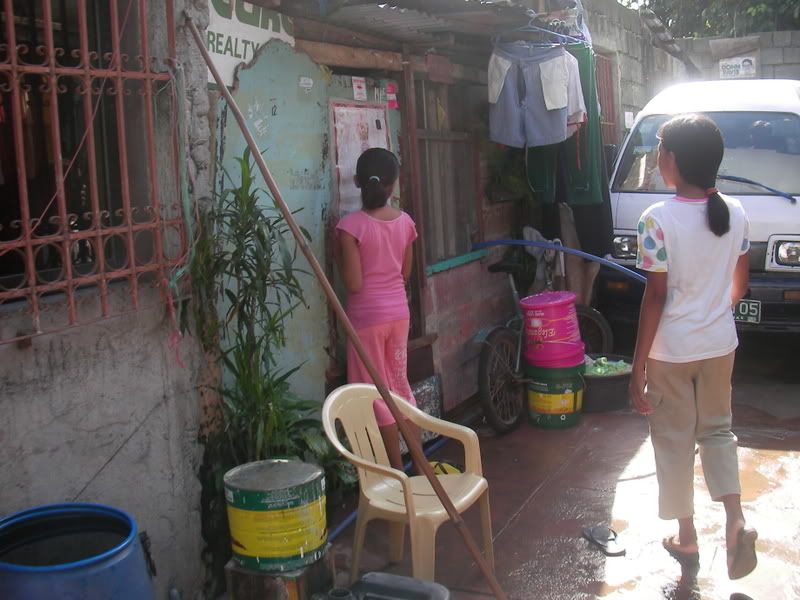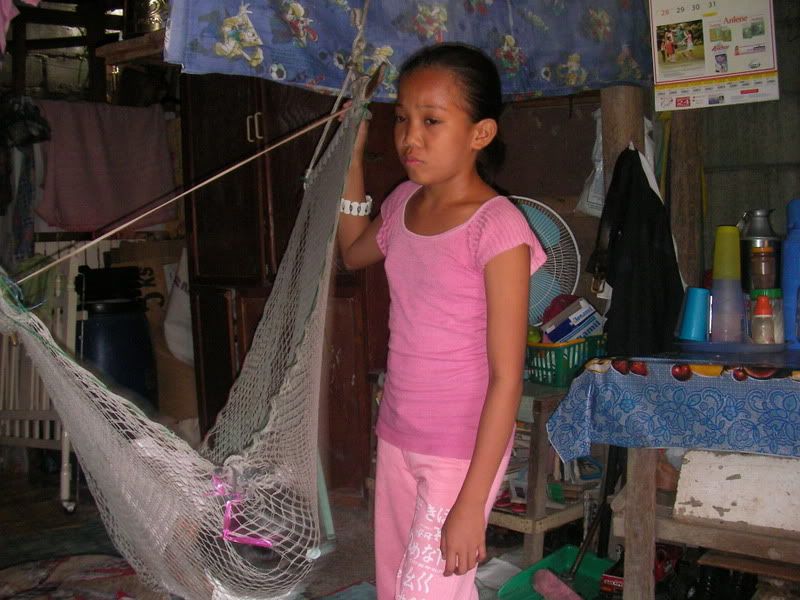 Angela was first since she lived the nearest. Upon arriving at her Home, her father greeted me, saying he recognized me since he was the security guard at Nangka Elementary. I greeted him politely and went inside where Angela's mother was swinging her youngest daughter in a makeshift hammock. We had a short chat about their family and current living situation. Their water supply was very minimal and their daughters needed to take only very quick baths to save water. Also, there had been a problem with their electricity since they were only sharing, and something occurred that they had to pay more even if the other family was the one who used more. Soon, her husband joined us and we started talking some more.
One interesting thing about my first Home visited was the little book Angela's father showed me. He said it was something from a seminar held in the Ateneo. It was about children's education and public schooling in the Philippines. He spoke very passionately about his children's education, and even got slightly teary-eyed, which immediately tugged at my own tear-strings. He expressed his appreciation for the TD program and how of all his children, Angela seemed to be one of the more appreciative of school and I reasserted this with her exceptional performance during tutoring sessions. Both parents were very grateful for my visit, and our conversation ended as Angela's mother had to do some groceries and her father had other business to attend to. I was then unable to take a picture of them with Angela, but nonetheless, the first Home was already so moving, I didn't know what more to expect.
On the way to the next Home, we passed by Dharen, who lived in a quaint concrete two-story house, the first floor of which was a sort of open area where people were singing on a Videoke machine. My students started shouting from outside to Dharen who was resting upstairs. I insisted they stop and we move on, but it didn't take more than a couple seconds before Dharen popped her head out the window and said hello. She apologized for being sick and she said that she had to rest so our visit was very short-lived. I appreciated that we still passed by, though, and Dharen seemed to be glad to see us, too.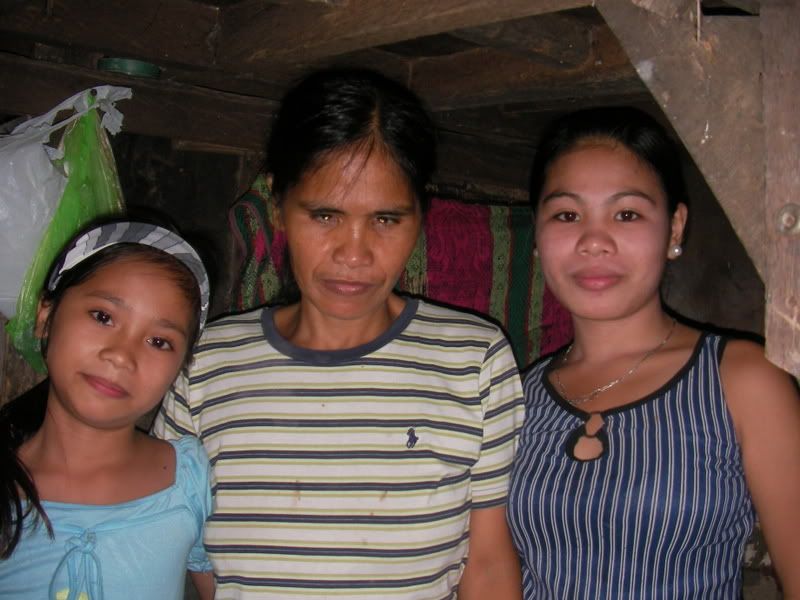 Our next stop was Mary Angeline, who had the smallest of all the houses. Her mother was outside, doing laundry with her other daughter, Angeline's older sister, when we arrived. When she saw us coming, she stopped and smiled, ushered me in and we started talking about her brilliant daughter.
Angeline is the most inquisitive in class, something which I told her mother. She is the most animated and always asks questions unlike the others who are quieter when it comes to lectures. We talked about her life as a single mother of two, and how they were a very close family. They would often visit her mother who lived a few houses down their street. She spoke of her daughters with such pride and love that I was stirred. She made her living mostly on doing laundry, and she was saying how she tried her hardest to give Angeline so much because she personally had an even poorer childhood. She constantly mentioned her desire to raise her daughters in a supportive environment of love and care; I assured her she had achieved it.
We left Mary Angeline's Home, but stopped by her grandmother who lived almost next door. Her grandmother also worked on laundry despite her old age. I exchanged a few words and we were then on our way.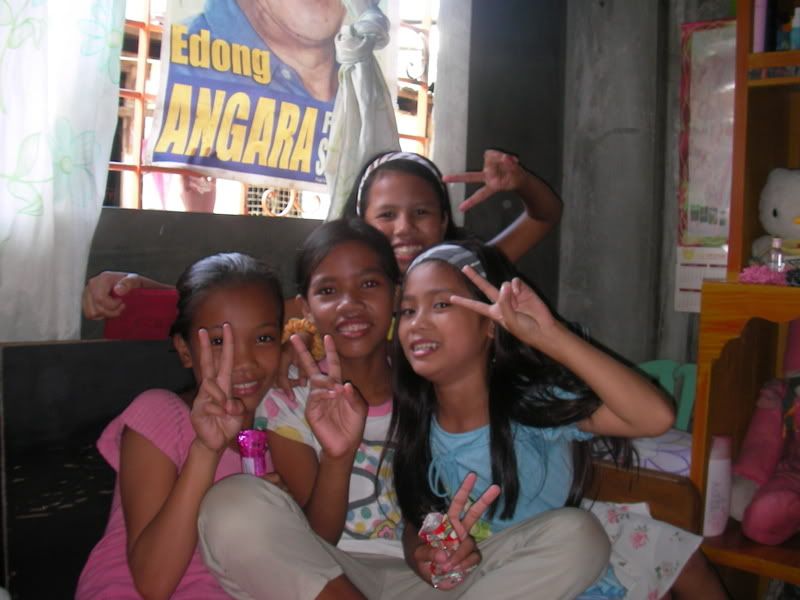 Our next stop was Lovely Jane's Home, but they told me that my other student, Analyn, lived closer by and that we should visit, so we did. Upon arriving at Analyn's Home, fronted by a sari-sari store, her sister greeted us and called Analyn down to see us. Analyn then invited us inside to watch television. My kids were all so happy to see her and they cheerfully chatted on as Analyn's sister brought us some RC Cola and chocolate biscuits to snack on. She told me that their parents were out for the day and insisted I stay for a bit longer than I had planned. From that point on, Analyn came along with us for the rest of the trip.
Lovely Jane was next, but the distance between her house and Analyn's was quite large so we were walking under the sun for what seemed like an hour. On the way, I saw my other classmates pass by talking with their kids and partners. It was then that I thought about how I was alone, but I was enjoying myself as they did just being with my own students. They all seemed tired, and I could feel my legs were also very heavy, but I looked to my kids who were very nonchalant and didn't mind at all, so I disregarded my tired limbs and walked on.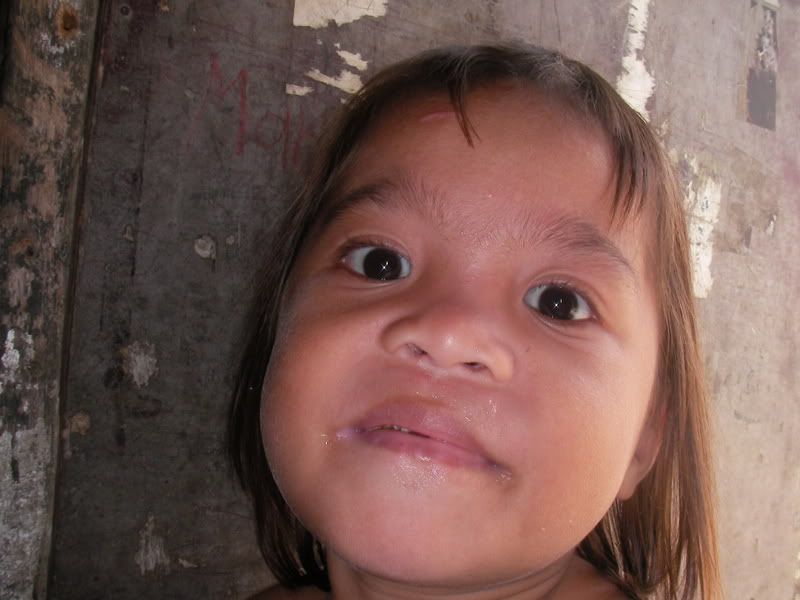 When we finally arrived, standing at the door was Lovely's mother, with Lovely's younger sister by her side. When she saw her, she walked carefully towards us, and Lovely Jane then crouched down to carry her on her shoulder. She was particularly fond of my camera and insisted I take a picture of her as she stared intently at the curious thing.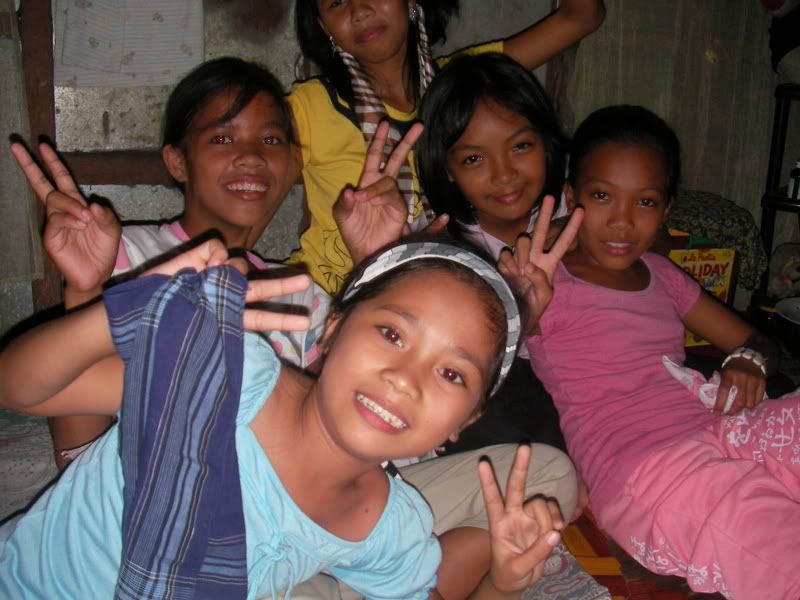 The first thing I mentioned to Lovely Jane's mother was how she was a silent worker, putting up a very casual façade, but actually performing astoundingly in class. She was one of those who constantly got good grades, even if she was very lax in class and her projects were submitted late. She smiled in acknowledgment and told me about her daughter.
Lovely Jane mostly worked around their house, helping with chores and taking care of the two younger sisters she had, the other an infant. Since Lovely's father was usually out working also, her mother was alone with household tasks and Lovely Jane would always volunteer to help her out. She even once took care of her own mother when she had a terrible fever, something which usually happens the other way around. This discipline and responsibility moved me.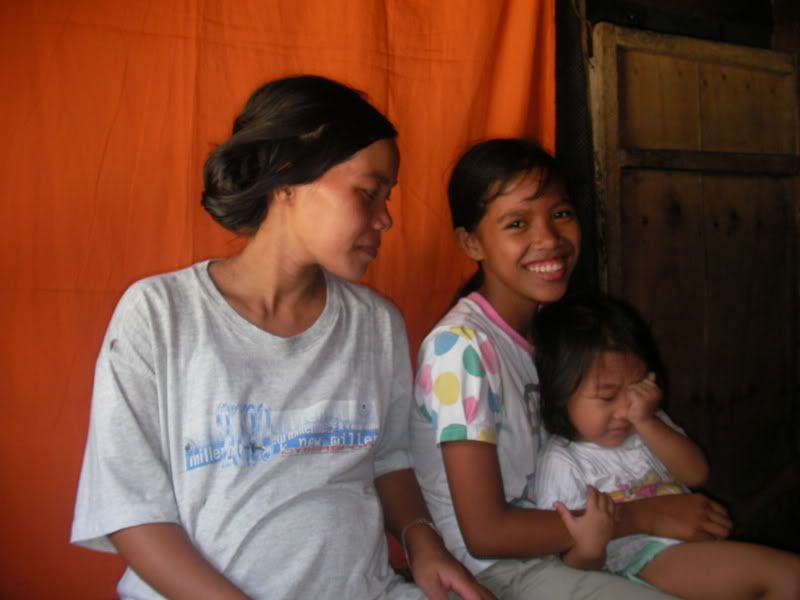 After a while, my kids came in saying they wanted to start walking again. Apparently, I was enjoying sitting down a bit too much and took a little longer than earlier with just sitting.
I then stood up and set out for our next destination.
Although she was not my own student, Analiza offered to bring me to their Home, and in fact was very adamant about it, not taking "No" for an answer. My kids wholeheartedly agreed to this so we started for her Home.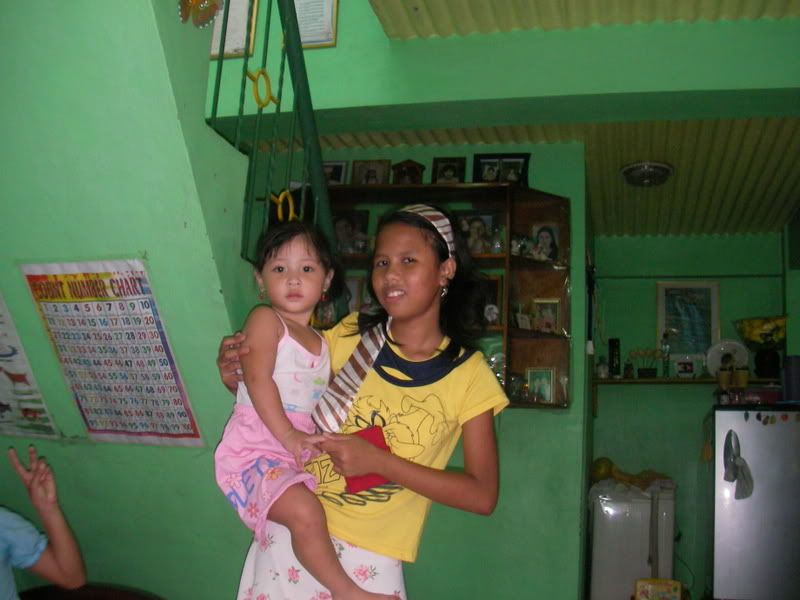 When we got their, her mother immediately offered me some snacks and RC Cola even if I had already said I don't want any. I told her that I was not her daughter's tutor and that Kevin and Jobim would actually be arriving later on in the day. She said she didn't mind at all and was glad I visited anyway. She was grateful that I took Analiza with us, too.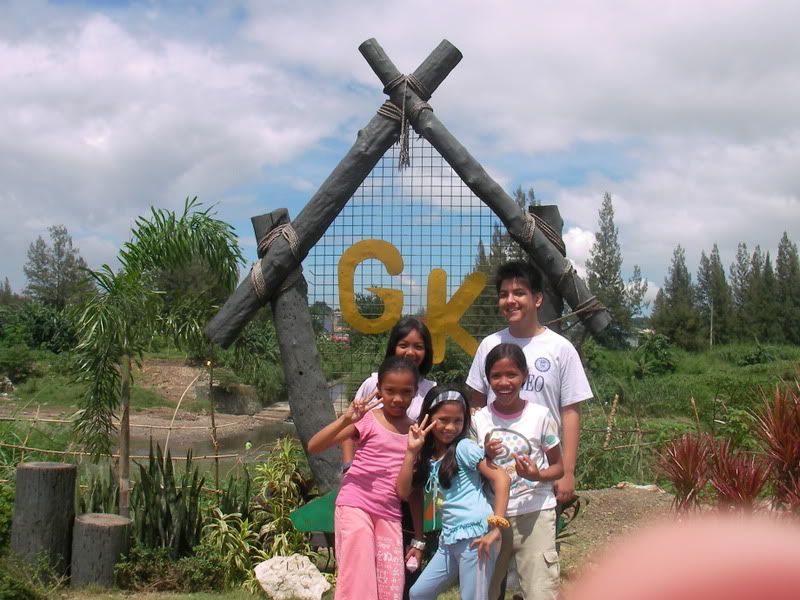 After that visit, we were seemingly done for the day since they had earlier told me that Clauderine lived in a whole different community too far away and that none of them actually knew where, so visiting her was out of the question. We walked back to Nangka, and I bought the kids some cupcakes and cookies and ice candy and drinks, which I partook in as well. It was lunchtime, and even if I had preferred to go to, say, Jollibee, my kids said they would rather just stay there and enjoy romping around. I told them that I should be leaving soon, but they told me to stay with them longer to go around some more, so I did. We took some pictures, too, and cheerfully went on with ourselves. Analiza asked if I could stay with her wait for Kevin and Jobim to arrive, and I agreed. We decided to wait around in the court area where we hold our tutoring.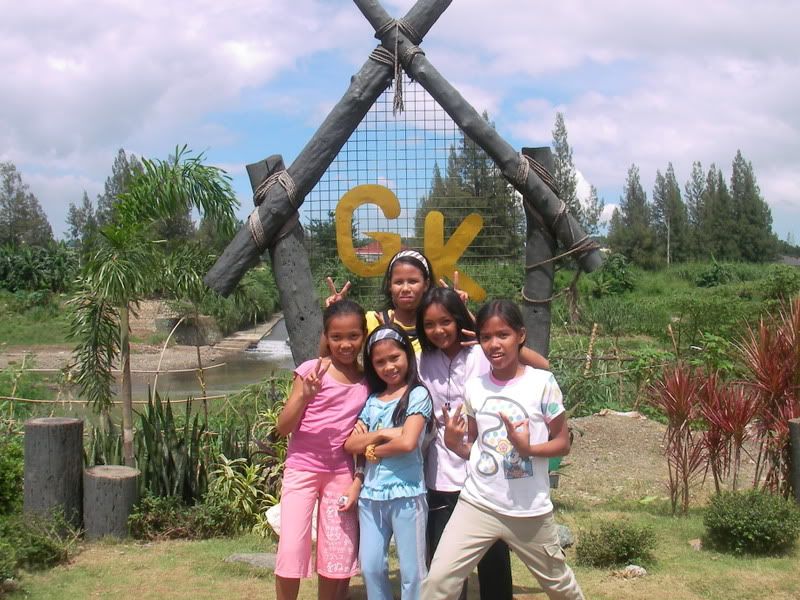 As I was sitting in the covered courts, my kids were playing around and were eventually joined by three others, the students of Jerht and Patrick. After talking to them for a bit, I mentioned Clauderine, who was the only one I hadn't visited, and one of them replied that she knew the way and offered to bring us there.
Without much question, I happily approved, still feeling completely inspired by all the previous visits.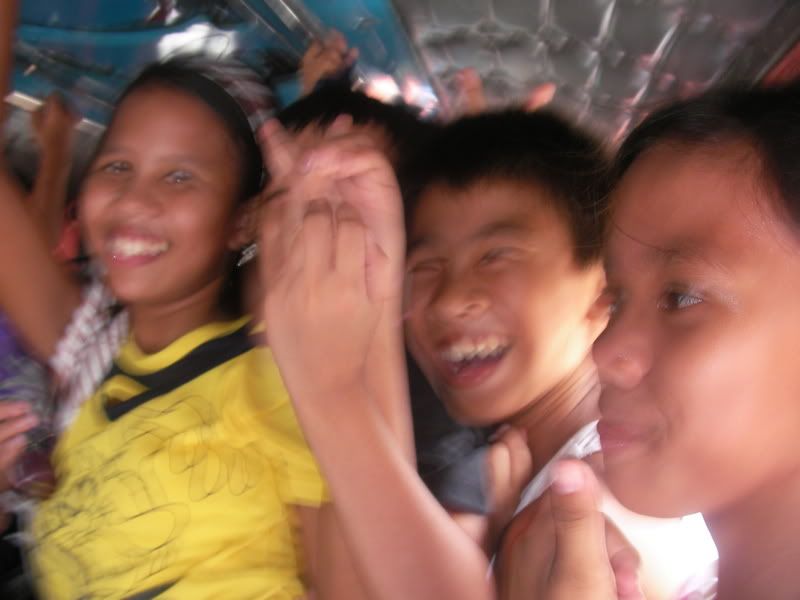 The trip to Clauderine's Home was the longest of all. None of us realized that she really did live that far, and even Jerht and Patrick's student who was leading us admitted she was sort of lost for a while. To get there, we had to take a jeep; in fact, we got off at the wrong stop, which ended up making our trip much longer than it should have been since we got lost more than twice, and we kept going around in different directions. The walk to Clauderine's Home was so tiresome, and we often questioned whether or not we were on the right track. After around two hours of walking, we were all quite at wit's end. Fortunately, the girl who was leading us recognized Clauderine's father, a tricycle driver, and when he drove by, she stopped him over and told him what was happening. Upon hearing, he told me and three of my kids to ride along as he was on the way Home anyway. The others said they could continue on walking because there was no room for them in the tricycle.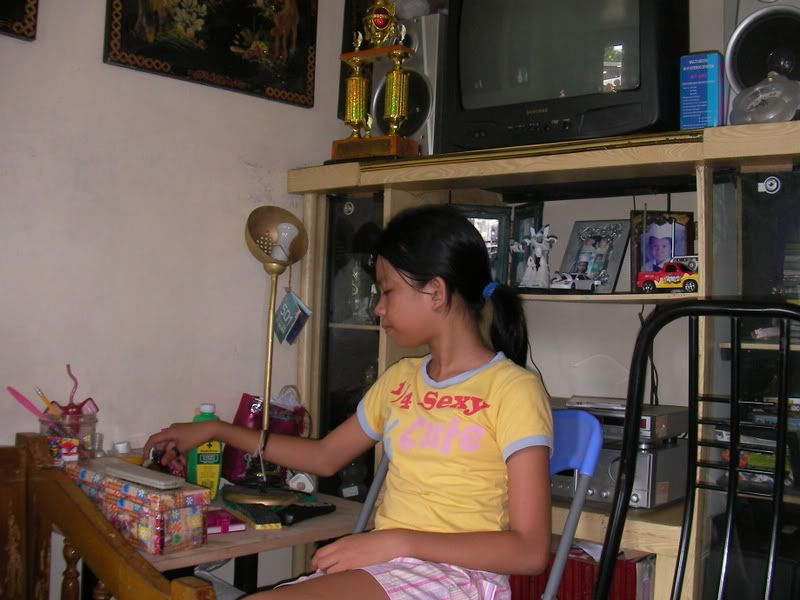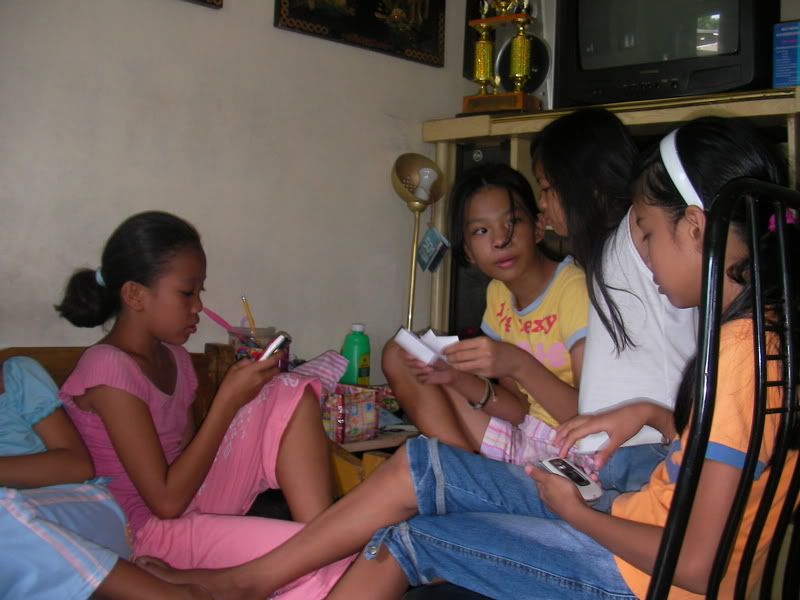 At last, we arrived in Clauderine's house, greeted by a very surprised Clauderine. She conveyed her being sorry and that she had forgotten about the Home Visit entirely. I said it was okay, and we were there anyway.
This last Home proved to be the most enjoyable to the children. Clauderine had the most well-furnished house, having even a desktop computer and internet access. Her parents were only there a while to offer us sandwiches and RC Cola, and I thanked them much before they left to do some groceries.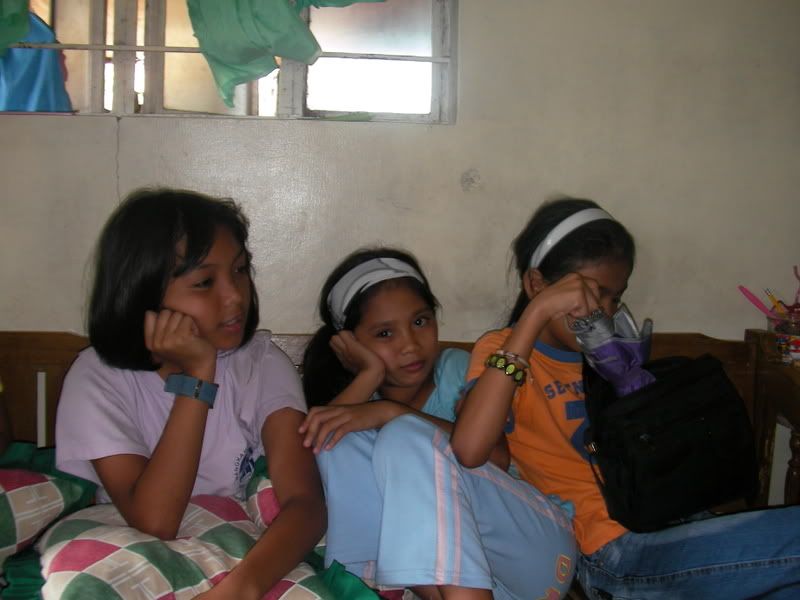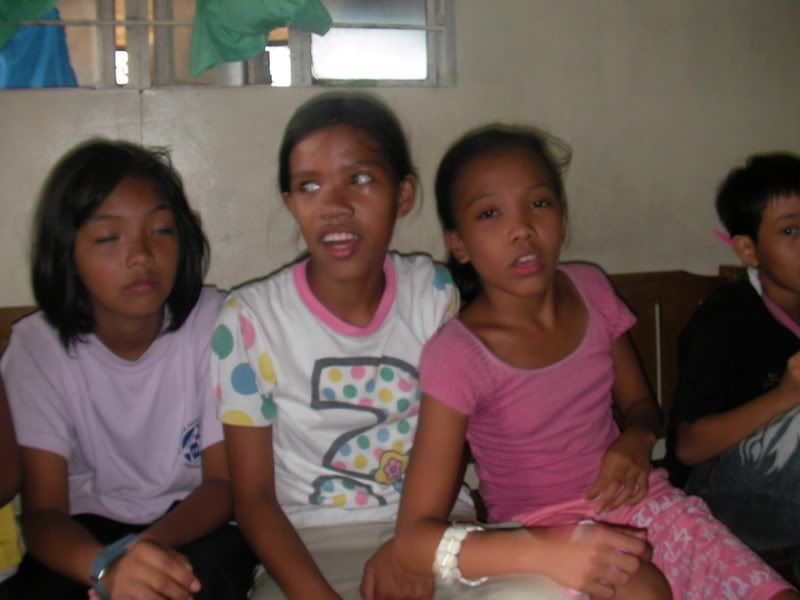 While there, we all were pleased and happy, talking and laughing, even dancing and playing. At around 3.00pm, I remembered Analiza and how her tutors, Kevin and Jobim, would be arriving in Nangka soon. I said we had to start going back, but they told me how it would be too late since the walk there was very long. Clauderine appeased us, saying her mother could take us back properly, and she would also join. She sent her mother a text message telling her about it and we were all glad. Everyone continued in the fun for a bit longer before Clauderine's mother arrived with a couple of bags of groceries. She promptly led us all outside to start walking out. Apparently, there was a nearby jeepney stop and we thus saved a lot of time by going straight to Nangka.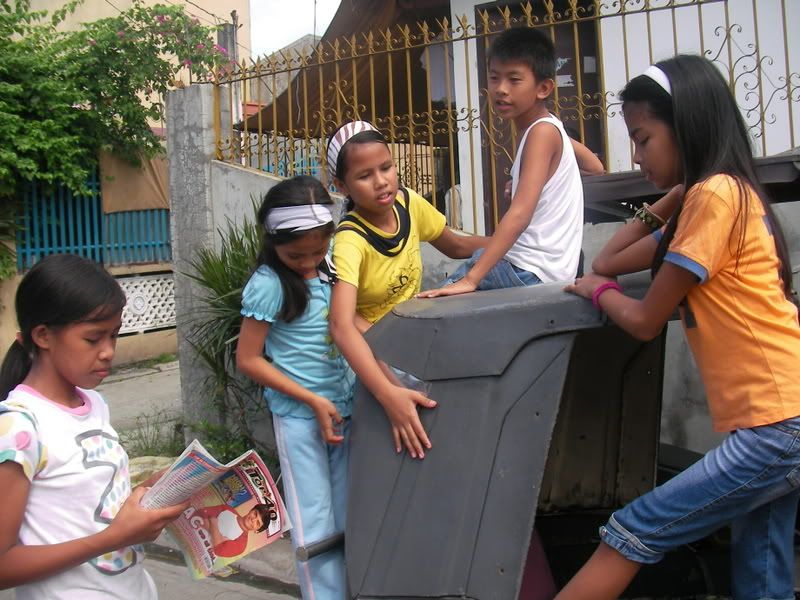 We arrived at around 4.30, which was too late for Analiza to meet with her tutors, so I offered to find them. I called them and asked where they were. Eventually, we were able to catch them at one of their students' Homes. Kevin and Jobim invited me to come with them since they were only going to a few last Homes. We all went together and I was happy to have their company after a long day of being with my kids alone.
When we were done, we all went back to Nangka, bought some snacks and sat around a while. Kevin and Jobim left soon after, and I was alone with my own kids, and Jerht and Patrick's kids.
I saw Jerht waiting and I started talking with him about his day, and his kids also said hello and teased him about them being with me instead of him. As Jerht and I were talking, our kids were playing, and one of them got into an accident. One of Jerht's boys got injured and we had to bring him Home.
So, once again, I set off again.
When it started to get dark, and I was exhausted as well, I told my kids that we should all start heading Home, me included. I said I would walk them all back home, but they empathized with me and said they could go home by themselves, and that it would be easier and faster for everyone to go their separate ways.
I said my goodbyes and words of thanks to everyone as I walked with them to the first lane. Everyone then started walking away, Homebound, and I too started back.
I sat at the waiting shed for so long, just thinking. It was dusk when Patrick and Pach arrived, and much of what followed is mostly hazy. I was exhausted physically, mentally, spiritually, yet I couldn't stop thinking of so many things.
I felt reality start creeping in when we were in the FX, going back to Katipunan. I had a meal in McDonald's while waiting for my dad. The car ride Home was long, and all I could think about were the events that transpired that day.
I started out with three of my own TD kids, and ended up visiting so many Homes, taking care of so many children, crossing so many roads. It was fun, sure. It was hard and tiring, too. It was trying. Everything came together only at the end. The peace wrapped in a million different questions and thoughts came as I myself was going Home.
Homebound.
It's so easy to explain why it isn't TD House Visit. It's easy to just say, "Ah, yes. Home means more than House. A House is the physical concrete definable building. A Home is Family and Loved Ones."
But it's not that simple after all. It's different to actually feel it, experience it. The emotions are impossible to put into words. They may say that the TD children are poor. Yes, they're poor. They are impoverished and financially lacking. Their houses are in shambles and are dirty and unkempt. Nevertheless, after this experience, I come to see that maybe they are really not that poor. They are rich. Rich with life and spirit. They have love. They may not have the biggest, most beautiful houses, but they have Homes. Home truly isn't a Place, it is a Time. It is a feeling of protection, of security. It is a feeling of togetherness, community. Humility. Hope. Patience. Perseverance. Joy. Gratitude. Forgiveness. Blessing. Love.
It is a great feeling of Love.
Love from Family. Love from Friends. Love from God.
After all, it is He who gives us all these things. He gives us Home. His Love gives us Home. He is Love. He is Home. Home is where the heart is, maybe. Definitely. We all have a Home. We all have people who love us. There is always Someone who loves us, and all our journeys, all our trips, all our visits have one destination. We all seek the same thing. We're all compelled to the same fate.
We are all
Homebound
.