INTERVIEW with
THE BIRTHDAY MASSACRE
Chibi and Rainbow
(Toronto, Canada)

Chibi - Broken Minds Tour 2006 Photo: Angst-Im-Wald



MUEN: WOW, WE ARE REALLY OVERWHELMED BY THE AMOUNT OF TALENT IN THIS BAND... IT'S PRETTY AMAZING HOW YOU'VE DEVELOPED OVER THE YEARS! WITH ALL THE TOURING AND RECORDING - HOW IN THE WORLD DO YOU MANAGE TO FIND TIME TO EAT?

RAINBOW: Thanks. We're just doing what we do. We were a group of friends. We love writing and recording music and we love to perform. We've been really busy for the past while but that's a good thing.

MUEN: WHAT IS THE AVERAGE AGE OF THE BAND MEMBERS?

RAINBOW: Our ages range from early 20's to early 30's. We average around 28.

MUEN: OK, SO THE BIRTHDAY MASSACRE HAVE SOME UP-COMING SHOWS STARTING THIS JANUARY AND A TOUR WITH "MINDLESS SELF INDULGENCE" BEGINNING IN APRIL, HOW EXCITED ARE YOU ABOUT THIS, AND HOW DID YOU HOOK UP WITH (MSI) FOR THIS TOUR?

RAINBOW: It should be a fun tour. We''ve known them for a couple years now. We played some shows with them up here in Canada but this will be our first full tour with them. They were on the same label with us for some time. We had the chance to do a re-mix for their single ''Straight To Video'' last year. On a related topic, Mike (Falcore) and I actually just finished another re-mix for their song ''Never Wanted 2 Dance''. We liked them so we just kept in touch over the past couple years. They had a tour coming up, they asked us to come along,... and we said yes.

MUEN: WITH ALL THE PAST TOURING THAT YOU'VE DONE.. WHAT PART OF THE WORLD HAS BEEN THE MOST FUN AND INTERESTING TO TOUR AND PERFORM LIVE, AND WHY?

RAINBOW: Most people assume that while on tour, we have a lot of time to relax and enjoy each city we visit. Unfortunately, that''s rarely the case. We see a lot of bars and clubs and we''re almost constantly on the move. We make an effort to look around and enjoy ourselves as much as we can but we''re definitely not tourists. Every night is different and every show has its own vibe. That being said, I do think some of our best performances took place during last tour through Europe. The traveling conditions were pretty rough at times and the language barriers made us feel kinda isolated but the audiences were very cool and the shows were awesome. In terms of comfort and socializing, touring the US tends to be a bit easier for us.

MUEN: I PERSONALLY LOVE YOUR SONGS! INFACT I HAVE NOT COME ACROSS A BIRTHDAY MASSACRE SONG YET, THAT I DIDN'T LIKE... I CAN'T EVEN PIN-POINT WHAT IT IS EXACTLY - BUT WHAT SONGS DO YOU YOURSELF FEEL MOST ATTACHED TO? OR WHAT SONGS, WHETHER THEY BE OLD OR NEW, DO YOU NEVER GET TIRED OF PERFORMING LIVE?

RAINBOW: I like performing our heavier songs. Red Stars, Blue, and Broken are always fun.

CHIBI: I agree, the heavier songs are pretty fun. But I also enjoy playing our sort of "storytelling" songs as well, like Lovers End and Happy Birthday... they set a real mood and I like being able to sort of get into character a bit and have fun.

MUEN: HOW DID YOU FIRST FORM BACK IN 1999, SO YOU SAID THAT YOU WERE ALL "FRIENDS" BEFORE BEING BANDMATES?

CHIBI: Yes, we basically all were. Rainbow and Mike F have been friends since they were kids, so they'd already known each other for years. I met Rainbow in college and within the band's original lineup, we all pretty much went to the same college and were friends. As we've obtained new members, we've always incorporated people we're friendly with into the group.

MUEN: WHY DID DANK LEAVE IN 2001?

CHIBI: At that point, we were barely starting out and had never toured, but we were considering where we wanted to go with the band and what the plans were. It was towards the end of college, when a lot of people are thinking over what direction they'd like to go in. For Dank, moving to a different city and focusing on a band weren't what he wanted. I've known him pretty much my whole life, and it was nice for him to be a part of things for a little while.

MUEN: WHAT IS ASLAN OSIRIS (FORMER BASSIST) DOING NOW, WHY DID HE LEAVE, AND HOW DID YOU GET O.E. (FORMER DRUMMER) BACK TO REPLACE HIM ON BASS?

CHIBI: As far as I know, Aslan has been working on his own projects and wants to travel. I think he'd gotten to the point where he was satisfied with his experiences within the band and was ready for his life to take a new direction. As for OE, after he originally left the band, we just stayed in touch with him as friends. He can play bass and was interested in what we were doing, so it seemed like a pretty natural step for him to join us.

RAINBOW: Aslan's actually traveling on foot through Central America right now. He's working his way along the coast towards Guatemala. I met up with him just before he left. He actually e-mailed the other day to let me know he's still alive. I'm not joking. He'll be gone for at least another three months. He should have some crazy stories to tell once he gets back home. I'm looking forward to them.

MUEN: DID CHANGING THE NAME FROM IMAGICA TO BIRTHDAY MASSACRE SEEM TO SLOW YOU DOWN AT ALL?

CHIBI: No. At that point, again, we hadn't toured or released much more than some demos, so it was a pretty simple transition. It's tough thinking up band names though, and it's a process you shouldn't have to endure more than once. Everything sounds pretty stupid.

MUEN: WE'VE NOTICED THAT THERE ARE A LARGE NUMBER OF BANDS OUT THERE WITH THE SAME NAMES... DO YOU HAVE ANY ADVICE FOR THE SERIOUS BANDS WHO MAY HAVE DOUBLES OUT THERE?

RAINBOW: Change the name of your band. It's not worth the headache.

MUEN: IN SEPTEMBER OF THIS YEAR "WALKING WITH STRANGERS" WAS RELEASED, AND ENTERED AT #10 ON THE BILLBOARD "HEATSEEKERS" CHART... WERE YOU SURPRISED WHEN IT HAPPENED - AND WHAT OTHER SONGS ON THE ALBUM DO YOU FEEL IS YOUR BEST WORK?

CHIBI: None of us expected that to happen, so we were pretty happy about it. We were on tour when it happened so we didn't really get the chance to really absorb it until later on, but we were surprised and definitely excited. As for what on the album I feel is our best work... I mean, I couldn't say. I'm pretty proud of all of it, for different reasons. There isn't anything on there I feel is "weak" or less than anything else.

MUEN: HOW DO YOU ALL GO ABOUT WRITING THE LYRICS AND MUSIC... WHO WRITES THESE AWESOME LYRICS! PAST SONGS LIKE "PLAY DEAD," "BLUE" ETC. ETC ETC....

RAINBOW: Mike (Falcore) and I write the majority of the music in terms of the programming and instrumentation. On 'Walking With Strangers', OE also contributed. It usually starts with a guitar riff or a synth sequence. Whoever comes up with the initial idea or inspiration usually ends up spear-heading the song. I usually end up writing the vocal melodies as I'm working on the lyrics with Chibi.

MUEN: I'M A LITTLE AMAZED AT THE AMOUNT OF ROMANCE AND INTELLECT IN ALOT OF YOUR LYRICS - EVEN IN THE EARLIER ALBUMS YOU SEEMED TO BE FAR BEYOND YOUR YEARS.. AND I'VE ALSO READ HOW YOU WENT ABOUT WRITING FOR "WALKING WITH STRANGERS... THAT'S PRETTY INTERESTING HOW YOU WENT ABOUT THAT.. CAN YOU SHARE WITH OUR READERS WHAT INSPIRED THE WRITING FOR THE ALBUM?

RAINBOW: When we began writing ''Walking With Strangers'', we were interested in the concept and aesthetic of school institutions because we felt that they represented an important transition point from childhood to adulthood. Also, although on a much smaller scale, the social dynamic of a typical public school environment mirrors a lot of the fundamental rules, struggles and social cliques found in greater society which gives those experiences and memories an interesting parallel connection to our perspective as adults. Public school was where our personalities were first shaped and refined, and our experiences through those years have obviously followed us into adulthood and define much of who we are and what we have become. So for that reason, we wanted the elementary school theme to be reflected in the mood and aesthetic of ''Walking With Strangers''.



Rainbow - Broken Minds Tour 2006 Photo: Angst-Im-Wald


MUEN: DO YOU LIKE THE WRITING & RECORDING PROCESS MORE THAN ACTUALLY PLAYING THE SONGS LIVE?

CHIBI: I prefer playing live. I always feel kind of silly in the studio, with the big old microphone and the giant headphones and the music stand with the little lyric sheets. Playing live is more natural.

RAINBOW: Right now, I think I enjoy playing live. There's just nothing else like it. That being said, I'm probably technically better at writing, producing and mixing than at playing guitar. In all honesty, recording an album and performing live are so different from one another, it's hard to even compare the two. They're two totally different worlds.

MUEN: AT ABOUT WHAT AGE DID YOU START WRITING YOUR OWN SONGS, AND REALIZING THAT YOU WANTED TO PURSUE MUSIC?

RAINBOW: I've been writing music since I was around 16 years old. Mike (Falcore) and I used to spend hours down in my parents basement recording on my old 4-track. I still have a lot of those early recordings. I should dig them up and have a listen.

CHIBI: I never seriously wanted to be in a band, really. I mean I liked to sing, but I always leaned more towards wanting to be a writer, or an illustrator or something. Doing the band was something that we just started for fun, and for me, I just enjoyed doing something creative with my friends. The first time I ever contributed to creating a song was in this band.

MUEN: CAN YOU REMEMBER "THE FIRST" BAND OR ARTIST THAT REALLY INSPIRED YOU AS A SONGWRITER / VOCALIST / MUSICIAN?

CHIBI: Johnette Napolitano from Concrete Blonde was the first vocalist who ever really inspired me. I discovered their music when I was in junior high school and I thought she had the most distinctive, beautiful voice I had ever heard. And as I learned more about her I just found more and more to admire. She is beautiful and extremely creative. They're still one of my favourite bands to this day.

RAINBOW: I liked the catchy pop progressions of Roxette, and Cyndi Lauper. I liked the aggressive guitar sounds of bands like Ministry and Sepultura. I liked the mood and sound textures of bands like My Bloody Valentine, Curve, and NIN. I also liked the visual and lyrical themes of bands like Marilyn Manson and Psychotica. Those were a few of the bands that inspired me back when I was around 16.

MUEN: SO WHO IN THE BAND, IF NOT ALL, ARE VISUAL ARTISTS AS WELL AS MUSICIANS?

CHIBI: I'd qualify myself as one. I draw and paint. Lately I've been spending too much time freehand crocheting little toy animals and creatures.

RAINBOW: I consider myself a visual artist. It's what I focused on the most in school. My technical degrees are in both Fine Art and New Media Design.

MUEN: WHAT ARE YOUR LATEST PROJECTS OTHER THAN THE "WALKING WITH STRANGERS" ALBUM?

CHIBI: Does freehand crocheting toy animals and creatures count as a project?

RAINBOW: As I mentioned, Mike (Falcore) and I just finished our second remix for Mindless Self Indulgence along with a few others throughout the past year. I also mixed the Il Attire EP 'Don't You Look Pretty' with OE last year. This band keeps me really busy so I haven't had too much time to focus on much else lately.

MUEN: WHAT EVENT IN YOUR MUSIC CAREER THUS FAR, WAS THE EVENT THAT SATISFIED YOU PERSONALLY AND MADE YOU FEEL THE MOST ACCOMPLISHED WITH BIRTHDAY MASSACRE?

CHIBI: I can't think of an isolated event that specifically made me feel validated. I mean, if I feel we've had a great show, walking offstage I can feel immense satisfaction and accomplishment. And we have had some very exciting and great shows. Of course, I find that there is always the ying to the yang, you know? Most of the time, if I start feeling great or something wonderful has happened, something will happen the next day to put things more into perspective. And touring, and shows, it's all very unpredictable. You can be on top of the world one day and totally humiliated the next, in my experience.

MUEN: WHERE DOES YOUR BIGGEST FAN-BASE SEEM TO BE COMING FROM CURRENTLY? U.S., CANADA, OR EUROPE?

CHIBI: I'm guessing the U.S. or Europe, but I honestly have no idea.

MUEN: WHAT EVENT, OR WHO WOULD YOU CREDIT FOR HELP IN YOUR EARLIER RELEASES - SUCH AS WITH THE FIRST ALBUM "NOTHING AND NOWHERE" OR PAST DEMOS.. DID YOU HAVE ANY HELP WITH THE MUSIC ITSELF, OUTSIDE OF THE BAND?

CHIBI: No. Those were very DIY days. I mean literally, we worked with each other, sometimes all night, while juggling homework and college. Thank goodness we had all the energy and hopes of youth back then.

MUEN: DID THE EARLY SUCCESS OF "NOTHING AND NOWHERE" SURPRISE YOU, OR DID YOU EXPECT IT TO DO AS WELL AS IT DID?

CHIBI: It surprised us. In fact, to this day I don't think I'm really clear on how well that record has done. I can't imagine the sort of personality that would release their first CD and expect it to do well. I mean we were confident in that we liked the music, and we believed in it, but how are you supposed to know what other people are going to think?

MUEN: CAN YOU GIVE US A BRIEF SUMMARY FOR THE ARTWORK ON THE ALBUMS? WHO IS THE ARTIST, AND ARE THEY THE SAME ARTIST ON EVERY ALBUM?

RAINBOW: Mike (Falcore) pieced the cover together for the original version of 'Nothing and Nowhere' and I did the current 'revised' cover. We were assisted greatly by an artist named Jurgen Elits and Simon Bondar who also worked on the revised version. Violet was done by Aslan and myself. Walking With Strangers was done by Vincent Marcone who was assisted by Mike (Falcore) and myself.

MUEN: THERE ARE SOME GREAT WEBSITES OUT THERE SUCH AS WWW.NOTHINGANDNOWHERE.COM .. WHO PUT THAT ONE TOGETHER, AND ARE THERE OTHERS YOU'D LIKE TO MENTION THAT SHOWCASE BIRTHDAY MASSACRE?

RAINBOW: www.NothingAndNowhere .com was designed by Aslan, Jurgen Elits, and myself. Jurgen provided some backgrounds, I tweaked them and added the silhouettes, and Aslan designed the navigation and did the programming. We're currently working on another site with Vincent Marcone, which is going to showcase the 'Walking with Strangers' album. We'll be launching it around the same time as our video for the song 'Looking Glass'.

MUEN: WHAT ARE YOUR THOUGHTS ON THE CURRENT MUSIC INDUSTRY AS IT STANDS TODAY?

CHIBI: There is so much variety with the internet, and so little cost for people to obtain music, that I think it is a bit more difficult for bands to exist, honestly. People have short attention spans. And some people don't buy music. The same complaints about what sort of music is on the radio and TV have always existed, it's always a struggle, but I think it is definitely a weird time for the industry and a difficult time for bands.

RAINBOW: It's a strange time to be an artist in the music industry. It's hard to know exactly how to release records in a way that treat's our music and our audience with respect while at the same time provides us with the financial compensation needed to both perpetuate our art and make a living. There's a lot of uncertainty in this business these days. Music is more accessible than ever, which is a really good thing. The problem is, it's also become somewhat devalued in the process. I'm just as opposed to the bureaucracy of major labels as anyone else, however, people do need to support the arts if they want their favorite artists and musicians to be able to continue with their creative work as a career. It will be interesting to see where things go from here.

MUEN: OK SO ALBUM SALES IN STORES VS. DIGITAL DOWNLOADS OFF THE INTERNET?

CHIBI: I much prefer the physical CD... with the artwork and photos and disc, as opposed to a file full of MP3s. Obviously it is easier and cheaper to get music from the internet, but again I feel this makes it a bit more disposable... so much variety. Which is good in some ways and maybe bad in others!

MUEN: WHAT ALBUM IS THE MOST SENTIMENTAL TO YOU, AND ARE THERE ANY PAST SONGS OFF DEMOS OR WHAT HAVE YOU, THAT YOU COULD SEE BEING RE-DONE?

CHIBI: I absolutely have an attatchment to each album and totally can't pick a favourite one. And there's definitely songs I'd like to go back and re-visit. We've done that on this last record. But moving forward and creating new music is definitely the focus.

RAINBOW: I agree. You can't pick a favorite among your children.

MUEN: WELL I'M SURE YOU WANT "WALKING WITH STRANGERS" TO REPRESENT YOUR BEST WORK EVER, SO WHAT, FROM YOUR POINT OF VIEW, MAKES THIS ALBUM DIFFERENT FROM THE REST?

RAINBOW: We wrote, recorded, and mixed ''Walking With Strangers'' on a fairly tight time-line, which I think made it a more focused effort and, in the end, a more cohesive album. In addition, we collaborated with some great people such as O.E. and producer Dave Ogilvie. Despite the fact that O.E. used to play drums in the band, we didn''t have a chance to write with him until this album. He joined us after a few of the initial demos were recorded and brought some great ideas to the table. Dave, on the other hand, worked with us for two weeks on some editing, re-tracking and finishing touches before mixing the album with us.

MUEN: SURLY YOU'VE BEEN APPROACHED TO DO A SOUNDTRACK OR TWO, FOR MOVIES BY NOW.... IS THERE ANYTHING CURRENTLY IN THE WORKS, OR ARE YOU WAITING TO WRITE YOUR OWN:P?

RAINBOW: We've been approached by a few people who wanted to use our music in a few movies, but we haven't really done any exclusive soundtrack work. It's defiantly something we'd enjoy doing. We'll see what the future holds.

MUEN: CAN YOU TELL OUR READERS WHO MAY BE A LITTLE UNFAMILIAR WITH YOU, WHAT THE SONG "RED STARS" IS ABOUT?

CHIBI: It is a song about approval, success, and failure.

RAINBOW: It's about misdirected attention and credit. It's about building off the work of those who came before and claiming it all as one's own. The lyrics were initially inspired by the phrase 'standing on the shoulders of giants'. When I was in elementary school, if a student followed all the rules, did what they were told, or got a perfect score on a test, they were rewarded with a red star, which would be placed beside their name on a list of all the students in the class.

MUEN: IS THAT A TORNADO HEADING FOR THE SCHOOL ON THE ALBUM COVER OF "WALKING WITH STRANGERS?"

RAINBOW: Nope. Just some cloudy, purple skies.

MUEN: YOUR MUSIC HAS BEEN CLASSIFIED AS EVERYTHING FROM "POST-RETRO," "SYNTH ROCK," "80'S ELECTRONICA," TO "GOTH ALTERNATIVE" AND "INDUSTRIAL"... IF FOR SOME REASON YOU HAD TO CHOOSE JUST "1" GENRE TO CLASSIFY THE BIRTHDAY MASSACRE, AND WE EXCLUDED "ROCK".. WHICH WOULD YOU FEEL THE MOST COMFORTABLE WITH? INDUSTRIAL? POP? .. GOTH? EMO? ..SORRY I ASKED THIS, HAHA!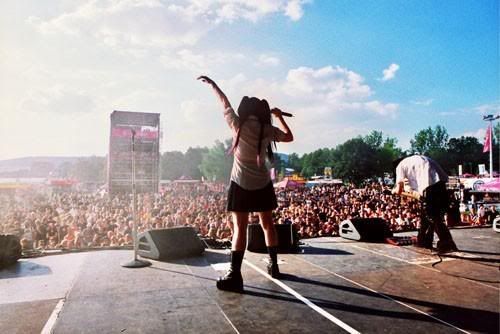 Highfield Festival 2005, Germany - photo by Bernd Zahn


CHIBI: Ha, this question is impossible to answer without a) sounding pompous and b) forever pigeonholing yourself into whatever category you choose. I will leave it up to other people who classify us, they probably know more about these genres than I do. I'm pretty out of the loop.

MUEN: WHAT SORTS OF THINGS UPSET YOU THE MOST, ABOUT THE WORLD WE LIVE IN TODAY?

CHIBI: I don't like violence and misogyny. How temporary everything seems to be.

MUEN: WHAT DO YOU LIKE MOST ABOUT IT?

CHIBI: The ease of communication, the freedom people can have to speak out against what they dislike, and the widespread availability of fast foods, to which I am hopelessly addicted.

RAINBOW: My personal freedom and the control I have over my own body and mind. The fact that I can express myself.

MUEN: WHERE DO YOU HOPE TO BE 10 YEARS FROM NOW?

CHIBI: Asleep.

RAINBOW: Awake.

MUEN: WHAT IS YOUR FAVORITE THING TO DO WHEN YOU ARE NOT RECORDING OR PLAYING LIVE? SOMETHING NON-BIRTHDAY MASSACRE RELATED?

CHIBI: Spending time with people I love, which can be very precious when you are on an unpredictable international schedule. I also very much value time on my own to work on things or read or relax.

RAINBOW: Likewise.

MUEN: DO YOU HAVE ANY OTHER PROFESSIONAL ASPIRATIONS THAT ARE NOTHING CLOSE TO BEING MUSICAL OR THEATRICALLY RELATED?

CHIBI: I have always wanted to be a novelist, and that's something I'd like to pursue.

RAINBOW: I think I'll always be working with audio in one way or another. Although, I'm sure as time goes by, I'll branch out into some other artistic mediums.

MUEN: WOULD YOU MIND NAMING A FEW OF YOUR FAVORITE MOVIES, AND OR, WHAT IS YOUR FAVORITE BOOK OR TALE THAT YOU FIND INSPIRING OTHER THAN THE OBVIOUS?

CHIBI: I read a ton of books and I see a ton of movies, and I really don't know where to start with recommendations... the best two books I have read in the last while were probably "The Romantic" by Barbara Gowdy, which is about love, and "The Eagle and the Raven" by Pauline Gedge, which is a historical fiction about the Celts.

RAINBOW: We love all kinds of quirky pop-culture. Fantasy and horror films like 'Labyrinth', 'Hellraiser', 'The Neverending Story', 'Big Trouble In Little China', and 'A Nightmare On Elm Street' all made an impression on me. Authors such as Roald Daul, Clive Barker, Edward Gorey, Steve Jackson, Ian Livingstone and Neil Gaimen have also been an inspiration. That's just off the top of my head. The list could go on and on.

MUEN: WHAT ARE YOUR NEW YEARS RESOLUTIONS?

CHIBI: Try to be healthier. I eat pretty badly.

RAINBOW: I haven't thought about it yet. I always seem to be running late for everything so I guess my resolution will be to not be so late all the time.

MUEN: WHAT ARE YOUR PLANS ONCE THE "WALKING WITH STRANGERS" TOUR IS OVER?

CHIBI: Probably wait for the next one.

RAINBOW: Or start writing the next album.

MUEN: WELL, THANKS SO MUCH FOR DOING THIS INTERVIEW! AND WE WISH YOU YEARS OF SUCCESS! ANY LAST WORDS?

CHIBI: Thanks very much!

RAINBOW: See you soon.

Interview by G. Cataline