Moscow in the Spring of 2006
By Raegan Baker
Earlier this year I was fortunate enough to travel to the famous cities of St. Petersburg and Moscow. After enjoying a brief stay in the lovely ďVenice of the North,Ē I journeyed south to Moscow in order to research the family of Tsar Nicholas II and visit the historic sights in the Russian capitol. We traveled to Moscow by train, which cost $300.00 for one private sleeping car. Tourists planning to travel between these two cities should consider such an option. It is worth the money, and the sleeping cars are safe and clean.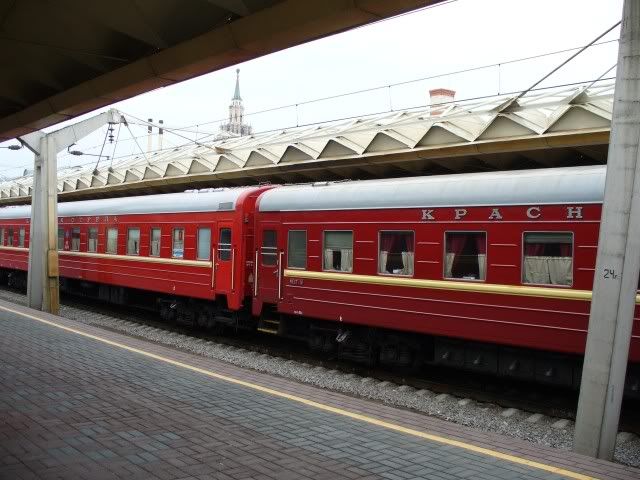 Once in Moscow, I got right down to work in the State Archives of the Russian Federation (GARF). People planning to research for a thesis, dissertation or book should be aware that working in the Russian archives is an extremely time consuming task. If you are accepted inside, you must do a vast majority of research on microfilm. It can also be a costly activity, depending on what you plan to do.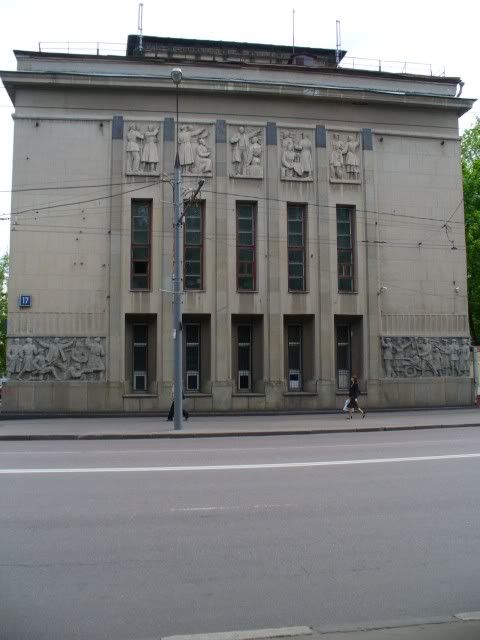 GARF (State Archives of Russian Federation)
Once I had finished with my work, I spent my remaining days traveling across Moscow, which included the areas unknown to many tourist. My friend, a young woman familiar with the city, took me to the outskirts of Moscow. There a foreigner truly feels like he or she can experience the real Russia, far away from the bustling streets filled with European and American visitors. Few restaurants or shops exist in these parts, though cafes are fairly common. Orthodox churches are also easy to spot, as well as people trying to sell souvenirs such as nesting dolls. Needless to say, souvenirs are quite inexpensive in the outskirts of the city as opposed to the ones sold near the tourist attractions.
Unfortunately, stray dogs and cats are not unheard of in Russia, especially in and around Moscow. It is quite normal to see these animals in the metro, along city streets and around apartment complexes.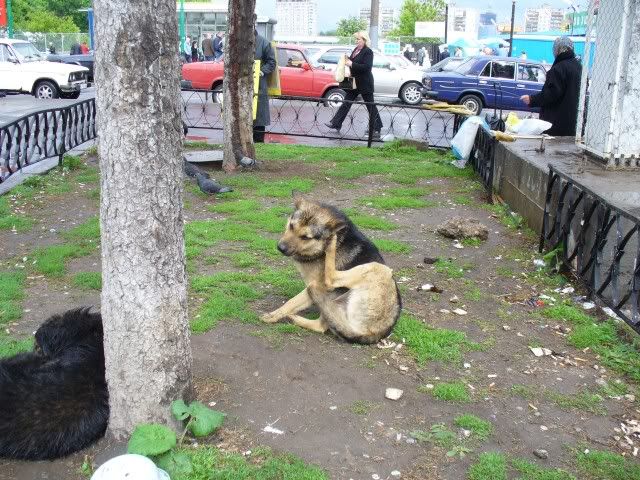 We eventually made our way back to the center of the city and spent time in Red Square. St. Basilís Cathedral is a sight to be seen; there are no words to describe its magnificence. Though this was my second trip to Moscow, viewing St. Basilís was just as breathtaking as it was the first time. Though future tourist might be surprised by its size: it comes across as being much larger in books and on documentaries.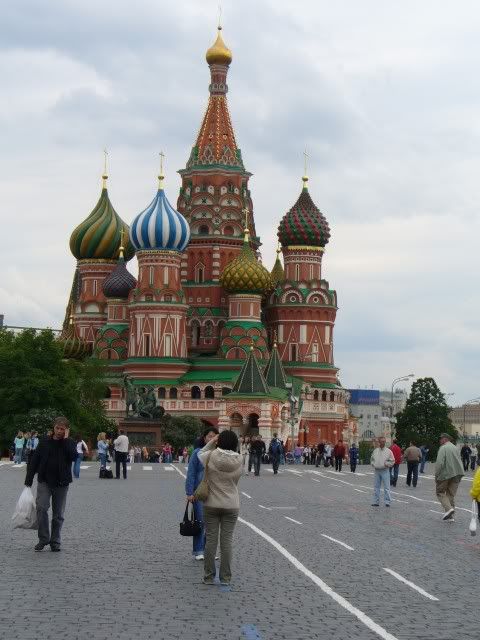 Not far from St. Basilís is Leninís Mausoleum. This attraction is only open for a few hours during certain times of the year, which makes for a very long line. We waited an hour to get inside, and our cameras were taken before we were allowed to enter (they were given back after we exited the mausoleum).
It is almost completely dark inside the mausoleum with the exception of the light that shines down on Leninís casket. Visitors spend no more than a minute or two inside due to the fact that no one in line is allowed to stop walking until exiting the mausoleum.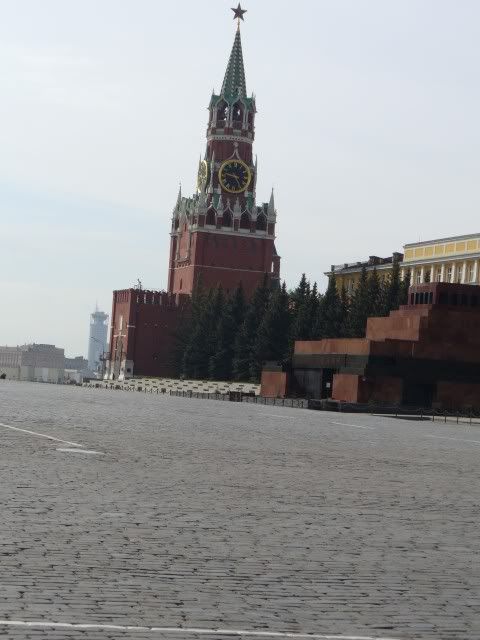 Impersonators of Ivan the Terrible and his wife Anastasia, as well as Tsar Nicholas II and Vladimir Lenin, stood in Red Square to pose with tourist. A person can have his or her picture taken with them, though it cost about 200 rubles.
If you are debating on traveling to Moscow, I would highly recommend you go. Prices are far cheaper during the winter months, though you must be prepared for the extreme cold. Spring is also a good season due to the fact that the snow is gone and the temperatures are usually pleasant. Reasonably priced restaurants are easy to find across the city, as well as souvenirs that will always remind you of your Moscow visit.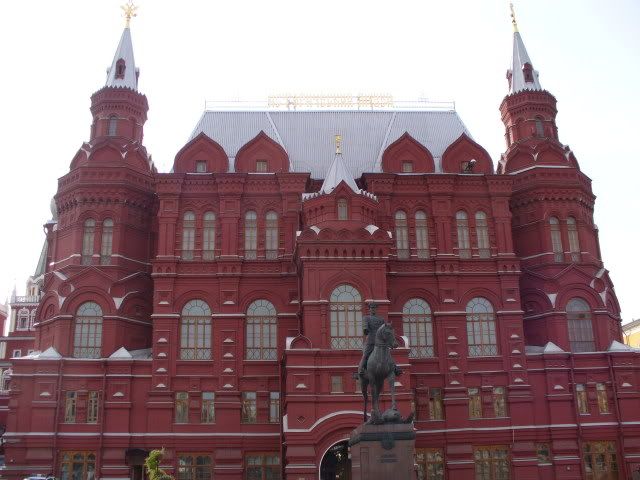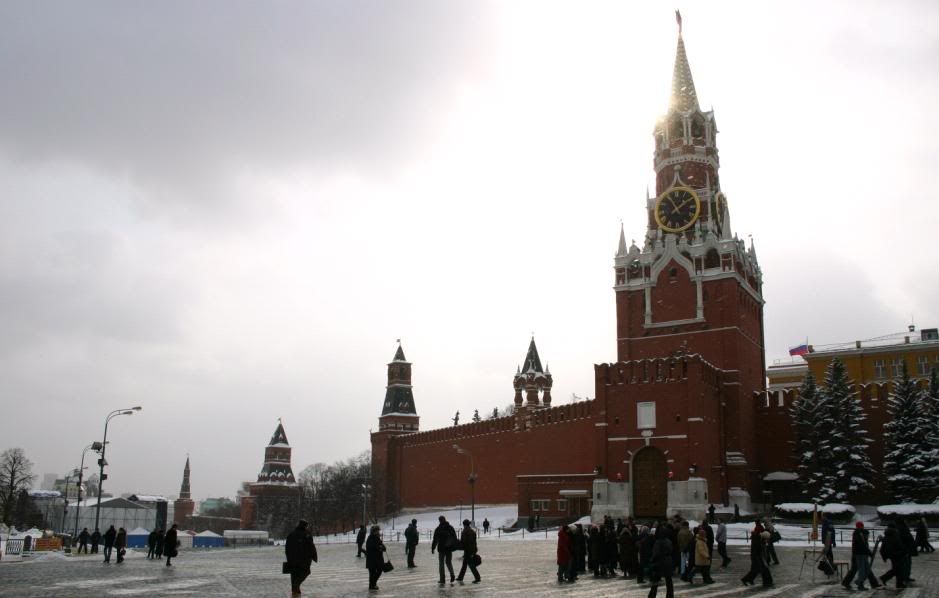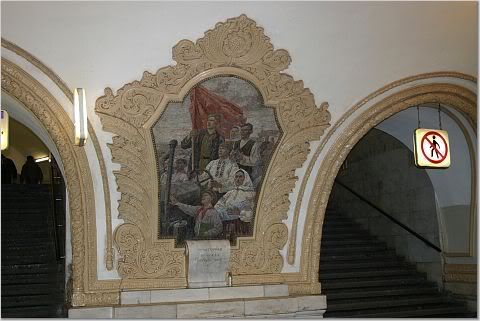 Moscow's Metro station