St. Petersburg in the spring of 2006
Travelogue by Raegan Baker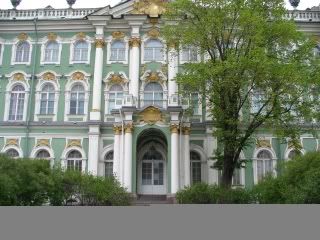 I recently traveled to the Russian Federation to conduct research on Tsar Nicholas II and his family. However, I planned my trip to allow time to visit the many historic buildings in and around St. Petersburg, the so-called "Venice of the North."
We spent our first full day in Pushkin, which was once called Tsarskoe Selo. Our tour group first took us to the grand Catherine Palace, a beautiful blue and gold building that draws hundreds of tourist each year.
Inside, one finds magnificent rooms filled with priceless objects.
There is even a painting of Tsaritsa Alexandra, the wife of Tsar Nicholas II, hanging on one particular wall.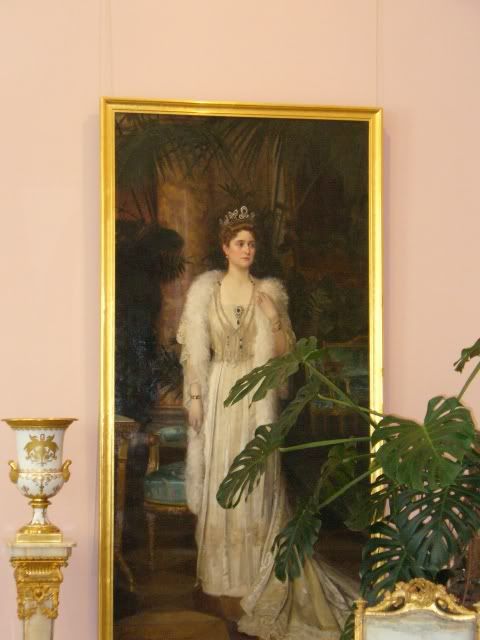 The grounds of the Catherine Palace are also a sight to be seen. In the winter, the land is covered in a blanket of white snow. However, in the spring, nature comes to life.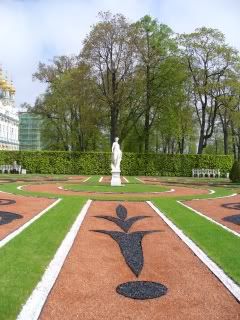 The grounds are very well taken care of and the statues make one feel like they have been transported back to the time of the tsars.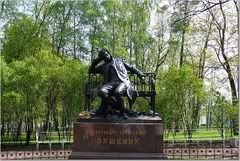 We then hurried over to the Alexander Palace, which was once the home of Tsar Nicholas II and his family.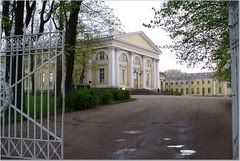 The Alexander Palace is in no way as spectacular as the Catherine Palace, and it is not kept up nearly as well. Only part of the building is open to the public, and the outside paint is quickly chipping away. However, if you are intrigued by Russia's last tsar, the Alexander Palace is a place you must visit.
Many of the rooms where Nicholas, Alexandra and their children once occupied are open to tourists, though much of their furniture and belongings are gone.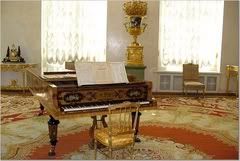 Walking through the rooms, it is easy to picture the loving family pasting pictures into their photo albums and enjoying their time together.
We spent the next day in the city of St. Petersburg visiting Peter and Paul Fortress, as well as other attractions. As many already know, Peter and Paul Fortress holds the remains of the Romanov Tsars. Tsar Nicholas II, his wife Alexandra, as well as three of their five children and four servants who perished with them, were laid to rest here on July 17, 1998, the 80th anniversary of their murders.
After leaving Peter and Paul Fortress, we stopped by the St. Petersburg City History Museum, an interesting building full of information on the city Tsar Peter the Great founded as a "window to Europe." The Soviet legacy is also still felt in St. Petersburg, where statues of Vladimir Lenin can still be found.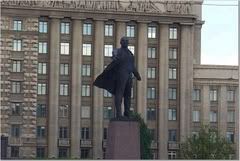 It goes without saying that if you enjoy Russian history, St. Petersburg is a city where you should plan to visit. It will be a trip you never forget, whether you are there for two weeks or only two days.