RUSSIANS IN HOLLYWOOD: A Historical Chronicle
by Liane Schirmer
PART ONE:"THE ACTORS"
Following the Bolshevik revolution and the collapse of the Tsarist regime, all things Russian took on an exotic, mysterious air. There is nothing like a sweeping revolution, complete with drama, tragedy, suffering and romance to capture the imagination of the world.
Europeans and Americans alike succumbed to the mystique, bathing in romantic nostalgia for the demise of the Romanov dynasty, and in turn, the end of an era. The emigre became like an aging dowager, invited to the ball despite her tattered gown and broken tiara. Yet people still bowed and scraped, for the memory of her glory days improved each time her tragic tale was recounted.
This is the stuff that films are made of, and Hollywood wasted no time in exploiting this myth to the fullest. Films such as "Rasputin and the Empress", starring all three Barrymores, reduced history to histrionic melodrama. (Hollywood has always sacrificed historical accuracy to box office appeal).
From the ridiculous to the sublime, for better or worse, American films gave the public their only impressions of both Tsarist and Communist Russia. Hollywood...
-Relived Russian history through "War and Peace", "Doctor Zhivago", "Nicholas and Alexandra", and "Reds",
-Touched audiences with the plight of emigres in "Tovarich",
-Parodied the Soviets in "Ninotchka", and "Comrade X",
-Turned full circle in an effort to support our allies in World War II with such obvious propaganda films as "Mission to Moscow", "Song of Russia", and "Three Russian Girls", and
-Made us laugh through the cold war with a slapstick view of Soviet threat in espionage comedies such as "The Russians are Coming", and
-Showed us the dilemmas faced by a Russian dropped into America's fast-paced capitalistic lifestyle in "Moscow on the Hudson."
Through the years, Hollywood taught Russian history in bold, broad strokes. As with most foreign cultures on film, particularly during Hollywood's "Golden Era", a varied, complex empire was reduced to lazy aristocrats, bumbling spies, manic depressive artists, and cold and calculating Communists.
In Ernst Lubitsch's "Tovarisch" the Prince succinctly explained Hollywood's view of the Russian character, 'We were born to suffer and to love it. Life for us is so beautiful and so sad. We're congenitally savage, sentimental barbarians. We've had only 200 years of the blessings of culture, and that isn't enough. We may wear the same clothes you do, and read the same books, and know which fork to use at dinner, and be superficially presentable. But our souls are still roaming the steppes, wildly - baying with the wolves at the moon.'
Wartime propaganda films such as "Song of Russia", reduced the threat of Soviet Russia by portraying them as harmless, fun-loving people in ethnic dress. In the words of critic Nora Sayre, "MGM viewed Russians as it had blacks...a jubilant race, addicted to music and laughter, blessed with an inborn rhythm."
Subtlety, shading and historical facts were sacrificed in favor of the flamboyant, the romantic, the dramatic. Audiences preferred ethnics as simplistic, easy to understand stereotypes. Writers, directors and producers complied. They emphasized these commercial broad strokes, and were ultimately responsible for everything America knew about Russia prior to the 1980's.
TITLES & THESPIANS
America has seen films about Russians, and Hollywood made films about Russians. Occasionally, they even cast real Russians as well.
Following the revolution, Russians of every social class, religion and profession sought refuge outside the borders of their troubled country. Some of the exiled aristocrats who escaped to Europe and Shanghai were fortunate enough to sing for their supper, by gracing the parlors of the rich and curious. Those emigres who were not so fortunate or well-born faced a starker reality. Bereft of all their possessions, wealth, and former status, these less glamorous emigres confronted poverty and hardship. They faced the prospect of reinventing themselves in a strange land.
During the 1920's, some of the more intrepid souls ventured to the United States seeking peace and prosperity. Those who were professional actors and who spoke English headed for Broadway. Those who could not speak English, or spoke it with a heavy accent, went on to California, where they could seek employment in the bustling silent film industry despite their linguistic handicap. America was strange, but Hollywood was stranger.
Unlike many of their American counterparts, almost all of the Russian actors received excellent stage training at the Moscow Art Theater. Some worked in silent films in Russia, both before and after the revolution. In their homeland, they were accomplished professionals working within an organized and well-defined system. Following rigorous conservatory training, they joined established theatrical troupes, then were asked to star in films - in that order.
In Hollywood, they had to play the game according to a new and unpredictable set of rules. Anyone with good looks, connections, and sometimes talent, could snare starring roles, formal training notwithstanding.
It was catch as catch can, and actors capitalized on anything they could in order to stand out from the crowd. In this regard, Russians had the advantage, using the cachet of having escaped a doomed empire. Russia was hot, and some of its thespians were hotter still.
The most famous actress who falls into this category is Alla Nazimova. Born in Yalta in 1897, she was already an accomplished violinist when she began studying with Stanislavsky in Moscow. She came to the U.S. in 1905, and garnered fame on Broadway for her portrayals of Ibsen heroines. In Hollywood she starred in numerous silent films; "Camille" (1921), "A Doll's House" (1922), and "Salome" (1923).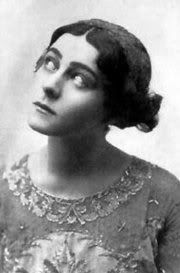 Her stylized acting and bizarre public image made her appear remote and mysterious. She held court with other silent film luminaries at the famous Garden of Alla apartments on Sunset Boulevard, later renamed "Allah". She retired from films in 1925, but reappeared in character roles in the 1940's.
Less renowned is Olga Baclanova, who starred in Josef Von Sternberg's "The Docks of New York", and "Streets of Sin", both in 1928. She is best remembered for her role in the classic "Freaks" (1932), in which she played an exotic trapeze artist who marries a midget for his money.

Theodor Koslov arrived in the U.S. after World War I, and began his film career staging and choreographing Russian ballets. He subsequently secured exotic roles in several of Cecil B. De Mille's silent films, including "Adam's Rib" (1923), "The Volga Boatman" (1926), and "The King of Kings" (1927).
Russians who didn't have the connections, or the looks, had to work their way up the ranks like everyone else. Many Russians of varying social classes found employment as extras. Given America's fascination with reliving the Russian revolution, it's not surprising that several Russians who played a significant part in their country's history were drafted to participate in its exaggerated recreation on the silver screen.
"The Last Command" (1928) by Josef Von Sternberg was based on the true story of the Czarist general Lodijenski. Emil Jannings, a German, starred as a former Czarist commander who comes to America and becomes a penniless Hollywood extra. In an ironic twist of fate, he is cast as his former self in a film about the revolution. The director turns out to be an irate subordinate who was previously under his command and seizes this opportunity to make the old man pay for his sins.
Von Sternberg states in his memoirs, "I had fortified my image of the Russian Revolution by including in my cast of extra players an assortment of Russian ex-admirals and generals, a dozen Cossacks, and two former members of the Duma, all victims of the Bolsheviks, and in particular, an expert on borscht by the name of Kolibianski. These men, especially one Cossack general who insisted on keeping my car spotless, viewed Jannings's efforts to be Russian with such disdain that I had to order them to conceal it."
For the silent film "His Hour", starring John Gilbert, King Vidor managed to secure the services of a real Tsarist aristocrat to play the Grand Duke. For a variety of reasons, the actor refused to reveal his real name. He was listed in the credits as Mike Mitchell.
This royal was not alone. Prince Serge Mdivani had a brush with celluloid immortality playing Cossacks for De Mille. Dark and handsome, he was known for his famous sword dance, the "Lesginka". He had two brothers, David and Alexis, who also played Cossacks, and together all three of them lend the film community another touch of royal glamour.
Russians, like other foreigners, tended to socialize within their own groups. Faded aristocrats rubbed shoulders with commoners at the Russian American Club, which met on Harold Way in West Hollywood. They ate shashlik and waxed nostalgic listening to the soulful ballads of Tina Zamina, a survivor of the anti-Bolshevik's Women's Army.
Another refuge was the Russian Orthodox Cathedral of the Holy Virgin Mary, on Micheltorena Ave. in Silverlake. Many donated their wages as extras to fund its construction. Mischa Auer, the famous character actor, paid the church's utility bills for several years.

However, being a foreign actor in Hollywood became both a blessing and a curse. Those who learned English successfully made the transition to talkies, but their accents forever closed the door to mainstream stardom.
Desired for their exotic qualities, yet marginalized by the language barrier, they were relegated to cameo roles. Making the best of the situation, they carved out the only niche available to foreigners in Hollywood, that of the character actor.
Producers took advantage of the Russians' exotic looks and colorful accents, casting them as every other nationality under the sun. From Arabs to Asians, the classically trained Russian actors played characters with names like Abu Zeyd, Kassim, Sadik, Amil, Suraj Ud Dowlah, and Afridi. Yet they played them all to perfection, creating memorable portrayals, and often stealing the show from the mainstream stars.
Mischa Auer, the irrepressible comedian and grandson of the famous violinist Leopold Auer, did just that with his long sad face and bulging eyes. His hilarious portrayals of stereotypical Russians included the doomed aristocrat, Prince Miratov in "Vogues of 1938", the ballet master Boris Kolenkov in "You Can't Take It With You" (1938), and the Russian gigolo Carlo in "My Man Godfrey: (1936), in which he sang endless choruses of "Ochi Chorniye", for which he received an Oscar nomination.
Born Mischa Ouskowski, this gangly clown never took life too seriously, and regarded life's joys as an unexpected dividend. Remarking on life in Hollywood, Mischa said, "It's a wonderful country. You can live on oranges and credit and have a car to boot."
It took him three years to begin earning a living in films, but once he started, he never stopped. Mishca's ability save a picture by stealing the scenes, coupled with his distinctive looks and wild performing style made him a great favorite among audiences and directors alike.
Some, like Mischa, posessed untrained, natural talent. Still, there were several others whose strong theater training in Russia's leading conservatories and theater companies caused them to excel, proving that there are no small parts, just small actors.
One of the smallest in terms of stature, but one of the greatest in terms of sheer talent, was Maria Ouspenskaya. The tiny, dynamic character actress came to the U.S. in 1923, on tour with the Moscow Art Theater.

She decided to stay, appearing on Broadway and running a New York Acting School before venturing out to Hollywood in 1936. Due to her extremely thick Slavic accent, she was cast in films in a series of exotic character roles, notably the Maharani in "The Rains Came" (1939), the gypsy fortune teller Maleva in "The Wolf Man" (1941), and the Chinese Amah in "The Shanghai Gesture".
She was nominated for two Oscars, for "Dodsworth" (1936) and "Love Affair" (1939). Her exceptional acting skill can be seen in her economy of gesture, and the range of feeling conveyed by her noble, expressive face. Although not possessing conventional good looks, the dignity of her presence and the depth of her portrayals let her hold her own among the younger, more attractive stars.
Vladimir Sokoloff, yet another Moscow Art Theater alumnus, was a sort of male counterpart to Ouspenskaya. He came to Hollywood in 1937, and appeared in scores of films as the requisite cameo Slav/European/Asian.
He played the Frenchman Paul Cezanne in "The Life of Emile Zola" (1937), Russians in "Comrade X" and "Mission to Moscow", the Spaniard Anselmo in "For Whom the Bell Tolls" (1843), and a Chinaman in "Macao" (1952).
The Moscow Art Theater/Hollywood connection was further strengthened by actors such as Akim Tamiroff, who made a living being cast as unsavory Slavic villains or eccentrics in broad comedies. He too received Oscar nominations for his performances in "The General Died At Dawn" (1936) and "For Whom the Bell Tolls" (1943).

Mikhail Rasumni, yet another MAT alum, played similar roles, often being cast alongside his colleagues Sokoloff and Tamiroff. Notable films include "Comrade X", "The Shanghai Gesture" (1942), and "For Whom the Bell Tolls". Gregory Ratoff, who also attended MAT, made his debut as an actor in the early 1930's.

Ironically, he was often cast as an eccentric director producer, a role he took up in later life. As a performer, he appeared in "All About Eve" (1950), "The Sun Also Rises" (1957), and "Exodus" (1960). As a director, he crossed nationalist borders with such films as "Song of Russia" (1944), "Irish Eyes Are Smiling" (1944), "Paris Underground" (1945), and "Carnival in Costa Rica" (1947).
Not all of these characters actors attended MAT, however. Notable exceptions include Michael Chekhov, the nephew of the playwright Anton Chekhov, who, in addition to his directing career in Hollywood, played character roles from 1944 until his death in 1955.

He is chiefly remembered today for his contributions as an acting coach, and is the author of "Notes to the Actor", a text which is still very much in use.
Lila Kedrova was another actress who, although she worked mainly in France since emigrating from Russia in 1928, appeared in several American films, notably "Zorba the Greek" (1964), for which she received an Academy Award for Best Supporting Actress.

Several Russian actors had other careers before ending up on the silver screen. Ivan Lebedeff was an officer in the Czar's army before making his film debut in 1922. Dark and handsome, he was often cast as unscrupulous Latin lovers or calculating villains. He appeared in "Passport to Alcatraz" (1940), "The Shanghai Gesture" (1941), and "The Snows of Kilamanjaro" (1952).
Leon Belasco was a bandleader in Russia before he, too, joined the ranks of flustered ethnics, nervous balletmasters and Slavic waiters in "Topper Takes A Trip" (1939), "Road to Morocco" (1942), and "Can-Can" (1960).

Leonid Kinsky was a miner before his Hollywood debut as a revolutionary in "Trouble in Paradise" (1932). Yet another victim of multinational casting, he was featured in "Algiers" (1938), "Down Argentine Way" (1940), and "Casablanca" (1943).
Mike Mazurki, who arrived in the U.S. in 1915, at the age of six, played football for Manhattan College and was a professional heavyweight wrestler before making a career in films. His stocky build and thick features destined him for numerous roles as dull-witted thugs, his memorable portrayal of Moose Malloy in "Murder My Sweet/Farewell My Lovely" (1945). His career spanned 60 years, culminating with an appearance in "Dick Tracy" in 1990.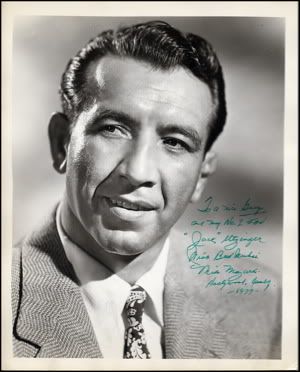 Lesser known character players include Maurice Moscovitch, from Odessa, who was featured in the 1940 version of "The Great Dictator", and Eugenie Leontonovich, who appeared in "The Rains of Ranchipur" a remake of the "The Rains Came", in which she recreated the Ouspenskaya role. She went on to portray Dowager Empress Marie in the 1954 film "Anastasia", starring Ingrid Bergman and Yul Brynner. Sam Levene was another actor whose career began on the stage before turning to film, where he created a memorable portrayal of a gentle Jewish murder victim in "Crossfire" (1947), the first anti-racial intolerance film.
FAKES AND FAILURES
Being Russian was so in vogue in the early days of film, that several stars of the silver screen conveniently changed their names to capitalize on this trend. For years, everyone assumed that Boris Karloff was a Russian because of his last name. Nothing could have been further from the truth. This proper Englishman's convincing portrayals of monsters and villains, insured that several generations of Americans will forever associate the name Boris with nefarious Slavs.
Natasha Rambova, Valentino's wife, was born Winifred Shaughnessy, somewhere deep in the heart of America. And no, not a single one of her relatives hailed from Mother Russia.
Olga Petrova, the silent era femme fatale, was actually born Muriel Harding in Britain. Touted by studio publicity staff as a Russian aristocrat born in Poland, she steamed up the screen in "The Tigress" (1914), "The Vampire" (1915), and "Panther Woman" (1918).
One of the most famous, and successful "fakes" was Michael Romanoff, owner of the chic eatery "Romanoff's", in Beverly Hills. A Russian by heritage, Mr. Romanoff capitalized on the cachet offered to members of the aristocracy, and allowed the legend to circulate that he was a Russian count.
This fabrication had much to do with the success of his establishment, which gained notoriety as the favorite watering hole of the "Hollywood Rat Pack", consisting of Frank Sinatra, Dean Martin, Sammy Davis Jr., Richard Conti, and Joey Bishop. Mr. Romanoff never officially confirmed or denied the legend of his noble birth, perhaps correctly assessing that the romance of the question far surpassed the disappointment of the answer.
It is ironic to note that these "fake" Russians achieved notoriety in Hollywood despite their misrepresenting themselves, while several authentic Russians tried to put themselves across and failed miserably.
The first of these unfortunates, Ivan Mousjoukine, arrived in Hollywood in 1927 to play a young Cossack in "Surrender". He suffered abysmal reviews, and fled back to Paris where, as luck would have it, he found steady employment as an actor for the remainder of his days.

At least Mousjoukine had the luxury of suffering his defeat in relative obscurity. Some were not so lucky.
Anna Sten, Anjushka Stenskaya Sudakevich, secured her niche in this category with the moniker "Goldwyn's Folly". Hoping to create another Garbo or Dietrich, Goldwyn launched a huge publicity campaign for the former Moscow Art Theater star. She failed to appeal to American audiences, and in a rare move, Goldwyn canceled her contract, admitting he'd made a mistake.

She appeared in occasional films, "We Live Again" (1834), an adaptation of Tolstoy's "Resurrection", and "The Wedding Night" (1935). Her debacle was colorfully immortalized in an unpublished verse of Cole Porter's "Anything Goes": "If Sam Goldwyn can with great conviction instruct Anna Sten in diction then Anna shows, Anything Goes!"
THE RUSSIANS AMONG US...
In addition to the colorful personalities, aristocrats, and character actors, there were several Russians who managed to achieve major stardom in the film industry. Who, then, are these cinema luminaries, and why haven't we heard of them until now?
It may surprise the reader to know that Hollywood is much more Russian than they thought. Let's take a peek at the roster of Hollywood stars who, unbeknownst to scores of fans, are really "closet" Russians.
CHARACTER ACTORS
Leonard Nimoy, the famous Vulcan on "Star Trek", was born in America to Russian parents in 1931. His portrayal of Mr. Spock became an archetype for a generation, an image he had difficulty shedding after the early demise of the show.
Fans known as Trekkies provided such a following that the stars of the original program continued their roles on film with a series of pictures based on the television show; "Star Trek: The Movie", "Star Trek II - The Wrath of Khan", "Star Trek III - The Search for Spock", "Star Trek IV - The Voyage Home", and "Star Trek V - Generations".
His association with science fiction persisted, and he hosted "In Search Of", a series investigating unexplained phenomena. Active in politics, Nimoy protested the Vietnam War and continues to be involved in social issues. (* Even in the 60's, Hollywood continued to cast ethnic roles with actors of different nationalities - Chekhov, the Russian in "Star Trek" was played by the not so Russian Walter Koenig).
Ed Asner is also the child of Russian immigrants. Born in Kansas City, his fabulous portrayal of Lou Grant, a cranky boss on the "Mary Tyler Moore Show", led to his own series, "Lou Grant", where he played a hard-hitting but warm-hearted newspaper editor. Both shows ran from 1970 to 1982. He went on to become president of the Screen Actors Guild, and, like Nimoy, is an outspoken liberal activist.
Leon Ames, born Leon Waycoff to Russian parents in Portland, Oregon, began his film career in 1932. He played numerous fatherly roles, and appeared in the television series "Life With Father", and "Mr. Ed". He was also one of the founders of the Screen Actors Guild.
Karl Malden, the noted character actor, was born Mladen Sekulovich, to Russian parents living in the U.S. His homely looks led him to portray complex working class characters, appearing in "On The Waterfront" (1954), and "Baby Doll" (1956), "Gypsy" (1962). He played General Omar Bradley in "Patton" (1969), and won an Oscar for Best Supporting Actor in "A Streetcar Named Desire" (1952).
Sylvia Sidney, born Sophia Kosow, in 1910 in the Bronx, New York, was the daughter of Russian Jewish immigrants. Her career began on Broadway, and subsequently she made the transition to films, invariably being cast as a downtrodden, working-class girl. Much to her dismay, she was continually typecast, as is evident in such films as "Dead End". By the 1940's she was working more on stage than in films. She received an Oscar nomination for "Summer Wishes, Winter Dreams", in 1973, and remained active in character roles on television and in films well into the 90's. In 1990, she was honored for life achievement by the Film Society of Lincoln Center.
COMEDIANS
Perhaps continuing the Mischa Auer comedic tradition, several leading Hollywood comedians, not surprisingly, were of Russian extraction. Phil Silvers starred in his own television series, "The Phil Silvers Show", as well as appearing in scores of light comedies such as "A Funny Thing Happened On the Way to the Forum" (1966), and "It's A Mad Mad Mad Mad World" (1963).
Walter Matthau came into this world as Walter Matuschanskayasky, the son of a Russian Orthodox priest and a Jewish mother. His sardonic humor and comedic genius made him a star in the 60's, with such hits as "The Odd Couple" (1968), "Hello Dolly" (1969), "Plaza Suite", (1971), and "The Sunshine Boys" (1975).

He won an Oscar for Best Supporting Actor for his portrayal of "Whiplash" Willy Gingrich, the ambulance-chasing lawyer, in "The Fortune Cookie" (1966). His lack of looks, slouching posture, and New York growl kept him from becoming a leading man, but assured his position as one of Hollywood's leading comedians.
Two of America's most popular entertainers, Eddie Cantor and Al Jolson were of Russian descent. Cantor, born Edward Israel Iskowitz to Russian immigrants in New York's Lower East Side secured great popularity as a performer in vaudeville and burlesque with his famous "rolling banjo eyes" and unique speech patterns. He starred in "Ziegfeld Follies", and several Broadway productions. He made his film debut in 1926, and his popularity only grew following the advent of sound.
However the mediocrity of his films didn't take full advantage of his inimitable style and stage presence. He had his own radio show in the 1930's, and wrote several autobiographical volumes, "My Life Is In Your Hands", "Take My Life", "The Way I See It", and "As I Remember Them". He won a special Academy Award in 1956 for distinguished service to the film industry.
Al Jolson, born Asa Joelson in 1886 in St. Petersburg, became famous as a black-faced cafe and vaudeville singer and performer. He rose to stardom on Broadway, and later made film history singing three songs in a Warner Brothers experimental sound short, "April Showers". The following year, he starred in the first talkie feature film, "The Jazz Singer", in which he uttered the immortal phrase, "You ain't heard nothing yet."
Unfortunately, his popularity declined as a result of a changing public, but he experienced a revival in 1946 with the making of "The Al Jolson Story", for which he provided dubbed versions of the songs.
LEADING LADIES
One of Hollywood's most attractive leading ladies, Natalie Wood, was born Natasha Gurdin, the daughter of a Russian architect and a French ballet dancer, in San Francisco, California. She began her career as a child star in "Happy Land" (1943), and subsequently starred in "Miracle on 34th Street".

She was one of the fortunate few who made the transition from child star to adult actress, making a serious impression as a troubled teen in "Rebel Without A Cause" (1955), for which she received an Academy Award. She went on to star in "Splendor in the Grass", and "Love With the Proper Stranger". She had a sister, Lana Wood, also an actress. Her daughter, Natasha Wagner, has followed in her mother's footsteps, most recently hosting a television interview program.
Helen Mirren, although not American, is also of Russian descent. Born Ilyena Mirnoff in Essex, England. She joined the Royal Shakespeare Company in 1967, and her successful career on stage and screen in the U.K. subsequently led to notoriety on this side of the Atlantic. The granddaughter of a White Russian nobleman, she was able to take advantage of her Russian roots in "White Nights" with Mikhail Baryshnikov (1985).
LEADING MEN
Laurence Harvey, born Larushka Mischa Skikne, was yet another "closet" Russian. Films include "Butterfield 8" (1960) "Summer and Smoke" (1961) and "The Manchurian Candidate" (1962). His portrayal of a cold, impudent young man in "Of Human Bondage" (1964) earned him critical acclaim.
Legend has it that Yul Brynner ("Anastasia", "The King and I") was born on an island off the coast of Siberia, but as of the writing of this article, no concrete confirmation has surfaced.
Harrison Ford, the son of an Irish father and a Russian-Jewish mother began his career doing guest roles on various television series before hitting it big as the co-star of George Lucas' space fantasy, "Star Wars".
His interpretation of the role of Hans Solo, the daring space pirate, led to even greater success as the adventurer Indiana Jones in Steven Spielberg's "Raiders of the Lost Ark". He received an Oscar nomination for his portrayal of a cop in "Witness", and is today one of Hollywood's most attractive - and bankable, leading men.
Gregory Peck was another one of Hollywood's most famous leading men. Of Russian descent, the handsome sex symbol conveyed strength, intelligence, kindness and conviction. His career spanned four decades, and he worked with such director's as Alfred Hitchcock in "Spellbound" (1945), and starred with Audrey Hepburn in "Roman Holiday".
Peck appeared in the original version of "Cape Fear" (1962), as well as the classic "To Kill a Mockingbird" (1963). He went on to receive the Jean Hersholt Humanitarian Award from the Academy of Motion Pictures for his efforts on behalf of charity.
And speaking of leading men, who can forget Kirk Douglas? Born Issur Danielovitch Demsky, in Amsterdam, New York, to Russian Jewish immigrants, he attended the American Academy of Dramatic Art and began his career on Broadway. He was invited to Hollywood, where he had a series of roles as gangsters.
The film "Champion" (1949) in which he played a sexy, immoral prizefighter, made him a star. He gave a strong, intense performance as Vincent Van Gogh in "Lust for Life" (1956), and was proclaimed a post-war masculine movie idol, and the successor to the famous actor John Garfield. He produced and starred in the Broadway version, "One Flew Over the Cuckoo's Nest", which his son, Michael, made into a highly successful film.
Michael Douglas has continued in his father's footsteps as an accomplished actor and sexy leading man in "Basic Instinct", "Fatal Attraction", and most recently "Disclosure". He runs his own production company, and it is his ambition to star in a feature with his famous father.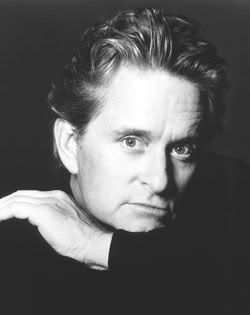 **** Russians have had a lasting impact on American culture, in spite of what this culture imposed on them. Actors of Russian birth, as well as those of Russian descent, helped craft our understanding not only of the their mysterious and enigmatic country, but of every other corner of the globe as well.
Russians can certainly feel pride in this legacy of brilliant performances that enriched our imagination, made us laugh, and touched our hearts. Their influence will continue to be felt, both in America and abroad, as long as people continue to be enthralled by the magic of the silver screen.
*** ADDITION TO AMERICAN ACTORS OF RUSSIAN DESCENT
Efrem Zimbalist Jr. was the son of the famous Russian violinist Efrem Zimbalist Sr., and Alma Gluck, the opera singer. Probably best known for his role in the television series "The FBI", his career spanned several decades. Notable films include "By Love Posessed" (1961) and "Wait Until Dark" (1967), starring Audrey Hepburn.

PHOTO SOURCES $2-8 PER PRINT OF EACH ACTOR, OR PHOTO FROM ONE OF THEIR FILMS.
LARRY EDMUNDS
6644 Hollywood Blvd.
467-3296
CINEMA
1507 Wilcox
461-6516
COLLECTORS
1708 N. Vine
467-3296