January 2008: News / Tour info/ Galleries
---
01.2008 - DVD of the movie [BLOOD: Rise Hunter]

Last month, the movie "Blood Rise Hunter" (staring Lucy Liu) was released on DVD, the TV spot with D.T.M.H by BLOOD is included on the DVD.
View the Tv spot here.
Jrock Events USA have published an interview for promote
the upcoming tour.
» Read Interview
01.2008 - Signing sesion in Chicago
In addition with the live show in Subterrameam club,
the band will give a signing session in store event at
Mitsuwa Marketplace (Chicago/Ilinois)
Adress
100 E. Algonquin Road
Arlington Heights, IL
Open: 1:00PM
tell: 847.956.6699
http://www.mitsuwachicago.net/
01.2008 - Message from Fu-ki and Kaede
Greeting
"I've really been helped out by lot of people again this year. There are always people who help us when we go overseas by doing things we can't do ourselves, and I think it's because of them that our lives have been successful. And of course I'm truly thankful to our fans. Thanks for this past year. I'll do my best again this year to repay you all through our works and performances. So, everyone, have a great year."
Fu-ki.

New Year
"Happy New Year. I had a lot of help from a lot of people in the past year, and I'm grateful to all of them. I'll do my best to return the favor this year."
Kaede.

*Message taken from their blogs
12.2007 - Sisen with BLOOD!!!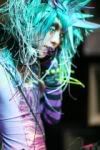 DJ Sisen
will be making his first U.S. appearance with BLOOD on their U.S.
tour in February!!!
Who????
Sisen is an industrial DJ famous all over
the world due to the power of internet.
His appierances is boyish of girlish.
Visti Sisen's official Homepage
http://myspace.com/sisen
12.2007 - More tour dates
February 24 Ikebukuro Cyber (Tokyo / Japan)
April 13 - StudioCube326 (Alamode night 31 feat. Darkest Labyrinth)

BLOOD tour with GPKISM
[Darkest Labyrinth vol.8] in Australia
June 8 Metro Theatre (Sydney / NSW) (all age)
12.2007 - Join to USA street team
The BLOOD USA Street team is now taking applications in the Los Angeles, San Antonio, Boston and Chicago areas! Please only apply if you are within a 2 hour driving distance from these areas ONLY.
To apply, send an e-mail to your local street team leader, listed below. Please title your e-mail "BLOOD US Street Team Application". Include your full name and contact information. All street team members must be able to complete the assignments set out by your local street team leader. Please contact them directly for further details.
Los Angeles, CA
Gloom
http://www.myspace.com/gloom
San Antonio, TX
(SPECIAL EXCEPTION FOR SAN ANTONIO STREET TEAM ONLY! Please also apply if you are from Austin, Huston, or Dallas)
Johnny Yen
http://www.myspace.com/thesnags
Boston, MA
Nancy Guevara
http://www.myspace.com/ame_ni_utaeba
Chicago, IL
Carmilla Kupritz
http://www.myspace.com/animefood
Please e-mail your local street team leaders with any questions you may have. Thank you very much!

During their last concert, the band had Bloodmore Har (from The Royal Dead) as a live dancer on stage. It was a successful. So they decided to invite her as a live member in Japan, please enjoy their live
show with her.


12.2007 - BLOOD USA TOUR 2008
The upcoming US tour has been arranged.
It'll be the first time they will play in San antonio and Chicago, so don't miss them!
Tainted reality presents
BLOOD tour [Darkest Labyrinth vol.7] in USA
Feb 1st Knitting Factory (Los Angeles / CA)
Feb 2nd Sam's Burger Joint (San Antonio / TX)
Feb 3rd The Middle East Club (Cambridge / MA)
Feb 4th Subterranean (Chicago / IL)



11.2007 - Ghotic & Lolita Bible vol.27

The last issue of Gothic & Lolita bible, includes an interview and new photos with the band.
11.2007 - New song on Myspace
You can listen the new BLOOD song through their official Myspace.
http://www.myspace.com/bloodofficial
11.2007 - Short tour in Japan

For promote their new single,
BLOOD will do a short tour in Japan,
after this, the band wont give any
concert until the North America Tour.
One coin single [CHAIN] release
short tour in Japan
[THE STRANGER IN THIS LABYRINTH]
Dec 1st Club Alive -Sakinohaka vol.4-(Osaka / Japan)
Dec 8th Ikebukuro CYBER -Free event-(Tokyo / Japan)
Dec 9th StudioCube326 -Theatic+Alamode 02-(Tokyo / Japan)
Tour [Darkest Labyrinth vol.7] in USA

Feb 1 KNITTING FACTORY (Los angeles/ USA)
Feb 2 Sam's Burger Joint (San Antonio / USA)
Feb 3 The Middle East Club (Boston/ USA)

JaME spoke at lenght with the band before their last concert in Finland.
» Read Interview
11.2007 - CD Baby anounce
2nd Period DX
and
VENGEANCE for BLOOD Limited edition
were sold out last week. so today, they were restocked.
11.2007 - BLOOD CD's To Be Sold At Anime USA At Special Price!
Tainted Reality will be selling BLOOD CD's this weekend at Anime USA in Washington DC. However, there will be a special price! You must go to Anime USA to know the special price! They will sell:
| | | |
| --- | --- | --- |
| | | |
| BEST COLLECTION 2002-2007 | DEAD HEARTED [EP] | LES FLEURS DU MAL [CD+DVD] |
Tainted Reality will also DJ the rave. They will play BLOOD song there! Please go.
Please support BLOOD buying their CDs!!!
* They will sell Suicide Ali and The candy spooky theater merchandise too
11.2007 - BLOOD in Mexican TV
Last friday Kiwamu and Fu-ki appeard in a tv story of visual kei on the mexican program "Esquizofrenia", you can watch the mini interview with the band here (BLOOD is at the midle of the video), Subtitles in Spanish only :(
Thank you everyone!!! BLOOD has come back to
Japan from a succesfull tour in Mexico :)
Tour review soon
The American site Heathen Harvest has written
3 reviews of BLOOD albums
Darkesth Labyrinth Review
VENGEANCE for BLOOD 2 review
SPLEEN ~ D'espair review
BLOOD's upcoming single will be called "Chain".
It will be released on December 12th.
The band: Spectrum-X contribute with the remix song.
also the single will be sell in the next gothic event (Just Japan).

[Cover]

[Play list]

01. CHAIN
02. CHAIN(Cursed Mix by Spectrum-X)

CRCD-29
Price: 500 yen
Limited 500 copies

10.2007 - Tickets Presale for TNT 14
Now you can buy your tickests for TNT 14 / BLOOD concert
in the following places:

Comics del Centro
Centro Historico Colombia #51 Local 48, 49 and 50
OR
Eje Central Lazaro Cardenas # 11 Local 212, Plaza San Juan

Price:$ 60 pesos (2x1 pass)
10.2007 - Set list for Mexican Tour

BLOOD tour [Darkest Labyrinth vol.5] in Mexico

Nov 1st TNT14 (Mexico city)
"1st PERIOD and 2nd PERIOD" day

Nov 2nd TNT14 (Mexico city)
"VENGEANCE for BLOOD" day

Nov 3rd TNT14 (Mexico city)
"Les Fleurs Du Mal" day

Nov 4th TNT14 (Mexico city)
"Symphony of Chaos" day


Kiwamu join's to the australian band GPKISM.

Band concept:
GPKISM is the manifestation of baroque essence fused with
electro/industrial sound, creating a unique world both decadent
and sublime.
NOTE: This NOT means that Kiwamu leaves BLOOD!!!
For listen GPKISM songs, visit their offcial Myspace:
GSPKISM members
Ken
Vocals & Composing

Kiwamu
Guitar
10.2007 - BLOOD in Gotica magazine
BLOOD appears in the back cover
of Mexican magazine Gotica,
the issue includes a short
article about the band and a 2x1
pass for the concert in TNT.
10.2007 - US radio J-rock shock
You can listen BLOOD songs through "J-rock show"
http://jrockshock.freespaces.com
09.2007 - Guest Singer for the next mexican tour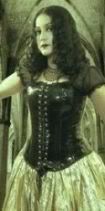 The singer Duan Marine from
Anabantha, one of the most important groups in goth mexican scene,
will join to BLOOD as a guest vocalist
for the upcoming shows in Mexico.
For listen some songs of Anabantha,
visit their official Myspace
09.2007 - New tour in USA
BLOOD announced the first show of their next tour in US,
more dates will be announce soon, also they are looking
local bands for opening act, if your band is interested,
contact Kiwamu by CURE e-mail
Febraury 1st / Knitting Factory (Los Angels / USA)
Febraury 3rd / The Middle East Club (Boston/ USA)

09.2007 - WANTED DJ's with interest in J-GOTH!!!!
If you are a DJ with interest in J-GOTH.
BLOOD want's COOL DJs to play their songs for your club or your radio!!
Contact the band if you are interest :)
09.2007 - Trips to TNT 14, Mexico City
| | | |
| --- | --- | --- |
| | | |
| Morelia | Celaya | Guadalajara |
09.2007 - New concept "Symphony of Chaos"
A new limited edition EP with 7 songs, including remixes
made with overseas clubs in mind,
will be released as the first single made using BLOOD's new gothic industrial musical style.
Exo-Chika of Aural Vampire will participate as a guest vocalist
on a re-recording of the first period song "BLOOD". In-Tranzit (Australia), GPK (Australia), and Virgins O.R. Pigeons (Greece) will contribute remixes.
New concept "Symphony of Chaos" limited EP
On sale: September 15 [DEAD-HEARTED]
7 songs / 8 page booklet / picture label
?1,890(TAX IN) / limited 300 / CRCD-28
[COVER]
[PLAY LIST]
01. DEAD-HEARTED
02. CRIMSON
03. BLOOD feat. EXO -CHIKA (Aural Vampire)
04. DEAD-HEARTED (In-Tranzit mix)
05. DEAD-HEARTED (Tears Of Fallen Angel GPK mix)
06. CRIMSON (INDUSTRIAL mix)
07. L'IRREPARABLE (Virgins O.R. Pigeons mix)
Now on sale [BEST COLLECTION 2002-2007]
You can purchase the new BLOOD's album [BEST COLLECTION 2002-2007], this CD contains re-recorded songs from 1st period, 2nd period, VENGEANCE for BLOOD & LES FELURS DU MAL concept.
This album is a good ending for the band visual kei period
[COVER]
[PLAY LIST]

01. Maria
02. morphine
03. byakuya
04. SAKURA
05. THE FUNERAL FOR HUMANITY
06. BLIND
07. I remember you
08. Awakening
09. NEVERMORE
10. VENGEANCE for BLOOD
11. L'IRREPARABLE
12. SPLEEN
13. BRUMES ET PLUIES
14. VOICES(piano version)
15. Secret Track
IMPORTANT ANNOUNCEMENT: RUSSIAN GIG CANCELLED & New schedule on the European tour
BLOOD has cancelled the russian gig due to bad organisation
BLOOD and JaME tried their best to go to Russia,
but the organiser's working way proved to be too bad.
For this reason, BLOOD decided to cancel the show in Russia.
The band is very sorry about this situation. Now they changed
the tour to 2days in Austria.
BLOOD will not have the plan to have the live show on the 2nd day.
But Kiwamu want to make something special for fans.
[Darkest Labyrinth vol.4] in Europe
August 24 AniNite'07 : Live show (Austria, Vienne)
August 25 AniNite'07 : Autograph session (Austria, Vienne)
August 26 Gloria (Finland, Helsinki)
August 28 Elverket (Sweden, Stockholm)
[LES FLEURS DU MAL] DVD spot!
New Interview in Russian magazine"R.I.P"
The 13th Issue


There are new pictures of BLOOD in their OHP, take a look!!!
Costumes: Unvollkommen
A ccessory: pureblackGothicLabo
Nails art: Angelic Rose
Les Fleurs Du Mal on iTunes!!
You can download the new album "LES FLEURS DU MAL" by I-tunes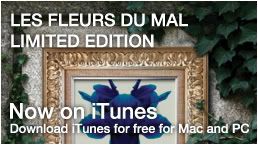 The new BLOOD's OHP has been uploaded, the Spanish, Finnish, French,
German, Greek and Italian vertions were deleted by the
troublesome with web management.
Japanese http://curecreate.com/j/
Mobile (Jp) http://curecreate.com/i/
English http://curecreate.com/e/


Source: BLOOD
© 2000-2007 cure All rights reserved All other trademarks and copyrights used are the property of their respective owners