IN HIS UNFAILING LOVE MINISTRIES

LET'S TALK

December 7th, 2007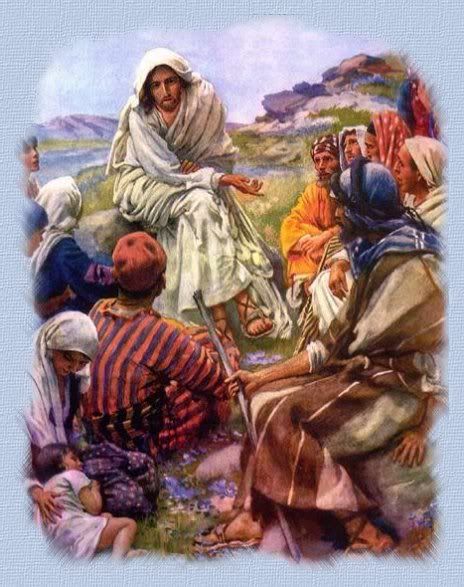 "Hear counsel, and receive instruction, that thou mayest be wise in thy latter end."
(Proverbs 19:20)



BRETHREN,


I greet you in the matchless name of our Lord and Saviour Jesus Christ! Grace, mercy and peace be unto you.


It may seem to some that nothing has been happening with this ministry or this site as of late. On the contrary MUCH has been happening "behind the scenes" (or so it would SEEM that they are behind the scenes). Since the Lord moved me into my new home in September He has had me warring for this region. There are many principalities here and He has positioned me for the end time battle. True, information is current/up-to-date on the MySpace site and I encourage all to get an account and "come and see" for that is where my team and I fellowship with one another most (because there is opportunity for interaction) whereas this site is 'stationary' and does not afford the opportunity to receive incoming messages in real time. The Lord has sent me out to minister in the community to those who would not see Him otherwise. He has had me worshiping DAILY because I am now in a HOUSE and no longer are their any noise restrictions and I can worship even at 3 and 4 and 5 am as He asks because it BOTHERS NO ONE! During my 'seeming' absence we have also moved my son into his dorm at university where he is a Freshman; and my daughter is pregnant with my first grandchild (A MIGHTILY ANOINTED CHILD IN THIS LINE OF PROPHETS HALLELUJAH - OVER WHICH A PROTECTION OF GOD AND ANGELS RESTS AND NO EVIL CAN BEFALL THIS CHILD IN JESUS NAME). The ministry team is being established and mentored and strengthened...the Lord is sending me into the enemy camp with His glory and revealing darkness...in the meantime He has me studying, praying and worshiping, scribing and recording...ALL GLORY HONOR AND PRAISE BE UNTO HIM HALLELUJAH.


There are MANY things He has spoken through me - posts that are prophetic (always) and will be placed in various areas on this website. IN THE MEANTIME He has asked me to post them here ALL AT ONCE so that you are able to catch up. Once it has been posted for His prescribed length of time, I will then transfer the information to the appropriate links.


I pray that you are so deep in Him right now that you haven't even had time to notice that anything is 'lacking' here. Your eyes need to be on HIM CONSTANTLY. Your time spent in HIM 24/7. This is not the hour to slack off now - in fact doing so you could risk your heart. BE HIDDEN IN HIM...REVEL IN HIM...SIT AT HIS FEET DAY AND NIGHT, NIGHT AND DAY. LISTEN to His voice. Allow yourself to KNOW AND LOVE HOLY SPIRIT like never before. The hour is critical...I pray you are ALL steadfast in Him....


In His Unfailing Love,
His Messenger
December 7th, 2007 @ 5:50 PM

PLEASE NOTE: There are enemies of God who look at this site, more that you realize, and specifically women from MySpace who speak against the works of God through this ministry. THEREFORE MOST of what God is speaking and doing will be posted here, however some is kept hidden/private so as not to cast His pearls before swine. If you want to read ALL, you will have to come to MySpace (saith the Lord).
CATCHING UP UP ON THE THINGS OF THE LORD AS HE HAS HAD ME POST THEM:

NOVEMBER 1st, 2007
THE LORD TRANSLATED ME TO HIS EQUIPPING CENTER

The Lord has been speaking with me, encouraging and strengthening me. I knew that this move was His perfect will, that He was positioning me for this next move of His Spirit. I've been waiting for Him to reveal more to me and the enemy in the meantime has come in like a flood. He sent me to The Meeting Place (as He had me already mention yesterday) Tuesday night and it was horrible. When I went to sleep in the wee hours of Wednesday morning, the Lord woke me up at 6:44 A.M. and said two things. First He said, "When I took you with Me to minister My love and finally chance to Saddam before he was hung, remember to tell them that he was smug, arrogant and blasphemous." (you need to understand that I hear His answers even while and before I ask the questions but I spell them out so that it makes sense to the reader). I asked, "Tell who, Lord?" He replied, "THEM. I'm going to have you tell them." (THEM are they who have not heard it yet). The second thing He spoke to me was about the ministry (Voice Ministries) that hosts "The Meeting Place". He said, "My Glory has lifted from that place - it is an empty hollow shell of its former 'self'" (this was also at 6:44 A.M.) After He spoke to me He told me to turn on the television and there was a crawl at the bottom of the local news - it said "5.6 quake in California" and also "7.2 Quake in (some islands that began with an M)" (later found out it was the ring of fire area)

THEN (still Wednesday October 31st) later He had me turn on James Robison's LIFE program (again never has me watch anything unless He tells me to). Beth Moore was speaking/teaching...she was talking about earthquakes. (did anyone see it? POWERFUL). Earthquakes as in something that splits your life wide open - causing so much commotion in your life you often cannot keep it private). The Lord said to me, "This thing that has happened in your life is an earthquake."

But THEN as she spoke, He showed me an amazing image of Himself - GINORMOUS (gigantic/enormous) God...all I saw was His feet - He planted His left foot, then He planted His right foot...in the gap in between the earth split while rumbling and shaking (just as it will when He returns on the Mount - it splits in half). THAT IS THE ENORMITY OF THE WEIGHT AND THE POWER OF HIS GLORY. He showed me Himself stepping into my life and circumstances and, brethren, I CAN STILL SEE HIS FEET...even that picture He had me post on MySpace where it is these huge feet and robe of the Lord walking:

--- not even CLOSE to the size and enormity of what He showed me. In that instant when He put His first foot down I was strengthened, empowered. I will never ever forget this image of how BIG HE IS, the enormity of His power and might; how NOTHING can get in His way...nothing.

And then finally again after laying down - it was 6:44 A.M. AGAIN only today (Thursday, November 1st, 2007). He translated me while I had been resting to a beautiful place. It was all beige in color (which is the color of the Bride). It was circular and it had many many rooms. It was an equipping center. It was also a revealing center. This was a place for God's anointed to go and become equipped.

There were rooms - lots of rooms - BUT there were also "traps" - rooms that catered to peoples flesh. And it wasn't so much put there to "trap" them as to weed out the true chosen vessels from the worldly vessels of flesh. There were people there to lead these people in their equipping, there to serve and guide. There was a set pattern that they tried to get everyone to follow. And in this case while others were following their lead, then I arrived. The Lord was walking with me and said, "What do you see?" As I looked with spiritual eyes I could see that the people being served (there to be equipped) were doing whatever they were told, including going to rooms that pampered/catered to their flesh. As long as these people told them to go a certain way, they followed them. The people working there, leading, were robotic. They were religious. They tried to get all to 'jump through hoops' doing ridiculous things that had nothing at all to do with God's Kingdom and the equipping of His chosen vessels.

They were very rude to me - ignoring, or the elders were just outright mean. They did not like that I would not do the things that they asked of me, because I knew that it would lead to my destruction. I spoke aloud (as they tried to lead me through this wrong door and that wrong door), "The journey is too important - I am only willing to do that which the Father wants me to do". So many of the others (already there before me, when I arrived) stayed with those religious guides, doing it the way of the flesh - but the Lord permitted me to see through it all. These false leaders were visibly and literally SHOCKED that I wouldn't and didn't want to waste the Lord's time doing things that had nothing to do with Him. I did only the things the Lord asked me to do and then I was DONE. Seriously DONE. I felt it in my entire being - I was DONE. Equipped. COMPLETELY without lacking any thing that He had for me.

The workers were stammering and not sure what to do. They seemed afraid to approach me but they had things from the Lord to give me. I received three shofars (the short kind) all adorned in different silvers with etchings. They were scurrying around to find the money that was owed to me that I had been cheated out of (these things were just known and did not need building up to or explaining - I just knew what was happening because I was equipped). They put mantles upon me - beautiful white mantles and robes. In one container there was some sort of white substance like power. I asked them what it was for and they did not know - but they were looking in awe at me and scooping the power into beautiful suede pouches, filling as many as they could with as much as they could. They kept staring at me while scooping, then they'd look at the powder, then they'd look at me.... And I said "The Lord wants me to have it - it is important to Him. The Lord wants me to have it."

They also gave me a white glass object in the exact shape of the state of Indiana. Inside the glass was a replica of an indian woman dressed in white and she was kneeling in prayer.

The Lord again showed me this place (my new home) and then I told the people that I had to get back to my mission...that I had been given three months.

When I returned from being there at this place the clock read 6:44 A.M. The Lord said, "You are appointed, anointed and equipped for the next level". He added loudly "You have always had My authority - you have it even greater now - My gift to you is My authority in all things."

The very last thing that happened was a vision: (come to MySpace and read the conclusion).
_____________________________________________________________________

RESTORATION & TRUTH

Truly Only Holy Spirit can reveal whether you have been faithful through trials, whether this is for you....He said to warn some that YOU ARE NOT FINISHED - meaning you are still being refined, you are still being 'killed' (dying to self/flesh) and your trials will continue for a season.....His Messenger Nov 5th, 2007 @ 4:51 PM

RESTORATION II
via Betty Heimbach
Nov. 5, 2007

The time of your trial is coming to an end. The time of restoration is at hand. I will restore to you all that you have lost, all that the enemy has stolen, all the locust has eater. I will restore and I will rebuild.

I am raising you up. You will have a testimony of Me that will draw others to Me.

Because you have endured patiently, because you have endured hardships, believing in My name, holding to My hand, holding on to My Word, because you have chosen to believe in Me, because you have waited for My answer to come in My timing, you shall see My promise. Because you have trusted in My name and you have been obedient to My instructions to wait on the Lord, your God and trust Me, you shall receive the promise of the fulfillment of My word for your life. Restoration is at hand. Now is the time of raising up and building up. Restoration.

_____________________________________________________________________

Confirmation of DREAM/VISION 'WITH LIBERTY & JUSTICE FOR ALL'
Integrity, Accountability and the Grassley Investigation

by J. Lee Grady
Charisma magazine

Six charismatic ministries are under the microscope as a U.S. Senate committee scrutinizes their spending practices. Is this from the devil—or God?

Depending on how you look at it, Sen. Charles Grassley is either a crusader for righteousness or a devil with horns.
Some Christians feared he was the latter this week when the Iowa lawmaker, who is the ranking Republican on the Senate Finance Committee, announced that he has launched an extensive investigation into the spending practices of six prominent charismatic ministries. As soon as news of the probe broke on Tuesday, I started getting calls from people who are worried that Grassley is plotting to take away the tax-exempt status of all evangelical churches in America.
I have been assured by one of Grassley's top associates that he does not have a hidden agenda, and he is not conspiring to deny anybody of religious freedom. What the senator does want is assurance that these six organizations are not taking money that was donated to charity and misusing it to buy mansions, plastic surgeries and other lavish perks.
"The Christian public should have demanded a higher level of accountability a long time ago."
In letters that were made public on Tuesday, Grassley told Kenneth and Gloria Copeland; David and Joyce Meyer; Randy and Paula White; Creflo and Taffi Dollar; Eddie Long; and Benny Hinn that they have four weeks to send him a boatload of paperwork to prove they are in compliance with U.S. tax laws.
Grassley has been applauded in the past for blowing the whistle on financial abuses among secular nonprofit organizations including the American Red Cross. Now, because of complaints he has received from the public, the senator is turning his attention to these six ministries, demanding that they send him receipts for expensive purchases, minutes from board meetings, audited financial records and detailed compensation figures, among other documents.
Each of the ministries received a letter asking about specific expenditures or questionable practices. Among Grassley's requests:
** A receipt for the Bentley convertible that Florida-based television preacher Paula White reportedly gave to Texas pastor T.D. Jakes
** Information from Bible teacher Joyce Meyer about expensive furnishings in her Missouri headquarters—including a $30,000 malachite table, a $23,000 toilet with a marble lid and a $19,000 pair of Dresden vases
** Paperwork explaining how Benny Hinn's ministry purchased his $3 million home in Dana Point, Calif.
** Receipts and other records explaining how Eddie Long paid for his $1.4 million estate on 20 acres in suburban Atlanta
** Records about vacation trips to Hawaii and Fiji that Kenneth and Gloria Copeland took using their ministry plane
** Clarification from Atlanta faith preacher Creflo Dollar about his role in raising a hefty portion of a $2 million gift donated to Kenneth Copeland.
We charismatics certainly are in an awkward spot these days. At the same time that Oral Roberts University (ORU) is under the microscope for alleged financial mismanagement, some of the biggest names in our movement are now accused of bending tax rules and spending God's money on themselves.
I am not going to rush to judgment in this case. I know that Meyer pumps hundreds of thousands of dollars into missionary outreach projects in many parts of the world, and the IRS recently notified her that Joyce Meyer Ministries is operating in compliance with tax rules. Hopefully her answers to Grassley's questions will satisfy the Senate committee so she can continue her programs without interruption.
At the same time I can't understand how some preachers can take their offerings with a straight face. How can anyone, for example, think that it is a wise use of God's money to pay $10,000 a night for a hotel room on the way home from a foreign ministry trip?
Something needs to be said. Questions need to be asked. That's why I refuse to demonize Grassley for launching this probe.
What is unfortunate about this investigation is that it had to be initiated by someone in the federal government. The Christian public should have demanded a higher level of accountability a long time ago. Why have we been silent when we know certain ministries are operating without a proper board of directors or without any accountability?
I've been praying about all the uncomfortable shaking that is taking place in the church today—from the embarrassing moral failures to the cavalier ministry divorces to the ORU scandal—and I sense that God is the one who is orchestrating these events.
I believe He is raising His holy plumb line over the church today. He is demanding that we come in line with His higher ways. He is decreeing: "I will have a holy people. I will expose greed, arrogance, larceny and corruption, and I will correct theological error that has led My people into materialism, selfishness and idolatry. The process will be painful, but in the end My people will be purified."
(NOTE FROM HIS MESSENGER: THIS IS EXACTLY FROM THE WORD/DREAM THE LORD SPOKE THROUGH ME IN 2004 AND THAT HE RELEASED IN 2006 - THAT HIS PLUMB LINE WOULD MEASURE THE CHURCH RE ALL THINGS PERTAINING TO MONEY AND GIVING....HALLELUJAH!!!)
FROM THE DREAM:
JUSTICE:
The order God seeks to reestablish in His creation where all people receive the benefits of life with Him. As love is for the New Testament so justice is the central ethical idea of the Old Testament. The frequency of justice is oftentimes missed by the reader due to a failure to recognize the wide range of the Hebrew word 'mishpat', especially in passages that deal with the material and social necessities of life.
THE NATURE OF JUSTICE:
Just has two major parts. First, it is the standard by which penalties are assigned for breaking the obligations of society. BUT the second is that which the Lord is speaking of in this amazing word: JUSTICE is the standard by which the advantages of social life are handed out, including material goods, rights of participation, opportunities and LIBERTIES. It is the standard for both punishment AND benefits, and thus can be spoken of as the plumb line. "I shall use justice as a plumb-line, and righteousness as a plummet" (Isaiah 28:17 REB)
DEFINITION of PLUMB LINE:
Line with a plumb at the end, used to find the depth of water or to see if a wall is vertical; a cord with a weight (usually metal or stone) attached to one end. The plumb line would be dangled beside a wall during its construction to assure vertical accuracy. Prophets spoke of the measurement God would use on the nation (Isaiah 28:17; Amos 7:7-80. Israel had been build straight but because it was out of line, it would be destroyed.
Amos had 5 visions; the third vision was the plumb line : God holds in His hand a plumb line to measure Israel. In Amos' first two visions catastrophies are in the world of nature. In this vision, Israel's national life is held in judgment. The plumb line shows how far Israel has departed from God. This judgment according to God's righteousness is inevitable and Amos realizes his intercession for this judgment is HOPELESS (7:8)
AMOS 7:7-9
7 Thus he shewed me: and, behold, the Lord stood upon a wall made by a plumb line, with a plumb line in his hand
8 And the Lord said unto me, Amos, what seest thou? And I said, A plumb line Then said the Lord, Behold, I will set a plumb line in the midst of my people Israel: I will not again pass by them any more:
9 And the high places of Isaac shall be desolate, and the sanctuaries of Israel shall be laid waist; and I will rise against the house of Jeroboam with the sword.

Brown's Bible Commentary says: The vision itself is found in Amos 7:7-9. Judgment has been averted twice through the prophet's intercession in behalf of his people. 'Behold the Lord stood…with a plumb line in his hand…' The third vision of the Lord with a plumb line in His hand lets the prophet know that all hope for Israel has been exhausted, and justment MUST COME. The purpose of the plumb line is to demonstrate how far Israel has strayed from God's righteousness and that it must be destroyed. The 10 northern tribes are addressed by the name Isaac (v 9a) but the parallel structure leaves no doubt as to who is intended (vs. 9b) Israel's places of idol worship (high places, sanctuaries) will be destroyed, together with the kingly lines (house of Jeroboam) that led Israel into its spiritual defection (I Kings 12:25)

WHY IS HE SPEAKING OF THE PLUMB LINE HERE? BECAUSE THE CHURCH'S JUSTICE TOWARD THE NEEDY IS THE PLUMB LINE FOR HIS RETURN: TO REMAIN IN A LIFESTYLE OF INJUSTICE SHALL KEEP THE BRIDE WRINKLED WITH SPOT AND BLEMISH. TO BE MADE SPOT-FREE AND WRINKLE-FREE HIS TRUE BRIDE SHALL NO LONGER NEGLECT THOSE IN NEED. NOT EVER.
(back to article via J. Lee Grady):
I hope every one of these ministries can prove they've done nothing wrong. But if God wants to use a senator to help the American church clean up its act, then I say bring on the reformation.
J. Lee Grady is editor of Charisma.
FOR COMPLETE DREAM:
_____________________________________________________________________

November 18th, 2007
BLESS GOD FOR HIS TRUTHS!
+ Many of those I have called to "leadership" in My church have "allowed" themselves to be held captive by the "fear of what others think", and in their failure to repent of this "sin" they have "allowed" Satan to surround them with men and women who are "controlled" themselves by a "spirit of self-exaltation", and whose only goal is to control and manipulate those in authority - for this is the only thing that "satisfies" [only temporarily] all those "driven" [compelled] by a self-exaltive spirit! It is time for "order" to be restored in My church! For too long these self-exaltive spirits have moved about freely in the midst of the five-fold ministry. But truly I say to you, they shall be "driven out" as I "unleash" My holy apostles and prophets upon them! Truly I say to you, there shall be more than a few "tables turned" in the midst of My congregations, and it is certain that those who "hold" to a fear of what others think and, thus, live lives "inspired" by their five physical senses shall be greatly offended! But truly I say to you, those ones [who do not repent], and the evil spirits they have "allowed" to control them shall depart into the "outer darkness" [the "world" - Isaiah 60:2] for great light shall shine forth and "all" darkness shall be removed from the midst of all those who truly love Me - and there shall be a great rejoicing by all who remain! For I shall reveal My Person to a continually greater degree in this hour - and in ways that My people have not yet seen! Did I not state, "Truth must be revealed in His absoluteness in this last hour?" Truly I say to you, My light shall consume the darkness and My truth shall obliterate the lies and My perfect love shall cast out "all" fear and My absolute life shall drive out "every" trace of "death" - the final foe - in the midst of My congregations and THEN I shall send them forth in one "final sweeping" of the nations - each "church" in each individual nation for that nation - and in a short time the "task" shall be completed and in that moment I shall bring My beloved Church home [1 Corinthians 15:51-58] - and there shall be a great and joyous celebration for seven glorious years [Revelation 19:7-9; Matthew 22:2-14].
(From "Exhortations From The Father"
via Glenn Jackson
November 18th, 2007)
_____________________________________________________________________

BEHOLD THE ANTICHRIST COMETH...

(NOTE VIA HIS MESSENGER: "it's all in place - behold the anti-Christ cometh..." 11-19-2007 @ 2:31 AM

Israel haven for new Bahai world order
by Jennie Matthew Sun Nov 18, 6:11 PM ET

HAIFA, Israel (AFP) - Dominating a holy mountain in Israel is the nerve centre of the world's fastest growing major religion, preaching global unity and world peace from one of the most troubled countries on earth.
Founded less than 170 years ago, the Bahai faith believes that Persian-born prophet Bahuallah, who died in Israel, brought a message of unity, equality and world federation to save mankind from the plagues of the modern world.
The shrine to the Bab, a messenger whose mission prepared humanity for the coming of Bahuallah, the beautiful Bahai terraced gardens and classical-style World Centre in Israel's port city of Haifa are lauded by some as the eighth wonder of the world.
Believers wait years to come on pilgrimage and 600 Bahais from more than 60 countries volunteer for unpaid service to administer the centre.
Numbering five million believers in every continent reading literature translated into more than 800 languages, the Bahai faith is growing faster than any other religion but Zoroastrianism with its some 200,000 adherents.
Theirs is a vision of the world governed by a world legislature, world court and a world executive, all overseeing freedom of movement, disarmament and an international military to ensure peace.
"The central theme of Babaullah's social teachings is that humanity is one single race and the day has come for its unification into one global society," says a glossy English-language brochure.
Far from creating a "monstrous big brother," Bahais believe their faith is the most suited world religion to sustain modern, progressive society.
They believe in promoting sexual equality, universal education and religious tolerance, and eliminating prejudice, extreme wealth and poverty, -- teachings that they say hold the answers to global warming, erosion of family life and racism.
FOR COMPLETE STORY:
http://news.yahoo.com/s/afp/20071118/wl_mideast_afp/israelireligionbahai

_____________________________________________________________________

INFILTRATION OF THE ENEMY INTO THE CHURCH
Some of the friends of this ministry know (but most do not) that there have been many attempts to discredit this ministry by people (especially one particular group of women) here on MySpace. They originally (in 2006) began to come along side me and proclaimed they had been sent of God to co-labor with me. But when God would speak forth His truths through me without compromise, these particular women became offended and turned against God. (and they would argue it is NOT God that they are against but ME - but I represent Him 100 percent - He lives and moves and has His being through me; my lips only ever utter forth HIS WORDS and none of me - there is NEXT TO NO ME LEFT therefore there is no such thing as rejecting me and not the Lord). They are still here on MySpace posting scriptures and lovely words even from THE Word, however His light is far from them. Their rebellion is witchcraft. Their refusal to repent and ask God for forgiveness is pride. All of it combined is Jezebel.
One particular woman came here last summer to be commissioned into the works of the Lord. A month later she moved here, stayed in my home with her son, then because the LORD told her to, she moved from my home to the homeless shelter so that God could refine her and mold her - she kept saying that she was sent to be my armor bearer and that she supported all things God in my life 100 percent.
Then one day that all changed. She couldn't take the fire of the Lord trying to break her and spoke forth a false word - that the Lord was releasing her from the fires. But as always the Lord would not permit me to sit idly by and let her believe that which was false. He told her to STAY PUT and humble herself in His sight. She would not.
She then began to speak evil of ME to the workers at the homeless center, and in the community. She still lives here and got married to a man she met at the shelter. And even though homeless, she wasted no time finding the free computers in our community and began posting things to people here on MySpace that were false about me.
Through it all the Lord has had me remain silent, except only to a very few who receive Him 100 percent through me and therefore stand with me and pray for me for His glory.
TODAY (November 21st, 2007 @ 9:00 A.M.)

When the Lord revealed to me that this woman and her new husband were attending brother Randall's church (the elder in charge of House Church 8, my friend and brother and co-laborer since 2001) , the Lord had me tell Randall that she was in his midst; He also had me tell Randall that she entertains Jezebel. The Lord had me WARN HIM (as he is an elder) to keep an eye on her because He has said in His word that any who entertain/allow that spirit in their midst will suffer judgment to the 9th and 10th generation.
Today it was the Lord who told me to call Randall once again and to let him know what they have in their midst.
The Lord sent me to Randall's church because they have a food pantry. Randall's wife told me to come by and that they would give me some food for my daughter (who, it is not a secret, is struggling right now). I arrived at 9:00 A.M. sharp (as asked). And then the VERY NEXT PERSON TO SHOW UP AT THEIR DOOR was the woman who betrayed this ministry as Judas betrayed Jesus. In the last year I have only seen her one other time in our community - when she saw me that time, she ducked into a store and did not come out until my son and I were gone.
Today she came to this church, rang the doorbell, looked at me once, and turned her head away until they answered the door. When she entered she walked with her head FACING THE OPPOSITE WALL, never once making eye contact with the Spirit of God in me, but instead averting her eyes. She told the woman at the office, "My husband and I are here to work in the food pantry". They had NEVER done it before...NEVER volunteered before. And on the day that the Lord sends me so that my daughter could be blessed, here comes this woman.
She and her husband went to the pantry (where there were workers already helping me - individuals from HOUSE CHURCH 8). When this woman came out with a bag in her hand for my daughter, she refused to come to where I was sitting by the door - she went across the hall and HID. The other worker had to go to her (around the corner!), get the bag and bring it to me.
I could SEE all the spirits on her and her husband. THEY COULD NOT FACE the one TRUE SPIRIT OF ALMIGHTY GOD that goes everywhere with me.
WHY IS THE LORD HAVING ME TELL YOU THIS?
Because you need to open your eyes and discern what is HAPPENING AROUND YOU TOO...what the enemy will do - how he will STOP AT NOTHING to make sure all that God has in store - not only for you and your family, but also the ministry you attend AND the ministry THROUGH YOU - will not come to pass.
The TRUTH OF GOD - the way HE does things (not the way that the church THINKS He wants things done but the TRUE way that He does things) is something that the people in the church (as a whole) either forget or do not understand. The Lord has ALWAYS USED HIS TRUE PROPHETS TO SPEAK FORTH THINGS THAT THE PEOPLE DIDN'T ALREADY KNOW, HADN'T HEARD FOR THEMSELVES, and He expects them to HEED THAT WORD. THROUGHOUT the Bible THIS IS HOW HE DID THINGS. He chose His prophet, He submitted His message to that one prophet, and they did not then go about to ANYONE ELSE asking, "Is this true? Did you hear this too? Does this confirm what you heard?" They instead in obedience RELEASED that word of Almighty God to His people - and His people were supposed to heed that word. IMMEDIATELY. Isaiah. Elijah. Jeremiah. Ezekiel. On and on and on. The TRUE prophets. They received it, then released it. The people were immediately to receive it and obey or they faced judgment.
The Church does not respond to God's true prophets like that anymore. They take the scripture that says "test the spirit make sure that all things are from the Lord" out of context and use it for an excuse to NOT do what the prophet speaks. And sadly, they do not even have ENOUGH DISCERNMENT to even KNOW WHO HIS TRUE PROPHETS ARE...much less then obey the word of the Lord uttered forth via them.
What the Lord has shown me many years ago is that His people believe the New Testament put an end to the way that God uses His prophets in the Old Testament - that they do NOT believe that they have to heed the word of the Lord or face judgment. But THAT is JUST NOT TRUE - for He is the same yesterday, today and forever. He will SPEAK FORTH A TRUTH and the hearers are to be obedient and do it JUST BECAUSE He said it.
But also as Randall said today (as the Lord had me call him immediately today after what happened with this woman happened, and it confirmed that which the Lord had already spoken to me), there is so much suspicion in these last days people don't immediately and readily HEED the voice of the Lord because their hearing and discernment is dull and they do not know who is who. (again, they do not even RECOGNIZE who His true prophets even are much less heed His voice through their lips). That is why He has commanded us to ASK HIM "Lord, SHOW me who that person is to you". Unfortunately they do not know Him intimately well enough to hear His response.
Getting back to today, I kept asking the Lord: WHY NOW? WHY TODAY? This woman NEVER volunteered before today and I, at age 49, have never once stepped foot into their church before today. WHY LORD?
And He said the reason she was there was two-fold:
1. Because my end-time calling is to speak forth His righteous judgments upon all flesh, the first reason is because when she is near me, in my presence, He issues forth judgment. It was an opportunity for her to repent and confess her wrongs toward God's kingdom (as she has done many things against Him when she does them against me) - but she chose to turn her face away and look at the wall instead to look upon His messenger/representative.
2. The second reason satan sent this woman to Randall's church was to bring division. (Think about it brethren - out of all the churches in this community, why would a woman who is NOT EVEN FROM THIS REGION pick, out of all those churches, the one church where I have an advocate, the one place where there is an Apostle who recognizes and receives the calling and anointing on MY LIFE??? It was a SET UP. She was POSITIONED by satan. Yes, a woman who claims to be of God - positioned by the enemy to divide the church and cause it so the people in that congregation will NOT receive His Messenger). She was positioned in advance so that the people that were there who are also part of House Church 8 would hear and see the things of this woman's making that would then cast doubt into their spirits as to who I AM. Because there were people there from House Church 8 who don't really know me - after only two meetings, they have not all even spoken to me at any length.
So when they have one of THEIR fellow members (the woman IS a member of their church fellowship, and they embraced her when she walked in) then speaks a thing and acts upset because of MY PRESENCE, they will not soon forget that thing. People do not take the time to measure whether a thing is true or false - they just hear it.
(As an aside they did not greet me as they greeted her even though I, too, am a member of the Body of Christ. One might argue that they don't know me, but Jesus would say that spirit recognizes spirit - it is supposed to be that way - but that is a subject for a different day)
Therefore the damage is already done. As she (the woman) is working with people who are part of the House Church 8, even her little off-handed comments about why she couldn't bring me the food bags, why she couldn't face me - ALL LIES and things she has made up - the devil used that to then place doubt and suspiscion in these people's hearts about me.
It is so dastardly, so kniving on the part of the enemy.
THEY do not know me, and even though they may or may not really know this woman - she is STILL A MEMBER OF THEIR CHURCH and they would tend towards believing her rather than a 'stranger'.
Satan positioned her in their midst - and this will not be the least of the ways he uses this woman in the future.
The Lord puts forth this example: It's like in a courtroom when an attorney cross-examines a witness...they ask a question and the other attorney shouts "OBJECTION" or "I OBJECT" and the ruling judge says to the listening jury, "The jury will disregard that last statement...." PEOPLE DO NOT FORGET what people say - true or false. They cannot UN-HEAR what they have HEARD. THIS move by the devil - having this woman show up and act as she did today, this was DEFINITE infiltration by the enemy to disparage me to these people --- the people who attend House Church 8 --- to whom GOD HAS SENT ME.
Because the devil has said "NO - they shall NOT reap the blessings God has in store for them"...the things that God has ONLY put into MY HANDS for these brethren....NO OTHER PERSON or even PROPHET can release to these people that which GOD HAS ORDAINED FOR ME TO RELEASE UNTO THEM ON HIS BEHALF. Therefore it is satan's ploy to stop it before they are blessed.
And so the devil sent this woman to be the serpent - the seed of doubt.
The Lord had not previously asked me to attend Randall's church, however He will also never ever allow me to set foot in there again as long as she is in there. I am not even permitted to keep MySpace 'friends' when this woman (and the people she has deceived) are on THEIR friends' lists.
I am not sure as of yet how this will affect His will toward my going to the house church in the future either. He does not run and is not afraid of any of the enemy's attempts to thwart His perfect will.
This was a sad day. I still feel the remnants of the attack by the enemy and still feel what the Lord feels about what happened - it was like shock and awe - the enemy released a direct hit against Randall's church and the people there. I am His prophet ASSIGNED to this area - take away the prophet, the things the Lord will ONLY do through His prophet, and where does that leave the people??? The enemy will never roll over and play dead and allow the hand of the Lord to flow and bless - he will always step in and attempt to kill it. I therefore will be in deep prayer over this situation.
And let me add (as per the Lord) that He didn't allow me to go in there 'unawares'. When I pulled up in front of their door, He had me anoint my head and arms with His oil and speak aloud a hedge of protection before He even gave me permission to get out of the car. He had me put on His armor and said, "Get ready for battle".
That is what happened today and that is why the Lord was grieved.
His warning to you who will hear: LOOK AROUND YOU - always walk by His Spirit and never after the flesh so that He can reveal to you also where the enemy lies - it could be that person who always hugs you, that person who sits next to you in the pews...satan sticks very close to the saints, especially those who are a threat to the kingdom of darkness...and he will use ANY AND ALL opportunities to discredit you to the brethren. Therefore always humble yourself in the site of the Lord and HE WILL DIRECT YOUR STEPS; HE LOVES YOU SO VERY MUCH THAT HE WANTS YOU TO RECOGNIZE THE ENEMY, ALL THE PLOTS AND PLANS LAID OUT BEFORE YOU. HE'S GOT YOU - IF YOU ARE STEADFAST IN HIM.
Only ever speaking forth His truths as He utters them,
His Messenger
November 21st, 2007 @ 9:19 A.M.

_____________________________________________________________________

THE TRAP (WORD & CONFIRMATION)

The Trap
via MARY CLARK
November 24, 2007

In a vision, I saw a small, furry animal come out of a hole in the snow. After it came out, the hole caved in. Why did You show this to me, Lord?
I want My beloved children to see something clearly. The enemy is out to dupe you. He is out to tell words that one may find probable. Then he will build on those words until he has you in a trap. Don't enter His trap. Don't get into that dark place of doom. Get out into the bright rays of My glorious light while you can, for his purpose is to upset the applecart and send many scattering away from my truth in these last days. Break free, beloved. Break free while you can. Don't fall for his lies and deceit. Run! Run for your life, dear one. Your very life depends on it. Yes! Your very life depends on it, beloved. It absolutely depends on it!!!

CONFIRMATION VIA HIS MESSENGER:
In the new house that the Lord has given to me to live in beginning on Wednesday night - my son and friends were in the basement watching movies and they saw a mouse walking above the window along some boards. Last night we found their hole. Today in the light of day I went out to look at the window hole - and less than a foot away covered by some ground vines was a hole the size of a basketball that went down into my basement. The majority of my basement is cement, however there is a small section that is all dirt and it is called a Michigan basement (no clue why) and many of the old houses in this area had basements that were accessible from the outside only and were entirely composed of dirt. I found a boulder and rolled it into the hole - it followed the tunnel like a bowling alley lane and that boulder rolled down down down and I could here it come to a stop in the basement. Next I put rectangular bricks in the hole - these wedged and didn't go all the way through (because how do you fill a hole that has no bottom but is instead a basement section?!?!). I then called my kids and while waiting for them to arrive to help me come up with a better solution I stepped one step to the right of the hole, and my foot opened up another basketball-sized tunnel into the basement...the top part caved in completely. It had been hidden.

Later, I drove to the post office to check the mail. I parked my car in the first slot and went around by the passenger's side door to go up the walkway to go inside. Right by the walkway is a bush. As I approached it, a squirrel stuck its head out of the bush at me. The Lord revealed to me the type of predator that squirrels can be (but most people see them and sweet and furry).
The entire weekend was hidden critters and hidden holes and God revealing to me all the ways they could enter my home and life.
And so I strongly confirm that the enemy is hiding in holes, some more noticeable than others, however most are hidden until the Lord reveals them (when you are walking in His perfect will and your steps are ordered - He will show you where to walk and where the traps are).
His Messenger
November 24th, 2007
4:25 PM

_____________________________________________________________________

LIES FROM THE PIT OF HELL

November 25th, 2007


If you remember, the Lord had me post about the woman who was like Judas, who the Lord had move here and had me take in last summer (her and her son), then moved into the homeless shelter because she said God told her to. The woman who goes about MySpace and tries to convince people that I am evil. It was brought to my attention that the woman I mentioned is now making it her mission to "expose me" as a wolf among the sheep and proclaiming it is GOD telling her to "sound the alarm".
The following is her blog (her name is Angela "Warren" (maiden name or previous married name)):


November 24, 2007 - Saturday


BE CAREFUL OF WOLVES THAT ARE AMONGST YOU! There are many wolves amongst you. One I had delt with has come back. She is a false prophet and she used to control me and put me under so much condemnation, guilt, shame... etc.


Be aware.

I can't help the urgency to warn you. This is the days and times where the Lord is near. Be aware!! Be aware!!!

Sound the alarm!

There are wolves amongst you sheep of the Good Shephard. Be aware. Be in prayer and be aware. Be in prayer and be aware. Be in prayer and be aware.

The enemy is here it kill, steal, and destroy.

And I don't care what it takes I will not be silent. Be aware.

When I saw her in my church I immediately felt the warning in my spirit "SOUND THE ALARM! THERE IS A WOLF AMONGST YOU!" And since she had/has a myspace I must warn you as well.

There are many like her everywhere...just be in prayer and be aware.

I PLEAD THE BLOOD OF JESUS OVER MYSELF, MY FAMILY AND MY FRIENDS AND OVER MY SPACE. I CANCEL ALL THE ENEMIES' ASSIGNMENTS AGAINST ME, MY FAMILY, MY FRIENDS, AND MY CHURCH. ANY WEAPON FORMED AGAINST ME, MY FRIENDS, MY FAMILY, AND MY CHURCH AS WELL AS MY CHURCH'S HOUSE CHURCHES SHALL NOT PROSPER IN JESUS NAME. http://blog.myspace.com/index.cfm?fuseaction=blog.view&friendID=182245187&blogID=331505932

============(END ANGELA'S BLOG)===========


I thank God for being counted worthy of being named false - for truly His word has proclaimed that it is an honor to have our good spoken evil of for the same happened to the Lord. This woman has just enough truth to make her seem 'legitimate' (as the women who are her minions). Their MySpace sites are filled with Godly pictures and scriptures and texts, while they back-bite, gossip, and are in rebellion against the ONE TRUE LORD JESUS. They are filled with Jezebel and there is a price to be paid for walking in such evil.

Holy Spirit reminds me of the dream given to Rick Joyner as expressed in three books (the first of which was "The Final Quest") - He saw how Christians are riding on the backs of other Christians, stabbing them and killing them with swords in what THEY think is the anointing and what THEY think is for the Glory of God where instead they are in deep deception and killing the real and true hidden remnant.

There is much I could share about this woman - but GOD KNOWS. As is evident every day and will continue to be evident every day - GOD IS REVEALING ALL IN THIS HOUR and there are many who are speaking false that will DROP DEAD because God WILLS IT and that is not a curse but God's RIGHTEOUS JUDGMENT. HE IS THE SAME YESTERDAY, TODAY AND FOREVER.

There is much I could say about me and my Jesus, but every single thing He speaks through me and allows me to post I have posted...His truths speak for themself. His signs speak for themselves. His wonders speak for themselves. His love speaks for itself. His PRESENCE and ANOINTING speaks for itself.

JUDGE ME RIGHTEOUSLY, as I also submit myself every moment of my life unto My Father in Heaven. There are no secrets, no hidden agendas here. Any one of you could come to my home and see His presence and feel His presence and bask in His Glory - there is no shame and nothing to hide. I am His - He chose me, I did not choose myself. I did not raise myself in the things of God, all I did was say "yes". And even then it was HE who worked in me the desire to say yes, so my entire life and walk is HIM in and through me. Nothing of me.

These women have been bad-mouthing me for a long time. I have not "exposed all" - haven't posted all of their names, their site locations, spoken behind their backs, told you of all their dastardly deeds. MY GOD has my back - VENGEANCE IS HIS according to His word of TRUTH. He is permitting me to speak just a little today - for He would not have you deceived.

But who do you believe?
Spirit recognizes spirit.


Judge as you are led.
Stay as you are led.
Leave as you are led.


As for me and my house - we will serve the Lord.

In His Unfailing Love,
His Messenger


NOTE TO THE FAITHFUL WEBSITE READERS: The true prophets of this hour came out in force after this was sent around the globe and agreed that this woman DOES NOT REPRESENT THE TRUE LORD JESUS CHRIST nor does she hear from the TRUE HOLY SPIRIT. This is JEZEBEL in full throttle and even other discerning Christians who test the Spirits RECOGNIZED her falseness immediately. You are welcome to come to MySpace and see their comments for yourselves...


_____________________________________________________________________

TWO CONFIRMATIONS FROM THE LORD:
November 26th, 2007

+ I shall remove My presence [anointing] from those who continue to walk in the flesh [the power of their "own" understanding]. In this hour, I shall unite all those who worship Me in Spirit and in truth, and the "worldly" church shall see that My hand is mightily upon My faithful and obedient ones. I shall unite My "ministers of fire" as one, and from them shall My glory be poured forth [in torrents] upon all flesh [John 7:38]. Because of the faithfulness of many I shall move in great power - that the world may come to know Me as I truly AM - and truly I say to you, great signs and wonders shall follow ALL who serve Me from the position of a heart wholly given to My highest purposes [Luke 10:27].
+ Fear not My children, My anointed ones, for now is the time I have chosen to exalt you. For many months you have looked neither to the left or the right, and in this I am well pleased. The time has come, and now is, that the forces of evil shall be driven back and, thus, many souls shall gain a revelation that I am the one, true God. Many miracles shall be manifested in My name: the dead shall be raised, the blind shall see and the lame shall walk. The masses shall see My power manifested clearly and, yet, many who once served Me whole-heartedly will turn their heart from Me - Satan having blinded them to carry out his will [2 Timothy 2:26]. And because of the hardness of their hearts and because of the arrogant pride that burns within them [a pride fuelled by their continual pursuit of self-desire] their eyes shall be blinded, and they shall put you out from amongst them [John 16:2-4a]. They shall, in their "own" wisdom, think that they do these things in My Name, but I am not mocked; whatever a man sows, that he shall also reap. I will unite [divinely connect] My true "ministers" [handmaidens and bondservants], and I shall provide places [true spiritual environments] wherein the people shall gather and hear My uncompromised Word preached. Great shall be the manifestation of My love and power in their midst, for I have heard the prayers of My children!
_____________________________________________________________________

PRAYER REQUEST FOR ANGELA WARREN & WALKING IN HIS LOVE

(NOTE: She married a man from the homeless center and her last name is no longer Warren but God will show you who He is referring to in this blog).
There is a woman who is speaking much against me. Today she added a link to her page directly to this profile that I manage on the Lord's behalf. She is spreading lies and hatred. But
Jesus said
we are known by our fruit and one of the fruit of His spirit is LOVE.

Jesus said,

"Bless them that curse you, and pray for them which despitefully use you. (Luke 6:28)"

"Bless them which persecute you: bless, and curse not. (Romans 12:14)"




From the cross our beloved Lord FORGAVE even those who put Him to death. How is it of God for this woman to then walk around speaking evil? The bible says if you have something against someone, you are to GO TO THAT PERSON and try to make it right. In fact the Lord says He will not even HEAR YOUR PRAYERS unless you try to make it right (as opposed to walking in hatred). She has never come to me - instead she has gossiped and back-bitten with fellow disgruntled 'saints', never once doing that which the Lord commands of us. If she truly had a just and real 'grievance' with me, she is commanded of God to come to me in private FIRST. This she has not done, and this is sin (ACCORDING TO THE TRUE BIBLE).

It is pride and envy and unforgiveness and offendedness that makes this woman speak against this servant of God. There are many who are witnesses to the Godly way she was treated by myself. She has no witnesses against me. None. She could easily amass strangers to speak things but the word of a liar backed up by other false words has nothing to do with the Kingdom of God.

I praise God for directing my words and steps ALWAYS that truly righteousness is what is evident and shall always remain, that TRULY it was in truth and righteousness that the Lord had me deal with this woman and her son. She was wholly blessed in all ways.

In The Book of Acts 13:45, the Lord says, "But when the Jews saw the multitudes, they were filled with envy, and spake against those things which were spoken by Paul, contradicting and blaspheming." The Lord also says in Luke 17:3, "Take heed to yourselves: If thy brother trespass against thee, rebuke him; and if he repent, forgive him." According to the perfect will and word of the one true Jesus Christ, I rebuke this woman's words and commend her to the feet of Jesus, there to repent and ask for forgiveness for blasphemy and an attempt to divide the body. It is the spirit of witchcraft and Jezebel that is on this woman and her minions that causes her to speak against the true works of God and God truly shall reign victorious. I personally forgive her and have never had anything against her nor have I spoken evil and untruths against her.

I know to whom I belong. My Jewish heritage and acceptance of Christ Jesus as my Lord and Saviour set in motion the high calling of the Lord upon my life. I will continue to serve Him personally as His handmaiden and nothing and no one can ever stop that. The continued signs, wonders, miracles and prophetic words spoken by the Lord Himself through me and this ministry that He has entrusted unto me are proof enough. Those who are filled with the true Holy Spirit recognize that which is true in me for His glory.
LET US PRAY: Father in Jesus mighty name we cancel all assignments of the enemy against this ministry and my family personally. I thank you for allowing me to yet again fellowship in Your suffering, for truly You have said that it is an honor to partake of Your cup...they spoke against You Lord even calling You satan and I am honored to be at the receiving end of religious accusations and words spoken by those who have let their heart wander from truth. I command the scales to be removed from Angela's eyes, I speak forth truth and light and know Father that You wish NONE to perish. I rebuke the counterfeit spirit that is upon this woman that has her bound and deceived, for truly in 2006 You showed to me that she has a calling up her life. YOU spoke through these lips of clay that she needed to humble herself before Your throne and You also said that this is what offended her. I speak humility into her heart. I speak forth Your love into her heart...to walk in Your love and unity and not division and hatred. WE trust YOU Lord for greater are YOU than all evil spirits that have seduced this woman. THANK YOU FOR THE VICTORY...when one in the body is wounded or deceived, we all suffer. I SPEAK WHOLENESS and LIFE for Your glory into Angela's life, and nothing after the flesh or self for it has never been about me or her but only YOU. In the name of the true Lord Jesus Christ I pray this prayer in His humility and love...Amen and AMEN.
Romans 12:19
Dearly beloved, avenge not yourselves, but rather give place unto wrath: for it is written, Vengeance is mine; I will repay, saith the Lord.
Hebrews 10:30
For we know him that hath said, Vengeance belongeth unto me, I will recompense, saith the Lord. And again, The Lord shall judge his people.
FATHER, BLESS ANGELA for Your Glory.
In His Unfailing Love,
His Messenger

"I can of mine own self do nothing: as I hear, I judge: and my judgment is just; because I seek not mine own will, but the will of the Father which hath sent me." (John 5:30)
P.S. I GIVE THIS SITUATION TO GOD AND WILL NEVER AGAIN SPEAK OF IT (only as commanded of the Lord) FOR THERE IS NO WEAPON THAT IS FORMED AGAINST ME THAT SHALL PROSPER AND TRULY THERE IS NOTHING THAT CAN STOP THE LORD'S PURPOSES FOR MY LIFE! HALLELUJAH! THEREFORE IT DOESN'T MATTER WHAT SHE SAYS OR WHAT ANY OF HER MINIONS SAY - IT HAS NOTHING TO DO WITH ME OR GOD'S GLORY. I SHALL CONTINUE TO LOVE THEM AND PRAY FOR GOD'S PERFECT WILL TO BE ACCOMPLISHED IN ALL OF THEIR LIVES FOR HIS GLORY AND ONLY HIS GLORY.

_____________________________________________________________________

NOVEMBER 28th, 2007

HAHAHA - AWESOME GOD - ANOTHER CONFIRMATION!!!
Yesterday as I was seeking the Lord as to what He wanted me to do, He told me to pull out of the book library a book titled "Rethinking The Wineskin". I have been very fortunate as the Lord has put books into my hands that most people have never read much less heard of. This book was given to me in 2002 and it was everything the Lord has shown me personally about the lie of organized religion, but that most people who are enmeshed IN organized religion are offended by. He told me to type up this book and send it to several who are hungry for only His truth. So I was up until 5:00 A.M. this morning typing the introduction and first chapter.
The basic tenant of Chapter One is that the ORIGINAL CHURCH was not designed to have one pastor in the pulpit and the rest of the body sitting like an audience. The Bible in 1 Corinthians 11-14 clearly proclaims that it is the BODY MINISTRY - ALL are to participate - ALL - not just worship according to schedule by a practiced somewhat professional sounding group, one man in the pulpit - sermons were NEVER to be in the church meeting! - on and on (you would have to read it and I am not doing this work justice). The entire body is to come together with a psalm here, a prayer there, a poem, a testimony, an edification. The only way the Body is truly established and grown into the fullness of Christ Jesus is for ALL to participate all of the time.
THIS AFTERNOON (a few minutes ago) the Lord sent me to check my emails (incoming). I JUST received this in my inbox. The Lord JUST SPOKE THIS TODAY - 2007. (the book was written in 2002). (Many of you know the Lord has me post the daily Exhortations the Lord speaks through this brother - I do not know Glenn personally). THIS MESSAGE FROM GLENN CONFIRMS THE LORD ASKING ME TO SEND "RETHINKING THE WINESKIN" WHICH BLASTS THE LIE OF ORGANIZED RELIGION OUT OF THE WATER. LOOK AT THE ENTIRE FIRST SECTION (WHICH BEGINS WITH),
THE FATHER IS UNFOLDING HIS MARVELOUS PLAN TO BOTH EXPOSE AND TEAR DOWN THE MASSIVE RELIGIOUS STRUCTURES THAT HAVE CONTINUALLY PLAGUED AND CURSED THE TRUE WORK OF GOD
GLORY TO GOD!
In His TRUTH,
His Messenger

P.S. IF YOU WOULD LIKE TO READ THIS BOOK (THAT WHICH THE LORD ASKED ME TO TYPE) YOU'LL HAVE TO SEND ME YOUR EMAIL ADDRESS)
THE MINISTRY LETTER 2007 ISSUE 24
To all handmaidens and bondservants of the Lord Jesus Christ:
THE FATHER IS UNFOLDING HIS MARVELOUS PLAN TO BOTH EXPOSE AND TEAR DOWN THE MASSIVE RELIGIOUS STRUCTURES THAT HAVE CONTINUALLY PLAGUED AND CURSED THE TRUE WORK OF GOD
In these days the Father is unfolding His marvelous plan to both expose and tear down the "massive religious structure(s)" that have continually plagued and cursed the true work of God. It has been Satan's plan throughout the centuries to establish "religious environments" - particularly in certain larger cities throughout the earth. It was his plan to then set up vast hierarchies and networks (denominational structures) which would fuel self-effort and pride in the midst of God's people through the continual outpouring of the darkness and death which are the spontaneous manifestation of ANY word spoken and ANY activity carried out apart from Christ (the Anointed One and His Anointing).
VAST MULTITUDES HAVE CONTINUED TO ADHERE TO THAT WHICH "APPEARS" SPIRITUAL IN THESE RELIGIOUS STRUCTURES
Because many in "leadership" have continued to operate in fear (pride and the seeking after self-glory), as opposed to divine faith (a divine faith working through a perfect love for God and for His people), many (and various) types of controlling spirits have been "allowed" to move freely in the midst of all those whose hearts were not wholly given to pursue holiness and the fulness of Kingdom-living. Because of these things vast multitudes have continued to adhere to that which "appears" spiritual in these religious structures (false doctrines, "good" works etc.) but in reality they are structures that are a counterfeit of the true work of the Holy Spirit in establishing a "spotless and unblemished" Church, and they both deny and lack the divine empowerment which would truly prepare those people that God has given them. Their failure to live the life of the Cross has kept their "sheep" in a place of non-resistance to the schemes of the Evil One, and if these sheep do not flee from the paths of unrighteousness (their improper spiritual and physical positioning) they will leave themselves to be struck down by Satan as both he and his forces are put to flight (in stark terror) by the Glorious Church in this final hour.
TRUE AUTHORITY ALWAYS MANIFESTS ITSELF IN A PERFECT LOVE AND OBEDIENCE TO GOD + AS FAR AS DEALING WITH THOSE WHO ARE OPERATING IN A "CONTROLLING" SPIRIT WE MUST NEVER COMPROMISE!
The spirit of intimidation working in many areas of the church in these days is the spontaneous by-product of those in authority (on any level) who have forsaken the counsel and guidance of the Holy Spirit - in order to forge their own Kingdom (environment). True authority ALWAYS manifests itself in a perfect love and obedience to God. The actions and words of the true delegated authority will ALWAYS be found bringing about the greatest eternal benefit in any given moment for all those who are brought across their path. False authority ALWAYS attempts to "dominate" and intimidate with a view to controlling their own environment - and all who are in their sphere of influence (another strong reason why the child of God should NEVER "fellowship" with [have an ongoing relationship with] those whose heart is not wholly given to the will of God. In other words if one is in agreement with their agenda then all is fine. If their "agenda" (selfish goals and aims) is threatened in any way then they must lash out with a view to bringing about some form of forced agreement - in order to reassure themselves of their course. The only escape for them from this bondage is to lay their own desires down and diligently inquire of the Spirit of wisdom and revelation as to the proper course for them to follow. As far as dealing with those who are operating in a "controlling" spirit we must NEVER compromise! For as we are faithful to hold fast to the revelation of truth in our heart the evil ground within them shall surely be exposed. What they then do with that "exposure" will depend on whether they truly love God or not, for it is certain that they will have the opportunity to "act" on what has been revealed to them - one way or the other.
THE REALITY OF THE GLORIOUS CHURCH SHALL "EXPLODE" IN THE FACE OF SATAN'S SCHEMES
Through a consecrated and sanctified remnant - a remnant of God's people who are consumed with holy fire - the Father will now move powerfully to confront ALL in the midst of His people that is apart from His holy purposes in the earth. The words of the true apostles and prophets shall now come to pass in the fulness of all that God intended, and the reality of the Glorious Church shall "explode" in the face of Satan's schemes to keep the children of God in bondage to his lies. In these days many, many captives shall be set free and, in this most critical hour, as the Holy Spirit is poured out to the greatest degree ever known to man, great liberty and freedom - such as has never been experienced by those who love God - shall immediately produce a people who shall live non-stop supernaturally from this point to the catching away of the Church.
THOSE WHO TRULY DESIRE TO BE USED IN THE USHERING IN OF THE GLORIOUS CHURCH MUST ALLOW THEMSELVES TO BE MADE READY BY THE POWER OF THE HOLY SPIRIT
In any given moment there is only one right(eous) place for each individual child of God to be in. It is up to each one who truly loves God to approach Him with a view to making certain that they are where they are supposed to be in these days - and of course, in the meantime, they are to be found maintaining obedience in the particular environment which they are presently in. Perfect obedience will ALWAYS lead one into the perfect spiritual environment that the Father has for them - and only He knows exactly what that will be. Thus, it is of extreme importance for every child of God to hold no preconceived notions (and I do mean none) concerning the Father's plan for their life - both individually and corporately. Many - up until this time - have allowed themselves to continually limit God in their life and ministry through a holding to some form of self-agenda and self-desire. Because of this they are "frozen" (locked) - spiritually speaking - in a place far below the fulness of their destiny in Christ. The good news is that the great light that is about to be poured forth through the Glorious Church - a great light that will expose every last element of darkness and fear that is still being held to - will bring all those who are truly seeking the fulness of the Father's will into a place of "illumination"(enlightenment). If their heart is truly toward the purpose of God then they will know exactly what to do - through the revelation and unction of the Holy Spirit. If one's heart is not wholly given to the purposes of God then they will - without exception - be carried further into darkness and rebellion! Either way, the deepest thoughts of every heart shall now be exposed (judged) - with great blessing and empowerment overtaking those abiding in righteousness and great torment and weeping for those who have forsaken (cast off) the plan of God for their life and ministry. Those who truly desire to be used in the ushering in of the Glorious Church MUST allow themselves to be made ready by the power of the Holy Spirit - for no more shall the blind lead the blind in the midst of God's people!
TWO LANGUAGES
There is the language of the "world" and the language of the Kingdom. In reality, we are citizens of the Kingdom of God and have thus adopted the "language" (characteristics) of that place - whereas those who do not have intimate fellowship with the Father and His Word are blind - without exception - and they have continued to use the language of the "world" (selfishness, fear, control, pride, rebellion etc.). The separation between those who truly love God - and thus they continually seek first the Kingdom - and those who do not will become more and more evident with each passing day from here on in! It is very important for all of us to speak and do only that which we are given to speak and do in any given moment. The "pearls" of the Kingdom should never be cast before "swine" lightly (casually) - swine being defined as those whose hearts are hardened towards God - a people whose heart is in "fellowship" with the world. Of course we must always stand ready to speak and act as the Holy Spirit directs us - for it is certain that EVERY element of rebellion in the midst of God's people will be confronted in these days!
_____________________________________________________________________

NOVEMBER 29th, 2007

STRANGE FIRE ON THE ALTAR

NOTE FROM HIS MESSENGER: The Lord spoke this to/through our beloved sister Dee in South Africa...the Father's personal word for me (speaking against those who speak against me), confirming that they ARE NOT OF GOD, and He said to release it for the Body (for it is not ONLY for me) to read.

Truly HE CONFIRMS THAT I AM HIS. THIS is amazing confirmation and encouragement from My heavenly Father...this is the Lord my read guard - affirming me and fighting for me...I am in awe of Him...forever...

ALL GLORY, HONOR AND PRAISE BE UNTO YOU FATHER GOD.
In obedience:

STRANGE FIRE ON THE ALTAR
via Dee Hoetmer
29th Nov 2007

Numbers 3:3 These are the names of the sons of Aaron, the priests which were anointed, whom he consecrated to minister in the priest's office. 4 And Nadab and Abihu DIED BEFORE THE LORD, WHEN THEY OFFERED STRANGE FIRE before the LORD, in the wilderness of Sinai, and they had no children: and Eleazar and Ithamar ministered in the priest's office in the sight of Aaron their father.
Mark 7:5 Then the Pharisees and scribes asked him, Why walk not thy disciples according to the tradition of the elders, but eat bread with unwashen hands? 6 He answered and said unto them, Well hath Esaias prophesied of you hypocrites, as it is written, This people honoureth me with their lips, but their heart is far from me. 7 HOWBEIT IN VAIN DO THEY WORSHIP ME, TEACHING FOR DOCTRINES THE COMMANDMENTS OF MEN.
What is this I am seeing My beloved church, this strange fire on the altar. You believe you have My anointing, you believe you are in My perfect will, but you are goats and not My sheep.
I speak to you thus this day for the hour is late and you will not stand in what is coming to the earth, for even now the pits of hell have released more foul demons than hither-to- fore released and they are coming to plague and torment those that are not fully found in Me.
They are demons of sickness and plague, demons of strife and turmoil where brother will turn upon brother and slay even those of their own household. Demons of lust and perversions as have hither-to-fore never been released.
Do not take My warning lightly My beloved church for the hour is late and you are not hearing Me. You think you are hearing Me but you are hearing a strangers voice and not Mine. You persecute My true servants, those who have My heart, thinking in your hearts that they are the perverse ones, but in reality it is you that has become perverse with the hardening of your hearts through the religious spirit that pervades many of My churches today.
John 10:4 And when he putteth forth his own sheep, he goeth before them, and the sheep follow him: for they know his voice. 5 And a stranger will they not follow, but will flee from him: for they know not the voice of strangers
You have a strange fire on My altar. Your worship I cannot receive for it is not from the spirit but from your soul, it is soul hype; of the flesh, stirred up and not from hearts given wholly unto Me. Do you know how the angels worship? They worship in reverent holy fear with their faces to the ground crying Holy, Holy, Holy.
You come into My sanctuary without reverent fear and with hearts puffed up with pride with your religious achievements. Know you not that all you have and all you do must be received and given from My Spirit and not your learned ways and the strivings of the flesh. These things stinketh in My nostrils.
There is strange fire on My altars, these things I will no longer receive, they are not of Me but what you have been taught by the false leaders who walk in compromise with religious spirits, lust of the eyes and the pride of life. My fire is coming to purge these false altars, to bring back the spirit of true worship, to bring back true humility before Me, to bring back truth to My church.
Oh how greatly you have been deceived My church, for centuries I have watched as the pride in man has controlled My church, as My sheep have been left to the slaughter by the evil one and his minions. For centuries My true servants have been persecuted and thrown out of your fellowships because of the perverseness of your unrepentant hearts.
You have been deceived into thinking that I approve of the strivings of the flesh. You have been deceived into thinking that I have approved of the way you hold church. I DO NOT APPROVE, I HAVE ONLY BEEN PATIENT WITH YOU, WAITING FOR YOU TO COME TO TRUE REPENTANCE BUT STILL IT CARRIES ON. NO LONGER WILL I TARRY WITH MY JUDGMENT SO THAT YOU MAY COME TO TRUE REPENTANCE.
Does not My Word say that your self righteousness is as filthy rags before Me. Why then do you continue in the flesh, thinking it is of My Spirit when all flesh is unrighteous before Me save for the shedding of the precious blood of My son. Why then do you continue in the flesh, that which is of the flesh is flesh and that which is of the Spirit is Spirit and ONLY THAT WHICH IS OFFERED BY THE SPIRIT, MY SPIRIT, IS ACCEPTABLE, ALL THE REST IS FILTHY RAGS.
Isaiah 64:6 But we are all as an unclean thing, and all our righteousnesses are as filthy rags; and we all do fade as a leaf; and our iniquities, like the wind, have taken us away.
Do you know the difference between what is of your soul and what is of the spirit? My Word is as a sharp two-edged sword that cuts asunder soul and spirit, READ MY WORD FOR YOURSELVES AND LISTEN TO ME AS I SPEAK TO YOU WHILE YOU READ SO THAT YOU MAY COME INTO TRUE RELATIONSHIP WITH ME!
Hebrews 4:12 For the word of God is quick, and powerful, and sharper than any twoedged sword, piercing even to the dividing asunder of soul and spirit, and of the joints and marrow, and is A DISCERNER OF THE THOUGHTS AND INTENTS OF THE HEART.
The worship from the contrite and brokenhearted will I receive, all else is strange fire on My altars!
Psalms 51:17 THE SACRIFICES OF GOD ARE A BROKEN SPIRIT: A BROKEN AND CONTRITE HEART, O GOD, THOU WILT NOT DESISE.
THE FATHER
_____________________________________________________________________

DECEMBER 2nd, 2007
AWESOME TEACHING: HOW TO RECOGNIZE TRUE FROM FALSE
WHAT WILL HAPPEN TO THOSE WHO SOW EVIL and do the works of the enemy:
Pris sent me the following via link via email - awesome teaching!
Pat King: "Wheat & Tares Beware"
If you have time (several messages) to go to extreme prophetic and watch the Wheat vs Tares videos by Pat King. She talks about our reactions to the exposure of the tares.
http://www.extremeprophetic.com/articles_teachings_extreme_moments_video.htm
ALL THINGS HIDDEN SHALL BE REVEALED
The TRUE SHALL FILL THE EARTH
as He WARNS ABOUT/EXPOSES THE FALSE

As I have been watching the powerful things the Lord points out via Pat:
The false looks like the real but it comes from a different source. If you remember Moses doing God's true signs and miracles, and then Pharaoh called his soothsayers and evil magicians to do similar feats. It LOOKED the same BUT - THE TRUE EVENTUALLY SWALLOWS UP THE FALSE.
The REAL presence of Almighty God SHOWS UP THE FALSE FOR WHAT IT IS.
Also delightful was her sharing what wheat looks like vs tares.
Wheat, when ripened, the head gets so heavy it MUST BOW DOWN -- it cannot stand erect but must bow - (SUBMISSION & HUMILITY) . When it is ripe it's head also turns golden (GLORY OF GOD).
Whereas the TARES turn a gray color AND they stand erect, growing taller than the wheat - shows LACK OF HUMILITY, LACK OF SUBMISSION TO GOD, SELF, PRIDE.
GOD IS REVEALING ALL THINGS IN THIS HOUR...
Who is submitted to Him?
How is bowed low?

It is worth watching brethren!
It is ALSO EVEN MORE CONFIRMATION that THIS MINISTRY IS THE TRUE...and I will never stop loving Him for truly He is my everything....I am undone yet again...

His Messenger
P.S. From teaching 5 - warning from God to all who would come against me and this ministry:
"WOE TO ANYONE WHO BRINGS DECEPTION INTO MY MIDST...WOE TO ANYONE WHO SPEAKS AGAINST THIS MINISTRY IN THIS HOUR FOR TRULY IT WOULD BE BETTER FOR YOU TO HAVE A MILLSTONE HUNG ABOUT YOUR NECK..." SAITH THE LORD 5:44 pm
_____________________________________________________________________

DECEMBER 1st, 2007
WINDS OF CHANGE: WORD & CONFIRMATION:

WORD FROM SUNDAY NIGHT: At my home the winds are blowing fiercely. We had some sleet earlier...not much snow yet but we are under a winter storm warning.
As I was sitting here at the computer I could hear the wind howling and the windows were rattling and the Father is saying He is blowing in CHANGE here in this region...the winds of change are blowing, Holy Spirit is blowing...it is awesome right now...you can just feel His glory in the air - it is all being orchestrated and set up... 12-01-2007 at 9:15 PM

The very next night, the winds blew again - the first night they were straight out of the east. The next night they were straight out of the west. The Lord said they will also blow from the north and from the south - blowing all in this direction.
He reminded me of the vision He showed me in September 2006 - the four angels standing back to back, each one facing North, South, East, West respectively, each with a shofar and blowing them toward the direction they were standing. The Lord said they were calling all true believers - calling the lost - to this region - for it is deemed "The Crossroads of America". He breathed on this region....
ALL GLORY HONOR AND PRAISE BE UNTO JESUS...
CONFIRMATION:
Today, (December 4th, 2007) the Lord showed the following to Marsha Burns (also about wind):
December 4, 2007: As I was worshiping the Lord I felt a warm wind blow across my face and body. I asked God what this meant, and He said: This is My breath. I am breathing new life into you that will bring a greater measure of My Holy Spirit. You will see an acceleration of the moving of the Spirit and an elevation of your gifting and service, for I am indeed bringing you to higher ground spiritually. And, from this new level of anointing, this vantage point, you will have greater revelation that will enable you to carry out My purposes with greater effectiveness, says the Lord. John 20:22 And when He had said this, He breathed on them, and said to them, "Receive the Holy Spirit."
THE LORD HAS SPOKEN THE FOLLOWING VIA BILL BURNS:
November 20, 2007: I say to you, My people, that I am about to bring you in this season, between Thanksgiving (November 22) and the Celebration of Life (December 25) in this year, open doors that will reveal themselves as you seek Me. They will be absolutely life changing doors of opportunity. Watch and you shall see them, for they shall begin to open. Watch for the light as the door beings to open. When you see the light, go through and receive the blessing of a lifetime, says the Lord. But, if there is darkness do not touch; do not handle, for the enemy will also entice you through his doors. The only way you will know is by the light as you walk in the Spirit.
November 26, 2007: In this season, says the Lord, I will bless you exceedingly abundantly above all that you can think or ask. You are My children; you are the children of the end of the age, and it is to your generation that the greatest gifts are given so that the greatness of My power will be manifest in the world and all may see and know that there is a God who lives among a chosen generation of people. For you are My holy priests. Come higher. Let your faith soar. Come a little higher in Me, and I shall bestow upon you the gifts of My kingdom. I am the Bridegroom, says Jesus, who comes to the Bride to give to you those things that I desire for you to have. They will contain the riches of the Spirit and the riches of the land. All will know that you are Mine, My chosen, My beloved. Come and see. Come and taste the goodness of the Lord. I will dwell among you.
December 3, 2007: I keep hearing in my spirit, "fading glory." And, the Lord says, the spiritual void that you are now experiencing is as a result of the fading glory of the season that is behind you. That which is now diminishing will make room for the glory of the new season ahead of you. The glory of the new season will far exceed the glory of the old season even as the natural seasons have their own glory. I speak of the glory of spring which gives way to the glory of summer. They identify a season change. That glory which is coming is much greater than that which is behind. Take a look at the season that you have been through and identify what I did, says the Lord. What you have experienced will prepare you for what is ahead. It will be a giant step up in the spirit. In terms of spiritual reality and revelation of the Kingdom you will sense the fading of one and anticipation of the one to come. Do not be alarmed or worry if you feel displaced in this transition. There will be some adjustment as you make the transition. As you seek Me, I will prepare you for a new season of life and its abundance.
December 4, 2007: I have already spoken to you that I would come to you in this season between Thanksgiving and the Celebration of Life. I said I would bring unto you gifts. This day I declare to you that the first gifts you will receive are joy and peace. It is My purpose to bring you joy that is full of glory. It is My purpose to bring you the peace that passes all understanding. I give these to you, My people, so that you might rejoice and take pleasure in the Kingdom. I want you to learn to express joy in My kingdom; express it to Me for salvation; express it to others for their godly influence in your life; express your joy for all that I have done for you and will do, says the Lord, and surely you shall find peace.
_____________________________________________________________________

EXTREMELY GRAPHIC: THE IMAGE OF THE FALSE
December 4th, 2007 @ 1:24 PM

AS I WAS DOING THE NEWS FOR THE LORD TODAY HE SHOWED ME A STORY ABOUT A JEHOVAH'S WITNESS WHO REFUSED TO GET HELP FOR A TUMOR ON HIS FACE BECAUSE THEY ARE NOT ALLOWED TO HAVE BLOOD TRANSFUSIONS. THE IMAGE IS HORRIBLE...AND THE LORD SPOKE TO ME AND SAID THAT IT SYMBOLIZES/VISUALLY DEPICTS THE FALSENESS OF THIS MAN'S RELIGION AND ALL RELIGION THAT IS FALSE IN A VERY PROFOUND WAY....
"THIS IS HOW UGLY ALL FALSENESS LOOKS TO ME," saith the Lord"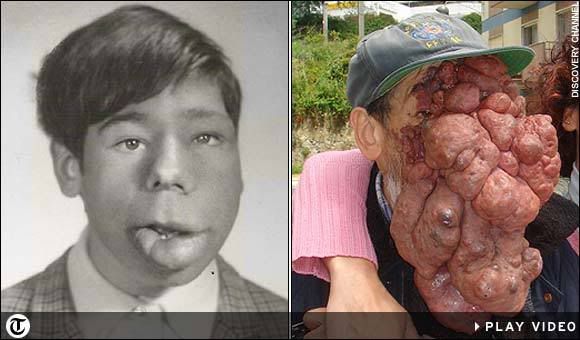 (image on left when this man was 14; image on right as he is today at age 51 - a 12 pound tumor he chooses to carry around...)
_____________________________________________________________________