IN HIS UNFAILING LOVE
MINISTRIES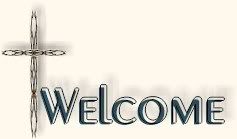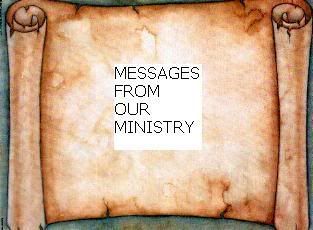 NEW LEVELS OF SPIRITUAL AUTHORITY
August 23rd, 2007
Keep your spiritual eyes and ears open for opportunities for the Lord to manifest His power through you:

Tonight we have had storm after storm (beginning around 5pm and continuing) When the first storm was coming the Lord had me go out on my front porch. He said "look up". Then He said, "BLOW". So I blew out of my mouth. IMMEDIATELY to my right, a tree broke off at the top with a loud crack and fell downward, but did not break loose from the tree - it is still hanging there - I tell you truthfully, there was no lightning or anything at that moment - just the Lord telling me to blow. It was pretty cool actually.

My son took his cameras to university with him - will try to find someone with a camera and get a picture asap

His Messenger
August 23rd, 2007


P.S. I APOLOGIZE FOR NOT KEEPING THIS UPDATED - HAVE BEEN ABOUT THE FATHER'S BUSINESS MINISTERING FOR HIS GLORY ALL SUMMER.

MINISTRY TRIP: The Lord Sent Me To....
April 17th, 2007
Thank you for your patience - we actually got back yesterday but I am still so in awe and moved by what happened that I'm having trouble speaking at all. I'm spending a lot of time just quietly praising Him and crying because I am really "messed up" in the Spirit (in a good way).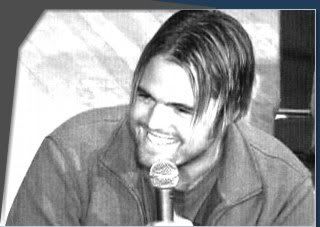 The Lord sent me to over 600 miles (one way) to give Jason Upton a message from Him.

Before I get to that, the Lord wants me to share how He orchestrated this entire trip, because most Christians try to do it all themselves but the Lord has been saying repeatedly "WHAT I ORDAIN I PAY FOR", and "WHAT I ORDAIN I ARRANGE". There wasn't one detail that He neglected - not one. From the money to get there (in the life He has me live I would not be able to afford to do this) - (AND He provided the money WITHOUT MY HAVING TO TELL ONE SOUL THAT I NEEDED TO GO) to where we were to stay....each and every detail, the Lord had it all worked out.

HOW IT BEGAN:

About a month or so ago the Lord showed me that Jason was going to be in Ephrata Pennsylvania. I tucked that away in my Spirit, seeing that that was the closest "concert" to this area. I also have a brother in Christ who lives near there and I was waiting to see if the Lord wanted me to tell that brother about the event. In the meantime, there was someone who was to be part of this ministry and the Lord wanted them to come to my home that same weekend. If they had been obedient and had come they would have had the opportunity to go with me on this ministry errand. But that person decided not to believe the Lord and so in disobedience they chose not to come. (needless to say that person is not permitted to be part of this ministry because those who are called here MUST walk in His perfect will with no compromise)

(PLEASE NOTE that this is not saying that ANY OF US ARE PERFECT...NO! WHAT THE LORD IS SAYING here is that there are those who are willing to walk in His perfect will, laying down their lives for Him NO MATTER WHAT and there are those who are not. He does not NOT love those who are disobedient, but for those who are HIGHLY CALLED--- from them much is required. If an individual saint is not even willing to do one "little" thing that the Lord asks of them, how then can He entrust them with the big things???).

(Also know that the Lord has shared with me that there ARE NO LITTLE THINGS - no matter what He asks of us we must be willing to do it. And it goes beyond mere willingness for yes, it is wonderful to say "Here am I Lord, send me!" but then He replies, "OK, I want you to go to xyz place on My behalf and for My glory..." to which you respond, "You know I WANT TO GO - you know my heart is to go ---but I can't...I won't"...that just doesn't cut it. It is unacceptable).

MONEY:

In between the time He showed me that Jason was coming to Pennsylvania and about one week before the actual event, someone sent a check to the ministry that was a complete surprise- the amount sent (after check cashing fees) was the amount that we needed (my son went with me) for everything. The check came from a bank called "Sovereign".

TRANSPORTATION:

On Friday morning the Lord sent me to rent a vehicle.

I went to rent the vehicle. I stopped in the morning at about 10 am - they told me to come back around 5pm. They specifically ordered a vehicle for me (they didn't have any on the lot because they are kept across town at our local airport). When I arrived at 5pm the vehicle they had ordered for me was there, but they now said that they couldn't give it to me - something about their airport corporate location overriding the order (even though they sent the vehicle) and they wanted the vehicle to be returned to the airport location for someone more important. The Lord worked it out however because they said "What the heck, we're going to override their override and you can have it" (MIRACLE #1)

We were then doing the paperwork where they ask for your drivers license, etc, they looked at mine and said "Your driver's license is expired" I said "No, it would have been expired in 2006 but they changed the laws and made them good for 6 years instead of four (at least here in Indiana)". They said "No your license is expired - we can't rent you a car and we'll have to send it back to the airport location." I said, "I was at the DMV in February to renew my car's license plates and I asked about renewing my driver's license but they said it was good for two more years." But the car-rental guys didn't care. So I said "Let me hurry over to the DMV..." - (it is in a shopping center only a few blocks from the car rental place) - "...can you please hold the vehicle for me if I can make it down there and back in time before you close?" They said they would.

(Another point was that if they had told me this earlier I had ALL DAY from 10 a.m. til 5 p.m. when I could have gone to renew my license but I had been told it was good for two more years and I had no idea that the rental car computer would reject my it!)

It took less than 5 minutes to get to the DMV - but it had closed 15 minutes earlier. I went inside the inner vestibule because there were still people inside and there was a guard at the door. She wouldn't even crack the door open but instead said loudly, "We're closed" through the glass. I went to the car and called the car rental guys - told them I could get my license tomorrow morning at 8:30 a.m. They said "That's fine but we're sending your vehicle back anyway".

I sat in the car and inquired of the Lord. The Lord said to me "Go talk to the woman guarding that door". So I went back and told her how I had been here in February and was told not to renew my drivers license - I told her I had to make a trip out of town and that I would lose my money for the hotel reservation if I couldn't go. The guard lady called over her supervisor and the supervisor LET ME IN AND they RENEWED MY LICENSE! (MIRACLE # 2)

THEN the license photo-taking computer was DOWN and they couldn't take license pictures/get it to come back online and so I lay hands on it (decreeing silently) and it CAME BACK ON. (MIRACLE #3)
I was in and out in less than 10 minutes and back to the car place and was able to GET THE VEHICLE that the Lord wanted me to get and isn't GOD AWESOME?!?!?!

The DMV doesn't break the rules ever and even the car guy was shocked. He said, "Wow you were lucky". I said "I'm a minister of the Lord and it wasn't luck - my God is Awesome". He was like "uh huh, ok" but truly GOD WORKED IT ALL OUT !!!!!!!

LODGING:

The event was being held at a church in Ephrata as I stated earlier. It was the finale to a weekend conference. The church's website had lists of hotels and rates; they were all too high (per the Lord) and He instructed me how to do a particular search that showed me many hotels in the area. I can't even remember how He showed it to me but all of a sudden I was on the website of a motel that wasn't even on the hotel/motel search list. It was a tiny motel in Ronks PA (about 20 minutes from the church) and on their website was a coupon that you could print on your own printer and bring along making the room cost $34.00 for one night (the night we needed to stay because we needed a place Sunday night and the coupon wasn't good on Fridays or Saturdays!). All of the other hotels listed began at around $79.00 and then increased.

Beloved, GOD ORCHESTRATES EVERYTHING!!!
HITTING THE ROAD:

We left at 5:00 PM on Saturday night. Drove about 30 minutes and then Holy Spirit reminded me (He reminded me at home but then I allowed myself to get distracted) that I had forgotten to turn off our alarm clocks. They were set for daily wakeup and are pretty loud...they would have been buzzing for TWO DAYS and that would just not have been acceptable/considerate of my neighbors. He had us turn around - we lost one hour drive-time but truly it was my fault. I HAD HEARD and allowed myself to 'forget'.

Starting at 6:00 PM then (after going home and beginning anew)...the first part of the drive was uneventful. South Bend is in the middle of the Northern part of the state. We are half-way to the Ohio line. About 1/2 way Ohio it began to snow. And I mean SNOW. The temps were still above freezing so the roads in Indiana remained decent...it was so beautiful really (NOT the time of year for this much snow)...it was the wet thick kind that stuck to trees and buildings and fences so everything looked new and clean. The Lord even showed me a family of deer (something that is special between He and I)...one was jumping and frolicking and playing - it was special.

But then we got to Ohio. Ohio was white-out snow. It was also dark outside. I don't know how many of you know what it's like to drive in white-out snow but it is the kind that is like constant darts coming straight at your eyes - plus the toll road does not have street lights so the only illumination are each vehicles' own headlights, which makes the snow darts very intense and dangerous...almost blinding. I kept praising the Lord...gripping the stearing wheel with both hands. The temps were still above freezing but there was slushy ridges building up on the road making the car swerve and lose traction. Cars were spinning out and around and hitting walls and going into ditches all around us...I just kept praising Him, trusting Him, contiuing forward...

At one point in the seer realm He showed me that scene from the movie "The Matrix" where bullets were flying at Neo and Neo held up his hand and said "NO" ....only there were seemingly millions of snow 'bullets' just coming en masse at the windshield. It wasn't even accumulating, it was the blinding millions of white snow darts. For most of Ohio the fastest I could drive was 35 MPH and just keep going and going, trusting the Lord that this attempt by the enemy to stop His perfect will would not prevail. In my Spirit I stood up, put up my hand in front of me and declared "NO".

(HA-HA GOD IS SO GOOD - look what He just allowed me to find!!!):

Finally my son declared a decree (prophesied it) out loud: "I'd rather have rain than snow". He spoke this just as we were getting ready to cross over into Pennsylvania and literally IMMEDIATELY it turned to all rain and we could see! (Not only that but the music that my son kept listening to on the radio - EVERY SINGLE SONG MENTIONED "RAIN". He was like, "Mom, why are ALL the songs singing about rain?!?!")

But it was torrential rain and the water built up on the turnpike - so much so that we kept hydro-planing all the way through the mountains....

But we were never in danger because the Lord had me keep my eyes always upon Him...and He NEVER TAKES HIS EYES OFF OF US! AMEN?!?!?!

ARRIVAL:

We finally arrived in Ronks PA at 7:00 A.M. We drove to the church then straight to our motel (our directions to the motel were from the starting point of the church) but they (the innkeepers) would not allow us to check in early (even with the offer to pay extra). We drove and drove and there was literally NO ROOM IN ANY INN. As always I just smile and praise God that as in this entire walk He has chosen for me I am pemitted to fellowship in EVERY ASPECT of His sufferings, experiences! The Lord told me which way we should drive - there, about 15 minutes past our motel, was a motor inn...there was a sweet woman from India running the place...she let us stay BEYOND 11 a.m. (we would have been allowed to stay only until then normally which equals 3 hours for full price) but she let us stay until 2:00 PM when we could then transfer to our other hotel; she even APOLOGIZED for the other motel workers down the road. It was SO GOD!!! Oh - and the name of the inn? PARADISE! We were able to sleep from about 8:00 A.M until 2:00 P.M...in Paradise!

When we were checking out and I gave her the key, she said, "This must be a pretty special concert for you to drive all night long in the blizzard and the flooding to get very little sleep and be turned away from your real hotel..."

It WAS special - because God asked me to do something for Him and it is an honor to do so.
NOTE: Before continuing sharing the actual event Sunday night, know that Saturday at the conference the brother in the Lord that I mentioned who lives in the area (Pennsylvania) and who the Lord has had me mentoring for over two years: he went up to Jason and told him that the Lord was sending His messenger from Indiana with a word and asked if he would receive the word - Jason said yes.

SUNDAY NIGHT WORSHIP W/Jason Upton:

The actual time for the event to begin was 7:00 P.M. The Lord sent me to be there at 5:30 P.M. (James, the brother from Pennsylvania was waiting there in the parking lot when I arrived). They did allow people to enter at that time - the Lord had ordained that I sit in the front row so that I could intercede for Jason throughout the "concert"...

(NOTE: It isn't a concert...Jason hears from the Lord and sings all things as the Lord commands. It is a prophetic event, a God event, but most definitely NOT a "show")

Everywhere the Lord sends me, as soon as I get inside He has me a) sit on the floor; and b) wear my talit (prayer shawl). He also instructs me which anointing oil(s) to put on (Rose of Sharon, Lily of the Valley, Frankincense & Myrrh, temple consecration oil) - in this case He had me do this in the vehicle on the way to the meeting). James sat on the floor with me and the Lord spoke through me to James, about James, about the meeting, etc.

(NOTE: The Lord also sent me to the event with a scripture to give to Jason (printed on a piece of paper) - the scripture was Isaiah 55:11: "So shall my word be that goeth forth out of my mouth: it shall no return unto me void, but it shall accomplish that which I please, and it shall prosper in the thing whereto I sent it.")

When the multitudes of people began arriving, looking for their seats, encountering people they know, etc., the noise level crescendoed. The Lord had me say to James, "If everyone would just be quiet...if everyone would enter as if this were holy ground (which it IS), if everyone would, instead of talking, begin to worship and praise Him, everyone would be in awe at what the Lord could accomplish here this night, what He LONGED to accomplish here this night...". But sadly it never seems that Christian's first thoughts are of Jesus. Instead the noise kept growing louder and louder...and the Lord could not accomplish all that He had wanted.

The Lord told me what Jason's first song was going to be. Sadly I must interject that the pastor himself opened the event, microphone in hand, welcoming people and saying that it was time to start, and said, "So enjoy the music or whatever..."

"ENJOY THE MUSIC...OR WHATEVER..." (this remark grieved Holy Spirit)

When Jason sat down and the event began truly Jason played the opening notes of the song the Lord ordained:

(NOTE: Since the songs are selected and sung in order as chosen by the Lord, the lyrics are the message - I have included the lyrics I could find)...

1. "In The Silence".

Make sure you catch this...especially after the Lord had just finished having me tell James that IF ONLY THE PEOPLE WOULD QUIET THEMSELVES BEFORE HIM TONIGHT...

LYRICS:
Tired of telling you, you have me
When I know you really don't
Tired of telling you I'll follow
When I know I really won't
Cause I'd rather stand here speechless
With no great words to say
If my silence is more truthful
And my ears can hear how to walk in your way

In the silence
You are speaking
In the quiet I can feel the fire
And it's burning, burning deeply
Burning all that it is that you desire to be silent, in me

Oh Jesus can you hear me?
My soul is screaming out
And my broken will cries teach me
What your Kingdom's all about
Unite my heart to fear you,
To fear your holy name
And create a life of worship
In the spirit and truth of your loving ways

Continuing, Jason sang for two hours (in order):
2. Samuel's Awakening (Awake Me): "Spirit teach me how to follow, when darkness overshadows light, to find the place the Father waiths and my soul's breathing with new life....awake me Lord to the promises of the Kingdom..."

LYRICS:
Samuel, will you lend me your ear?
This is the voice of your father here
If I speak the word and no one has the vision
Can I count on you, my sweet child to listen?

Samuel, lend me your ear
Cause the whole world's in love with you baby
I am in love with you child
You are so meek and mild
You are holy child
Samuel, lend me your ear

Samuel, will you lend me your ear?
The truth is not always how things appear
So listen with your heart, listen to the spirit
Listen to my voice child and you will hear it
Samuel, lend me your ear

Cause the whole world's in love with you baby
I am in love with you child
You are so meek and mild
You are holy child
Samuel, lend me your ear

There will be days you feel like flying
Then there'll be days you feel like crying
Never give up, never stop trying
Never believe my love is dying

Cause when the whole world is through with you baby
I will still love you, my child
You are so meek and mild
You are a holy child
Samuel, lend me your ear

3. Justice Waiting

4. Lion of Judah: (Blessed are the peace makers for they shall be called the sons of God)

LYRICS:
No one knows the hour
No one knows the day
Jesus is coming soon
All creation trembles, longing for the day
Jesus is coming soon
There will be judgment
There will be mercy
On that terrible day
Leaders will bow down
Kingdoms will fall down
Have you felt your world begin to shake?

Hear the sound of the Lion of Judah
See the fire and the fear in the enemy's camp
From the sound of the lion of Judah roaring again
There's a new generation arising
A nameless, faceless, placeless tribe
All they fear is the fear of the Lord
All they hear is the Lion of Judah

All I saw were bones breaking in the darkness
Then I walked into the light
There I saw an army coming from the river
With five stones ready to fight

(NOTE: At this point, in the seer realm I saw drops of oil falling on Jason's head)

5. Freedom

LYRICS:
Freedom!!
Back in the bible there was that old Pharaoh
Who ruled over Egypt and Israel
God spoke to Moses through fired up bushes
Said kick off your shoes and stay awhile
All of humanity was made to worship me
Pharaoh get outta my way(God is sayin')

Chorus
Freedom to dance
Freedom to sing
Freedom to grow
I'm telling you Pharaoh let Gods people go!

Worship now Worship nowWorship your God (x4)
(let 'em go)

Well, we live in a country supposedly Pharaohless
But all over town and in churches abide
Powerful weeklings who practice they're politics
Stealing from Jesus his beutiful bride
Whether you're Pharisees, Sadducees, heresies
You best get outta God's way!(God is sayin')

Chorus

Worship now Worship nowWorship your God (x4)(let 'em go)

Well, we live in a country supposedly Pharaohless
But all over town and in churches abide
Powerful weeklings who practice they're politics
Stealing from Jesus his beutiful bride
Whether you're Pharisees, Sadducees, heresies
You best get outta God's way!(God is sayin')

Chorus

Worship now Worship nowWorship your God (x4)(let 'em go)

6. Cloud By Day/Fire By Night: "Never give up...."

LYRICS:
I know you walk on the water
I know you ride on the wind
I know you clothe yourself with light
So why do I find it so hard to comprehend
Directions to the other side

A cloud by day a fire by night
I'll keep moving on
It may seem strange but I know it's right
I'll keep moving on

I've got my friends here to help me
I've got my wife here to hold me
I've got my children by my side
Although they do make me happy
I know they're to make me holy
Each day they raise the cup of Christ

A cloud by day a fire by night
I'll keep moving on
It may seem strange but I know it's right
I'll keep moving on

7. All Things Are Possible: "Truth is not trapped by what is seen on the outside"

8. Everything You Do

9. Behold What Manner Of Love The Father has given unto us...that we should be called the children of God

10. Father of the Fatherless: "Every word from heaven will not go back until its succeeded"

(NOTE: REMEMBER THAT SCRIPTURE THE LORD HAD ME PRINT OUT TO GIVE TO JASON? HERE IS THE CONFIRMATION IN ONE OF THE SONGS THE LORD CHOSE FOR HIM TO SING THIS NIGHT)

11. Into The Sky

12. Everything You See Is A Gift From God

13. In Your Presence

There was also another song amidst the last three listed above about the book "Where the Wild Things Are"

When it was all over, of course everyone wants to talk to the 'star' (NOT Jason's heart, for truly this is a man after God's own heart, one who walks in obedience, without compromise, and directs people to JESUS and not himself). I approached Jason when the Lord told me to approach him.

I said, "The Lord sent me over 600 miles to give you a message from Him...

...He asked me to tell you that He loves you."
Is that a let-down for you or do you see the magnitude of the Father's love for us...that He would send someone to us - through blizzard, through seeming peril, torrential rains, mountains, opposition, to say "I LOVE YOU" to one of His own?

The Lord also had me say "Well done thou good and faithful servant" and also had me give Jason a crown.

This is the exact crown (the Lord just helped me find an image of it online!)
There were a few other things the Lord had me speak but they are not to be shared. The number one predominant prevailing reason the Lord sent me was to say "I LOVE YOU" to Jason. I was so 'undone' by the move of Holy Spirit that I had trouble even getting out the few words that I was to speak - the Lord gave Jason the words because he kept finishing the Lord's thoughts/sentences that were coming out of my mouth. It was very awesome.

What was even 'neater' was that Jason never asked me my name. Because it wasn't about me or what I went through - it was about Jesus, sending someone who was willing to be obedient (and even that is not of me because HE WORKS ALL THINGS IN AND THROUGH US - in and of ourselves, without Him we can DO NOTHING) to be His messenger, to carry out His perfect will. And what happened to me is that I became even MORE nothing...it was all Jesus and I was an even tinier speck than I was before. I felt so so so so small.

THE TRIP HOME:

The Lord had us wake up at 5:00 A.M. The rains had subsided a bit, but the winds were fierce. All of this weather was part of the forecasted "nor'easter" which they claim was the worst storm for the east coast in 20 years. All the way back through the Pennsylvania mountains there were over 50 mph winds and SNOW, with strong updrafts...I had to laugh at the enemy because God's mission had been accomplished and there was no doubt that the Lord would return me to where I had started from...and sure enough, before we even got to Pittsburgh all bad precipitation had ended. The winds lasted all the way to my home in Indiana but as soon as we crossed into Ohio, the sun came out and it was a BEAUTIFUL and warm (in the 50's, yet still extremely high winds - in the mountains when I had stopped for gas it was snowing, 30 degrees with a wind chill in the teens)...

The Lord showed me the following image - we passed through Cleveland on Monday going home - the winds were so fierce it caused huge waves on Lake Erie (which shows the force of the winds we had to drive through):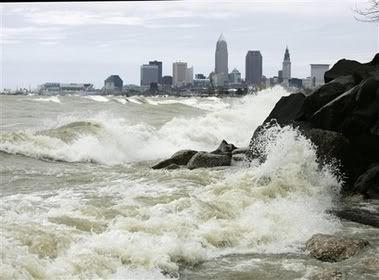 CAPTION: Wind-driven waves on Lake Erie crash into the shoreline west of downtown Cleveland, Monday, April 16, 2007. Remnants of the spring storm that struck the east coast the past two days brought high winds and colder temperatures to the state. (AP Photo/Mark Duncan)
The enemy did try one more prank about one block from my house but I will not give him any glory in repeating it and the Lord had it under control as always.

I thank Our Heavenly Father for allowing me to do this on His behalf...I praise Him for keeping us hidden under His wing. I don't think I'll ever be the same...and that's a good thing...because, as Holy Spirit sings through Jason in another song,

"Father make me just like You...
Daddy make me just like You...
Father make me just like You...I wanna be just like You..."

In His Unfailing Love,
His Messenger

Message For Someone From The Lord

February 20th, 2007
The Lord has me studying Holy Spirit this year (continually). It was from 1:10 A.M. to 1:15 A.M. that He spoke the following for someone (He said you will know who you are):

"This is it - the "big thing", the "big one" - you were entrusted by Me with My money, and you've been saving it, waiting for "THE" moment. You don't have any personal stake in this money - you know it is all Mine. You have no desire to have a hand in how it is used because you know it is all Mine. And you've been FAITHFUL WAITING FOR THIS MOMENT. And NOW THE TIME HAS COME...THE HOUR HAS ARRIVED AND THIS IS THE PLACE...THIS IS THE MINISTRY..."

The amount He has told me was $250,000.00 (minimum, first amount)...

He added again, "NOW IS THE MOMENT..."

In Obedience,
His Messenger

Technical Difficulties, Ordination, & Encouragement

December 2nd, 2006
Greetings, brethren, in the matchless name of our Lord and Saviour Jesus Christ.

TECHNICAL DIFFICULTIES:

I apologize for being unavailable this week - my son was downloading something and we caught a virus on his system that trashed everything. (IN SPITE of having a effective firewall, antivirus & spyware software in place)....

I know the enemy is the prince of the air - and so I rebuke him and cancel all further assignments against the work that the Lord has ordained for me to do.

Our computer is now fixed - we erased everything with system restore and started over.

ORDINATION:

The Lord has walked with me and I Him for 23 years. This past Sunday (Nov 26th) I was ordained (legally) for His glory. We all know that the Lord ordains us the moment we are 'born again' and HIS - in the midst of this worldly system however sometimes a piece of paper will get us into places with His words of truth (for example with this official document I can now go into the local Juvenile Center ('kids jail') and minister whereas without a paper I could not).

Beyond that it was a very intimate ceremony and I was deeply humbled and honored to be in His service and to experience that which He ordained from before the foundations of the earth...ALL GLORY HONOR AND PRAISE BE UNTO HIM, KING OF KINGS AND LORD OF LORDS!!!

ENCOURAGEMENT:
I AM SENT TO ENCOURAGE YOU - ONE AND ALL - THIS DAY - SO MANY ARE WRITING TO ME ASKING FOR COUNSEL, DEPRESSED, DISCOURAGED, ETC.

DO NOT GIVE UP, FOR THE LORD OUR GOD IS WITH YOU. TRULY SOMETHING IS GETTING READY TO BE UNLEASHED - BOTH IN JUDGMENT AGAINST THAT WHICH NEEDS TO BE JUDGED, AND BLESSINGS UNTO THAT WHICH IS ORDAINED TO BE BLESSED.

THEREFORE DO NOT BE DISCOURAGED - DO NOT GIVE UP!!! HE IS A VERY VERY VERY GOOD AND AWESOME GOD WHO WILL NEVER LEAVE YOU NOR FORSAKE YOU.

HE BROUGHT TO MY REMEMBRANCE THE SCRIPTURE FROM PROVERBS 13:12 -

The first part reads, "Hope deferred maketh the heart sick:..."

BUT GOD!!!! DO NOT FORGET the second part, beloveds:

"...but when the desire cometh, it is a tree of life."

TRUST IN HIM...
DON'T GIVE UP...

REMEMBER THE WORDS OF SIMON PETER IN JOHN 6:68

"Lord, to whom shall we go? thou hast the words of eternal life. "

HE WON'T LET YOU DOWN!!!

In His Unfailing Love,
His Messenger
December 2nd, 2006