please click thumbnails for larger image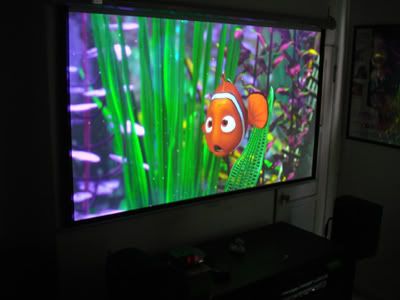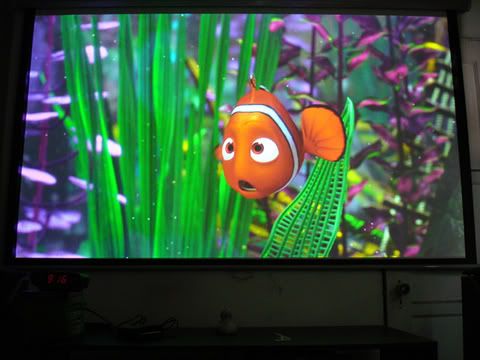 My movie posters
-Frequency response: 80Hz-20KHz+/- 3dB
-Tweeter: 1" Pure Titanium Hybrid
-Midrange: 3" Polypropylene Titanium Deposit Hybrid -Room efficiency: 90dB
-Impendence: 8-ohms nominal, 4-ohms minimum -Recommended amplifier power: 150-watts RMS -Weight: 25 lbs
-Inputs: 5 way high quality terminals
Left Front Speaker
Mirage Omni 60
-Frequency response: 45Hz-20KHz+/- 3dB
-Tweeter: 1" Pure Titanium Hybrid
-woofer 6 1/2" Polypropylene Titanium Deposit Hybrid -Room efficiency: 91dB
-Impendence: 8-ohms nominal, 4-ohms minimum -Recommended amplifier power: 125-watts RMS -Weight: 38 lbs / 2 speakers
-Inputs: 5 way high quality terminals

-Notice that unique design of the speaker, only 30 percent
of the sound from the speakers are direct, the tweeter floats above the woofer

Binding Post On One Of My Speakers

5-way high quality terminals, I currrently have it connected
11 awg star quad canare 4s11, vampire wire termination.
Rear Speakers
Mirage Omni 50's

-Frequency response: 55Hz-20KHz+/- 3dB
-Tweeter: 1" Pure Titanium Hybrid
-woofer 5 1/2" Polypropylene Titanium Deposit Hybrid -Room efficiency: 91dB
-Impendence: 8-ohms nominal, 4-ohms minimum -Recommended amplifier power: 100-watts RMS -Weight: 31 lbs / 2 speakers
-Inputs: 5 way high quality terminals

Receiver
Harmon Kardon AVR-225

-Stereo Mode: 70 watts per channel @ < 0.07% thd, 20Hz-20kHz @ 8 ohms
-5 channel surround mode (poower per individual channel): 60 watts per channel
@ < 0.07% thd, 20Hz-20kHz @ 8 ohms
-Surround modes: Dolby Digital, DTS, Pro Logic II

Dvd Players
Pioneer 563, Rj-tech region free player

SACD, DVD-Audio, multi region goodness.


Wire Jungle Behind The Receiver

Subwoofer
SA-WM40 Sony 12" powered subwoofer

With 8ohms loads, form 20Hz-170kHz; rated 120 watts
minimum RMS power, with no more then 0.8% THD from
250 milliwatts to rated output.

speaker set up
4 conductor 14 awg cable, two twisted conductors per terminal, vampire wire gold plated bananas, carbon fiber style braided jacket.
Thats me RnB