PARDON
ME,
DO
YOU
HAVE
ANY
GREY
PRIMER?
Roll the bones to check out my toys!
---
---
---
Life is not a journey to the grave with the intention of arriving safely in a pretty and well preserved body, but rather to skid in broadside, thoroughly used up, totally worn out, and loudly proclaiming...'Wow! What a ride!"



If you have a cool hotrod or kustom site that you think rates the (not so) coveted "HOTROD HEAVEN" award, just drop me a line so I can check it out.
AWARD WINNERS
AWARDS THIS PAGE HAS WON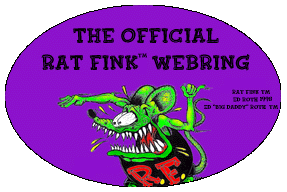 SINCE 5/21/01