Committee for a Multiethnic Kosovo

The Committee for a Multiethnic Kosovo was launched in response to the ethnic cleansing campaign against Serbs by extremist Albanians that started March 18th. We run an online petition demanding the protection of the citizens of Kosovo from extremists.

Contents
News from the campaign
Support the campaign
Kosovo news resources
What the Albanian extremists really want
Disgrace for Serbia
Contact the Committee
Websites with a link to us
Albanians started a petititon asking for independence of Kosovo


News from the campaign

5-5: UN Secretary-General Kofi Annan today described the riots in Kosovo during March as a setback for the work of the UN mission in the province. "The attack by Albanian extremists in Kosovo was an organised and comprehensive campaign targeted against Kosovo Serbs, Roma and Ashkaly," he said in his report on UNMIK. "Kosovo Albanian leaders have criticised the violence only reluctantly and ambiguously, particularly that against Serbs," said Annan.
9-4: 2000 signatures!
1-4: 1500 signatures gathered.
31-3: Second 500 signatures presented!
27-3: 866 signatures. For those who might be wondering: yes, there are Albanians and Muslims signing the petition as well.
25-3: First 500 signatures presented to Kofi Annan (UN), Alfred Moisliu & Fatos Nano (Albania), Harri Holkeri (UNMIK) and Nebojsa Covic (Serbia and Montenegro Coordination Centre for Kosovo and Metohija).

Return to top

Support the campaign

You can support us by:
1) Signing the petition.
2) Telling all your relatives, friends, colleagues about Kosovo and about this campaign.
3) Linking your website to ours. Make a text link or, even better, link to us using this picture:




For creating the link, put this code on your website:

<A HREF="http://www.ipetitions.com/campaigns/Kosovo/"> <IMG SRC="http://www.oocities.org/stop_ethnic_cleansing_kosovo/kosovo.jpg">


Thank you for your support!

Return to top


Kosovo news resources

new Reports on the ethnic cleansing of Ashkaelia ("gypsies") from March 17th on. Pictures and a letter.

Ones one of the fiercest opponents of the Milosevic regime, Radio & TV B92 from Belgrade is still a major force for democracy in the Balkans. News is provided in Albanian, Serbian and English. www.b92.net

The view of the international community is seen on BBC news, news.bbc.co.uk/2/hi/europe/.
A news digest offered from Kosovo.

The Serbia and Montenegro Coordination Centre for Kosovo and Metohija.

Full reconstruction of the latest ethnic cleansing by the Serbian church in Kosovo.

Unfortunately, the Albanian press in Kosovo does not offer any english language services.

Return to top


What the Albanian extremists really want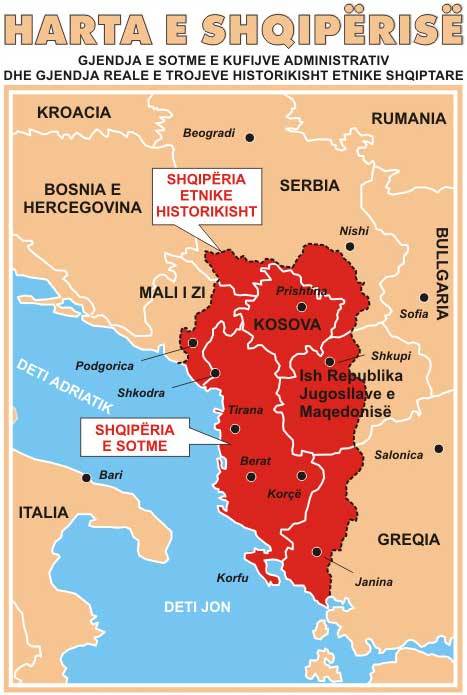 Images taken from websites of the Albanian armed groups in the Balkans.
A first lesson in Greater Albanian geography: part of Albania are the Montenegrian capital Podgorica, the city of Ioannina in Greece, the Greek island of Korfu, Macedonian capital Skopje, the Serbian province of Kosovo and Serbian towns like Novi Pazar, Bujanovac, Presevo and Vranje.





The church of St. Sava in Kosovska Mitrovica on March 18th. One of the 35 churches and monasteries that were destroyed or seriously damaged. Apart from that, from dozens of cemeteries the deceased were unburied and their bones scattered. Over 4.000 non-Albanians were driven from their houses, over 500 houses were destroyed, over 200 were seriously damaged. Not to mention the killings of non-Albanian citizens.

Return to top


Disgrace for Serbia




Nationalists attacked two mosques in Serbia, one of them this 17th century Bajrakli mosque in Belgrade. Police did not manage to stop them. What a disgrace!

Return to top


Contact the Committee

Email the Committee with your suggestions.

Return to top


Websites with a link to us

St. Nicholas Church, Steelton PA, USA

Return to top


Albanians started a petititon asking for independence of Kosovo

The Albanian lobby in the United States "Albanian American Civic League" started a petition demanding US Congress to support the independence of Kosovo.
Just the thought of handing Kosovo over to those who organised -or did nothing to stop- the ethnic cleansing is ridiculous.
If you want to see this campaign in action, see www.albanianwebsite.com.
The lobby's site is to be found at www.aacl.com. This "respectable" site of a committee supported by US politicians also sports the images of greater Albania and support for the criminals of the Kosovo Liberation Army.

Return to top