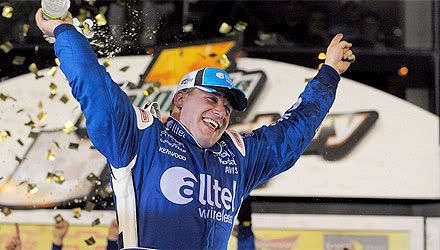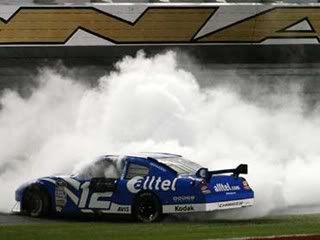 BIO:

| | |
| --- | --- |
| Sponsor | Mobil 1/ALLTEL |
| Owner | Roger Penske |
| Crew Chief | Roy McCauley |
| Car | Dodge |
| Birthdate | Dec 08 1977 |
Ryan Newman is form South Bend, Indiana and honors graduate from South Bend LaSalle High School in 1996. He then earned a bachelor's degree in Vehicle Structure Engineering from Purdue University.
There are those that question
whether racing's a sport
It's not played on a diamond
a field or a court.
It's played out on a track,
an oval of fate,
for the brave souls who dare
to enter its gate.
The track's unforgiving
it shows no remorse,
for those that are reckless
in handling the course.
To look at the track,
there's no end in sight.
A continuing circle,
A circle of flight.
To the racers on hand,
the track is a test.
A monster to conquer
But it's also a quest.
A quest to control
the beast which they drive.
A beast that can humble,
A beast that's alive.
Alive with the power
that beats through their soul
a gut-wrenching rock,
and a mind-numbing roll.
The beast and the driver,
both bent on control,
will fight to the end
the battle taking its toll.
The beast may get torn,
the driver may tumble,
the battle can strengthen,
the battle can humble.
The beast may be boiling,
the driver's senses on fire.
Both machine and the man
will fight to the wire.
But the beast and the driver
in the middle must meet,
to battle the track
to battle the heat.
The heat from the others
that are daring the track,
A track that takes what it wants
But it doesn't give back.
The track shows no mercy,
it shows no respect,
to those that have triumphed
much less those who have wrecked.
The track's theirs to conquer
week after week,
The elusive checkered flag
is all that they seek.
It's racing for the win,
putting their lives on the line,
that keeps them in racing,
and what keeps the sport mine.
So to those of you out there
who just can't comprehend
and place doubt on our sport,
take a lap 'round the bend.
Only then will you know
what it takes to compete
you can't understand fully
til you sit in the seat.
Written by: TrdnPaint
"Drive It Like You Stole It"

Free counters provided by Andale.