1999
Thunderbolt

---
This motorcycle was the result of an insurance payment after having my
1995 Buell S2
. Sometimes things work out for the better. I was even able to have the bike delivered to my house. I purchased it on February 14, 2002, my second American made, V-twin motorcycle with 12,000 miles on it. Production #778. This bike was stock.
Back from a day at the track with my old S2 Buell
September 15-17, 2000:
Took Learning Curves(LCR) course on my 1995 Buell S2, at Summit Point,WV.
BRAG Mid-Atlantic Rally, got to meet Erik Buell.
March 2002:
Installed K&N air filter X1 racekit, Race ECM, V&H SS2r pipe, catch can setup. Installed 1995 PM front rim T17x3.5 DOT 396PM, rear rim T17x5.5 DOT 496PM
March 2002:
Installed Corbin seat, Gunfighter & Lady plus back rest, fits like a dream.
March 2002:
Installed Throttlemeister cruise control/throttle lock(really good for those cold morning warm-ups), installed safety wired nuts on header bolts.
May 6, 2002(15072mi):
Installed Blast spark plugs(10R12) and .045 gap instead of .035 (factory setting), Zero Gravity Windscreen(smoke) 3" taller one, Banke footpeg relocator, shifter, and brake foot lever. Installed new ME Z4 tire.
May 11, 2002:
Participated in BattleTrax at Fredrick, Maryland.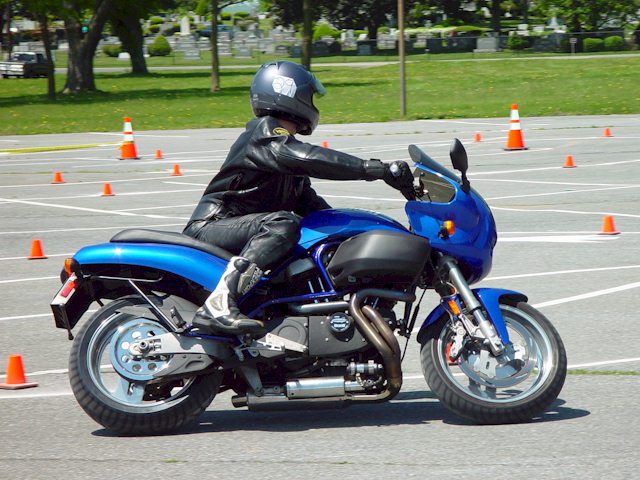 Another picture same angle of me at BattleTrax
June 6, 2002:
Installed oil cooler, when changing motor oil. Also installed super-white (h4) headlight bulb.
June 7-10, 2002:
Participated in the Capital Area Motorhead Society(CAMS) annual ATW #7 putting 1,200mi on the bike in 4 days of touring PA,VA,NY,WV,and MD.
June 18, 2002(17640mi):
Installed new front tire. Scored brake pads and front rotor(got rid of annoying brake squealing).
July 8, 2002:
Fixed broken retaining ring on detent plate. Installed new 2002 style detent plate, and upgraded primary chain tensioner assembly.
July 10, 2002:
Installed Buell race muffler and new header (ceramic coated).
July 15, 2002:
Installed Ventura rack system. For use on the S3T models. Also installed tank bra(removed it later).
September 2002:
Participated in a NESBA track day at Summit Point, WV.
November 2002:
Rebuilt rear master brake cylinder, installed Goodridge stainless steel brake line.
Upgrades inbetween 2003:
Installed XB valve covers. Solved rear brake problem. I installed several washers inbetween the Banke brake pedal and master cylinder piston to allow the piston to operate linearly. The bike has started to leak oil out of the rear cyclinder base gasket.
March 2004:
The flywheel nut backed off (came loose), but stayed on the shaft(wearing the threads off the nut). The primary drive chain then had access slack in it and wore grooves in the interior primary cover housing. I installed a new nut and used threadlocker this time. I installed a new primary chain.
July 15, 2004 (29757mi):
Installed two front wheel bearings (6204-2RS) and three rear wheel bearings (6205-2RS) on PM rims. Installed new spring washers and washers on front brake rotor.
July 2006 (32000mi):
Pulled the motor out of the frame to replace the base gaskets. Found out the heads were cooked so the engine is getting a new top end. All the rubber isolators (3) are worn out and also being replaced. The bike has a new owner, my dad, so I wanted to get this stuff all fixed up.
Future Plans
The only plans for the future are to ride, fix/repair and ride!
Tires & Rubber
Current rubber (29757mi): Michelin - Pilot Road, 120/70zr17, Pilot Road 180/55zr17.
Other tires I've run on these rims: Metzeler, Bridgestone, Avon and Dunlop. Various sizes I've run on the rear: 170/60, 180/55 & 190/55.
---
News Articles:
---
General information
Model:
Buell S3T Thunderbolt
Year:
1999
Category:
American Sportbike
Engine/transmission
Displacement:
1203.00 ccm (73.41 cubic inches)
Engine type:
Twin
Stroke:
4
HP (kW):
86.00 (62.8) @ 6000
Torque - Nm (kgf-m/ft.lbs):
107.00 (10.9 / 78.9) @ 5400
Compression:
10.0:1
Bore x stroke:
88.8 x 96.8 mm (3.5 x 3.8 inches)
Valves per cylinder:
2
Cooling system:
Air
Gears:
5
Transmission type/final drive:
Belt
Starter system / ignition:
Electronic
Physical measures
Weight (incl. oil and gas):
226.0 kg (498.2 pounds)
Front percentage of weight:
50.0
Seat height (if adjustable, lowest setting):
800 mm (31.5 inches)
Wheelbase:
1,420 mm (55.9 inches)
Chassis/dimensions
Front suspension travel:
120 mm (4.7 inches)
Rear suspension travel:
125 mm (4.9 inches)
Front tire dimensions:
120/70-ZR17
Rear tire dimensions:
170/70-ZR17, 170/60, 180/55, 190/50
Front brake(s):
Single disc
Front brake(s) diameter:
340 mm (13.4 inches)
Rear brake(s):
Single disc
Rear brake(s) diameter:
230 mm (9.1 inches)
Speed/acceleration
Top speed:
208.0 km/h (129.2 mph)
0-100 km/h (0-62 mph):
4.400 seconds
60-140 km/h (37-87 mph), highest gear:
20.600 seconds
Other information
Fuel capacity:
19.00 litres (5.02 gallons)
Average fuel consumption pr. 10 km (6.2 miles):
0.59 litres (0.16 gallons)
Misc. Facts:
1998-99 Buell brake pads EBC pt# FA249(front), FA245(rear)
Links:
H-D Performance Webpage
The X1 Files Webpage
(c) 2004 Drop me a line via e-mail!@ tgroghan@hotmail.com