http://www.sacbee.com/content/news/projects/predators/story/14180844p-15008018c.html
Special report: Sexual predators evading treatment
Many violent molesters and rapists sent to a state mental facility are being freed with few restrictions after refusing therapy
By Mareva Brown -- Bee Staff Writers
Published 2:15 am PST Sunday, February 12, 2006
A decade ago, as California was gripped with outrage over the release of a notorious rapist from prison, the state took bold action.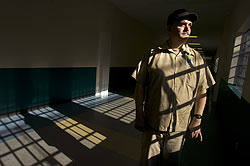 James Lamb, 46, is in the last phase of therapy for sexual predators who finish their prison terms and are sent to Atascadero State Hospital for treatment before release.

Legislators vowed to keep the highest-risk sex offenders locked up for years after completing their prison sentences. They were to be sent to a maximum-security psychiatric facility - Atascadero State Hospital - for a strict, five-stage treatment program.
California's solution was considered among the nation's toughest.
But the program has a fatal flaw, a six-month investigation by The Bee has found, because there is a much easier way out of Atascadero, one chosen by the vast majority of sexually violent predators housed there: Refuse treatment and bank on winning release through the court hearing each offender receives every two years.
That loophole makes California's get-tough solution in practice one of the most lenient sexually violent predator laws in the nation.
It is precisely how 54 rapists and child molesters won release through the end of 2005 from their Atascadero commitments, according to a review of court records and interviews with dozens of prosecutors, law enforcement officers and sexually violent predators in California, Oregon, Arizona, Missouri and Colorado. Only four men have completed the five-step program, and one of those was returned to custody less than two months after his release.
To be declared a sexually violent predator and sent to Atascadero, offenders must have at least two sex-crime convictions, and prosecutors must convince a court that they are likely to re-offend if released directly from prison.
But there is no guarantee that the offenders will remain in Atascadero.
Some convinced state psychiatrists that they were unlikely to commit a new offense, which obligates the state to set them free. Others won release after juries could not agree whether they should continue to be held. Still others were freed after county district attorneys did not challenge the offenders' petitions for release, judging them too old or infirm to re-offend.
None of the 54 went through the full regimen of treatment the state designed for them. More than two-thirds underwent no treatment at all.
"All they need is a doctor's slip to get out," said Harriet Salarno, president of Crime Victims United of California. "Nobody should be let out unless they're truly rehabilitated."
Instead, an investigation of the program found that in California:
* There's a built-in incentive to refuse treatment, because the few offenders who actually follow the hospital's full program find themselves not only targets of scorn inside Atascadero but subject to both tighter scrutiny and community protests upon release.
* Nearly all of the highest-risk sex offenders released from Atascadero without completing treatment have returned to society with less supervision than lower-risk sex offenders freed directly from prison.
* Members of the public have no sure way to tell if a sexually violent predator has settled in their neighborhood because the state refuses to identify them as such.
Despite that policy, The Bee found the last-known locations of all 54 sexually violent predators who were released through the end of 2005 without completing the treatment program. The search included use of court records, public documents, media archives, Internet search tools and interviews with law enforcement and county prosecutors throughout California. It also relied on cooperation from some Atascadero patients and released sex offenders, as well as California's Megan's List, the attorney general's Internet listing of all sex offenders registered with California law-enforcement agencies.
Eleven of the 54 men are back in custody, including one convicted of molesting two girls he was baby-sitting two years after his release. Two were accused of new sex-related crimes. At least 10 left the state after release, some saying that life as a convicted sex offender is easier outside California, where registration requirements and monitoring efforts can be even less stringent.
Seven have died, and three currently are in violation of their quarterly registration requirements, including one - Donald Warren Delaney - who seems to have disappeared.
Authorities say Delaney, a 77-year-old former Stockton police sergeant, has dropped from sight and may be in Mexico.
Delaney, sentenced to 24 years in prison in 1985 for lewd acts on nine children, was released from Atascadero on March 25. California's Megan's List indicates he is incarcerated, but there is no record of him in any California prison, and San Joaquin County Deputy District Attorney Stephen Taylor said he may have left the country.
One property record linked Delaney to an address in Pollock Pines that turned out to be a logging road with no homes.
---

Most of the 54 who failed to start or complete treatment simply moved into communities around California and the nation with little or no public notice, no requirement that they wear satellite tracking devices, and none of the parole restrictions heaped on other sexual offenders, such as the ability of law enforcement officials to search their homes and computers without a search warrant.

The only additional monitoring for sexually violent predators who stayed in California was a requirement to register quarterly with local police - as opposed to the annual registration required of other sex offenders.

The sexually violent predators' faces, names and addresses do show up on the state's Megan's List site, along with general descriptions of their crimes, but there's no way to differentiate them from the 63,000 other registered sex offenders depicted there.

Many other states provide more detailed information on offenders and their crimes and whether they are high-risk offenders.

In California, from the top on down, law enforcement officials typically refuse to identify sexually violent predators who have been released. Attorney General Bill Lockyer's office rejected a California Public Records Act request by The Bee for their names and whereabouts.

The state law that set up the Megan's List Web site requires that "sex offender records remain confidential and not subject to disclosure under the California Public Records Act," Supervising Deputy Attorney General Janet E. Neely wrote in a response to the request.

Some local law enforcement agencies do pass out fliers in neighborhoods announcing that a sexually violent predator is moving in nearby. Some, among them the San Francisco Police Department, continue to reveal the offenders' identities only to neighbors, citing concern for their privacy and safety.

"It's department policy," said San Francisco Police Inspector Jim Zerga.

Though Zerga won't say so, four sexually violent predators live in San Francisco: Kinn Weber, Keith Tribble, Nicholas Yost and Douglas LeCorno.

Weber was convicted of four counts of sexual assault involving at least two victims, including rape and oral copulation with a person under 14.

Yost, now 65, was convicted of molesting three boys in the early 1990s.

Tribble was just 18 when he was convicted of attempting to rape an 8-year-old female relative, who he later claimed had tried to seduce him. Fifteen years later, he was convicted of fondling the 7-year-old daughter of a former girlfriend. A psychologist testified that the time lapse between the two events, as well as the similarities in the victims, qualified Tribble as a pedophile and sexually violent predator.

LeCorno, 56 - listed as LeCorna on Megan's List - was released in 2000 but landed in court two years ago, charged with failing to properly register. Court records indicate that while he had an address in San Francisco, at that time he was staying at least part-time with friends on the Peninsula while doing construction work. Zerga testified against LeCorno at that hearing.

Still, Zerga told The Bee that San Francisco police policy dictates only that neighbors be notified when a high-risk sex offender moves into the city and he refused to disclose any information about the four men.

"I'd have to justify why I'm disclosing this information," Zerga said. "There's no public interest. I'm not disclosing to the media. I don't see that you're at risk right now."

As a result of such secrecy, many sexually violent predators faded from view after release, mostly back into California communities where even the most vigilant parents would have no way of knowing their true background.

Three are registered as living in Sacramento, including 45-year-old Harold Royster, who was released from Atascadero in 2002 and arrested last year for failing to register properly.

Royster pleaded guilty in a deal that gave him a year in county jail. He is now out on five years' probation.

Delmar Lee Burrows, 42, was convicted in 1990 of molesting two Roseville boys and spent six years in prison and two years in Atascadero. He was released in 1998 after voluntarily having himself castrated, and he now lives in a downtown hotel adjacent to the K Street Mall.

Eighty-year-old Eddie Caperton moved into a south Sacramento nursing home in December 2004 following his release from Atascadero.

Caperton was convicted of sodomizing a 7-year-old girl in Chicago in 1961, court records show, and of lewd acts with another 7-year-old girl near Reno in 1977. He was convicted in 1993 of two counts of lewd acts on a child under 14 in Sacramento and sent to prison until December 2002, when he was committed to Atascadero for treatment.

Despite doing no therapy, Caperton was released two years later after three psychiatrists found that he no longer fit the criteria of a sexually violent predator because he was too old and infirm to pose a threat.

When he got out, no one warned neighbors. If any of them happened across him on the Megan's List site, they would find just a single mention of lewd and lascivious conduct.

As a result, no one has raised objections that Caperton's new home is three-tenths of a mile from a day care center that takes in children ranging in age from 6 weeks to 12 years.

Even if they had, they would have found the law is not on their side: While paroled sex offenders may face legal restrictions against living near schools and day care centers, the sexually violent predators tend to complete their parole period while inside the mental hospital and have no such restrictions upon release.

Caperton spends his days watching television and taking notes on commercials offering Shirley Temple DVDs for sale, he said in an interview at the nursing home. He hopes to relocate.

"If I can find another place, yes, I'll move," said Caperton, who uses a walker to get around and keeps his Atascadero-issued jacket, a beige coat emblazoned with dark "ASH" letters over the left breast, hanging in his closet.

"The old people here make me feel old," he said. "I want someplace where I can lay my body down and get three squares a day."
---

Public knowledge of a high-risk offender's whereabouts is even more remote if he leaves the state. John Douglas Olson Sr. quietly headed north after winning release from Atascadero in April 2004 without having participated in any therapy.
"If I was in California, I'd have to register every 90 days," said Olson, a 63-year-old retired mechanic and convicted child molester who lives near Medford, Ore.

"Here, I only have to register once a year unless I move," he said. "Here, they say, 'Oh, the next time you're in tell us if you've moved. Don't worry about it.' "

Oregon is one of only two states that do not have any Megan's List information posted on the Internet. If Olson's new neighbors wanted to discover whether he was a sex offender, they would have to request that information from the state by ZIP code or by his name and wait several weeks for a reply in the mail.

More than a year after his release from Atascadero, Olson still had not been assigned a risk level by Oregon authorities, because an Oregon Supreme Court decision put that state's classification system on hold.

"The information we received from California was that he was considered predatory, but he is not currently deemed predatory in Oregon," Vi Beatty, manager of the Oregon State Police's sex offender unit, said last summer.

That nonchalance angers Olson's victim, the daughter of one of his former girlfriends and now a 30-year-old married woman with a teenage daughter.

"I don't think a person like that can ever be healed," said the Bay Area resident, who agreed to be interviewed if she was identified only by her first name, Christina, for fear that her daughter would be harassed at high school.

"That's my personal opinion," Christina said. "If you're a rapist or a pedophile or whatever they want to name them nowadays, you're always going to do it. I don't feel that there's reform for it."

Over the summer, Olson met two reporters and a photographer at a city park in Oregon, near a birthday party for a group of young children in swimsuits.

There are no legal restrictions on where he can go or what he can do, although Olson said he is careful never to be alone with children. He considers himself healed, but fears he would not be able to defend himself against a false accusation if people learned of his history.

"I've had no problems here, because nobody knows," said Olson, who showed off a photo a friend had taken of him the day of his April 2004 release from Atascadero State Hospital. In the snapshot, Olson is making an obscene gesture at the hospital sign.

"I'm pretty sure if the people I associate with here found out, they'd no longer associate with me. Friends, people I square-dance with, ballroom-dance with, those people."

---

The debate over how much information the public should have about sex offenders became a national issue last year as angry protests and heinous, high-profile crimes dominated the news.
Politicians responded with proposals ranging from lifetime electronic monitoring to a national online registry that would force offenders to list their addresses every six months.

Some states have taken radical steps. Washington state officials sequestered the worst offenders on an island off Tacoma. Iowa barred offenders from living within 2,000 feet of a school.

Last year alone in California, 30 bills were introduced in the Legislature to tighten controls on sex offenders. Legislators renewed their efforts last month, proposing a strict new measure to require satellite tracking of sex offenders with felony records and force them to live more than 2,000 feet from schools and parks.

Gov. Arnold Schwarzenegger called passage of the measure a top priority, but it died in legislative committee and another measure that critics said was not as tough passed the Assembly and is now in the Senate. Petitions to place the issue on the June ballot are being circulated. That initiative also would eliminate the requirement that sexually violent predators be given a release hearing every two years.

In August, California's first new mental hospital in 50 years opened near Coalinga in Fresno County. The $388 million compound can house up to 1,500 sexually violent predators and other seriously mentally ill patients. All of Atascadero's SVPs are expected to be transferred to Coalinga State Hospital this year.

But few involved in solving the sexually violent predator problem are satisfied with the current solutions or their cost, and that dissatisfaction may heighten as releases from the Atascadero program continue in coming months.

The program was launched in 1996 in response to public anger surrounding the release of Melvin Carter, the "College Terrace Rapist," from prison. Carter was convicted of 23 felonies and confessed to more than 100 rapes on Bay Area campuses and in areas of Stockton and Davis.

Carter was set to be paroled to Alameda County, but in the heat of Gov. Pete Wilson's re-election campaign, state officials instead sent him to remote Modoc County, where he lived on the grounds of a prison camp on U.S. Forest Service land.

He later was escorted to San Francisco International Airport and placed on a flight headed out of state, and authorities refused to divulge where he went.

The uproar over his case led the Legislature to approve a plan allowing California authorities to detain the highest-risk sex offenders even after they complete their prison sentences.

Before their prison release, offenders with two or more victims are evaluated by psychiatrists hired by the state Department of Mental Health.

Those judged not to have a diagnosable sexual disorder are paroled from prison. But the cases of those found to have pedophilia or some other sexual disorder are forwarded to local prosecutors, who usually seek their commitment to Atascadero State Hospital.

Since the program began in 1996, more than 6,200 sex offenders have been evaluated, and 538 have been judged dangerous enough to be labeled sexually violent predators.

"It's pretty rare to find a group like this," said Jesus Padilla, a clinical psychologist at the mental hospital. "They comprise about half of 1 percent of the registered sex offenders in California. So, even as sex offenders go, they are the elite."

The plan was for them to undergo years of treatment offered in four phases inside the hospital and eventually be judged by psychiatrists as ready to return to society - the fifth and final phase.

Those who made it that far were to be released in the county where they committed their crimes, where they would face extremely tight scrutiny - including constant satellite tracking - until authorities decided they were no longer a danger.

In 10 years, only the four men who have gone through the treatment program have returned to society under those strict guidelines. So far, one of those has been released from monitoring - at which point he left California. One was returned to Atascadero only two months after being released, because authorities said he posed a danger to himself and others.

A handful of other fully treated sexually violent predators are poised to follow, including James Vincent Lamb, a 46-year-old child molester.

Lamb has undergone years of therapy and both physical and chemical castration. He has studied the reasons for the crimes that landed him in Atascadero, and moving beyond his crimes has become his cause.

"We've got a new message to deliver," Lamb said in an interview inside the mental hospital. "We're going to be out there among you, and we want to have a chance."

But the treated offenders' re-entry into society is much different from that of those who win court release without completing treatment. Rapist Cary Verse's experience was typical.

As the second sexually violent predator to complete the therapy program at Atascadero and be released in 2004, Verse was chased out of four Bay Area communities by angry protests. He eventually settled near Pittsburg in Contra Costa County after two area lawyers offered him housing and work inside the gated compound of their offices.

Verse credits his therapy inside Atascadero with helping him cope on the outside.

"There's no way I could have dealt with those protesters if I hadn't been trained in empathizing with the community," Verse said from inside his one-bedroom cottage. "I hadn't been in society for 12 years, and I'd just come out and I was on the news.

"People were just screaming. It was just surreal."

---

Although California is among 17 states with sexually violent predator statutes, it is the only one that requires a court review every two years for those committed. Most other states commit their sexually violent predators for at least five years and allow them out of the mental hospital only after therapists say they pose a low enough risk.
At California's reviews, Atascadero patients who can afford them hire private attorneys and experts in sex-offender therapy who question the validity of the state psychiatrists' evaluations and try to downplay the danger of future sexual attacks.

Although a jury trial is an option, many sexually violent predators opt for a lone judge, figuring they will fare better making legal arguments than making an emotional plea for freedom.

The hearings take place in open court but rarely draw news coverage or community protests.

"The apathy is overwhelming," former Crescent City Mayor C. Ray Smith said in August after sitting in a nearly empty Del Norte County courtroom watching convicted murderer and molester Phillip Kohler ask to be released. "I can't understand it."

Compared to many other sex offenders, Kohler's chances of ever getting out appear slim. At 53, he is one of Del Norte County's most notorious offenders - in and out of mental hospitals and prisons for much of his life.

In February 1971, he attacked a female student from Humboldt State University and attempted to rape her, court records indicate. She escaped, but the next day Kohler returned to the same spot and attacked another young woman, eventually slashing her to death with a knife.

A doctor later said Kohler told him that "if he had not been caught it might have happened again," records show. His crime earned him a conviction for second-degree murder and assault with a deadly weapon.

After 13 years in state mental hospitals, Kohler was paroled in 1984 to live with his mother in Crescent City, despite intense efforts by Smith and others to bar him from returning to Del Norte County.

He failed to register annually as required but was not arrested until 1994, when he was accused of molesting two children from a church where he worked as a janitor.

Kohler was returned to custody, then paroled in 1998. By April 2000, he had five more parole violations, including one for approaching children at a bus stop. Those landed him back in custody and ultimately sent him to Atascadero.

Despite his background, Kohler still gets his day in court every two years. When his turn came up in August, Del Norte County District Attorney Mike Riese dutifully asked that Kohler remain in the mental hospital.

The hearing in Crescent City was typical of such proceedings, with only a few people in the courtroom, and only one - Smith, the former mayor - there specifically to watch the hearing.

Kohler did not testify. His court-appointed attorney quizzed Riese's experts about how they had determined Kohler was likely to re-offend but did not present evidence to show that Kohler should win release.

Instead, the two-hour hearing was dominated by devastating testimony from two psychologists who had interviewed Kohler and reviewed his medical records.

"He told me that he molested his 2-and 3-year-old brothers starting when he was 10," said one of the psychologists, Clark Clipson. "He has a long history of this type of behavior.

"He also told me in an interview that he is sexually aroused at the thought of seducing an innocent, and that he finds the lack of hair on children's bodies to be sexually arousing."

Judge Robert K. Weir's decision was swift. After a brief recess, he declared that Kohler "does pose a significant and substantial risk of re-offending."

Some Atascadero offenders list the court trials among their justifications for shunning therapy: They fear information from those sessions could arise in their hearings, as it did for Kohler.

"A lot of them are afraid that if they get into the program, it will be used against them in court," said Tony Iannalfo, a convicted rapist from Los Angeles who has been in Atascadero eight years and has refused treatment.

Others say offenders feel participating in treatment legitimizes a system they feel unfairly and illegally keeps them incarcerated after they have completed their prison sentences.

"Everybody says, 'Don't do the treatment, it's a major trap,' " said former Atascadero patient Cary Verse. "They feel that if everybody would not do it the program would fall apart.

"But I wanted to do it," Verse said. "It was something I'd wanted for years."

---
---
sacbee.com/content/news/projects/predators/v-print/story/14184246p-15011389c.html
Special report: On the outside
Efforts to monitor freed violent sex offenders are spotty - except for the few who complete the state's treatment program
Published 2:15 am PST Monday, February 13, 2006
James Clenzo Burris Jr. began raping when he was as young as 10 or 11 and graduated from elementary-age girls to adult women, one of whom he menaced with a screwdriver before assaulting her. Jurors in Riverside County let him go two years ago after Burris said he had found God and would not rape again.
Cesar Arroyo's ex-wife testified that he routinely beat her before having sex with her when she visited him in prison, where he was serving time for his third brutal rape. Two psychiatrists diagnosed him as a sexual sadist and said he was very likely to re-offend. Arroyo was set free anyway.
And Carey Lyn Wilson, a beefy pedophile sporting prison tattoos, nearly killed a 13-year-old boy he had abducted, bound and assaulted because, Wilson said, "After I sodomized him, it was, damn, what are you going to do now? Dead people don't talk."
These are snapshots of the crimes of some of the 58 men who have been released in the past decade from California's treatment program for sexually violent predators.
By definition, they are the most dangerous rapists and pedophiles the state has arrested. Yet efforts to monitor them on the streets after release are spotty at best, depending in part on whether offenders choose to notify law enforcement agencies of their whereabouts.
California officials, who have no funding or authority to track the sexually violent predators who have been freed, have no idea where some of them have gone.
Over the past two years, state Department of Mental Health officials have attempted to locate these men - to learn how many have re-offended - by contacting prosecutors in Californiia's 58 counties. But in many counties, prosecutors could not name their released sexually violent predators, much less identify where they were.
Most of the offenders remained in California, settling comfortably into their communities and re-establishing their lives by getting new jobs, joining churches, attending counseling sessions and following the state mandate that they register as sex offenders every 90 days.
And despite statistics that predict most of these men have a 40 percent chance of re-offending sexually within five years, only three so far are back in custody charged with new sex crimes. Six others have been charged with failing to register as sex offenders or other crimes, including drug possession. Two more have been returned to Atascadero State Hospital, a maximum security center for the highest-risk sex offenders in California.
At least 11 of the 58 men left California, some specifically to avoid detection. Seven have died.
Many, however, recognize that they are a single arrest away from a potential third-strike case and life imprisonment, and are trying to stay on the good side of the law.
"I did some things in the past," said Jimmy Carty, a 44-year-old man convicted on seven counts of lewd and lascivious acts with children, who now works in the laundry of an upscale San Diego hotel. "But I'm not a danger."
After his convictions for molesting seven young boys, Carty spent six years in prison undergoing sex offender therapy and more than four years at Atascadero. Court records show that he told authorities he had molested up to 50 victims, a claim he later reduced to 20.
Carty won his release in August 2003. And, like most of the men classified as sexually violent predators, he started his life over in his hometown - but only after local authorities distrributed fliers warning that he was coming.
"I've had no repercussions so far," Carty said in a telephone interview. He does worry that the media focus on sex offenders and high-profile crimes of the past year will overshadow the efforts he has made to rebuild his life and obscure the fact that he served out his prison sentence and is voluntarily continuing his therapy.

---

That is a common refrain among these men, some of whom fear that exposure of their names and crimes could lead to retribution or vigilantism. In truth, most have ample anonymity. State officials refuse to identify the sexually violent predators who have been released, and law enforcement officials tend to notify area residents only when they deem it necessary for public safety.

All sexually violent predators do have their names, photographs and crimes included on California's Megan's List Web site. But the site does not indicate that James Burris, who began raping at age 10 or 11, is any different from the 63,000 other offenders listed.

Yet these men are different in one very important way: All were considered so dangerous and violent that before they reached the end of their prison time, state experts evaluated them and won court orders committing them to Atascadero for psychiatric treatment.

Jack Sporich is one. He walked out of Atascadero in May 2004 after 39 months and nine years in prison before that.

Sporich, who refused treatment at Atascadero, won his release after two juries hearing his case were unable to agree on whether he would re-offend. A judge ordered him released after the second hung jury.

Within hours, Sporich was on a flight to Arizona, where he settled into a neatly kept town house in Sedona that offers him a spectacular view of the surrounding Red Rock Country, where he hikes regularly among the tourists.

For Sporich, a 71-year-old retired engineer who prosecutors say may have been involved in 400 molestation incidents, the return to society was largely uneventful.

There were some fliers posted in the neighborhood telling people that a sex offender was moving in, and six people eventually sold their condos and moved away, he said.

No details were given of his past, when he lured young boys into camping trips - paid for by their parents - as a pretext for molesting them.

Now, Sporich is enjoying his retirement years without concerns about satellite monitoring, parole or any of the other restrictions sometimes placed on paroled molesters. He is required only to register as a sex offender in Arizona once a year.

Over the summer, Sporich found time for a 35-day photographic excursion to Southeast Asia, and he is in the midst of compiling a scrapbook of his trip. He showed off his digital gear - computer, printer and camera - set up in his home office next to a photo on the wall of the bare bottom of a preschool-age boy urinating in public.

Today, Sporich says he is remorseful about his crimes.

"I know I can't change the past," he said as he sat in the immaculate living room of his $179,000 condo listening to big band music on a stereo. "In the future, what I can do is try to be as helpful as I can to people. I can't make up for what I did.

"All I can do, in my own childish way, is try to compensate by helping other people."

Part of that effort, he said, includes cruising area roads looking for people with broken-down vehicles whom he can assist.

Sporich is adamant that he will never again set foot in California, a state that he believes violated his rights by forcing him into Atascadero after he had served out his prison time.

"If you gave me that choice between prison or (Atascadero), I'd choose prison," he said. "If the third choice was suicide, I'd say 'give me the gun.' "

The fact that Sporich is free, and that he got out without undergoing treatment, is a major source of concern to the prosecutor who sent him to Atascadero as a sexually violent predator.

"If I had to pick from a list of former and current SVPs, he would be, by far, the first one I would be most concerned about," said Ventura County prosecutor David Lehr, who handled Sporich's initial commitment to Atascadero but not the subsequent trials.

---

Sporich's comfortable lifestyle did not await those men who bought into the therapy program at Atascadero.

Brian DeVries, Cary Verse, Patrick Ghilotti and Matthew Hedge were granted community release with the blessing of hospital staff and the state Department of Mental Health after completing all four inpatient "phases." Their reward: crowds of angry protesters and the blaring lights of live television crews following their every move for months.

Hostile neighbors eventually drove DeVries, a child molester, to live in a trailer on the grounds of a prison near Soledad, where his closest neighbors had little to say about his criminal past. He eventually became the first man to complete the treatment program and left the state.

Hedge was released to a similar fate after intense community outcry, taking up residence in a trailer on the grounds of a San Diego-area prison in November. He lasted there less than two months before state officials won a court order Jan. 6 returning him to Atascadero.

Although Hedge did not commit a new offense, his release required a variety of conditions, including treatment. Officials said he was not complying with treatment and posed a danger to himself and others.

Cary Verse, a rapist, was driven from four homes, including his original placement in a Marin County motel, after his release in February 2004. As officials from four Bay Area communities argued over where he should live, two sympathetic lawyers decided to give Verse refuge in a small cottage behind their gated Bay Point office in Contra Costa County.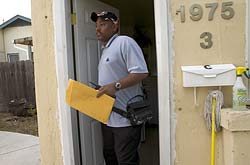 Since February 2005, he has lived there with a satellite monitoring device strapped to his hip and parole officers frequently stopping by unannounced. He must map out his weekly and daily schedules, submitting written requests for such mundane excursions as a trip to McDonald's for a fruit parfait.
If acquaintances want to play golf or have dinner with Verse, they must sign a "chaperone form" acknowledging that they are aware of his past.
"It takes away the secrecy if I want to be involved with anyone," Verse said at the $1,250-a-month cottage that is paid for by Liberty Health Care, the company the state has paid to place and keep track of him.

---

Such tracking is not the norm for the 54 sexually violent predators who won release without completing therapy. They only have to register their address every 90 days as long as they live in California, instead of the annual registration required of other sex offenders. If they leave the state, there is little or no effort to track them.

About a fifth of the sexually violent predators who won release have left California. Several said they feared being recommitted to the hospital or sent to prison for life on a third strike if they failed to register or made a misstep.

"I actually try to encourage them to move out of state," said Sacramento attorney Michael Aye, who is considered an expert at defending sexually violent predators. "But on the other hand, their roots are here. This is what they know.

"It's very difficult to leave," Aye said, "especially if all your family is here and your support system is here. A lot of them - as they have with a lot of things in their lives - figure, 'I've done my time. They're going to leave me alone.' And they aren't properly assessing the risk."

Gerard E. Theriault needed no such prompting.

A child molester who was released from Atascadero in August, Theriault immediately moved to Boston.

"I don't want to be anywhere near California in case they changed their minds," he said in an e-mail to The Bee.

Donald Hunt also escaped the scrutiny of California authorities by moving away, until he offended again in his new home state of Colorado.

Hunt, a sexually violent predator released from California's program in November 1999, left the state, eventually settling into a new home in Cañon City, Colo., where he began baby-sitting two young girls.

The 46-year-old Hunt first came to the attention of Cañon City authorities in March 2002, when he was arrested for molesting the girls. Only then did police learn of his past.

Hunt had moved into an area motel where construction workers and their families were living while working on a building project, said Cañon City Police Capt. Allen Cooper.

Piecing together the case after the fact, police found that Hunt had befriended a single mother of two young girls and began to baby-sit them. He was caught after someone walked into his motel room and found him looking at lewd pictures of the girls on his laptop computer screen, said Cooper, the lead investigator.

It wasn't until Cooper began questioning Hunt about his past that he learned Hunt was a sexually violent predator from California.

"He was not registered here," Cooper said. "He just said he'd had some problems in California and Utah."

Unlike Hunt, most of the sexually violent predators who have left California haven't bothered to hide from law enforcement officials - they haven't needed to.

---

Most other states reclassify California sex offenders to conform with their own systems and typically require registration once a year.

Carey Lyn Wilson, a 58-year-old, 220-pound sexual predator with "Aryan Warrior" and other racist tattoos, told authorities he was taking a bus to Texas immediately after being released from Atascadero in 2004. Instead, he moved to New Mexico, where he promptly registered with law enforcement officials.

Wilson's history in California was long and sordid.

In 1966, he was sent to Atascadero for treatment after he lured an 8-year-old boy into his apartment and raped him. Three years later, he was convicted of raping a cellmate after threatening the man with a razor blade.

In 1972, Wilson was sent to prison for raping, stabbing and leaving for dead a 13-year-old boy he had befriended at a car wash.

"If there is a God, he didn't let that boy die," Wilson later told a psychological evaluator. "It wasn't that I didn't try. I stabbed him four times and left. I was definitely trying to kill him."

Wilson also was charged with but never convicted of sodomizing a young girl, attempting to rape a 6-year-old girl, coercing fellow offenders at Atascadero into sex, and choking and sexually assaulting a neighbor, according to appellate court records.

Just before his scheduled release from prison, Wilson was sent to Atascadero, where he spent 3 1/2 years before winning release by a judge's order after three juries could not decide whether he would re-offend.

But instead of going to Texas, Wilson ended up living in Las Cruces, N.M., according to that state's sex offender registry.

Like Wilson, Isaac Moore left California shortly after his release, although some law enforcement officials apparently did not realize that.

Moore had been sent to prison in 1985 for raping a mini-market clerk and again in 1994 for child molestation. Yuba County authorities tried to have him committed to the sexually violent predator program when he was approaching his prison release date in 1997. A judge ruled against them.

In 1998, Moore's parole was revoked for a curfew violation, and authorities took another look at his past cases, using new legal definitions to win an order forcing him into Atascadero. That commitment later was overturned on appeal, and Moore returned to his hometown of Fresno.

Last summer, after Moore failed to register every 90 days as required, the Fresno County Sheriff's Department placed a warning on its sex offender Web site that Moore "is wanted on a felony warrant for violating his sex offender registration requirements."

But Moore actually had registered as a sex offender - although not in Fresno. The Bee found him listed last summer at an address in St. Louis on the Missouri state Web site.

Moore apparently later returned to California and is now back in prison, according to state corrections records, which show him serving a six-year sentence in Avenal State Prison for lewd and lascivious conduct on a child under 14.

In Boston, Theriault is banking on the interstate confusion to ease him into his new life.

"No, they have not put out fliers or anything," he wrote in an e-mail after arriving in Boston. "They are in the position of determining what classification they will put me under."

He said officials told him he probably would be ranked as a relatively low risk because he agreed to participate in counseling in Boston and two evaluators had found he no longer met California's sexually violent predator criteria, recommending that he be released rather than recommitted.

---

Law enforcement officials in California do monitor the sexually violent predators they know about, and some offenders have ended up back in jail or prison when they failed to register properly.

In Sacramento, twice-convicted rapist Harold Royster was sentenced to jail last year for failing to register his current address after a police detective found Royster had moved out of his apartment and was living homeless along the American River. He is now free on five years' probation and living in an apartment.

James Rodriguez, a sexually violent predator released from Atascadero in April 2004 after his victims recanted, registered his address on an Indian reservation in the hills of eastern San Diego County.

In early August, Rodriguez said, members of a San Diego County task force that tracks sex offenders asked him to stop by their offices. Three days later, as he was hauling a load of manure, he couldn't close the tailgate of his Toyota Tacoma and crawled under to take a look, Rodriguez said in an interview at a mobile home his girlfriend owns.

Underneath he spotted a large satellite tracking device marked with a "California Department of Justice" tag and buttons labeled "Rewind," "FF" and "Play."

Detectives with the task force, a group of state and local officers who keep tabs on 4,000 sex offenders in San Diego County, paid Rodriguez a visit and asked why the device was no longer transmitting and where it had gone, according to Ernie Limon, a state Department of Justice officer who heads the team.

They were able to gather enough evidence that Rodriguez was actually spending nights at his girlfriend's home to arrest him on charges of failing to register properly, Limon said. He also was charged with illegally possessing two firearms and with arson for allegedly setting fire to the satellite tracking unit.

"The system right now relies on sex offenders when they go to the police department to be honest when they give their address," Limon said. "When these high-risk sex offenders leave a hospital like Atascadero, we do investigative things to make sure they end up at that house."

But, he added, "Sex offenders are really transitory. ... They may be in Northern California today and in your city tomorrow."

---
http://www.sacbee.com/content/news/projects/predators/v-print/story/14187610p-15014677c.html
Special report: A test case
Freedom is the goal for sexually violent predators such as James Lamb, but it's difficult to measure their risk of re-offending
By Mareva Brown and Sam Stanton -- Bee Staff Writers
Published 2:15 am PST Tuesday, February 14, 2006
Inside the oatmeal-colored walls of Atascadero State Hospital, it is easy to tell the psychiatric patients from the sexually violent predators.
The sex offenders seem sane.

They can make eye contact, argue a reasoned point, cite legal precedents and, in twice-weekly group therapy sessions, those who participate can explain why their crimes were wrong and openly empathize with their victims.
Offender James Vincent Lamb's likely release later this year will put the state's program for treating sexually violent predators to its ultimate test. Lamb says he will be one of the successes, in part because he has done all that was asked of him at the maximum-security mental hospital - and more.
"I'm not part of a statistic, I'm in a program that is rare and intensive," said Lamb, 46, who was convicted of molesting five boys but has admitted to more than 80 victims. "The people here are teaching us what we need to look at, to change and to believe in it."
But evidence abounds that sexual obsessions may persist for some of the hundreds of men housed at Atascadero, who fill about half of the hospital's beds: Newspaper ads depicting children are routinely snipped out and hidden away, patients here say. In the exercise yard, patients tell of pedophiles preying on the youngest of the mentally disordered offenders, coercing them into having sex.
At shift change, as female staffers move through the halls to and from work, a small cadre of men emerge from their dorm rooms to watch and follow them through the wide, crowded hallways where patients and staff intermingle.
"There's guys who stalk these hallways," said Tony Iannalfo, a rapist from Los Angeles County who has been at Atascadero for eight years. "It's unbelievable. You can see them out there the same time every day, the same place."
This is life inside Atascadero State Hospital, a barbed-wire-ringed compound among rolling hills and scrub oak trees along California's Central Coast and a petri dish of sorts for therapists who hope state-of-the-art therapy can cure pedophilia and other sexual disorders.
Offenders legally committed to the special program already have served their prison terms. Among them are serial rapists and murderers, but most are pedophiles such as Lamb. Although once married and the father of two daughters, Lamb spent his adolescence and adulthood in pursuit of prepubescent boys.
In conference rooms in the dormitory units, psychiatrists and therapists poke at the minds of those offenders who will allow them in, prodding gently for details that will illuminate the emotional triggers that preceded their crimes. Taxpayers spend about $138,000 a year on each of these sexually violent predators, banking that treatment will cure them.
Yet Lamb is in a minority here in his full embrace of the treatment, one of only 13 men in the fourth phase. Since offenders are not legally required to be treated, only one in four agree to the full plan - drawing the scorn of those who opt out.
"There are some guys here who are really against (treatment). They shout at (participants) and make fun of them and that sort of thing," said Iannalfo, who doesn't do therapy himself but says there are other offenders who need it. Iannalfo edits a newsletter for sexually violent predators that frequently attacks the commitment process as unconstitutional.
"I think they're scared," Iannalfo said of those who taunt the men in treatment. "They see somebody get into a program, and to them that legitimizes the program and puts them into a bad light."
Many offenders who refuse to participate - and even some who do go through counseling - believe the sessions are designed to elicit information that could be used in court to recommit them to the hospital.
And, in truth, such information has been used in court against their peers.
Others see participation as sanctioning what they consider an illegal post-prison commitment. Most of those who don't participate say their multiple sex offenses were the result of youthful indiscretions and that they don't need therapy to guarantee they won't re-offend.
That makes Lamb in many ways the model of Atascadero's high hopes. He has thrown himself into treatment since his arrival here nearly eight years ago, diligently documenting his progress in journals and in lengthy written assignments. He has participated in group sessions. He even volunteered, and paid for, his own surgical castration, believing that it would curb his appetite for young boys.
Yet, a decade after California began its experiment in how to deal with these sexually violent predators, there is no consensus even among the therapists and psychiatrists inside these walls about how successful treatment can be. The only accurate measurement is what happens after a patient is released.
As Lamb's likely release date nears, that question weighs on Ben. It has been 22 years since Ben's encounter with Lamb, a lifetime since he was the shy 6-year-old coerced into a nightlong series of molestation games. Lamb won Ben over with a promise of the newly released "Superman 3" movie, after offering his exhausted mother a break from her youngest child for the night.
Ben, who agreed to be interviewed on the condition that only his middle name be used, remembers that "sleepover" vividly. It has colored his life, shaped his self-image and ruined relationships. When he talks about it, his body goes rigid and his eyes fix on an invisible spot on the wall.
"I just wondered if other boys who hadn't experienced this would feel the same way as me," he said. "How much has this changed me? I feel robbed of my innocence."
When Lamb talks about that night, he does so with shame and an apology.
He says he understands that he has forever changed his victims' lives. "I hurt those kids. I ruined families," he says. But he says that he'll never harm another boy, because he has remade himself through the program.
Soon, a Monterey County judge will decide whether to set Lamb free based on the advice of therapists, backed by the state Department of Mental Health. Ben hopes the judge will listen to his words instead and keep Lamb locked up for life.
"The likelihood of this happening to your kids or anybody else's kids is greater if these people are not (locked up)," said Ben, now 28. "It's drastic, but I think it's completely necessary."

---

Little is known about how to determine which sex offenders are most likely to re-offend.

Researchers have created risk assessment tools that predict re-offense rates based on general history - number of victims, age and sex of victims, whether an offender has ever married, and other demographic information.

But therapists say they cannot predict with certainty whether a specific offender will act out again. Even offenders who are castrated do not necessarily carry lower chances of re-offending, prompting a growing controversy over the use of castration among Atascadero patients.

"We are reliably able to differentiate groups that have more than a 50 percent re-offending rate from offenders who have less than 10 percent chance of getting caught (again)," said Dr. Karl Hanson. "It's far from perfect."

Hanson, one of the world's leading researchers in sex offender treatment, is the creator of the recidivism prediction tools used not only at Atascadero but throughout North America.

According to him, habitual, predatory sex offenders such as Lamb will have more than a 50 percent chance of re-offending within 15 years of release. By comparison, the recidivism rate for sex offenders in general is approximately 20 percent after 10 years.

"Male-fixated pedophiles - people who have an enduring sexual interest in children, and particularly boys - and have had previous experiences with the law and continue to re-offend (are) a subcategory that is at particularly high risk to re-offend," Hanson said.

Often there are no outward warning signs either. That once was the case with Lamb. Adults who knew him before his incarceration found him to be an articulate and engaging young husband and father who worked as an electronics technician in the Coast Guard and was good with children.

"He's just so bright - and he's so scary," said Monterey County prosecutor Ann Hill, who prosecuted Lamb in 1991 and subsequently had him committed to the sexually violent predator program in March 1998. Hill said Lamb spent as much time wooing parents as he did seducing their children.

The 6-foot-4-inch child molester was brought up a Southern Baptist in Phoenix, the second of four children. He speaks frequently of his beliefs and his involvement in the church and said he hopes he can find a congregation to accept him when he is released.

---

That religious devotion helped convince Ben's mother it would be safe to let her son spend the night with Lamb, whose daughters she was baby-sitting.

Ben remembers being excited as they drove to Lamb's home on Oct. 25, 1983, because he and a friend were going to get to watch "Superman 3." But soon after the movie ended, the night turned bizarre.

Lamb put his 4-year-old daughter in the bathtub and then invited Ben and his friend to join her. Lamb joined them. After the bath, he taught them a version of hide-and-seek that involved the "finders" performing sex acts on the "hiders."

For Ben, the night didn't end. He remembers seeing day break through Lamb's bedroom window and wishing he could go home. By then, his friend had been sent to sleep on the couch, allegedly for misbehavior.

"He completely overpowered us intellectually, physically, emotionally," said Ben, choking on his words. He has spent two decades blaming himself for not stopping the molestations.

"I've got to remind myself that as a 6-year-old boy, I just didn't have the capacity to stand up against an adult," Ben said. "We were just really at his mercy."

Prison time did not end Lamb's pattern, either. After serving about 18 months for molesting Ben and his friend, Lamb moved to tiny Spreckels in Monterey County, went into training to be a Boy Scout leader and began working at a Radio Shack store.

"They didn't expect a registered child molester would be living in Spreckels," Hill said of the parents of Lamb's next victim, a 9-year-old boy. "They didn't expect that child molesters looked and acted so nice. They didn't realize that that's what (molesters) did to get their prey."

Lamb was arrested again in 1991, after a neighbor noticed him and the child bouncing on a trampoline in the boy's backyard.

"They were just in boxers," said Hill. "And Jim would loosen his boxers and giggle, and he'd get the little boy to pull his off. And the neighbor looks across the fence and sees this 300-pound behemoth bouncing naked on the trampoline with this little boy and thinks, 'This can't be good.' "

Ultimately, Lamb was convicted of molesting the boy and his 11-year-old brother, whom he had lured into his bedroom to play computer games and persuaded to undress while being videotaped.

While in prison, Lamb made money by writing child-porn stories for other inmates like "Jenny's Second Chance," about an 11-year-old girl's sexual encounter with a therapist who matched Lamb's physical description, and "Trip South," about an excursion to Mexico to seduce street-urchin boys. Prison officials found the stories hidden in Lamb's Bible.

Weeks after being paroled, he was rearrested because officials discovered a letter he had written to another inmate describing the pornography he had found on the Internet.

When a parole agent searched his computer, they found Lamb also had been corresponding with the North American Man Boy Love Association, which espouses sexual relationships between adults and children.

He was transferred to Atascadero in March 1998.

"I am glad that the commitment came for me, because it was another downhill pattern starting, obviously," said Lamb, a soft-spoken and analytical man whose counselor has urged him to reveal his day-to-day emotions. "I saw myself as failing."

---
At Atascadero, Lamb and approximately 160 other men who have chosen to do therapy are progressing through a program that teaches them, in four intensive inpatient treatment phases and a fifth outpatient phase, to acknowledge the harm they have done to their victims.

That is a difficult task for many pedophiles who have long argued that their victims were willing participants - or even seducers. In methodical, twice-weekly sessions, offenders explore what led up to each of their crimes.

They sit around long tables and discuss what was going on in their lives at the time they committed their crimes, what they were thinking and feeling.

At one session in July, a group of six men talked about what led to their crimes, while one read aloud from a report he had written outlining his "thinking errors" - the rationalizations that he used to justify his criminal behavior.

Key among them was that the boys he selected already had been experimenting sexually so they were capable of consenting to sex with him.

The five other sex offenders immediately attacked the man's rationalizations and questioned whether he was addressing his own wrongdoing or simply parroting language that he'd heard from therapists.

Therapy at Atascadero is deliberately structured around small groups of offenders rather than one-on-one counseling, because counselors here have found that offenders are far more effective than therapists at detecting dishonesty and confronting their peers.

Eventually, as they move through the four inpatient phases, offenders are taught to recognize and describe subtle triggers that may have led to their offenses. Many of those triggers are feelings of inadequacy or personal failure that can come from social rejections or job failures.

In therapy, offenders are directed to list ways they can make themselves feel happy or good without hunting for new sexual targets.

Lamb's diversion list, for example, includes composing and playing music.

Key to the therapy is being able to recognize those emotional pitfalls as they are occurring, so the men are required to keep journals throughout their time at Atascadero that include descriptions of how they have dealt with confrontation and failure.

Group sessions also focus on identifying appropriate sexual partners, and include, for some, accepting their homosexuality.

The last phase includes role-playing intended to help them deal with the community rejection that is likely to greet their release.

---

One expert familiar with the Atascadero program said that offenders willing to admit their crimes and explore their own feelings of inadequacy in front of other patients are likely to be sincere about wanting to change.

"Nobody in their right mind would decide to be afflicted with abnormal cravings for sex with young boys," said Dr. Fred Berlin, who founded the Sexual Disorders Clinic at Johns Hopkins University.

One study conducted at Atascadero from 1985 to 1995 - and published a year ago - found high-risk child molesters who wanted to participate in therapy had dramatically lower re-arrest rates than those who did it just for appearances.

But determining which offenders are just putting on an act still eludes researchers, complicating decisions about who should be released, and when. Furthermore, Hanson, the creator of the risk assessment scales, has publicly questioned whether researchers know enough about who responds to therapy to rely on it to reform sex offenders.

"Where our knowledge needs to go is in identifying changes in personality characteristics through therapy," said Hanson. "We don't know yet how to measure whether somebody has benefited from therapy - and that's a major factor in making release decisions."

An area of particular controversy is whether physical or chemical castration has any effect in curbing deviant sexual urges or reducing such activity. At Atascadero, chemical castration medication - which lowers testosterone levels to nearly zero - can be prescribed for offenders, but surgical castration is done only by outside doctors, when offenders make their own arrangements for it.

Many studies have relied on castrated men's own assessments of whether they still are interested in deviant behavior - resulting in reports of dramatic decreases.

One skeptical Atascadero doctor, clinical psychologist Jesus Padilla, measured arousal rates of men who had been chemically castrated against men who had not by using a device that shows the men photographs of children and women in various nonsexual poses.

He found no difference in arousal rates between Atascadero patients who had been castrated and those who had not.

Yet, Lamb swears castration has made all the difference for him. For decades, he recalls being besieged by fantasies of young boys, both in his dreams and while awake. Then he tried the chemical castration drug Lupron.

"It was the first time in my life that I was clearheaded," Lamb said. "Not invaded by my inclinations, by my sexual deviance, if you want to call it that. It was like, 'Hey. My God. Is this what it's like not to think of that?' "

He compared the experience to a religious epiphany or a cure by a faith healer. One of his many victims is highly skeptical.

"He's a liar," said Ben. "(Lamb) has admitted to having sexual relations with over 80 young boys, so yeah, I think that adds up to a lack of trust and a lifetime away from underage boys.

"We can't follow him around and have him handcuffed to a policeman 24/7."
---
About the writers:
The Bee's Sam Stanton can be reached at (916) 321-1091 or sstanton@sacbee.com . Mareva Brown can be reached at (916) 321-1088 or mbrown@sacbee.com .

---
http://www.sacbee.com/content/news/projects/predators/story/14194997p-15021700c.html
Capitol targets sex offenders
Research shows that other states have strict guidelines to monitor and treat violent predators.
By Sam Stanton -- Bee Staff Writer
Published 2:15 am PST Thursday, February 16, 2006
Sexually violent predators in Texas are supervised constantly, followed with satellite tracking devices, given lie-detector tests and required to undergo intensive treatment.
In Vermont, New Hampshire and Washington, research by the California State Library also has found, more than 90 percent of the sexually violent predators complete therapy programs designed to treat their disorders.
But in California, only four of about 500 sexually violent predators have completed treatment in the past decade inside the Atascadero State Hospital, yet 54 nonetheless found ways to win release, and with only minimal supervision.
Such flaws in California's program were under full scrutiny Wednesday at the state Capitol, where Democrats and Republicans scrambled to introduce bills to make immediate changes in the system - and questions lingered about whether they could reach bipartisan consensus.
"It's ironic in a way, because we were in the vanguard in terms of passing this law (in 1995)," said state Sen. Charles Poochigian, R-Fresno.
"And we were passed up and left in a trail of dust by other (states) that are doing a much better job."
Poochigian said Wednesday that he had amended an existing bill to address problems exposed in a three-part investigative series published in The Bee this week, and he and other Republicans asked Assembly Speaker Fabian Núñez to help press for immediate passage of the bill.
"It shouldn't have taken a front-page exposé in an election year" to draw Democrats' support of such measures, Poochigian said.
Núñez had said Monday that he planned to introduce his own bill.
After the Republican news conference Wednesday, he said he would not allow the matter to be turned into a "political football."
"I will tell you that these young people that get victimized, whose lives get turned around, ought not to be in the middle of a fight between Republicans and Democrats," Núñez said.
Assembly Democrats have been criticized in recent days by Republicans who claim Democrats have used their majority status to scuttle numerous GOP efforts to get tough on crime.
But Núñez and other Democrats have strongly denied those claims, and Núñez said he had not known the extent of the problems in the sexually violent predator program until he read the newspaper series.
"It's a simple situation," he said.
"What it comes down to is I did not know that sexually violent predators can get out of jail and not have to go through any rehabilitation programs or counseling. ... It's a serious problem, and I did not know they could wait this thing out (inside the state psychiatric hospital) and have a hearing and get out."
Núñez said he expects to introduce his bill early next week, just as Republicans are expected to deliver more than 500,000 petition signatures to place a tough new sex offender measure on the November ballot.
He is considering a variety of get-tough measures that include amending the law to allow first-time sex offenders to be declared predators and sent to Atascadero - or Coalinga State Hospital - for treatment after they complete their prison time.
Current law requires an offender have two victims to be labeled a predator and directed to the program.
Republicans said Wednesday that they will ask for the same change.
Both sides also are espousing other changes, including eliminating the court hearings that sexually violent predators get every two years to ask for release and instead committing them for indeterminate terms in the mental hospital.
Fifteen of the 17 states with sexually violent predator statutes commit their offenders to hospital or other programs indeterminately.
On average, 59 percent of sex offenders in such states complete the treatment program, according to a December 2004 study by the California Research Bureau of the California State Library.
California's completion ratio is the lowest in the nation. Of the 58 men released from Atascadero since the program began 10 years ago, only four finished the four-phase inpatient program.
Only one completed the fifth phase, which consists of treatment and monitoring after release.
Lawmakers also agree they want to expand the amount of information available on the California Megan's List Web site to disclose that certain offenders are sexually violent predators, generally considered to have a greater risk of reoffending.
And they want to require offenders to go through treatment before they can be released from the state's maximum-security psychiatric hospitals.
In addition, Poochigian has proposed allowing juries to be told that if a sex offender seeking release has not completed treatment, he must automatically be assumed to still suffer from a mental disorder.
In practice, that too would force offenders to complete treatment before they can win release.
Núñez acknowledged that some of the measures may be challenged by civil libertarians who feel they go too far, but "we're going to challenge the Constitution in my Legislature.
"What it comes down to," he said, "is let's work together and solve the problem."

About the writer:
The Bee's Sam Stanton can be reached at (916) 321-1091 or sstanton@sacbee.com .