Prisons agency reprieve hinted
Watchdog needed, governor's aide told at Senate hearing
Mark Martin, Pamela J. Podger, Chronicle Sacramento Bureau
Thursday, January 22, 2004
©2004 San Francisco Chronicle

URL: sfgate.com/article.cgi?file=/chronicle/archive/2004/01/22/MNG2V4EU4V1.DTL
Sacramento -- Gov. Arnold Schwarzenegger's top corrections official indicated willingness Wednesday to scrap a plan to eliminate a prison watchdog agency as lawmakers from both parties suggested immediately boosting funding for the investigative unit.
As dramatic hearings on California's troubled Department of Corrections drew to a close, legislators called for reforming a "culture of corruption'' within state penitentiaries by beefing up oversight of the system.
Schwarzenegger's proposed budget, released earlier this month, called for shutting down the Office of Inspector General, which performs audits and investigates wrongdoing inside prisons. But Rod Hickman, the governor's Cabinet secretary for corrections, said Wednesday the administration might change its position.
And as lawmakers and prison experts focused on testimony on a lack of leadership among previous penal officials, Schwarzenegger administration sources told The Chronicle that candidates for the top job in the Corrections Department included the warden of San Quentin State Prison in Marin County.
Jeanne S. Woodford has been warden at San Quentin since 1999. Woodford, who oversees the 150-year-old prison on the bluffs overlooking San Pablo Bay that is home to the state's Death Row, gets high marks from many prison officials and is being touted for the job by Senate President Pro Tem John Burton, D-San Francisco.
Other possibilities include the current acting director of corrections and a former warden of Wasco State Prison in Kern County.
Whoever gets the post will have a tough task.
California's sprawling prison system is the largest of any state in the country. It is subject to intense pressure from the politically powerful union that represents prison guards. And it is a department, according to a federal report released last week, that has lost control of its ability to police itself.
The former director of corrections, Edward Alameida, faces criminal contempt charges for his role in ending a perjury investigation at Pelican Bay State Prison.
On Wednesday, state Sen. Jackie Speier, D-Hillsborough, and Sen. Gloria Romero, D-Los Angeles, said more spending on the inspector general's office was needed to help fix problems illustrated during the hearings they had chaired. The office once had a budget of more than $11 million, but the state's budget woes have led lawmakers to slash that to $2 million.
Senate Republican leader Jim Brulte said he was receptive to a quick cash infusion.
"I told the senators there will be plenty of Republican votes immediately to restore at least $5 million to that agency,'' said Brulte, R-Rancho Cucamonga.
Hickman told the senators he was receptive to their idea to keep the office independent and bolster its funding. "I'm not necessarily wedded to the idea'' of eliminating the inspector general, he said.
Speier and Romero pledged to implement other policy changes as well. Speier said she wanted to require that the inspector general's reports be made public -- many are confidential now -- and to give more power to prison investigators to refer criminal complaints to the attorney general for prosecution.
Lawmakers face a Friday deadline to introduce new legislation, and both senators were working to draft new bills.
But legislators and other prison experts said more than legislation was needed to make permanent change. Testimony Tuesday detailed how prison administrators were indifferent to -- and even covered up -- wrongdoing in institutions and how the politically powerful prison guards' union influenced a code of silence among guards.
In the last two decades, the union has become one of the most powerful special interests in Sacramento by lavishing millions of dollars on politicians. The union gave nearly $1 million to Pete Wilson when he first ran for governor and funneled more than $3 million to Gov. Gray Davis.
On Wednesday, Steven White, a former inspector general who is now a state Superior Court judge, testified that the union was the "800-pound gorilla'' in every discussion about corrections policies.
But White said the union should not bear all of the criticism.
Describing the corrections system as a behemoth without a center, White said prison administrators -- both in Sacramento and inside penitentiaries - - had failed to offer leadership, which eenabled the union to simply stepin and take over.
"(The union) has too much power because there's a vacuum of power where it belongs,'' White told lawmakers.
The new corrections director will have to change that, White and others said.
Hickman, who will hire the director, is conducting a nationwide search, but he acknowledged he was having a difficult time persuading corrections officials outside California to take the job.
"When you talk to people around the nation about coming to California, you kind of get a glazed look,'' he said after testifying at the hearings.
E-mail the writers at markmartin@sfchronicle.com or ppodger@sfchronicle.com .
---
http://fresnobee.com/opinion/story/8037683p-8900093c.html
Tough or timid?
Governor's initial steps to rein in out-of-control prisons unpromising.
(Published Thursday, January 22, 2004, 5:47 AM)

It is not, to say the least, a pretty picture.
Rogue prison guards who abuse inmates and threaten fellow officers go unpunished. Those who do their duty, obey the law and tell the truth about official misconduct face reprisals. And not only do they get no support from superiors, they risk demotion, ostracism and even physical harm.
That was the chilling testimony provided by whistle-blowing prison guards at an emotional state Senate hearing Tuesday.
Max Lemon, the assistant warden at Folsom Prison, was reduced to tears as he explained what happened in the aftermath of a riot at the prison two years ago. The riot left 24 inmates injured and a guard permanently disabled; it also contributed to the suicide of another guard. Even though the supervising officers that let rival gang members onto a prison yard disobeyed orders, no one was charged or disciplined, Lemon said. The riot was never properly investigated, and those who have attempted to tell the truth fear for their lives. Lemon has been placed in protective custody.
The Senate prison hearing comes in the wake of a damning report by John Hagar, a special master assigned by a federal court to investigate similar allegations of cover-up and malfeasance at Pelican Bay State Prison. He described a criminally dysfunctional Department of Corrections so dominated by the powerful California Correctional Peace Officers Association, the state prison guards union, that it is incapable of disciplining brutal guards or investigating crimes they may have been committed.
The threat posed by gross mismanagement and criminal activity at the Department of Corrections cannot be overstated. The risk goes beyond inmates and guards within the prisons. At the hearing, Sen. Jackie Speier alluded to death threats against legislators who convened the hearing from those who, she said, "believe we have gone too far."
There is a fiscal consequence to the prison crisis as well. Massive cost overruns in the Corrections Department harm every other function of state government. Corrections has overspent its annual $5.3 billion budget by $500 million this year. The prison guards contract approved by the Davis administration and ratified by the Legislature ceded large parts of the management authority to the guards union. The contract leaves the state with no ability to contain costs or discipline guards.
Sadly, in the face of overwhelming evidence of incompetence and wrongdoing, Gov. Arnold Schwarzenegger's administration has proposed a series of window-dressing reforms that, if implemented, would make things worse. The department says it will reassign the top brass at Folsom, but the special master's report warns that the department has no effective way to vet its own personnel. Background checks performed on department investigators are cursory, at best, leaving the department with no ability to assure that the people it puts in charge are committed to obeying the law.
Most alarming, the governor last Friday abruptly fired John Chen, the acting chief of the Office of the Inspector General and the man who wrote a report that castigated Folsom officials for the way they mishandled the 2002 riot investigation. The governor has proposed folding the inspector general's independent investigative functions into the Youth and Adult Correctional Agency, an entity the federal special master says is under the effective control of the prison guards union.
Disarray at corrections is a growing cancer in state government. It threatens both public safety and the state government's ability to bring its finances under control. So far, Schwarzenegger has offered no plan to deal with one of the most serious crises state government faces. If he does not do so, the corrections mess may drag his young administration down before it can get off the ground.
---
http://www.mercurynews.com/mld/mercurynews/news/local/7764294.htm
Posted on Wed, Jan. 21, 2004

Prisons need permanent oversight to force reforms, witnesses say
DON THOMPSON
Associated Press
SACRAMENTO - The deeply flawed California prison system needs permanent oversight to force reforms, witnesses and senators said Wednesday during the second of two days of Senate hearings.
The system's former watchdog joined the committee co-chairs in criticizing Gov. Arnold Schwarzenegger for proposing to sharply trim and merge the Office of Inspector General into the agency it is supposed to oversee, and for replacing the head of that office with his own appointee.
If new Youth and Adult Correctional Secretary Roderick Hickman was serious about reform, he would have resigned rather than let that happen, said former Inspector General Steve White. What once was a 117-employee office would be reduced to four investigators and two clerks under Schwarzenegger's plan.
Hickman said he supports Schwarzenegger's merger proposal but isn't committed to it if lawmakers object. The co-chairs of the Senate Select Committees on Government Oversight and the California Correctional System said they believe Hickman's vow to reform a system he inherited after Schwarzenegger took office in November.
Hickman said he will take more than six months to draft a reform plan in response to a federal court-appointed monitor's highly critical report last week. The monitor recommended the former corrections director and chief internal investigator be charged with criminal contempt of court for blocking a probe of whether Pelican Bay State Prison guards committed perjury in inmate abuse trials.
More than a dozen whistleblowers told the committees how they have faced reprisals and been ostracized for breaking a "code of silence" to report wrongdoing by fellow employees. A correctional officer from Salinas Valley State Prison testified wearing a bulletproof vest; an associate warden at Folsom State Prison asked for police protection after receiving death threats.
"We have witnessed the tears of grown men and women who feared for their lives, who feared for their loved ones, because they did the unthinkable: They told the truth," said Sen. Jackie Speier, D-Daly City, one of the co-chairs. She called that unwritten code "a cancer that will continue to grow unless we cut it out."
Tuesday's hearing focused on problems within the California Department of Corrections, while Wednesday's was a search for solutions for problems particularly affecting internal investigations of employee wrongdoing.
"The nation is watching how California" attempts to reform the country's largest prison system, said co-chair Sen. Gloria Romero, D-Los Angeles.
White said the inspector general's office, already enshrined in law, should be given a tamperproof budget, its reports immediately made public and its director given a set term in office to protect against political influence. White was appointed a Sacramento County superior court judge by former Gov. Gray Davis.
The California Correctional Peace Officers Association enjoys political and monetary influence that permeates every level and every decision in the department and Hickman's agency - but only because "there's a vacuum of power where it belongs," White said. "Pretty soon, wardens aren't running their prisons and directors aren't running their departments."
Hickman said his employees need more training to change "the culture and ethics" of a department where silence is encouraged and whistleblowers are punished.
Speier said the system needs an investigatory arm that is free from outside influence and internal conflicts of interest.
Donald Spector, director of the Prison Law Office that brought the Pelican Bay case on behalf of inmates, said the department "must teach a course in how to point fingers and avoid responsibility" because so many errant employees escape punishment. He said employees must be held accountable and should be required, as sworn peace officers, to aid internal investigations.
Spector said county prosecutors are often reluctant to pursue cases against prison guards because of the power of the guards' union and the political stigma against prosecuting a law enforcement officer. He said the state attorney general should be in charge of all such investigations.
For the all the promises and good intentions, White said continued public and legislative oversight is essential.
Without it, he said, "heads will roll, butts will get kicked, and in three months - when you're not looking - things will be back to normal."
---
http://www.sacbee.com/content/politics/ca/story/8141662p-9073403c.html
Leaders call for eye on prisons
Inspector general must remain independent, Capitol hearing is told.
By Dorothy Korber -- Bee Staff Writer - (Published January 22, 2004)
The watchdog agency that monitors California's prisons, whittled by budget cuts into a toothless shadow of itself, must be resurrected if there are to be any meaningful reforms of the state correctional system. Witnesses and legislators alike pounded that theme Wednesday, the second day of legislative hearings on how the state's prisons police themselves.
They said the key to reforming the troubled system is a feisty, independent watchdog: the Office of the Inspector General.
The strongest advocate for the office was former Inspector General Steve White, who left the post to become a Sacramento Superior Court judge in November.
White decried Gov. Arnold Schwarzenegger's proposal to move the Inspector General's Office under the control of the Youth and Correctional Agency.
With no independent monitor, White said, the current wave of prison reform would become one more failed effort.
"What will happen," White told the legislators, "is that heads will roll, butts will get kicked, and three months later, when you're not looking, it will all be back to where it was."
The Inspector General's Office, fully operational for three years, has completed 48 major audits of the corrections system and responded to 16,000 complaints. It conducted an average of 300 investigations annually, including its 2003 probe into a Folsom State Prison riot that resulted in the firing of the warden last month.
White objected to the governor's proposed reduction of the office staff to four investigators and two secretaries -- and to Schwarzenegger's firing Friday of John Chen, the chief deputy inspector general. These changes "disembowel" the Inspector General's Office, White said.
And he said they raise doubts about Roderick Hickman, the governor's new secretary of the Youth and Correctional Agency.
"You don't cut deals like that," White said. Hickman "should have said to the governor, 'We're not going to take an office with 117 positions and reduce it to six and call it an Inspector General's Office, perpetrating a fraud on the people of California.' "
Hickman also testified at the two-day hearing convened by two Democratic state senators -- Jackie Speier of Hillsborough and Gloria Romero of Los Angeles. The new secretary said he encourages scrutiny by the Inspector General's Office, whether it operates from inside or outside his agency.
"I welcome the opportunity to have the tools of the inspector general, but what I want is the result," Hickman said.
Hickman objected to White's characterizing him as lacking passion.
"It's funny that I'm accused of not being as passionate as I should be," Hickman said. "That's someone's analysis who doesn't know me."
As for replacing Chin, Schwarzenegger spokesman Vince Sollitto defended that decision Wednesday.
A new governor is entitled to make his own appointments, Sollitto said, and Schwarzenegger selected Regis Gene Lane -- a subordinate of Chen's -- to serve as his deputy inspector generall. Sollitto declined to comment on why Chen was replaced.
Chen submitted written testimony to Wednesday's hearing. Speaking as a private citizen, he also argued for a strong inspector general.
He said the Department of Corrections' internal investigations of staff misconduct are "highly dysfunctional and ineffective."
By uncovering waste and corruption, Chen said, the Inspector General's Office pays for itself. "Every dollar taken away from effective oversight today," he wrote, "costs the state many times that amount tomorrow."
The office's annual budget was slashed to $2.6 million from $7 million last year and faces further cuts unless the Legislature acts to augment its coffers. Several senators at Wednesday's hearing lamented the reduction and spoke of restoring the office's budget.
"I am in support of a strong, independent Office of the Inspector General," Romero said. "It was a mistake for us to dismantle this office, a serious mistake this Legislature made. My hope is that now we can go forward and put our money where our mouth is."
Jim Brulte of Rancho Cucamonga, the Senate's Republican leader, echoed her comment.
"Institutions don't reform themselves," Brulte said. "You have to have some external force. A legislative act dismantled the office. We need to reverse what we did last year. We're the ones that have to step up to the plate."
The senators also supported White's and Chen's suggestion that the inspector general's investigations and audits be made public. Currently, results of the investigations are reported only to the director of corrections.
"There should be total illumination of what the inspector general does," White told the legislators. "This information ought to be on a Web site the moment it is completed."
The Bee's Dorothy Korber can be reached at (916) 321-1061 or dkorber@sacbee.com .
---
http://www.sacbee.com/content/news/story/8136581p-9068574c.html
Prison's top brass to be reassigned
The goal is an unimpeded inquiry of Folsom's management after riot.
By Dorothy Korber -- Bee Staff Writer - (Published January 21, 2004)
The top brass at Folsom State Prison -- from the interim warden down to its captains -- will be re-assigned during a broadened investigation of the facility's management, the director of the California Department of Corrections said Tuesday at a legislative hearing.
"The goal, basically, is that we want to ensure that we have an unimpeded, uncompromised investigation at Folsom State Prison," said Rick Rimmer, who took over the Corrections Department when former Director Edward S. Alameida stepped down Jan. 5.
Tuesday's wide-ranging hearing, convened by state Sens. Jackie Speier and Gloria Romero, examined how the prison system polices itself. Witnesses ranged from emotional whistle-blowers, their voices choking as they spoke of retaliation they faced, to the tough-talking president of the correctional officers union.
The hearing continues at 9:30 a.m. today at the Capitol.
Much of Tuesday's testimony dealt with a 2002 inmate riot at Folsom State Prison, a 90-second melee that triggered an administrative cover-up, ruined careers and contributed to the suicide of a correctional captain.
Responding to questions from the senators, Rimmer said he wants outside investigators to look at the way prison management handled the riot and its aftermath. He said his staff is conferring with Attorney General Bill Lockyer's office.
The administrative shift at Folsom will occur once Rimmer has identified temporary replacements from other prisons.
"We're talking about nine or 10 staff members total," he said. "It's crucial that we put a tenured, experienced warden in place to manage the prison in the interim, but we haven't yet identified who that will be."
Diana K. Butler, Folsom's warden at the time of the riot, was fired Dec. 11.
"We are embarking on two days of hearings that will expose the underbelly of the Department of Corrections," said Speier, a Democrat from Hillsborough. "Much of the testimony we hear will be startling and even unbelievable. Many whistle-blowers, who will speak under oath, fear for their jobs and their lives."
Romero, a Los Angeles Democrat, called the prison system a tarnished institution without the integrity to police itself.
The day's most dramatic testimony came from witnesses who weathered the 2002 Folsom riot and its aftermath. Three were correctional officers who worked at the prison at the time.
The 90-second melee began when two supervising officers failed to follow orders and released rival gang members into the prison yard en masse. Two dozen people were hurt, including Correctional Officer Pat O'Dea, who testified at the hearing.
O'Dea, asked if he was aware of a "code of silence" among prison guards, said it wasn't quite as formal as that.
"But there's a huge thing inside prison walls -- among inmates as well as officers -- about being a rat," O'Dea said. "Some people think I'm a rat for speaking out. I want the people I worked with to believe I'm here for the right reason."
Another witness was Associate Warden Max Lemon, who was the principal whistle-blower after the Folsom riot. Last January, Lemon took information about the riot to the state's Office of the Inspector General.
Lemon could barely control his emotions Tuesday as he described the threats he and his family have faced since he came forward. "I have been in protective custody for the past five days," Lemon said.
He alleged that Folsom prison officials altered evidence and obstructed justice to cover up their role in the riot. "I implore you to direct Bill Lockyer to investigate this thoroughly -- or to convene a grand jury," Lemon said.
Correctional Sgt. Sam Cox also spoke, calmly outlining his own experience. He balked at an order to alter videotapes of the riot, he testified, and was transferred to a lesser job on the night shift. He saw the demotion as direct retaliation for his refusing to edit the tapes.
The hearing room hushed when Evette Pieper stepped forward to tell her story. Her husband, Folsom Custody Capt. Doug Pieper, was recorded on a riot videotape asking if he should act to head off the looming battle. Deputy Warden Mike Bunnell told him no.
Afterward, Evette Pieper said, her husband was pressured to participate in a cover-up of the affair. "It ate him up," she said. "He lost 50 pounds. He wasn't eating or sleeping."
Finally, on Jan. 15 of last year, he took his own life, leaving a suicide note that laid the blame on the job. "I lost my best friend and the only man I ever loved," his widow told the senators.
The hearing closed Tuesday with a thorough grilling of Mike Jimenez, president of the California Correctional Peace Officers Association. Romero and Speier peppered Jimenez with questions about the union's role in prison investigations, focusing on Pelican Bay State Prison.
A recent court-ordered report on that prison found that the union hampered federal investigations there and generally exercised undue control over the corrections department.
Jimenez said the report, prepared for U.S. District Judge Thelton Henderson, was filled with bias and "trampled the rights of correctional officers."
"As a group, we take great pride in protecting the public from some of the worst criminals known to mankind," Jimenez said. "CCPOA does not stand for abuse of inmates of any kind -- and never has."
Romero said she was a longtime union member herself and understood that unions try to wield influence. "But intimidation and influence can cross the line to become thuggery," she told Jimenez.
The Bee's Dorothy Korber can be reached at (916) 321-1061 or dkorber@sacbee.com .

---
http://www.contracostatimes.com/mld/cctimes/news/7759676.htm
Posted on Wed, Jan. 21, 2004
State prison system 'rotten'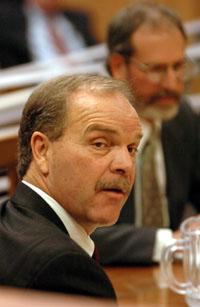 Acting California Department of Corrections
Director Rick Rimmer answers a question
at a news conference Tuesday.
(Bob Pepping/Contra Costa Times)

By Thomas Peele
CONTRA COSTA TIMES

SACRAMENTO - The state's prison system is "rotten," unable to reform itself, punishes employees who report corruption, greatly susceptible to union pressure and on the verge of a federal takeover, witnesses told a state Senate committee Tuesday.

Only the change of administrations that came with Gov. Arnold Schwarzenegger's election last year has delayed a U.S. District Court Judge from ordering that the federal government take over the department's personnel administration, one witness testified during the first of two days of hearings on the Department of Corrections.

That delay, to give the governor's appointees a chance to right a badly listing department, may be at best temporary, said Don Spector of the Prison Law Office in San Quentin.

"This department has the ability not to learn from its mistakes," Spector told the Senate Select Committee on Government Oversight. Yet it "has been given one last chance to reform itself" before federal Judge Thelton Henderson strips it of the ability to investigate employee wrongdoing.

Spector represented inmates in the lawsuit that led to Henderson's investigation of the department.

Youth and Adult Correctional Agency Secretary Roderick Q. Hickman told the committee that "wrongdoing will not be tolerated" and that internal affairs investigations will become impartial, fair and "free from outside influence."

Others, including the associate warden of Folsom State Prison, said that corruption has overwhelmed the department.

Max Lemon, often sobbing during his testimony, said top department administrators conspired to cover up wrongdoing in the fallout from a 2002 riot at Folsom.

He asked the committee to call for a federal investigation of the incident and its aftermath.

Lemon said he was under round-the-clock protection from the department and in fear of his life.

He tried to explain a videotape of the Folsom riot that shows him kicking an inmate already on the ground. Lemon said he had "stepped forward to protect a fellow officer" because weapons were found lying nearby.

State Sens. Gloria Romero, D-Los Angeles, and Jackie Speier, D-San Mateo, called the hearings they are co-chairing, historic.

"We are going to expose the underbelly of the Department of Corrections," Speier said at a morning press conference. "We have to restore public confidence."

The hearings come a month after the Times published a three-day series on the discipline of state employees.

The Uncivil Servants series reported that the corrections department loses more than 40 percent of disciplinary cases because it can't complete investigations within the one-year statute of limitations.

The Times also reported that the State Personnel Board softens more than 50 percent of the disciplinary appeals corrections employees file with it, often citing botched investigations.

Among other developments during testimony Tuesday were:

• Speier and Romero ripped Schwarzenegger's proposal to move the independent Office of Inspector General under the Youth and Adult Correctional Agency, saying the office would lose all autonomy and effectiveness.

Hickman, who said he approved of the move, also said he was willing to back off. "All I want is results," he said.

• The widow of a Folsom captain who committed suicide after the riot testified her husband could have stopped the melee between rival gangs but followed orders not to. Acting Department Director Rick Rimmer said he has opened a new investigation and all top administrators at Folsom will be reassigned during it.

• Speier and Romero questioned the firing Friday of acting Inspector General John Chen, a holdover from former Gov. Gray Davis' Administration. Schwarzenegger replaced Chen with Regis Gene Lane. Chen may testify when the hearings resume this morning.

• Rimmer said that former department Director Edward Alameida is still on the public payroll despite resigning from the top post last month.

A federal investigator working for Henderson last week called for Alameida's indictment on contempt of court charges for his part in stopping a perjury investigation. Rimmer said Alameida has been on vacation and will return to work in the department's facilities division. Romero said he should be fired and the department should not pay for his legal defense if he is indicted.

• California Correctional Peace Officers Association President Mike Jimenez criticized the report that Henderson's investigator, attorney John Hagar issued last week. He called it unfair, saying it "trampled on the rights of correctional officers." The scathing Hagar document was "only the truth," Romero said.

There was much discussion Tuesday of the code of silence that Rimmer, Jimenez, Lemon and others said is rife within the department and hampers internal investigations.

"There is a huge thing inside prison walls about being a rat," said former correctional officer Patrick O'Dea, who suffered a career-ending back injury during the Folsom riot.

"I am sure my former co-workers are thinking that right now. I am not proud of what's going on," he said.

It is really "a code of cowardice" among those who are afraid to confront wrongdoing, O'Dea said.

"They lack courage and intestinal fortitude. They refuse to speak out," he said. "I tell people to speak up, live with your convictions."

Speier and Romero spent most of the afternoon sparring with the union chief.

Jimenez disputed assertions that the union influences internal affairs. It has never stopped an investigation and "lacks the power to do so," he said. The department, he said, is overrun with lazy investigators who blame the union when they are unable to do their jobs.

Speier said she believed the union's influence over the department, often mentioned in Hagar's report, was perverse.

She told Jimenez that she believed former director Alameida "was very much afraid of you."

---
http://www.latimes.com/news/local/la-me-prison21jan21,1,1780985.story?coll=la-home-local
CALIFORNIA
Guards Tell of Retaliation for Informing
Whistle-blowers testify before Senate panel on how their reports of misconduct at state prisons are received.
By Jenifer Warren
Times Staff Writer
January 21, 2004
SACRAMENTO — Guards who witness abuse and other misconduct in California prisons rarely report it for fear of isolation by fellow officers and reprisals from superiors, three current and former Department of Corrections workers testified Tuesday, their voices shaking with emotion.
The testimony came at a daylong Senate hearing on the state's troubled prison system. The whistle-blowers' revelations focused largely on a riot at Folsom State Prison that, an independent watchdog agency found, could have been prevented and was the subject of a cover-up by those charged to investigate it.
The 2002 riot, between rival gangs on the exercise yard, lasted just 90 seconds. But it left 24 inmates injured and one prison guard permanently disabled — and may have played a role in the suicide of another officer.
The fracas also led to the recent firing of Folsom Warden Diana Butler, who was ousted soon after a report on the incident by the state inspector general's office. That report said Butler had bungled the riot's aftermath by failing to discipline any staff or refer the case for possible prosecutions
On Tuesday, Department of Corrections officials acknowledged the problems at Folsom and announced a shake-up involving 10 officials, from deputy warden down to the captain level. Acting Corrections Director Richard Rimmer said that the staff would be temporarily reassigned and that Dave Runnels, the warden at High Desert State Prison in Susanville, would be brought in to run the Folsom lockup temporarily as investigations there continue.
The changes at Folsom come as California's penal system, the nation's largest, weathers a wave of scrutiny, from a scathing report released last week by a federal court master to Tuesday's hearing.
As an overflow audience looked on, two Democratic senators spent the day hearing testimony from corrections employees and others as part of their effort to reform the vast penal system, which includes 33 prisons and runs on a budget of about $5.3 billion a year.
Sens. Jackie Speier (D-Hillsborough) and Gloria Romero (D-Los Angeles) said their review of the Department of Corrections and its record of tackling wrongdoing by guards has brought threats from those who, in Speier's words, "believe we have gone too far."
But noting that the whistle-blowers who agreed to testify did so fearing for their jobs and personal safety, both lawmakers said they are determined to force changes in the system.
"I am not giving up on this department, not just for the victims and our families, but so too for the inmates who serve their time and the staff who work day in and day out, most of them with great honor and integrity," Romero said.
Heavy security marked the hearing. Witness Max Lemon, an associate warden at Folsom and perhaps the harshest critic of the department, had requested protection from the California Highway Patrol in recent days because of concerns about retaliation.
Opening the hearing was Gov. Arnold Schwarzenegger's recently named secretary of youth and adult corrections, Roderick Q. Hickman, who said he was "appalled" by the special master's report.
Hickman, whose appointment must still be confirmed by the Senate, pledged to "restore credibility and confidence" to the penal system and "create an environment where employees feel they can and should report misconduct."
He also acknowledged the senators' concerns about the elimination of the inspector general's office in Schwarzenegger's recently released budget. That office — which produced the critical report on the Folsom riot — is the only independent watchdog that investigates complaints against correctional employees. The governor has proposed re-creating it in a vastly smaller size within Hickman's agency.
"This isn't independence," Speier said. "It's insanity."
But the principal focus of the hearing was a series of cases that the senators believe illustrate obstruction of justice within the department. Most prominent was Folsom.
Witnesses said the riot broke out as the prison began integrating members of two rival gangs who had been locked in their cells for months: the Mexican Mafia and Nuestra Familia. Instead of releasing inmates of each group a few at a time to maintain control and ensure that no fights broke out, more than 80 inmates with gang affiliations were released all at once.
Capt. Douglas Pieper, who was on duty that day, noticed that the release was not going as planned. When he saw Mexican Mafia members moving toward rivals in a threatening manner, he asked Associate Warden Mike Bunnell if he should "shut 'em down," prison code for ordering inmates to lie face down on the ground.
According to a videotape of the event played at the hearing, Bunnell replied, "Not yet." At that point, the melee erupted, with some inmates stabbing one another with makeshift knives.
About a month after the riot, Lt. Sam Cox, who worked in the prison's investigative unit, viewed the tape at a meeting with a Department of Corrections special agent, a district attorney's investigator and a sergeant. Testifying Tuesday, Cox said the special agent commented that the tape "did not reflect favorably" on the prison because "it looked like [the riot] should have been stopped."
Soon after, Cox said, his superior told him to remove the audio portion of the tape. Cox said he refused because "it gave the impression of trying to cover something up."
"For me, to receive those instructions on the heels of that conversation, it stunk," Cox said. "It didn't pass the test."
Instead, he wrote a memo to Associate Warden Bunnell, who had delayed shutting down the yard just before the riot erupted, explaining what he had done. Bunnell told Cox he had done the right thing, but six weeks later, Cox said, he was transferred without warning to a night shift — "a much less favorable job."
Angry and frustrated, he spoke with Butler, the Folsom warden, about it. She seemed sympathetic and, according to Cox, said he "had just gotten caught up in something." Asked by the senators whether there was a connection between his refusal to alter the tape and his demotion, Cox said, "There's not a doubt in my mind…. It's been catastrophic, I can't tell you. The sleepless nights…. I can tell you at Folsom State Prison I was directly affected by a code of silence."
Pieper, the captain who had anticipated trouble and asked his supervisor if he should shut down the yards, was also affected by the riot, testified his widow, Evette. Pieper committed suicide a year ago. He left a letter that blamed certain employees for the riot and said, "My job killed me."
Evette Pieper said her husband lost 50 pounds after the melee and could not sleep. "He wasn't the same person, it seemed to eat away at him," she said. When he began asking questions about why the riot happened and why it wasn't more fully investigated, she said, Butler threatened him.
Ultimately, he was demoted and pressured to sign a document that said he wanted to change jobs, his widow said.
One day, after his shift, the 46-year-old second-generation prison officer locked himself in his garage and shot himself, leaving his wife, a son and a daughter behind.
"I don't want any other staff member to feel the stress and pressure my husband did, and that ultimately led to his death," Evette Piper said.
The hearing continues today in Sacramento with recommendations for reforms.
Meanwhile, the department confirmed that the warden at the state prison at Lancaster was removed Friday; the warden at Avenal State Prison in Central California retired last week.
Michael Yarborough, Lancaster's warden since August 2002, was expected to be reassigned within the Department of Corrections. Scott P. Rawers, also appointed warden in August 2002, opted to retire from Avenal after 30 years in the department, corrections officials said.
"It has that appearance" of a housecleaning, said Tip Kindel, assistant secretary of the Youth and Adult Correctional Agency. "But I think what the department is doing is taking appropriate action when it finds a problem."

Times staff writer Dan Morain contributed to this report.

---
State prison system called a 'tarnished institution'
By Don Thompson
ASSOCIATED PRESS
January 21, 2004

SACRAMENTO – The nation's largest prison system is a "tarnished institution" from the top down, punishing employees who try to do right and protecting those who do wrong, state senators said at the outset of two days of hearings yesterday.
Gov. Arnold Schwarzenegger's newly appointed administrator won't be confirmed by the Senate until he proves he's reforming the California Department of Corrections, said Sen. Gloria Romero, who sits on the gatekeeper Senate Rules Committee.
Schwarzenegger's pick, Youth and Adult Correctional Secretary Roderick Hickman, told the Senate Select Committees on Government Oversight and the California Correctional System he'd clean house.
But Hickman's testimony was contradicted by the first witness, Folsom State Prison Associate Warden Max Lemon, who tearfully accused Hickman of ignoring problems and appeals, and Schwarzenegger of undermining independent investigations by firing members of the Office of Inspector General at the behest of the powerful prison guards union.
Lemon, sobbing at the witness stand, accused his fellow administrators of perjury and evidence tampering to cover up a 2002 Folsom riot by rival Hispanic gangs.
The Folsom administration will be temporarily reassigned during a new investigation that may involve state or federal prosecutors, said Acting CDC Director Rick Rimmer. Although only the warden has been fired, Rimmer said the investigation will probe allegations yesterday by Folsom guards of connections between the acting warden that day and the Southern Mexicans, or Mexican Mafia, one of the two gangs involved in the riot.
The entire system is a step away from a federal court takeover, warned Romero, D-Los Angeles.
Corrections' leadership ignored and became "accomplices to sanctioning a code of silence at the highest levels of government," Romero said, although she held out hope the Schwarzenegger administration will make changes to the "tarnished institution."
Rimmer acknowledged such a code "absolutely exists" and has thwarted investigations. He supported senators' call for training employees in what is acceptable.
Extra security patrolled the hearing room and an earlier news conference, after Romero said she was the target of a death threat. Co-chair Sen. Jackie Speier, D-Daly City, said some witnesses at the hearings "fear for their jobs and their lives." Lemon said he had been under "protective custody" during the five days before his testimony.
The senators called on Schwarzenegger to reverse the Friday firing of John Chen, the chief deputy director who had been running the independent Office of Inspector General. Chen authored a report critical of how Folsom officials promoted and responded to the 2002 riot.
Lemon alleged Schwarzenegger's replacements have been approved by the wealthy and politically powerful California Correctional Peace Officers Association.
Schwarzenegger wants to eliminate the independent office and incorporate fewer inspectors into Hickman's agency, which Hickman supported. A Schwarzenegger spokesman characterized Chen's firing as routine for a new governor, and the merger of the independent office a money-saving move.
"This isn't independence – it's insanity," Speier said.
The union has too much influence over the department's disciplinary system and top prison officials, Romero said.

Find this article at:
http://www.signonsandiego.com/news/uniontrib/wed/news/news_1n21prison.html