http://www.sacbee.com/content/news/crime/story/8599185p-9527317c.html
New prisons chief faces tough task
By Gary Delsohn -- Bee Capitol Bureau - (Published March 21, 2004)
Rod Hickman has always been ambitious.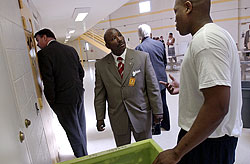 [Rod Hickman, center, talks with ward Willard Maynard, 19, at a Stockton youth correctional facility.]

Way back in 1979, the man picked recently by Gov. Arnold Schwarzenegger to clean up the state's vast prison and parole system imagined himself on a lofty perch.
"I remember as a brand-new correctional officer sitting in the tower and saying, 'One day, I'll be the director of the Department of Corrections,' " Hickman said in a recent interview.
He never got that job. But Hickman, despite the lack of a college degree, did land a plum post as the director's boss. Now that he's in the $131,000-a-year position of Youth and Adult Correctional Agency secretary, overseeing 50,000 state employees, Hickman knows that with the top job comes scrutiny from many people.
The federal courts. Inmates rights groups. Members of the Legislature who say the prison system is out of control. The powerful union that represents California correctional officers.
And, not least of all, the reform-minded governor who appointed Hickman to clean up California's problem-plagued $5.7 billion corrections system.
"He's doing a great job," Schwarzenegger said recently.
Others, however, say it's far too early to tell.
The 47-year-old career corrections official was not known as a reformer as he worked his way up the ranks from correctional officer through training officer, warden, agency administrator and now secretary. Some critics suggested he sometimes seemed more interested in advancing his career than shaking up the system.
"My impression of Rod is he's a company man," said Max Lemon, a former associate warden at Folsom State Prison who blew the whistle on a staff cover-up concerning a 2002 riot there.
"I have never seen Rod take on or challenge issues or really grasp or aggressively pursue issues that were in my opinion clearly criminal. Some of it may have been because, at the time, Rod maybe didn't think it was his place."
Hickman said he concentrated on training guards and other staff while working at the state academy in Galt, taking promotional opportunities as they came so one day he might be in charge.
"Things you see that you want to do over the years, you're just not in a position to really do it or the circumstances don't allow you to do it," Hickman said.
"I ended up going to work at corrections and I found a niche. I really delved into training and staff development. I've always been a positive person, and I knew my opportunities would come."
Outgoing, energetic and passionate about prison issues, Hickman, whose wife, Gloria, is a captain at corrections headquarters, was a surprise choice when Schwarzenegger named him to run the correctional umbrella agency known as YACA. He's not only the first African American to hold the job, he's also the first agency secretary who actually had worked inside a prison.
It's an opportunity, Hickman knows, that comes with sizable minefields.
Even before Hickman took office on the same day Schwarzenegger was sworn in in November, his agency was hit with a report calling California's parole program a "billion-dollar failure."
It was the first of a series of highly critical reports, accusations and legislative hearings that portrayed the prison system as scandalous and poorly run - all coming out in Hickman's first weeks in the new job.
A federal court monitor issued a report that said the Corrections Department, in part because the powerful correctional officers union has usurped some management authority, has a pervasive "code of silence" that protects wrongdoers, and punishes those who try to expose malfeasance.
In late January and early February, a series of reports commissioned by state Attorney General Bill Lockyer said problems are also rife at the California Youth Authority, where the most troublesome wards are often locked in their cells 23 hours a day.
Some get their schooling while locked in small wire cages - Hickman and other corrections officials call them SPAs, for Secure Program Areas - a practice immediately banned by Schwarrzenegger once he found out about them.
Thelton Henderson, the federal judge in San Francisco for whom the report was done, said this month that he was about to place the California prison system under federal receivership, but agreed to hold off because he believed Hickman was sincere about instituting reform.
In a series of appearances before a legislative committee on prison oversight, Hickman acknowledged the problems and vowed to clean them up - something legislators said was a markedd departure from the past.
Hickman replaced former state Sen. Robert Presley, who disappointed many members of the Legislature for what they've said was his failure to get a handle on some of the agency's most chronic problems.
At the Department of Corrections, Hickman was instrumental in the hiring of a new director, Jeanne Woodford, the former warden at San Quentin State Prison. She replaced Edward S. Alameida, who stepped down one month before a federal court monitor accused him of thwarting an investigation of correctional officer misconduct at Pelican Bay State Prison.
"This is an opportunity," Hickman said. "My intent is to look at those things as an opportunity, tragic opportunity. I live by that old saying that every adversity contains the seed of a greater or equal opportunity. Those things that are responsibilities - we need to be responsible for them and transparent about getting them done."
Skeptics, however, say Hickman has proven so far only that he's good at talking about reform. Although he's replaced about a dozen top department and agency officials, including three wardens, not much has changed.
"He says all the right things, and I think we've got to assess whether or not he performs on them," said state Sen. Jackie Speier, D-Hillsborough, who has been presiding with Sen. Gloria Romero, D-Los Angeles, over prison oversight hearings.
"I'm more than willing to give him the opportunity to succeed, but I don't think I can make the assessment that he's accomplished anything yet."
But, Speier added, she's not sure all the reform Hickman talks about can be achieved.
She pointed to recent news reports about an elderly inmate starving to death and another killing himself on Super Bowl Sunday while guards watched the football game.
Just last week, Hickman and his staff traveled to the Northern California Youth Correctional Facility in Stockton, where two counselors were caught on video beating two wards earlier this year. Hickman's agency has sought criminal charges against the counselors, who allegedly tried to cover up their actions, but the local district attorney and Lockyer's office have said it's not a prosecutable case.
"I have my doubts sometimes about the potential of reform," said Speier. "I get hopeful and optimistic, and then something else happens that would suggest the status quo is still entrenched.
"Not that you can hold him responsible for some of the things that have happened the past few months - but people bleeding to death, people starving to death. I mean, who's in charge? What's going on?"
Hickman has not ducked responsibility, but some who worked with him in the past say he has not always behaved in the manner he now advocates.
In the most recent incident, Lemon, the associate warden who blew the whistle at Folsom State Prison, accused Hickman of limiting the scope of a department investigation. In its aftermath, Lemon and other top Folsom officials - including those involved in the cover-up - were removed.
Hickman has maintained he did nothing to limit the investigation's scope and that he is doing his best to abolish the "code of silence" that exists in most law enforcement agencies.
He recently put out an agencywide memo declaring that the "code of silence" must end.
"The code of silence is a reality," he said in one of the many follow-up meetings he has held with employees. "When (federal court monitor) John Hagar wrote his report that said the California Department of Corrections has a code of silence about the code of silence, you really have to stop to think about it."
Mark Bowers was a correctional officer at Mule Creek State Prison in 1999, when Hickman was the warden. At the time, Bowers complained that two other guards were bringing extremely graphic pornography into the unit housing inmates with mental health problems.
The so-called "Enhanced Outpatient Program" is a difficult unit to begin with, Bowers said in an interview, and the correctional officers made it more dangerous by taunting the inmates with the pornography and saying some of the pictured women were the inmates' mothers and sisters.
Hickman moved the two other correctional officers while an investigation was done, but refused to transfer Bowers, as Bowers requested.
Bowers ultimately left the prison after his life was threatened and he was exposed as a whistle-blower. He is now suing for unspecified compensatory damages, and he and his lawyer say Hickman failed to protect him.
It's exactly that kind of behavior, they said, that fosters the code of silence Hickman now wants to abolish.
"Anybody who thought about exposing wrongdoing, you think they would have done that after seeing what happened to me?" Bowers said.
"I liked Rod. I liked working for him. But when it came to backing me up or protecting his own standing, he didn't back me up."
Bowers' lawyer, Jill Telfer, put it in more bluntly.
"It would have looked bad if it came out that his officers were sexually harassing mentally impaired inmates," Telfer said. "So rather than take the hit and admit that was happening, his personnel were involved in covering it up, and he did nothing to stop it. He was able to protect the department by enhancing the code of silence itself."
Hickman, who is scheduled to be deposed in the lawsuit next month, defended his handling of the situation. He said he tried to move Bowers but couldn't find a suitable position for him.
And most of those who know Hickman say they believe he is committed to making the most of his new status as agency secretary.
"He's the first secretary that I can remember who decided to play an active role in managing the correctional system," said Donald Specter, whose nonprofit Prison Law Office has spent more than 20 years suing corrections officials on behalf of inmates.
"Since he's a good guy, that's a good thing. He's been very public about his willingness to change. He's made a lot of public statements acknowledging the problems. Nobody has done that as forcefully and directly as he has.
"But everything depends on whether he actually gets things done and conditions improve and the code of silence is broken and the new parole system works. He's got a lot on his plate, and what matters in the end is what actually gets done."

The Bee's Gary Delsohn can be reached at (916) 326-5545 or gdelsohn@sacbee.com .
---
Prison Guard Turned Boss Presses for Reform
Taking over an agency mired in scandal, corrections chief Rod Hickman is targeting misconduct within the state's penal system.
By Jenifer Warren
Times Staff Writer
March 18, 2004
GALT, Calif. — Rod Hickman stands on a flag-draped stage in a crisp blue suit, gazing out at 310 men and women ready to swear an oath to become prison guards.
A quarter-century ago, Hickman was one of them, a correctional academy cadet, trained and eager to patrol the cellblocks of California. Now he's the big boss, and on this bright February morning he arrives from Sacramento with a message for the rookies:
Beware, or this job will rot your soul.
For Hickman, that sober warning cannot be trumpeted enough these days. Since his appointment four months ago as Gov. Arnold Schwarzenegger's secretary of youth and adult corrections, Hickman has preached a rousing gospel of reform for an agency battling scandal on multiple fronts.
"This is a challenging time in corrections," he said after the graduates had dispersed to swap hugs. "We need to restore our integrity and regain the public trust…. It's daunting, but we can't go anywhere but up."
Proof of that grim assessment abounds. Over the past several months, California's $6-billion-a-year penal system has been hit by a wave of troubles that most describe as unprecedented.
In November, an independent watchdog agency said the state's prisons amount to a "revolving door" for criminals, with parolees so ill-prepared for freedom that two out of three wind up back behind bars.
Soon afterward, a federal court investigator reported that a "code of silence" condoned by top prison management allowed rogue guards to go unpunished for abusing inmates and other misdeeds.
In mid-January, concern erupted about the California Youth Authority, the state's juvenile prison system. Two teenagers hanged themselves with bedsheets in their cell, and a flurry of reports lambasted the youth system as overrun with violence and plagued by substandard medical and psychiatric care. Now, a scuffle between counselors and inmates at a youth facility in Stockton is also under investigation.
At one time, such disclosures would have roused little public notice. But a combination of forces has suddenly landed prisons — and those who work and live within them — squarely on the Capitol agenda.
Hickman, 47, took the helm amid this turbulence, and was quickly summoned to testify before lawmakers who were holding hearings on the troubles. Rather than defend the system, the plain-spoken secretary delivered a disarming admission: California's prisons are dysfunctional institutions ripe for reform.
"So far, he is saying and doing all the right things, and that is a refreshing change," said Sen. Gloria Romero (D-Los Angeles), chairwoman of the oversight committee on corrections. "But can he turn this ship around? We'll see."
The hurdles are many and formidable. California's prison system — the nation's largest — is vast and far-flung, with 32 adult lockups and 13 juvenile facilities and camps. Altogether, corrections employees number about 50,000, many of them represented by a labor union with tremendous sway over decisions large and small.
Beyond the legislative scrutiny and a governor who wants quick action, Hickman faces pressure from a U.S. district judge, who has threatened to place the Department of Corrections in federal receivership if it does not refashion its employee discipline system.
"Talk about multi-tasking — this is a very, very big job," said Haunani Henry of Sacramento, a retired warden who spent 35 years in corrections. "And with all the agendas and the politics, it's going to be difficult."
Henry, who hired Hickman as her second in command at Mule Creek State Prison, is among many who believe he may be the right man for the times. They describe him as a nimble communicator with a can-do style, a passion for corrections, an ethical core and extensive knowledge of the system.
Oddly, that insider perspective is a novelty for the Youth and Adult Correctional Agency, founded in 1980. Hickman, who earns $131,412 a year, is the first African American corrections secretary and the first who has worked inside a prison.
For a man who entered corrections somewhat on a whim, landing on top of the heap has felt downright surreal. At the recent academy graduation, Hickman shared those feelings of awe: "In June of 1979, I sat where you sat," he told the hushed cadets. "And I never would have thought — I never would have thought."
Hickman's steely gaze and imposing physical presence — he's a lifelong weightlifter — belie a softer center. Onetime foster parents, he and his wife, Gloria, a corrections captain, now have an adopted son, Roderick Jahid. Hickman strives never to miss his turn to escort the third-grader to Cub Scouts, and loves to recount how Jahid, nervous about meeting Schwarzenegger at his father's swearing-in, practiced his handshake repeatedly in the family's kitchen.
The son of a senior master sergeant in the Air Force, Hickman had the typical upbringing of a military brat, bouncing from town to town, learning to adapt to new situations — like being the only black student in his elementary school in Cheyenne, Wyo. Such experiences helped make him comfortable in the multicultural prison milieu.
During his early days as a correctional officer, Hickman figured his stay in the profession would be brief. But bit by bit, corrections began to look like a place where he could find a niche.
As a guard, Hickman said, he prided himself on being someone who was "fair and believed that people needed to be treated with respect — notwithstanding the fact that they were incarcerated felons." That perspective was not universal, however, and his concerns about the behavior of other officers inspired an interest in training guards.
Hickman worked at the correctional academy three different times, and shaping new recruits yielded some of his happiest professional moments. The upward arc of his career, however, led him through a diverse string of posts. When picked by Schwarzenegger, he was the department's chief deputy director for field operations.
During his ascent, Hickman developed a reputation as a fanatic about management philosophy, a guy always studying the latest theory on how to energize employees. As warden at Mule Creek State Prison in the late 1990s, he gave his staff a book called "Who Moved My Cheese," a tale that illustrates the need to accept and prepare for change.
Capt. Richard Subia, who worked under Hickman for five years, was among those who took the story to heart. Some staff members, Subia recalled, "sort of rolled their eyes and figured all the books and theories were a lot of flash. But they just didn't get it. Rod's passion is true. He motivates people and wants everybody to move forward."
Donald Specter, who runs a nonprofit law firm that has repeatedly sued the state on behalf of inmates, said he knew from their earliest encounters that Hickman was "not your typical corrections bureaucrat."
Proof of that came during a lawsuit over the department's failure to make prisons accessible to inmates with disabilities. Lagging behind on work to fix the problems, the department sent Hickman to smooth things over and negotiate with Specter for more time.
"But when I explained the situation, telling him that the department had already broken all these deadlines, he said, 'You know what, we don't have a leg to stand on, so we'll just have to get this done,' " Specter recalled. "It was so different from the usual excuses and whining."
Public criticism of Hickman has been scant. But some skeptics — speaking privately for fear of alienating the secretary — question whether he will stand up to the powerful guards' union, of which he was a dues-paying member for 25 years.
The secretary resigned his membership recently, saying it had become a "distraction" because of public perceptions about his loyalties. And while he acknowledged that the union is "very influential," he said he had frequently opposed its negotiators across the bargaining table.
Hickman will encounter opposition again as new parole policies lead to a population reduction of as many as 15,000 inmates, meaning a need for fewer officers. The union won't like it, he said, "but we need to go forward with some of these things … and they need to be on board."
Some reforms already are underway. But Hickman's first priority is to purge prisons of a culture in which guards believe they are compelled to lie on behalf of abusive colleagues — or, at best, to keep quiet when they witness misconduct.
He believes that culture took root gradually as California's prison population ballooned.
"When you think about the basic mission — incarceration and running secure institutions — we've become very proficient," Hickman said. "But what we haven't done is train people in how we want them to be."
Instilling that sort of character is not easy in an environment that tends to make people emotionally callous and corrode their sense of right and wrong, Hickman said.
Those who work in corrections "see horrible things, things nobody else sees," he said.
"If you don't pay attention," he said, "pretty soon these things wear on you and you're not the ethical and moral person you used to be."
The cure for such lapses and the culture they have created, Hickman said, is quite simple: "You reward people for behavior that you want and hold them accountable for what you don't like." Then, he said, employees either change or get out: "It's the burning platform."
Hickman already has taken steps to create that burning platform. Last month, for instance, he issued a memorandum to all corrections employees declaring "zero tolerance" for the code of silence and noting that any employee who fostered such a code could be fired.
In the long term, Hickman said, he dreams of restoring California to prominence as a leader in corrections — making it a state where parolees leave prison with the skills to survive, crime-free, on the outside. Ex-convicts, he said, would not be the only beneficiaries.
Taxpayers, too, would benefit from both lower costs and streets made safer by a correctional system that works, he said.
"Look," Hickman said, "I'm a hook 'em and book 'em guy. But the reality is that public safety will be based on parole success. And it's pretty clear that what we're doing now ain't working."