Eight charged in prison brawl
Inmates indicted in fight that hurt guards
BY KAREN MAESHIRO, Staff Writer
LA Daily News
Article Last Updated:01/24/2007 06:41:49 PM PST

LANCASTER - Eight inmates from the Lancaster prison have been indicted on charges stemming from an altercation last year in a prison yard between correctional officers and about 20 inmates.
Prosecutors said they decided to present the case in a secret proceeding before a grand jury rather than go through a standard preliminary hearing to move the case more quickly.
"It's simpler and quicker when you've got that many defendants and defense attorneys," Deputy District Attorney Guy Shirley said.
The eight inmates at California State Prison-Los Angeles County are charged with battery on a nonconfined person by a prisoner. Six guards are the alleged victims in the April14 brawl.
"Eight were identified. It was a fairly chaotic situation," Shirley said. "Inmates had to be pepper-sprayed. It was put down fairly quickly."
There were injuries to guards and inmates, but none was severe, Shirley said. The defendants are Juan Thornton, 31; Justin Jackson, 36; Kenneth Watson, 36; Roderick Lipsey, 32; William Rainer, 48; Billy R. Gray, 24; James Hampton, 38; and Paul Roger Jackson, 30.
They have all pleaded not guilty and are awaiting trial.
A grand jury was convened in early January to hear evidence presented by Shirley. The defendants and their attorneys were not present.
"We do what's similar to a preliminary hearing in front of the grand jury. We present evidence, the grand jury gets to ask questions, you submit a proposed indictment. They accepted it as we proposed," Shirley said. "We have an obligation to present any exculpatory evidence to the grand jury."
The indictment was unsealed Jan.16.
(661) 267-5744
---
http://www.dailynews.com/antelopevalley/ci_3375299
01/06/2006 12:00:00 AM
Inmate suspect in killing Cellmate wrapped in sheet, fatally wounded
By Charles F. Bostwick, Staff Writer


LANCASTER - A state prison inmate is suspected of killing another inmate who was a convicted child molester and arsonist in the cell they shared, a prison spokesman said Thursday. Robert Painter, 59, who was serving a 25-year sentence for setting fire to a state lawmaker's Riverside office in anger because he had to register as a sex offender, was found mortally injured early Monday in his cell in a so-called "sensitive needs" section of California State Prison-Los Angeles County.
"As officers were doing a security check, they noticed an inmate .... who was lying on the cell floor in a pool of blood," California State Prison-Los Angeles County spokesman Lt. Ken Lewis said.
When the officers spotted Painter on the cell floor, he was wrapped in a bedsheet, Lewis said. The officers unwrapped him, checked his pulse and called for prison medical personnel.
Found injured about 2 a.m. Monday, Painter was pronounced dead about two hours later by the prison's chief medical officer, Lewis said.
Los Angeles County coroner's officials declined to disclose the cause of death because by Thursday they had still not located Painter's family to tell them of his death. Prison officials disclosed his name.
Cellmate Michael Andrews, 41, who is serving a 25-years-to-life sentence as a "three strikes, you're out" repeat offender, was the only other person in the cell, Lewis said. Lewis said Thursday he can't comment on whether Andrews admitted killing his cellmate or said why he had done it.
Andrews was removed from his cell and taken to an administrative-segregation prison area. He has not been charged with a crime, though Lewis said the investigation is continuing by both state prison investigators and Los Angeles County Sheriff's Department homicide detectives.
Lewis said he didn't know why either man was in the "sensitive needs" area, but he said the area holds inmates who aren't safe in the general prison population, for reasons that include the crimes they committed or because they dropped out of a gang.
Painter had been convicted in 1976 in Riverside County of child molesting and served almost two years in prison.
In 2003, he was convicted of setting a June 2001 fire at the Riverside office of then-state Sen. Ray Haynes, using an auto tire doused with Coleman stove fuel. He was also convicted of starting a May 2002 fire that destroyed the trailer he rented, four vehicles and a boat.
Painter was burned starting the 2002 fire. He left his cell phone outside the senator's office after starting the 2001 fire, hoping to get caught, but investigators had not talked to him before the 2002 fire, an arson investigator testified in a 2002 hearing.
Painter said he set fire to Haynes' office because it was the only state senator's office in Riverside and he blamed the state's sex-registrant law with ruining his life, the arson investigator testified.
Painter said he set the 2002 fire because he was upset with his treatment by his landlord's family, the investigator testified.
Andrews went to state prison in 1990 for burglary, in 1992 for robbery and in 1997 for being an ex-convict with a gun, all for Orange County convictions, state prison records show. The 1997 sentence was for 25 years to life as his "third strike."
Andrews had been at the Lancaster prison since 2001. Painter had been there since 2003.
Charles F. Bostwick, (661) 267-5742 chuck.bostwick@dailynews.com
---
http://www.dailynews.com/Stories/0,1413,200~20943~2773485,00.html#
Los Angeles Daily News
Better life behind bars
Inmate working against chaos

By Greg Botonis
Staff Writer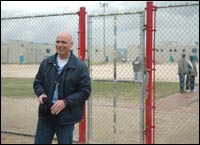 Inmate Kenneth Hartman in the Honor Yard. (Jeff Goldwater / Daily News)
Sunday, March 20, 2005 - LANCASTER -- While most 19-year-olds are considering college or career choices, Kenneth Hartman found himself sentenced to spend the rest of his life in prison.
Convicted of beating a homeless man to death in a Long Beach park, Hartman has spent the last 25 years in some of California's toughest maximum security prisons.
He's seen a lifetime worth of violence and chaos. Unlike most inmates who accept life "on the inside," Hartman decided to make a change in how he thought and how he behaved.
"I will probably spend the rest of my life here. That's my reality and I don't want to live in a world of chaos," Hartman, 44, said last week in his second-floor cell at California State Prison-Los Angeles County. "I don't want to live like that."
For 15 years, Hartman has been writing about life in prison, about the drunken, drugged-up murder that landed him there and about the changes he saw as necessity for California's correctional system.
A recent essay, "A Prisoner's Purpose," won Hartman a $10,000 prize in a writing contest in the Power of Purpose Awards sponsored by the John Templeton Foundation. The money will go to Hartman's wife, whom he married while in prison, and their 9-year-old daughter.
The essay discussed Hartman's personal experiences in prison, what he has seen and felt since being locked away and how he was one of the originators of a prison program he says gives inmates a greater chance at staying out of trouble once they leave the prison system.
The program, which is in its fourth year, is called the Honor Yard: 600 inmates who have promised to avoid drugs, gang activity and violence against each other or prison staff and who live in a section of the prison separated from the general inmate population.
The prison is the only California state prison that has an Honor Yard program, and Department of Corrections officials want to establish similar programs at other prisons because of its success, prison Lt. Ken Lewis said.
Hartman was one of the inmates who promoted the idea.
"The ideas were brought by the men's advisory council, a group of inmates that brings prison issues or program issues to staff's attention. Some of those guys helped work with prison staff to establish the Honor Yard program," Lewis said.
"It's to help inmates recognize their achievements. It helps them to recognize that they could change their social factors, so to speak. They can change within themselves. They are willing to stay away from drugs and gangs, they are willing to intermingle and work together as a group, and it's just overall; it's a better prison environment than that of a normal prison environment," Lewis said.
Of Hartman, Lewis said: "He's a mild-mannered person. He is very smart. He's one of our clerks on the Honor Yard. He tries to be helpful. He's helpful to staff and supports a lot of programs on the Honor Yard."
Hartman's concept for the Honor Yard was to "treat civilized men as civilized men."
"Guys who conduct themselves in a civilized way get treated like civilized people," Hartman said. "We've taken guys who have a chance to make it in the free world and removed most of the stress they would experience in other parts of the prison and given them a chance to concentrate on transformational change."
Hartman's dream is living out his remaining days free of violence and able to spend his time writing.
"We've had a lot of support from the institution but none really from the Department of Corrections," Hartman said. "They haven't torpedoed the project but they aren't helping. I'd like to see this program take off at other institutions and grow here. We need outside support."
Hartman said he became concerned about 10 years ago when the Department of Corrections began cracking down on inmate misbehavior by punishing them in ways like taking away radios and hot plates.
"If you take these guys who spend all this time in prison and just beat them over the head, you're going to see them right back here after they're released," Hartman said.
Prisoners who already have lost everything don't have a motivation to behave, he said.
"They need to stop and think, hey I don't want to lose my visitation or I want to be able to go to that creative writing class I'm almost done with."
Hartman teaches a creative writing class to Honor Yard prisoners. Prisoners also can take vocational training and art classes.
"There's no supervision and no censorship," Hartman said. "It's just us writing what we see and what we feel."
Hartman's writings have been published in newspapers, national magazines and online writing Web sites. One work is a children's book, written for his daughter.
He is organizing his writings for publication and is also collecting his students' essays and hopes to have them published in a book.
To view Hartman's essay on the Honor Yard visit www.powerofpurpose.org
Staff Writer Karen Maeshiro contributed to this story.
---
Greg Botonis, (661) 267-7802 gregory.botonis@dailynews.com
---
Inmate dies of cardiac arrest
This story appeared in the Antelope Valley Press on Sunday, October 10, 2004.
By NICOLE JACOB Valley Press Staff Writer
LANCASTER - An inmate who was subdued after attacking correctional officers Friday at the California State Prison in Lancaster died after going into cardiac arrest, prison officials said. The death comes on the heels of two recent cases at the prison of inmate-on-inmate violence which left one inmate dead and another severely burned. "Prison is an unpredictable environment," said Lt. Ken Lewis, spokesman for the state prison in Lancaster. "There can be violence without a moment's notice and all we can do is respond with our procedures." Officers used pepper-spray Friday to subdue the 49-year-old inmate after he shouted incoherently and abruptly rushed at an officer about 4:15 p.m. in the prison's Facility D.
The inmate struck one officer, and was biting and kicking others, prison and sheriff's officials said. Once handcuffed and under control, the inmate was taken to the infirmary because he was having trouble breathing. His condition worsened and he went into cardiac arrest. Paramedics could not revive the inmate and he died after being transported to Providence Holy Cross Medical Center in Mission Hills. The inmate's name was not released pending family notification. He was serving prison time after a March 1998 conviction for voluntary manslaughter in Sacramento County, and had been at the prison in Lancaster since June 2000, Lewis said.
Last month, inmate Eddie Ralph Arriaga, 27, was beaten, stomped and strangled to death by his cellmate. Arriaga, in prison for second-degree burglary was allegedly attacked on Sept. 10 by his cellmate, a convicted rapist. The district attorney's office is pursuing a murder charge against the cellmate, who is now housed at Corcoran State Prison, Lewis said. The case remains under investigation.
Earlier this week another inmate was attacked by his cellmate and scalded with hot liquid, Lewis said. Neither of the inmates' names were released. Lewis said officers heard someone screaming from inside a cell just before noon on Thursday. They found the victim inside the cell covered in severe burns on his face, neck, upper body and arms. The victim was transported to the USC Medical Burn Center, where it was determined that he had second-degree burns.
The victim is now recuperating at the prison's infirmary, Lewis said. Inmates are allowed to keep hot pots and coffee warmers in their cell, and officials suspect that the victim's cellmate scalded him with boiling water, Lewis said.
The facilities where this week's incidents took place are now on a temporary modified lock-down in which prisoners are not allowed to leave their cells unless given special clearance to perform their job assignments. The Lancaster prison contains some of the most violent
criminals in the state, with most serving time for murder, rape or robbery convictions.
---
Inmate Killed Inside Cell
The Daily News of Los Angeles
September 14, 2004 Tuesday, Antelope Valley Edition
HEADLINE: INMATE KILLED INSIDE CELL;
SUSPECT WAS UNDERGOING MENTAL TREATMENT
BYLINE: Charles F. Bostwick, Staff Writer
LANCASTER - A state prison inmate undergoing mental treatment is suspected of killing another inmate in the cell they shared, officials said.
The suspect, whose name was not released, is being kept by himself in a prison cell while officials await the coroner's report on what killed Eddie Ralph Arraiga, 27, who was found with multiple injuries in their cell.
"At this time we've ruled it a homicide," California State Prison-Los Angeles County Lt. Ken Lewis said Monday.
If officials conclude the cellmate is responsible for Arraiga's death, he will be charged in Antelope Valley Superior Court,
officials said.
Arraiga had been imprisoned in August 2000 on a five-year sentence for an attempted robbery in West Covina. He had been at the Lancaster prison since September 2003 and was scheduled to get out in July 2005.
Both he and his cellmate were in the prison's administrative segregation unit for inmates who are disciplinary problems, could be in danger among the general prison population, or other reasons. Both were undergoing psychological treatment.
Administrative segregation inmates are allowed out of their cells only to shower, for 10 hours a week of closely guarded recreation, and, in the two inmates' situation, therapy, officials said.
Arraiga was put in administrative segregation after he destroyed another inmate's television set, Lewis said.
Officials did not say why the cellmate is imprisoned or why he was in administrative segregation.
Arraiga was found injured Friday afternoon in the two-man cell afteranother inmate yelled "man down," which is a jailhouse term inmates use when there is a serious problem with an inmate, Lewis said.
A correctional officer found Arraiga on the floor of the cell and hiscellmate standing at the cell door, Lewis said.
Arraiga was treated by prison medical staff and pronounced dead bythe prison doctor. Officials did not disclose the nature of Arraiga's injuries.
---
Lancaster prison at double capacity
County crime crackdown part of growing inmate population
This story appeared in the Antelope Valley Press on Saturday, August
7, 2004.
By HEATHER LAKE
Valley Press Staff Writer
LANCASTER - A crackdown on crime in the city of Los Angeles has likely contributed to overcrowded prison conditions in Lancaster.
California State Prison at Lancaster is already at double its capacity and as of early July began housing "sensitive needs" inmates in otherwise unlikely quarters, the day room.
About 125 prisoners now spend their days and nights on bunk beds in the day room. Sensitive needs inmates are those that have been persecuted on prison grounds because of drug debts or other conditions that put them at added risk among the regular prison population, said acting Warden Charles M. Harrison.
Harrison on Thursday was providing details about the overcrowded conditions to the prison advisory board.
"This kind of caught the advisory committee off guard," said Dennis Person, committee chairman.
What was once five or six buses weekly, loaded up at the reception center in Los Angeles and dispersed to state prisons, has more than doubled, creating an overage that is putting a strain on a half dozen or so prisons around the state, Harrison said.
With its 2,200 inmate capacity stretched to over 4,500, the prison was already bursting at the seams. Another 140, which is the maximum the day room can hold, aren't amounting to much more than an inconvenience, officials said.
And while no one likes the crowded conditions, Harrison pointed out that it could have been worse.
Initially the prison was informed it might have to make room for an additional 250 inmates in August, and had tentative plans to turn their vocational yard into another facility, a project that would have cost about $1 million.
Harrison said Thursday, however, that he now believes that will not be necessary because new prison education programs geared toward reducing the rate of recidivism among inmates is yielding positive results.
One program screens low-risk prisoners, removing them from the prison system and putting them into work furlough programs and halfway houses for the remainder of their sentences. Another program helps with job placement.
Part of the intention of Thursday's special meeting was to address concerns that may have arisen when a television station visiting the prison broadcast an incident in which an inmate from the make-shift ward had to be restrained by correctional officers.
Harrison and Ken Lewis, prison spokesperson, said that is the only incident that has taken place in the temporary area since it was first utilized in early July. No one was injured in the incident.
In addition to the extra inmates, the prison has also been given the extra dollars to put previously part-time employees to work full time. The prison gets an additional $32,000 a year for each extra
prisoner, which will be pro-rated depending on how long they stay.
Although the committee expressed concern that the state didn't let them in on their plans earlier, they expressed confidence in how Lancaster was handling the situation.
Harrison has vowed an open line of communication with the community through the advisory committee.
"We're going to be transparent . we're going to put it out there the way we are doing business," Harrison said.
Harrison, now acting warden, could be appointed permanently to the post by Gov. Arnold Schwarzenegger's office within the next 30 days.
Person applauded Harrison for his efforts to keep the lines of communication open with the committee which acts as a liaison to the public regarding prison issues.
"I think we're on the right track as far as the communication part of it," Person said.
---
http://www.sacbee.com/content/politics/story/9195189p-10120578c.html
Knight may not return to Senate
By Ed Fletcher -- Bee Capitol Bureau
Published 2:15 am PDT Thursday, May 6, 2004
Legislative aides to state Sen. William "Pete" Knight said Wednesday that the Palmdale Republican may be unable to return to the Senate before his November retirement.
Knight, who led the statewide effort to restrict marriage to heterosexual couples, has been hospitalized with acute myelogenous leukemia since mid-April.
Knight, 74, is unable to seek re-election to the Senate this year due to term limits. Knight was mayor of Palmdale and in the Assembly before he was elected to the Senate in 1996.
Whether he returns to the Senate depends on the course of action chosen by Knight and his doctors, said David Orosco, a Capitol spokesman for Knight.
---
latimes.com/news/local/valley/la-me-honor27apr27,1,6277873.story?coll=la-editions-valley
THE VALLEY
Crowding at Prison Threatens Honor Program
Dangerous criminals at the Lancaster facility are being housed with those who have pledged peace.
By Richard Fausset
Times Staff Writer
April 27, 2004
An innovative program that seeks to reduce violence among maximum-security inmates is being severely tested at the state prison in Lancaster, where a population squeeze is forcing officials to house dangerous criminals with others who have vowed to remain peaceful.
Since 2000, Lancaster's honor yard program has created a special housing area for prisoners who have promised to stay away from gangs, drugs and violence. Families, convicts and prison experts have praised the program for reducing violent incidents, and prison officials have considered taking the idea to other lockups around the state.
But last month, about 130 inmates who did not meet the criteria were transferred to honor yard housing, prison spokesman Lt. Ken Lewis said Monday. Some of them are responsible for a stabbing March 16 and a violent melee Friday involving six prisoners.
As a result of the fight, some honor inmates remained locked in their cells Monday while prison guards investigated the incident.
Lewis acknowledged that the transfer ran the risk of diluting the honors program.
"But our main goal is to house inmates, [and] we have to do what we have to do to house inmates. We're overcrowded," he said.
The honors yard now houses 850 inmates.
Lewis said that state corrections officials had told the prison to make more room for convicts with "sensitive needs," such as gang informants or other potential targets. In the last few weeks, the number of these inmates has doubled to 2,000.
That change displaced inmates who do not qualify for either the sensitive needs or honors program. Some were shipped to different prisons, but others remained at Lancaster, where the only beds available for them were in the honor yard, he said.
Kenneth E. Hartman, an honors program inmate, wrote a letter to Youth and Adult Corrections Secretary Roderick Q. Hickman after the March stabbing incident, saying he feared it was "the start of a spate of violence."
Lt. Charles Hughes, president of the local chapter of the California Correctional Peace Officers Assn., said that staff members also worried about the changes. But he hoped the prison could find a way to maintain peace in the yard, he said.
"Cops want it, inmates want it and management wants it," Hughes said. "I still think with some good managerial stuff we can make it work."
The recent melee was quelled when officers fired block guns and sprayed mace at the fighting inmates. Giving few details, Lewis said all of the honor yard's black inmates and those classified as racial "others" by the Department of Corrections — usually Asians or Pacific Islanders — would remain locked in their cells for the time being, because the fight involved members of those two groups.
A study released by Lancaster prison officials in 2003 compared illegal activity in the yard before and after the honors program was established. It showed that weapons infractions decreased 88%, violence and threatening behavior dropped 85% and drug-related offenses and trafficking were down 43%.
---
Los Angeles Daily News
Beaten prison guard in hospital
By Charles F. Bostwick
Staff Writer

Monday, April 05, 2004 - LANCASTER -- A state prison correctional officer remains hospitalized after an attack Friday by two inmates, officials said.
The officer, whose name was not released, suffered what prison officials described as minor hemorrhaging and swelling on the left side of his brain as well as injuries to his face and arms.
'He is improving, and that's good news for us," prison spokesman Lt. Ron Nipper said Monday.
The officer was attacked about 2 p.m. Friday in an exercise yard at the maximum-security California State Prison-Los Angeles County, officials said.
A group of inmates was in the yard when two men attacked the officer, knocking him down and kicking him in the head, officials said.
The assailants were identified as a 20-year-old inmate serving 13- and 18-year sentences for attempted robberies, and a 29-year-old inmate serving a 34-year sentence for multiple rape convictions.
Prison officials will investigate and turn over evidence to the Los Angeles County District Attorney's Office for a decision on whether to prosecute the men, officials said.
The inmates were transferred Friday to another prison.
They were identified as Gregory Paul Gaines, 20, who was sent to prison in April 2003 from San Diego County, and Harold Xavier Wesley, 29, who was sent to prison in 2001 from Los Angeles County.
---
http://www.avpress.com/n/tusty1.hts
Sex sting nets 'johns,' their vehicles
Team arrests prostitutes, grabs drugs, cash, cars
This story appeared in the Antelope Valley Press on Tuesday, March 23, 2004.
By HEATHER LAKE
Valley Press Staff Writer

LANCASTER - A prostitution sting on Sierra Highway over the weekend interrupted sex sales and sent 30 would-be "johns" home without their vehicles.
Thirty vehicles were seized by the Los Angeles County Sheriff's Department when the drivers attempted to solicit sex from undercover female deputies beginning as early as noon on day one of the three-day operation, said Capt. Carl Deeley, commander of the Lancaster Sheriff's Station.
The drivers of the impounded vehicles were either cited or arrested and five prostitutes were arrested.
The operation began at 7 a.m. Thursday and ended Saturday at 10 p.m.
Deeley said one of the most frequent nuisance complaints the Lancaster station gets is prostitution in an area of Sierra Highway.
The two-phase operation began with arresting "known prostitutes" on Sierra Highway and replacing them with the deputy decoys.
A 68-person Community Impact Team, which received one year of funding from the Los Angeles County Board of Supervisors, consists of 60 specially trained deputies and eight members of the vice squad. The posse converged on Lancaster, where they stayed at the Desert Inn on Sierra Highway for the entire operation.
"It takes a lot of cooperation to put something like this together," said Deeley, standing in front of the sheriff's station along with Deputy District Attorney David Berger, Mayor Frank Roberts and other local officials.
The city of Lancaster, Supervisor Michael D. Antonovich, the Lancaster Station Booster Club, the Desert Inn and Town and Country Inn all played roles in the success of the weekend roundup, which reached far beyond prostitution, Deeley said.
The Community Impact Team took to the streets of Lancaster, Quartz Hill and Lake Los Angeles with the Lancaster's gang unit, LAN-CAP or Lancaster Community Appreciation Project, Target Oriented Policing and the Narcotics Bureau, and relied on the cooperation of the Department of Children and Family Services, parole, probation and the district attorney's office to carry out search warrants.
Often limited manpower prevents the Lancaster station from serving its own search warrants, Berger said.
An unknown number of children were removed from residences containing "drugs, weapons and deplorable conditions," Deeley said.
In addition to the prostitution sting, three liquor stores were busted for selling to minors. They were On-the-Go Liquor, 856 East Ave. K; AM/PM, 918 West Lancaster Blvd.; and Bob's Too, 548 West Ave. I, Deeley said.
"We're in the business of cleaning up and that's what's happening," said Vice Mayor Henry Hearns.
Taking advantage of the extra manpower in town, Lancaster deputies were able to do a number of warrant searches throughout the weekend.
"We got a lot of extra help that freed up our resources to do the things we'd like to do on a regular basis," Berger said.
Some $20,000 in cash, three pounds of methamphetamine, 12 ounces of cocaine, more than a pound of marijuana and a small amount of LSD were confiscated.
In total, 44 vehicles were towed, 32 of them seized; 39 infraction citations were issued; and 81 felony arrests were made in addition to 130 misdemeanor arrests.
Lancaster's Nuisance Vehicle Ordinance allows the Sheriff's Department to seize vehicles used in criminal activity, and after hearings are sought, they likely will be forfeited by their owners. Those vehicles, once all legitimate liens are paid, will be sold by the city with the profits going to the city after the Sheriff's Department's associated costs are repaid, Deeley said.
With about 700 arrests having taken place in February, 211 in three days is a big deal, Deeley added.
Berger said the impact of such an operation sends a clear message that Lancaster will not tolerate nuisance crimes, such as prostitution, in the community.
"That's against the law … and we don't want it in Lancaster," Berger said, while also taking the opportunity to make an apparent plug for the ballot measure coming before Lancaster voters in April that, if approved, would put 10 additional deputies on the streets.
"Over the last few days you've had a glimpse of what can be possible," Berger said.
Called an "amazing, successful" venture by Berger, the Lancaster station is already back in line for another turn with the special team.
---
http://www.mercurynews.com/mld/mercurynews/news/local/7753741.htm
Posted on Tue, Jan. 20, 2004
Stolen razor blades lead to Lancaster prison lockdown
Associated Press
LANCASTER, Calif. - More than 1,000 state prison inmates were in the second week of a partial lockdown Tuesday as guards searched for 100 razor blades stolen from the auto shop.
The single-edged blades, prized as weapons and as prison currency, were discovered missing Jan. 5 after someone forced open the door of the tool room in the auto body paint shop, prison spokesman Lt. Ken Lewis said. The auto body paint shop is part of the vocational training program at California State Prison, Los Angeles County.
No arrests were immediately made.
About 1,060 inmates of maximum security Facility B were placed on a modified program, meaning that they cannot receive packages, telephone calls or attend religious services, cannot use the exercise yard and must eat in their cells, Lewis said.
Guards had searched the yard and some cells and were interviewing inmates but had yet to find the missing blades, he said, adding that the search may continue through the week.
Lewis said he could not recall a similar theft. The blades make "the perfect concealed weapon" and may have been sold by the thief to other inmates for money, cigarettes or canteen items, Lewis said.
"When you're living in a maximum security prison it's not uncommon for inmates to arm themselves, because you just don't know when you might be a victim of assault," he said.
The prison is located about 40 miles northeast of Los Angeles.

---

Letter from Jeremy B, who has had a broken leg since December, and yet nothing has been done:

Today is Wednesday, January 26, 2004. We took all of our property to Receiving and Release. I am being transferred to Corcoran on Friday. I was seen by the doctor on Wednesday 1/22/04, but have not had the X-Rays nor the Leg Brace. The doctor ordered Motrin 3X a day 600 mg. She (the doctor) was very angry that I was not seen as an emergency case. While in R & R the Warden
called me out of 40 guys and looked at the bone hanging out of my leg and was also angry as he said that he was sorry for the three (3) month delay and that they will follow up on care at the new institution. I was surprised and very happy. Thank you Sandy!

There have not been any searches in our building. No canteen. No special purchases delivered to us (the typewriter you ordered last fall and delivered to Lancaster on December 10, 2003). Nothing given to us. We have been rushed thru classification and are being rushed out of here by the hundreds. I suppose I'll get the typewriter where I am going.

Yesterday I woke up hearing my cellie choking out his name. He tried to hang himself with a sheet tied onto the vent. After talking with him for approx. 10 hours, he tried it again. I then reported it to the Sgt. and he went to psy-mental health watch.

Praise the Lord, the transfer is a good thing for all of us. The neglect is so overwhelming that hunger, depression, and the begging for food, cigarettes, and the selling of our lunch items shows that a skid-row homeless appearance is a normal thing. The picking up of cigarette butts off the gorund is openly done and no one looks down on anyone who does it. At least I will have $40.00 to spend on my canteen when I arrive to the other prison and I should be able to make money as soon as I receive my typewriter. I plan to do my final appeal using the laws you sent. Thanks again.

As far as the books are concerned, mail them to Corcoran prison. I do need a Large Print Blacks Legal Dictionary. Then I should be on my way. As for as the other books you suggested, I would like to read something on Martin Luther King -- his writings -- anything else you and P. think I may need to prepare myself for writing a book.

Well, wish me luck. I'll be at Corcoran by Saturday or by the time you receive this letter.