http://www.latimes.com/news/local/la-me-cage6feb06,1,5621030.story?coll=la-home-local
THE NATION
Youth Authority to Review Use of Cages
Inmate advocates say the 'secure program areas' for teaching violent youths are inhumane, call for a ban.
By Jill Leovy and Jia-Rui Chong
Times Staff Writers


February 6, 2004
Under pressure to educate more juvenile prisoners and keep them and their teachers safe, the California Youth Authority came up with a novel solution in 1998: cages.
Today, those cages — first hailed as a symbol of educational progress — are being castigated as something more thoughtless and inhumane. And the Youth Authority is reviewing whether they should be eliminated.
"Everyone — everyone — would like to get rid of these cages. It looks bad," said Jerry Harper, the Youth Authority director who opted to maintain the system until he was replaced in December.
Cages remain in use, he said, because they work. Inmates assigned to them "have been in classrooms, but have been attacked. Or they fought in class, or on the way to class," he said. The cages allow youths "to get an education and not attack teachers or be attacked," he said.
But to Youth Law Center lawyer Sue Burrell, the cages sum up the youth authority's reliance on dehumanizing policies of "punish, punish, punish."
The cages bring to mind circus animals, she said — "Barnum & Bailey tiger cages … dog kennels."
At issue are 70 or so such cages now in use at the four highest-security youth prisons in the state. They were introduced in 1998 as a temporary compromise — a way to make sure that inmates (called wards in the juvenile system) who were violent still received personal instruction, and were not left to languish in high-security cells.
The cages, called "secure program areas," were highlighted in a recent series of critical reports on the agency's 14 youth correctional facilities and camps, which house nearly 4,400 juvenile offenders.
One report quoted a clergyman who called the cages "demonic," and legislators have responded with demands for change. Youth Authority officials have promised to study their replacement.
The cages essentially are large boxes in which wards are supplied with a chair and desk, and teachers instruct them through a barrier of metal mesh or chain link. They provide a visually striking emblem of a system that critics say is fraught with danger.
But to some Youth Authority insiders, the cages represent something more complicated: a system cornered into sometimes bizarre contortions by new demands. Cages were a distasteful but necessary step to deal with conditions that outsiders often fail to appreciate, they argue.
"It is not as shocking to [teachers] as to people from the outside looking in," said Jim Boyle, chief steward for the California State Employees Assn.'s District Labor Council 769, Stockton-Lodi, and a fine arts teacher at N.A. Chaderjian Youth Correctional Center in Stockton.
Jesse Espinosa, another Chaderjian teacher, requested the cages for his classroom and does not consider them demeaning. He used to go from cell to cell handing out assignments, but found the wards were too easily distracted.
The cages are more quiet and personal, tend to reduce gang tensions and produce a better learning environment, he said. "Believe it or not, a lot of guys would rather come over here because they don't feel safe" in a classroom setting, he said. "Sometimes the kids don't want to go back…. I have to tell them, 'Guys, you gotta go home.' "
The cages were themselves a response to reform demands. Their use began in 1998, when the Youth Authority, under pressure to improve education services, began seeking ways to better teach wards in lockdown status.
Previously, these wards, kept in high-security cells, got little teaching at all, said Kenneth Howell, a Western Washington University professor who served as a court-appointed monitor for education reforms in the Youth Authority.
But the Youth Authority, sued in 1989 by the Youth Law Center on behalf of special-education students, was forced to drastically expand its school program, and by the late 1990s had embraced the idea of education so enthusiastically that it instituted a policy far beyond the requirements of law. It was called "no diploma, no parole" — high school programs for all wards. The number of wards receiving diplomas while in custody shot up. The agency handed out 572 high school diplomas and GEDs last year.
Efforts to extend education to inmates in lockdown, however, did not go as smoothly. First, officials tried passing stacks of worksheets into the wards' cells through food slots.
Advocates objected, so the Youth Authority sought another way. Officials were not able to say exactly how the cages came to be, but some agency observers said the first at the Herman G. Stark facility in Chino were adapted from small recreation pens. Others said the idea was copied from adult prisons.
The use of cages expanded to other Youth Authority institutions. After Stark and Preston, in Ione, Calif., begin using them, N.A. Chaderjian and Fred C. Nelles in Whittier followed suit. All are high-security facilities. About 400 wards are educated in cages, advocates say.
For all that the idea had a medieval taint to some, the cages were a symbol of progress at the time. They showed just how far the Youth Authority was willing to go to educate arguably the most difficult students in the state.
The cages were built by the state Corrections Department, and their design varies. Those at N.A. Chaderjian are 4 feet by 4 feet, and made of square steel stock, as are those at Nelles and Preston, according to a Youth Authority task force report provided by Youth Law Center. Those at Stark are larger, and enclosed by chain-link fence.
Boyle, the teacher, said those he has seen are tall enough for standing, and wide enough for students to walk around. They are arranged in a semicircle around a teacher's desk, and are equipped with slots at waist level for teachers and students to exchange papers.
The cages used to be gunmetal gray, the typical color of metal, he added, but have since been painted "blue and green, real pretty colors" to soften their look, Boyle said.
Almost from the first, the cages sparked ambivalence. "They were a half measure. No one believed they would be there forever," said Richard Rios, a physical education teacher at the Northern Youth Correction Reception Center in Stockton.
Some teachers had a gut-level reaction to trying to teach through chain link, wearing a flak jacket and confined behind a yellow line, he said. Yet now, many worry that without the cages, teachers would be exposed to new dangers, he said.
Teachers union leaders offered examples of belligerent wards who have exposed themselves, made threats, or "gassed" members of the teaching staff through the barriers of the cages — dousing them with cupfuls of urine.
Such incidents probably would have been worse had it not been for the cages, Rios contends. (Youth Authority officials confirmed that attacks on teachers have occurred, but did not provide details.)
Howell, the court-appointed monitor, said he remembers asking wards, " 'What do you think of this thing?' They would say, 'It's fine with me. I don't have to worry about my back….' I guess I thought it was a legitimate compromise."
The agency's own task force on the cages concluded in 2002 that their use should be reduced, but did not recommend that they be scrapped.
Burrell, the public interest attorney, contends that there was no reduction in their use. The report said that some wards and teachers saw them as degrading, especially at first. But Harper contends that some wards deliberately committed infractions in order to be assigned to lock-up units with cages, where they felt safer.
Such defenses only underscore the unacceptable levels of violence in the system, countered Sara Norman, a staff attorney with the Prison Law Office, a nonprofit group which has sued the agency over conditions in the state's youth prisons. "If the only place a ward feels safe is in a cage, what kind of system is that?" she said.
Advocates want the agency to incorporate better conflict-resolution programs and treatment for violent wards, and a system to classify risks that wards pose. They argue that some youths who are not really dangerous are being relegated to cages.
The way to make the facilities safer for wards is "not to treat them like animals. It is to treat them like human beings," Norman said.
"There is no real quick solution," countered Rios, the teacher. "We will never give up on education, but it is not realistic to move from where we are right now … to throwing these kids into a classroom."
---
http://www.mercurynews.com/mld/mercurynews/news/7862064.htm
Posted on Tue, Feb. 03, 2004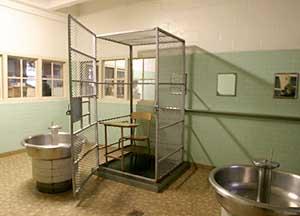 Lockup blasted
By Karen de Sá and Mark Gladstone
Mercury News
SACRAMENTO - California subjects young inmates to the harshest punishments of any juvenile detention system nationwide, confining offenders in steel-mesh cages, locking them in cells for 23 hours a day and using Mace and tear gas not only to break up fights, but also to pry wards from their rooms, according to state-commissioned reports.
In five reports released Monday on the California Youth Authority, experts who studied the system for as long as a year described institutions where danger is constant and violence is commonplace. Approximately 75 percent of the male wards belong to gangs, and gang-related assaults occur every day, they found. Also, some facilities are decrepit.
The authority houses more than 4,000 youths who are deemed California's most dangerous -- having committed serious crimes such as murder, assault with a deadly weapon, and rape. The critiques of its facilities are the latest in a flurry of reports that have slammed the state's correctional system, prompting Gov. Arnold Schwarzenegger to launch a blue-ribbon commission. The state declined to challenge the reports' findings.
The most powerful of the reports is the handiwork of author Barry Krisberg, president of the highly respected National Council on Crime and Delinquency in Oakland, who studied living conditions in six of the state's 10 Youth Authority institutions. During 2002, Krisberg recorded more than 4,000 assaults and almost 1,000 incidents of sexual harassment -- a level he said is ``unprecedented in juvenile corrections across the nation.''
Krisberg reported that guards do not prevent violence; they react to it and sometimes make volatile situations worse by provoking wards and using ``expletives and coarse language.'' One institution averaged more than an incident a day in which a guard sprayed a ward with Mace.
``It is abundantly clear . . . that the YA is a very dangerous place, and that neither staff nor wards feel safe in its facilities,'' Krisberg concluded. ``An intense climate of fear permeates California's state youth corrections facilities.''
Calling on governor
Arguing that rehabilitation cannot take place in an institution ruled by fear, Krisberg is urging Schwarzenegger to examine conditions in Youth Authority facilities and immediately halt the use of cages.
The governor, who is simultaneously confronting serious problems of abuse and cover-up in the adult prison system, responded Monday by calling for the commission, citing overspending, corruption and the code of silence among officers unwilling to disclose wrongdoing.
``We want to clean the place up; we want to really bring order in there, because it can't continue on like that,'' Schwarzenegger told KFBK-AM, a Sacramento radio station. ``I've campaigned on that, that if I see something wrong with government I want to fix it.''
``All the expert observations substantially are correct,'' said Tip Kindel, a spokesman for the Youth & Adult Correctional Agency, which oversees the Youth Authority. He said Schwarzenegger's corrections secretary, Roderick Hickman, inherited the situation but is committed to addressing the problems raised in the reports.
Monday, corrections officials allowed a Mercury News reporter to tour the Youth Authority's oldest facility, the Preston Correctional Facility in an agricultural expanse south of Sacramento. The reporter interviewed wards and saw some of the living conditions coming under fire -- steel cages, and cells housing inmates for 23 hours a day, some who are suicidal or have serious mental disorders.
The cages are known as SPAS at the Youth Authority, an acronym for Special Program Areas. They exist in all the institutions and are reserved for wards who have attacked teachers or other inmates. The cages, some equipped with a desk and chair, are generally grouped side-by-side and used for schooling, with the teacher sitting outside. But psychiatrists also conduct sessions in cages, and the larger ones are where youths in 23-hour lockup exercise.
The authority's mission is to help youths with deeply troubled pasts begin to build a future. But when they get to Youth Authority, the trauma they experienced can be exacerbated, senior psychiatrist Jim Telander said while reviewing files Monday at the Preston facility in Ione, where he is one of 10 psychiatrists responsible for the 575 wards.
Other concerns
In addition to living conditions, the reports surfacing this week detail issues with mental health, substance abuse, gang violence and education. Observers said the reports could be the lightning bolt that brings real change for inmates. The reports commissioned by the state attorney general follow a lawsuit by the San Francisco-based non-profit Prison Law Office demanding an end to inhumane conditions at the Youth Authority.
Sen. Gloria Romero, D-Rosemead, said her ``gut reaction is that this is really the Titanic when it comes to correctional policy in California.'' She cited the unprecedented levels of violence and ``a mental health delivery system that sounds like it's something out of the 1930s mental hospital.''
Krisberg's report describes a system that has been unable to change, because of resistance from the prison guard union, as well as lack of money and training. In some cases, the California Correctional Peace Officers Association has objected to ending harsh treatment intended to change behavior, arguing that the wards must not be ``coddled.''
The union could not be reached for comment.
Interviewed at the Preston facility Monday, 20-year-old Rodrigo Orozco said the cages and 23-hour lockdowns are dangerous for suicidal inmates. Orozco currently is at the Ironwood Lodge, where two teenage inmates hanged themselves earlier this month in a double-suicide. Home to a 60-day program for violent and aggressive wards, Ironwood is a step up for Orozco, who once was housed in cages but now works a coveted laundry detail.
``Mainly you're by yourself and you can't talk to other people,'' he said. ``You don't get that much sunshine.''
In his report, Krisberg said then-Gov. Gray Davis made some efforts at reform, but the system remains as engulfed in violence as it was four years ago when the corrections system watchdog -- the Office of Inspector General -- wrote a scathing report about conditions at the Youth Authority. He put officials on notice that major reforms were needed.
The authority is praised in two of the reports for a reduction of gang violence in 2003 and for providing some ``exceptional'' educational programs.
In Southern California institutions, racial tensions often explode. ``The Hispanic wards and the African-American wards are literally at war with one another,'' wrote Brian Parry, former head of the Department of Corrections internal affairs unit.
A youth chaplain summed up the situation thusly: ``The YA has a serious problem with gangs, but their solutions are demonic.''
Contact Karen de Sá at kdesa@mercurynews.com or (408) 920-5781.

---
http://www.latimes.com/news/local/la-me-cya4feb04,1,7997626.story?coll=la-home-headlines
Disarray in Juvenile Prisons Jolts Capital
By Jenifer Warren
Times Staff Writer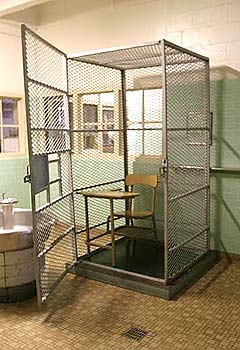 February 4, 2004
SACRAMENTO — Already grappling with a staggering budget crisis, Gov. Arnold Schwarzenegger faces a growing consensus that the state's vast prison system is dysfunctional, corrupt and plagued by violence.
This week a series of reports hammered the juvenile system on all fronts, including the "decrepit" condition of its facilities, the "stunning" level of violence within its walls, and the substandard medical and psychiatric care it provides wards, as young inmates are called.
Those disclosures followed a federal court investigator's report 10 days ago that the Department of Corrections, which runs the adult prison system, was plagued by a "code of silence" that protected rogue guards from punishment, corrupted recruits and was condoned by leaders at the very top.
In recent years, such disclosures have sparked little interest at the Capitol, where most politicians have protected the nation's largest prison system and spared it from budget cuts. But times clearly have changed.
Last week, the new governor told the Sacramento Press Club that "we have a big, big problem that we have inherited … in our prisons: corruption and all kinds of things…. I take this very seriously, this problem that we have."
On Monday, he alluded to the crisis again in a radio interview, saying, "We want to clean the place up; we really want to bring order there."
Legislators too are giving greater scrutiny to correctional facilities, which account for almost $6 billion in state spending each year.
On Tuesday, state Sen. Gloria Romero (D- Los Angeles) offered her assessment of the reports released on the Youth Authority. The reports, based on visits and confidential interviews, were prepared by independent experts as part of a class action lawsuit by wards alleging inhumane conditions in the juvenile prisons.
Calling those conditions "chilling," Romero joined two corrections experts in demanding immediate reforms — most notably, that the state stop isolating troublesome young convicts in steel-mesh cages not much bigger than phone booths.
Romero also said the Youth Authority was "totally failing" in its mission to rehabilitate youths who commit crimes, and suggested that a court order and a team of outside reformers might be needed to turn it around.
"We clearly have a juvenile detention system that is in chaos, ruled by fear and neglect," said Romero, chairwoman of the Senate committee on corrections. Despite spending about $80,000 annually on each young offender, the Youth Authority has a "shameful" record, both in its treatment of juveniles and in the public safety results it delivers, she said.
In January, top administration officials were called to answer tough questions before a Senate oversight committee; more hearings are planned later this month. One senator called the penal system "rotten," while another has suggested that the Department of Corrections is in such crisis that it might best be run by a federal court.
Roderick Q. Hickman, Schwarzenegger's new head of the Youth and Adult Correctional Agency, has acknowledged "appalling" problems in the system and promised to root out corruption and push through reforms.
But already scholars who have tracked California prisons for decades are expressing concerns about two Schwarzenegger moves.
The first is his proposal to slash the budget of the Office of the Inspector General and put the prison watchdog agency under Hickman's umbrella, where critics say it will be unable to operate independently. Also raising red flags was the governor's statement Monday that he would bring in a team of experts to study problems in the prisons.
"The last thing we need is another task force or another study," said David Steinhart, whose juvenile justice organization first published reports about problems in the Youth Authority 20 years ago. "What we need are leaders … with vision to bring about change."
Political analysts say Schwarzenegger needs to act decisively on the prison crisis, given the crescendo of troubling reports. But much of the electorate, they add, probably sees the crisis as an essentially intractable problem, immune to overnight fixes — much like air pollution or other environmental ills.
"Most voters know that prisons are one of these ongoing crises," said GOP strategist Dan Schnur. "So while it may bother them, they will be satisfied if they see their leaders striving toward a solution."
Steve Maviglio, press secretary to former Gov. Gray Davis, called prison reform an issue "that is always politically volatile. Disturbing the status quo always will be challenging, because there are lots of personalities involved with lots of connections."
Among those on the hot seat is newly appointed Youth Authority Director Walter Allen III. Steinhart and others expressed skepticism about Allen because his career has mostly been in drug enforcement, not in the juvenile or correctional fields.
In an interview, Allen called himself "a man of action" who is eager to "turn some pretty bad negatives into positives." He said he was studying the reports and examining whether using the steel cages to segregate certain youths was necessary.
"That's the one that leaps off the page at you," he said. "I want to proceed swiftly, but I also want to proceed cautiously, so I can make a once-and-for-all correction instead of applying a Band-Aid."
Introduced in 1998 and employed in no other state, the cages (about 70 of them are used in four prisons) were designed to permit teachers to safely educate wards who were in special detention — sometimes for assault, more often for other misbehavior. Before the cages were introduced, Allen noted, these wards were taught through the food slots in their room doors.
Known as special protective areas, or SPAs, the cages vary in size. Those for educating youths are 4 feet by 4 feet wide and tall enough to stand in, officials said. A larger variety — about 12 feet by 15 feet, and 10 feet high — lets wards get a little exercise.
One of the experts' reports said the cages had made some staff members feel safer. Other staff members, however, recognized that use of the cages could be "dehumanizing" and said they did not help resolve "the underlying conflicts that would flare up again as the wards were released."
Romero called the cages barbaric, and said their use, combined with violence, use of Mace by staff members and other problems found in the experts' exhaustive reports, reminded her of a 1930s mental institution.
Donald Specter, lawyer for the wards suing the state, agreed, saying, "We knew when we filed the lawsuit that things were bad, but we were frankly shocked by these reports." He noted that one of the reviewers had called the level of violence in the Youth Authority "off the charts," and the use of Mace unheard of elsewhere in juvenile detention systems nationwide.
"This is a system that needs a complete overhaul," Specter said. "And I don't know that one new director and one new secretary can do it by themselves."
Sue Burrell of the Youth Law Center, an advocacy group for juvenile offenders, said many of the problems had been brought to light four years ago at legislative hearings. "Things are markedly worse," she said. "It's very frustrating and discouraging."