Pelican Bay State Prison
---
---
Several stabbed, 1 shot in prison riot
Sean Garmire/The Times-Standard
Article Launched: 06/07/2008 01:15:23 AM PDT

A Pelican Bay State Prison riot that broke out in an exercise yard Friday morning was stopped by correctional officers after a number of inmates had been stabbed, and one was shot.
When the pepper spray cleared, eight prisoners were in need of medical attention -- one of whom was shot through the shoulder by an officer's Mini-14 .223 caliber rifle. They were taken to an outside hospital and treated. None of the injuries were lethal, prison officials reported.
Authorities estimate about 40 prisoners were involved in the riot, and though it lasted no longer than five minutes, Pelican Bay Lt. Ken Thomas described it as "total chaos."
The "staff didn't have any idea this was going to happen," he said. "We had inmates who were being stabbed in the facility."
When the skirmish ended, officers found four prisoner-made weapons at the scene.
Personnel at the prison were still sorting out what started the riot and who was involved Friday afternoon, but Thomas said all the inmates taken into custody so far have been white or black.
"We don't have any indication this was gang related," Thomas said. "It appears on the surface to be racially motivated."
None of the prison staff were injured Friday.
Thomas said it started small as a scuffle at about 10:25 a.m., then spread across the yard. Correctional officers gave verbal orders to stop, then deployed high-grade pepper spray with canisters and grenades.
Thomas said when inmates did not respond to the orders, officers at elevated positions began firing with rubber bullets. Two lethal weapons were discharged in the riot; one was fired as a warning, the other tore through a prisoner's shoulder.
After bullets were fired, Thomas said "we finally got the inmates to comply and get down on the ground."
All the prisoners who are suspected of involvement have been placed in segregated housing. The suspects' names have so far been withheld, and their weekend visiting rights have been suspended.
The riot was isolated to Facility B, a maximum-security general population yard where prisoners exercise. It is one of two similar yards at the prison facility.
Pelican Bay is located in Crescent City, 13 miles from the Oregon border. Inside its walls, 3,400 minimum and maximum custody inmates are held.
Thomas reported prison authorities will continue their investigation of the incident to find what precipitated the riot, and determine who is responsible.
In addition to the prison investigation, the California Department of Corrections and Rehabilitation's Deadly Force Investigation Team, the Office of the Inspector General's Bureau of Independent Review and the Del Norte County District Attorney's Office will look into the incident.
"We can't emphasize enough, at no time was the public at danger," Thomas said. "Our staff reacted and responded as they're trained to react and respond."

Sean Garmire can be reached at 441-0514 or sgarmire@times-standard.com .
---
Riot at Pelican State Bay Prison sends 8 inmates to hospital
The Associated Press
Article Launched: 06/07/2008 01:17:27 PM PDT

CRESCENT CITY, Calif.—State corrections officials are investigating what caused a violent inmate riot at Pelican Bay State Prison near Crescent City.
A prison spokesman says more than 40 inmates were involved in a brief, but chaotic fight in the maximum security prison's outdoor exercise yard Friday morning.
A number of inmates were stabbed, and one inmate was shot in the shoulder when guards fired a rifle to stop the violence.
Eight inmates were taken to a nearby hospital for treatment. None had life-threatening injuries.
Guards found four prisoner-made weapons at the scene.
Prison officials say the riot appears to have been racially motivated.
Gang-related violence involving more than 60 inmates broke out at the 3,400-inmate facility in January.
———
Information from: Times-Standard, http://www.times-standard.com
---
Second riot in less than three weeks erupts at Pelican Bay
Sunday, January 20, 2008
(01-20) 15:07 PST Crescent City, Calif. (AP) --
Investigators are probing the cause of a second riot in less than three weeks at California's maximum security Pelican Bay State Prison.
A prison spokesman said violence involving more than 60 inmates broke out in the prison's outdoor exercise yard Friday afternoon.
Two inmates seriously injured in the melee were taken to a nearby hospital for treatment. Two guards trying to quell the disturbance suffered minor injuries.
Pelican Bay spokesman Lt. Ken Thomas said that the "gang-related" fighting began in three separate locations at the same time, which suggests the incident was probably planned in advance.
A Dec. 31 riot involving rival gang members imprisoned at the 3,400-inmate facility left two guards injured and more than 20 inmates hurt.
---
Editorial: It's no time for federal court to stop oversight
Use of force in California prisons remains an issue, as does the code of silence.
-
Published 12:00 am PDT Saturday, November 3, 2007
If you want to see the difficulties reformers face transforming California's prison system, the Pelican Bay State Prison provides the picture.
The remote, "supermax" prison has been subject to federal court oversight since U.S. District Court Judge Thelton Henderson found in 1995 that the prison ignored the use of excessive force against inmates and provided substandard medical care. He ruled that mentally ill inmates could no longer be confined in the isolation unit, called the Security Housing Unit.
But now Special Master John Hagar is considering recommending that the court wash its hands of the use-of-force issue. In his latest filing with the court on Oct. 12, Hagar lauds the newly created Bureau of Independent Review, which has monitored use-of-force investigations and discipline since January 2005. He wrote that he might recommend in January an end to the court oversight of use of force required under the Gomez v. Madrid case.
While the new bureau is a spot of good news for the prison system, serious problems remain and the court must address them before ending its oversight.
Here's an example of what the court and the Bureau of Independent Review face: When a captain reported an excessive force incident, other staff threatened him and a union official posted a metal rat trap, implying that he was a "rat" – an informant.
Recall that Hagar noted in his June 2004 report that the union had shown that it will "continue to interfere with administrative and criminal investigations of correctional officers who abuse inmates, and that the union will continue to enforce the code of silence in the California Department of Correction's prisons." Has that changed?
Apparently not, for Hagar's latest filing speaks of the "continuation of a culture that does not care about excessive force or the code of silence."
Overall, Hagar acknowledges that "underlying problems" within the Department of Corrections and Rehabilitation have grown so severe that they threaten the progress on use-of-force issues. Turnover is so high that the bureau is reduced to "hand holding" because managers are unaware and lack experience in investigation and discipline.
Worse, only at the Pelican Bay prison is there any consistent review process – and it is at the prison level where the court wanted use-of-force and code-of-silence problems to surface. Hagar concludes that "nothing substantial" has been achieved at any prison.
Most troubling is Hagar's observation that the department makes no changes except under court order. He fears that as soon as court oversight ends the department "may start to ignore all that has been achieved" and revert to old practices within months.
Hagar asks the right question: "Is the degree of success that has been currently achieved at an adequate level to justify an end to monitoring?"
He doesn't offer an answer. Put another way, the issue is whether having an effective Bureau of Independent Review, in the face of little change at the prison level and department level, is enough to justify an end to court oversight.
Sad to say, it's apparent that the prison system still needs outside scrutiny – and the federal court remains the one to stay on this painful, difficult job.
---
Life in Solitary Confinement
At Pelican Bay Prison, a Life in Solitary
by Laura Sullivan


Two prison officers escort an inmate out of his solitary-confinement cell while other officers search his unit for contraband. Almost every prisoner at Pelican Bay wears only underwear.


Conservative estimates say that there are more than 25,000 inmates serving their sentences in solitary confinement in 40 states. Most have been there for more than five years. They live in small cells, with no human contact, no TV, radio or other mental stimulation.


The outside "yard" at Pelican Bay. Inmates are allowed an hour-and-a-half alone in this small, enclosed space each day. They are not allowed to bring anything except the clothes they're wearing.



TIMELINE: Solitary Confinement
The use of solitary confinement has become widespread in U.S. prisons over the past two decades, but its use actually dates back more than 180 years. From the Quaker philosophy that inspired the practice to its prevalence today, read a history of solitary confinement:


Officers at Pelican Bay tear apart a Secure Housing Unit -- or SHU -- cell after learning an inmate may have gotten hold of a metal binder clip and fashioned it into a weapon.



ABOUT THIS SERIES
This is the first report in a three-part series from NPR crime and punishment correspondent Laura Sullivan.
Part 2 -- Thursday, July 27: At Oregon State Pennitentiary, corrections officers are rethinking the idea of isolation and wondering if there might be a better way.

Part 3 -- Friday, July 28: Daud Tulam spent 18 years in solitary confinement in New Jersey. He's now free and trying to adjust to life on the outside.



A view of the hallway in a "pod" at Pelican Bay. Each hallway houses eight cells. Each pod has six hallways. There are 132 such hallways at the prison.

NPR.org, July 26, 2006 · Associate Warden Larry Williams is standing inside a small, cement prison cell. Everything is gray concrete: the bed, the walls, the unmovable stool. Everything except the combination stainless-steel sink and toilet.
You can't move more than eight feet in one direction.
"Prison is a deterrent," Williams says. "We don't want them to like being in prison."
The cell is one of eight in a long hallway. From inside, you can't see anyone or any of the other cells. This is where the inmate eats, sleeps and exists for 22 1/2 hours a day. He spends the other 1 1/2 hours alone in a small concrete yard.
This is the Security Housing Unit -- or the SHU (pronounced "SHOE") -- at Pelican Bay State Prison in northern California. With more than 1,200 inmates, it's one of the largest and oldest isolation units in the country, and it's the model that dozens of other states have followed.
Although all the inmates are in isolation, there's lots of noise: Keys rattle. Toilets flush. Inmates shout to each other from one cell to the next. Twice a day, officers push plastic food trays through the small portals in the metal doors.
No Contact but the 'Pinky Shake'
Those doors are solid metal, with little nickel-sized holes punched throughout. One inmate known as Wino is standing on just behind the door of his cell. It's difficult to make eye contact, because you can only see one eye at a time.
"I've got my paperwork, my books to read, my little odds and ends," he says, pointing to the small items carefully organized throughout his cell.
Wino fears he'll get in trouble for talking; he asks that NPR not use his real name. Wino is a 40-something man from San Fernando, Calif. He was sent to prison for robbery. He was sent to the SHU for being involved in prison gangs. He's been in this cell for six years.
"The only contact that you have with individuals is what they call a pinky shake," he says, sticking his pinky through one of the little holes in the door.
That's the only personal contact Wino has had in six years.
'Pods' of Isolation Cells
There are five other hallways like this one, in what prison officials here call a "pod" of cells. The hallways shoot out like spokes on a wheel. In the center, high off the floor, an officer sits at a panel of blue and red buttons controlling the doors. The officer in the booth can go an entire shift without actually seeing an inmate face to face.
Far below, an inmate walks a few feet from his cell, through a metal door at the end of the hallway, and out into the yard.
The exercise yards at Pelican Bay are about the length of two small cars. The cement walls are 20 feet high. On top is a metal grate -- and through the grate is a patch of sky. Associate Warden Williams says they don't allow inmates to have any kind of exercise equipment.
"Most of the time, they do push-ups. Some of them just walk back and forth for exercise," he says. "We don't allow them to have any type of balls or -- I don't know what you call it -- any kind of activity out here. It's just basically to come out, stretch their legs and get some fresh air."
Monitor. Control. Isolate.
Inside the SHU, there's a skylight two stories up. But on an overcast day, it's dark, and so are the cells. There are no windows here. Inmates will not see the moon, stars, trees or grass. They will rarely, if ever, see the giant, gray building they live in. Their world -- 24 hours a day, seven days a week, every day of the year -- is this hallway. There are 132 hallways at Pelican Bay just like this one. They are all full.
More than 40 states operate facilities like Pelican Bay. Inmates aren't sent here by judges or juries. No prisoner is sentenced to isolation. It makes absolutely no difference what crime you committed on the outside. It's how you behave on the inside that counts, and every state has different rules for how you get here. In some parts of the country, the decision belongs to a small group of state officials; in other states, it's up to the warden.
Prison officials at Pelican Bay say the 1,200 inmates here are in segregation because, since arriving in prison, they have been the most violent, dangerous inmates in California.
"The intent is to monitor, to control, to isolate," says Lt. Steve Perez, who has worked at Pelican Bay for 17 years. "This is in response to their behavior. That's why you have facilities like this."
Each month, officers squeeze soap, shampoo and toothpaste into paper cups for the inmates. They are issued a jumpsuit, but in two days at the facility, there doesn't seem to be a single prisoner wearing one. All of them are wearing their underwear, white boxer shorts, t-shirts and flip-flops.
'It Breaks You Psychologically'
"You find yourself being by yourself, and sometimes you don't like what you see," said one inmate named Jason, a young-looking 39-year-old from Sacramento.
Four years ago, Jason violated his parole on a robbery charge and was sent to prison. A few months after he arrived, prison officials suspected he was involved in a prison gang and sent him to isolation. He's been in the SHU ever since.
"A lot of guys go [crazy], really, and sometimes I ask myself, 'Am I losing it, right?'" Jason says behind his small cell-door holes. "It breaks you psychologically, right? People do develop phobias. You start thinking people are talking about you when they're not."
When inmates do go crazy, there is another part of the prison for them -- the psychiatric SHU.
Treating Mental Illness in Solitary
In the psychiatric SHU at Pelican Bay, one inmate stands in the middle of his cell, hollering at no one in particular. Another bangs his head against the cell door. Many of the inmates are naked, some exposing themselves.
The psychiatric SHU is full -- all 128 beds. One in 10 inmates in segregation is housed here. There's even a waiting list.
Lt. Steve Perez points to the board outside the unit, where little markers describe some of the psychiatric problems of inmates held there.
"Here we are with Vic -- indecent exposure. He's got to be in a jumpsuit," Perez says. "Nichols -- he's on a razor restriction. This guy Flores -- staff assault through the food port."
The board says one inmate had his shoes taken because he kept kicking the cell door over and over.
'Group Therapy' in a Cage
Lt. Troy Woods works in the psychiatric SHU. He says they treat mental illness by monitoring the inmates and sending them to what he and others call "group therapy." It consists of a small room with six phone-booth-sized cages.
"Depending on what the group is, they'll either listen to music, watch movies, play games, have art, current events -- a lot of different types of groups," Woods says.
There are no therapists in group therapy. Woods says the idea is to help inmates socialize with each other and behavior normally again.
"Normal" for these prisoners means they don't smear feces on themselves or throw urine at the officers. They shower when able, eat when told and keep their cells tidy. For the most part, when prisoners do achieve this, the reward is a return to the regular SHU.
Experts say it can cost $50,000 more a year to house these inmates in isolation -- regular or psychiatric. But if you ask prison officials in this state why they need facilities like this one, they have one answer: to control the prison gangs.
Controlling the Grip of Gangs
Outside in the yard, hundreds of prisoners from general population are playing basketball games, exercising and crowding around cement tables. On this day, without exception, every inmate is divided by race -- and gang membership.
"You've got your white group there on that one dip bar. You've got your southern (Mexicans) -- they're always on that one table. You have your blacks," Lt. Steve Perez says, looking out onto the yard.
Prison officials like Perez say a lot of crimes happen on the yard right in front of them.
"Right now, business is being conducted," Perez says, pointing to the group of prisoners gathered on the yard. "There's gambling that's going on, drugs that are being passed and sold."
Assaults, stabbings and attacks on staff are weekly occurrences here. Two former gang members sit at a table in the yard, long after most other prisons have been sent back inside. They're kept separate because they recently left the gang. Because they fear for their life, they asked that NPR not to use their names.
They say the gangs run the prisons.
"If they keep killing people, you are going to do what they tell you to do -- out of fear, out of self-preservation," one of the inmates says. "If you're 90 days at the house, and a gang member tells you, 'You go stab that dude right there,' or 'Go back in and stab your cellie,' out of self-preservation, you are going to do what you are told. Because if you don't, you are going to be killed."
Associate Warden Larry Williams acknowledges that prison gangs are an enormous problem that prison officials do not have control over.
"Every time we pluck one out, a new one pops up," he said.
'There Are Times When You Lose Control'
Officials say 70 percent of the inmates in California's prisons are in some way affiliated with prison gangs.
When asked whether the gangs control Pelican Bay, Williams says: "The biggest part of me wants to say no. But you know, prisons only run with the consent of the inmates -- and that's all the inmates. The administration and the officers do have control of the prisons. But there are times when you lose control."
Associate Warden Larry Williams says it has been this way since the 1980s, when the number of inmates exploded, and rehabilitative programs disappeared. The gangs filled the void left from increasingly tense conditions and utter boredom. California's answer to the gangs was, and is, the SHU.
Even locked in isolation, some inmates have managed to find ways to kill each other and assault staff. On a recent afternoon, a half-dozen officers spent an entire day tearing apart the cells in one hallway, searching desperately for a metal binder clip they believed one of the inmates was hiding. Officer Buchanan discovered the paper fastener hidden inside a crack in the concrete wall. It had been sharpened into a deadly razor.
In the cell next door, Sgt. France held up a couple of staples she found.
"They use the staples. They sharpen them to a point, wrap paper around them real tight, and make a spear out of it," France says. "It will go through the perforations on the cell. They can spear someone with it."
Isolation Breeds Deadly Ingenuity
Lt. Steve Perez explains that inmates pull out the elastic from their underwear and braid it into a kind of super-powered bow to fire their weapons.
"They can project a spear coming out of there at 800-square-pounds per foot," Perez said. "And 800 pounds per foot, into your neck, it'll drive that right in there. And now we've got to go in there, and what does he have on it? Does he have feces? HIV? Does he have herpes? TB? Hepatitis? And that's not unusual."
Prison officials say that removing the most dangerous gang members and putting them in segregation makes regular prisons safer for the rest of the inmates -- and it weakens the gangs.
But Jim, a 38-year-old SHU inmate from Long Beach, says that's wishful thinking. He says that to gang members, being sent to the secure-housing unit is an honor.
"Coming up here was the big thing," Jim says from inside his cell. "Put in work. Come up here, be with the big homeys. Because this is the only place you're going to be around the fellas, you know."
'You're a Target Because of the Color of Your Skin'
Jim says gang leaders still control the gangs from within the SHU, mostly by mailing each other letters. And he says if you show up to prison and don't join the gang of your race, you'll be a target for the other gangs within days.
"When there's a war, there's a war," Jim says. "You're a target just because of the color of your skin, so you might as well. You're going to have to defend yourself. The lines get divided. You've gotta take sides."
Jim was sent to prison 10 years ago for armed robbery. Several years later, he was put in segregation for assaulting other prisoners when he joined a prison gang called the Nazi Low Riders.
"It's definitely racist," Jim says. But he says he wasn't racist before he came to prison. "Prison made me that way. My mom and dad taught me to respect everybody, no matter who it was. It's funny because I still remember, to this day, my dad telling me, 'You respect every man until he proves differently.'"
'It's Designed to Break You'
There are really only two ways out of Pelican Bay's SHU. Either you have to prove to prison officials that you have not been involved in gang activity for six years -- which is rare -- or you have to tell everything you know about your gang. It's called debriefing. It can sometimes take two years. That's what Jim is trying to do now.
But it has a cost. Jim says he's already been warned through the grapevine that if he gets out of the SHU, he's a dead man. But after seven years in isolation, Jim says he doesn't care anymore.
"A place like this is designed to drive you crazy," he says. "It's not just designed to isolate you from the general population. It's designed to break you. It sucks. It's hard. It's made me different. It's made me spiteful."
Is Solitary Working?
Associate Warden Williams says that without the SHU, the gang problem would be even worse.
But after almost 20 years, California is now holding more inmates in solitary confinement than it ever has -- and its gang problem is worse than it has ever been. And over the years, the violence rates at Pelican Bay have actually gone up.
Williams says he worries a little that segregation could be making the inmates worse.
"I can't totally disagree that it may affect the inmates in some kind of way," Williams says. "It may make them mad for a while. But the benefit of these security housing units is that we take the people who go out there and cause the trouble, and we lock them up here, to get them off the mainline so that it can functions the way it's designed to -- and the way we would like it to, and the way the inmates would like it to."
Almost 95 percent of the inmates in Pelican Bay's SHU are scheduled to be released back into the public at some point. They'll spend a few weeks in a local prison before rejoining society, with little, if any, preparation for how to live around people on the outside. And for every inmate that leaves, there is another one waiting to take his place.
---
New Pelican Bay warden appointed
4/18/2007
Robert Horel, 60, of Brookings, Ore., has been appointed warden of Pelican Bay State Prison. He has served as acting warden of Pelican Bay State Prison since 2006.
Horel previously served as chief deputy warden at California State Prison, Solano, from 2005-06, where he managed the daily operations of the prison.
From 2004-05, Horel served as chief of fiscal operations for the former Youth and Adult Correctional Agency, now the California Department of Corrections and Rehabilitation.
Prior to that, he served as associate warden of health services at Pelican Bay State Prison from 2002-04 and chief deputy warden at the California Medical Facility from 1994-2000.
---
http://www.reuters.com/newsArticle.jhtml?type=domesticNews&storyID=8399063
California's toughest prison fights notorious image
Thu May 5, 2005 09:53 AM ET

By Adam Tanner
CRESCENT CITY, Calif. (Reuters) - Goldwire Jackson long embodied a prison guard's worst nightmare -- an inmate who brutally assaulted officers, destroyed prison property and repeatedly removed his clothes to masturbate near others.
Today, officials call Jackson a success story at Pelican Bay, California's top-security prison in the far northwest of the state, a facility a 1996 United Nations report called "inhuman and degrading."
"I didn't know how to deal with my frustration," Jackson, 35, said about his 58 offenses behind bars in a 5-year period. "Some people are psychologically strong enough to deal with the conditions and others are not. It didn't drive me insane; it just stressed me out beyond belief."
Imprisoned on robbery charges, Jackson has spent many of his 14 years behind bars at Pelican Bay's controversial "supermax" prison within a prison. Inmates are kept in cells for all but about 90 minutes a day, when they exercise alone.
A decade ago in what is known as the Madrid case, U.S. federal Judge Thelton Henderson found that Pelican Bay guards routinely violated inmate rights and he has monitored conditions ever since. Only last year, he threatened to take over California prisons because of concern officials were blocking investigations into allegations of abuses by guards at Pelican Bay, which opened in 1989.
"A lot of what happened I think early on in the prison was simply a question of, you know, rushing to opening, not having procedures and policies in place to deal with what, at the time, and still, is a very violent population," said Peter Siggins, California Gov. Arnold Schwarzenegger's legal affairs secretary,
"Approximately 50 percent of the staff that was there when they opened did not have prior experience. So there were just a lot of things that kind of came together and made for a real rocky road the first six or eight years."
SANITY BEHIND BARS
Officials say they have since fixed many of the early problems and point to the prison's special unit for violent inmates suffering from psychological problems.
"We're much more professional than we used to be," said Capt. Cara Patten, who oversees the psychological units. "The most marked thing that is different with the Madrid decision is that we are providing mental health care to inmates," she said.
Access to care is vital because of the severe isolation of 1,100 inmates at the supermax facility, experts say.
"The problem with Pelican Bay ... is that there is no hope," said Terry Kupers, author of "Prison Madness: The Mental Health Crisis Behind Bars and What We Must Do About It." "The despair just increases the other psychological problems."
Goldwire Jackson is one of 64 inmates in the Psychiatric Services Unit. He is kept alone in a bleak concrete cell with pictures of women in bikinis posted on his walls.
"You're standing between the two most hostile units in the state of California," Patten said as she showed off the area. "These inmates are not being tortured. They like it here."
Just minutes later guards wheeled out a dazed, handcuffed and shackled prisoner who had cut his wrist.
The prison wing's design seeks to lessen violence. Pelican Bay offers group therapy sessions but places the men in individual phone booth-sized cages. "They have to be separated otherwise they will kill each other," Patten said.
She said violence had fallen dramatically in recent years. "The major difference -- and I'm not going to downplay it -- is medication," she said, adding that television in cells also helped. TV "is a good babysitter, it really is. They are not focusing their anger on us."
MEDICATED PRISONER
Jackson had long resisted medication. He was even charged with threatening a judge during a prison hearing on the issue. He said he was concerned about the absence of an American flag in the prison courtroom.
Yet he is now able to offer a cogent explanation of his past behavior and says he is less violent and does not hear voices any more. However his bodybuilding frame has softened as well.
"That could be part sexual frustration and an attention getter," he said about his episodes of public masturbation. "It's the reaction that really kind of tripped me out."
Patten said she may soon move Jackson to a less-isolated section for less-violent inmates with mental health issues. A Navy veteran from Delaware who was imprisoned starting 14 years ago, Jackson is scheduled to be released from prison in 2007.
As for Pelican Bay's legal woes, experts say the worst has passed. In November, Judge Henderson commended the California Department of Corrections for working to improve conditions.
Roderick Hickman, secretary of the California Youth and Adult Correctional Agency, recently said the judge's threat to take control of California's prisons -- something that has happened before in states such as Texas -- has passed.
"I don't believe he's going to intervene. I think we've been successful in providing the right kind of management and leadership in the remedial planning process," he said.
---
Curry Coastal Pilot
http://www.currypilot.com/news/story.cfm?story_no=10457
WHERE DO THEY GO? MOST PAROLED PELICAN BAY PRISONERS DON'T STICK AROUND
Published: April 6, 2005

Photo illustration/Scott Graves
By Peter Rice
Pilot Staff Writer

Greyhound's recent decision to cut bus service in Crescent City, which took effect last weekend, presents a complication for the prisoners paroled from Pelican Bay State Prison.
In years past, Pelican Bay authorities took the former prisoners to the Greyhound station in town, bought them a ticket, and escorted the bus out of town.
Now, with the closest Greyhound station is in Arcata, the prison has had to change strategies, according to Steven Perez, a Pelican Bay spokesman.
Now, if an inmate is to be paroled on a weekday, they're taken to San Quentin Prison in the San Francisco Bay area on a California Department of Corrections bus and processed from there.
On weekends, Pelican Bay officials will drive them to Arcata, where they catch a Greyhound bus to San Francisco.
Other times, inmates' families will drive up to the prison and pick up their loved ones personally.
Perez said that wherever they end up, inmates are not looking to stick around in the Crescent City/Brookings area.
"Inmates are anxious to get back to their families, back to their hometowns," he said.
Families can provide connections to jobs, places to stay and other services.
The state prison system also helps former inmates find jobs, drug abuse prevention programs, and places to find medication if they suffer from a mental illness.
It also works to make sure parolees get the little essentials often taken for granted, such as Social Security cards and drivers' licenses.
"Why would a criminal need a Social Security card? It's not necessarily a priority for them," Perez said.
Prior to receiving parole, the prison provides inmates with various services, including life skills classes, job training and help with issues such as child support and health care needs.
---
http://sfgate.com/cgi-bin/article.cgi?file=/c/a/2005/03/18/BAGR6BRF1H1.DTL
CALIFORNIA
Prison official to pay fine
- Chronicle Sacramento Bureau
Friday, March 18, 2005

Sacramento -- A federal judge has fined a former high-ranking state Department of Corrections official for "acting in bad faith'' during a federal inquiry into why the department failed to investigate perjury charges against three prison guards.
Thomas Moore, who was a deputy director in the department during Gov. Gray Davis' administration, must pay $1,500, U.S. District Court Judge Thelton Henderson said Thursday in a 16-page court order.
Henderson ruled that Moore "was not fully forthcoming or genuine in his testimony'' when he was questioned about why he and former Department of Corrections director Edward Alameida shut down an internal affairs investigation into whether guards at Pelican Bay State Prison lied under oath.
Moore, who still works for the department in the parole division, will likely have to pay the fine himself.
Henderson has been overseeing operations at Pelican Bay since he declared conditions there unconstitutional in 1995. His inquiry into the perjury case led to the threat of criminal charges against Alameida and Moore and has forced the department to revamp its internal affairs procedures.
No criminal charges will be filed, and Alameida avoided fines because he no longer works for the department and is in poor health.
Also Thursday, Henderson declined to sanction the state's prison guards union regarding accusations that union officials made inaccurate representations to the court.
---
http://www.latimes.com/news/local/la-me-pelican11jan11,1,1713155.story
CALIFORNIA
Court Allows Inmate's Suit to Proceed
Jurists reject the state's argument against a prisoner who alleged he was kicked by a guard.
By Henry Weinstein
Times Staff Writer
January 11, 2005
In an unusually blunt opinion, a federal appeals court panel in San Francisco on Monday unanimously rebuffed the efforts of the California attorney general's office to dismiss an inmate's claim that he was a victim of brutality by a guard.
Christopher Watts, an inmate at Pelican Bay State Prison in Crescent City, filed a lawsuit alleging that, during a 1995 interrogation, a prison guard slammed him into a wall and kicked him in the genitals while he was lying on the floor handcuffed with his hands behind his back.
U.S. District Judge Susan Y. Illston ruled earlier that Watts was entitled to a trial on the issue of whether the guard had applied force "maliciously and sadistically to cause harm" in violation of the Constitution's 8th Amendment prohibition against cruel and unusual punishment.
The guard, represented by the state attorney general's office, appealed to the 9th Circuit Court of Appeals in an attempt to have Watts' case thrown out.
Attorneys for the state argued that, even if Watts' assertion were true, it would not represent a violation of the 8th Amendment.
They also argued that "a reasonable officer … would not necessarily have believed" his conduct was unlawful.
Judge John Noonan, writing for the court, noted that the guard's response to the allegation was to describe it as a kick "in the groin."
Noonan, an appointee of President Reagan, flatly rejected the state's legal argument and raised pointed questions about the state's approach. "A lawyer must be zealous on behalf of his client," Noonan wrote. "But zeal needs to be tempered by common sense.
"To suppose that any reasonable person, let alone a trained prison officer, would not know that kicking a helpless prisoner's genitals was cruel and unusual conduct is beyond belief," Noonan wrote. Judges Betty B. Fletcher, an appointee of President Carter, and Sidney R. Thomas, an appointee of President Clinton, joined in the ruling.
Noonan cited a 1992 decision by the Supreme Court in which the justices held, by a 7-to-2 vote, that prison guards violate the Constitution when they needlessly pummel, kick or torture inmates, even if the blows do not cause permanent injury. Under the 8th Amendment, guards may not "maliciously and sadistically use force to cause harm," Justice Sandra Day O'Connor wrote for the court.
The high court, Noonan wrote, "did not need to create a catalogue of all the acts by which cruel and sadistic purpose to harm another would be manifest." However, he said, "if it had, such an act would be near the top of the list. The case must go to trial."
A spokesman for the attorney general's office said the deputy who filed the brief, Gregory S. Walton, no longer works for the department. The spokesman declined to elaborate.
---
http://www.contracostatimes.com/mld/cctimes/news/politics/10016863.htm
Oct. 26, 2004
Judge to rule on contempt charges

By Thomas Peele
CONTRA COSTA TIMES

SAN FRANCISCO - A federal judge said Monday that he believes former state corrections director Edward Alameida and his subordinates committed "a gross abuse of public trust" in their handling of an
aborted prison guard perjury investigation.
Senior U.S. District Court Judge Thelton Henderson said he will rule within 30 days whether to proceed with criminal contempt charges against Alameida and Thomas Moore, the department's former chief of
internal affairs.
An investigator working for Henderson in the case that may result in the judge taking control of the California prison system has recommended criminal charges.
At issue is whether the two men knowingly violated Henderson's orders in March 2003 when they closed down a perjury investigation of Pelican Bay State Prison guards, who were accused of lying under oath to protect co-workers in an inmate-abuse trial.
Henderson's investigator, attorney John Hagar, wrote in reports to the judge that he believes the prison guards union, the California Correctional Peace Officers Association, pressured Alameida to end
the investigation.
Henderson has been monitoring the prison system for more than a decade. In July, he told Gov. Arnold Schwarzenegger in writing that he was considering taking control of the system after Schwarzenegger
renegotiated portions of the guards' contract, giving the union "numerous and important management prerogatives."
While Monday's hearing focused on Alameida and Moore, Henderson indicated that he's still working on the larger issues within the beleaguered $6 billion corrections department.
"The union runs the prison system," Henderson said from the bench Monday. "I am going to change that."
Guard union vice president Lance Corcoran later disputed that. "The union absolutely does not run the prison system. If it did, it would be more efficient, more safe for inmates and staff, and it would be
more successful."
Union control is something "that we are working to change" in the year since Schwarzenegger replaced former Gov. Gray Davis, said J.P. Tremblay, a spokesman for the state Youth and Adult Correctional
Agency. The union has "no input on directing policy."
In court Monday, lawyers for Alameida and Moore told Henderson that their clients made serious errors, but they were not the result of union pressure, nor were they criminal.
"There was a dereliction of executive duty" that has risen to the level of "even malfeasance," said David Bancroft, Alameida's attorney. "That does not mean he purposely thumbed his nose at a
court of law."
One litigant did not buy that. "It is not credible to believe that in a process in which (a federal judge) was involved that (Alameida) didn't know his actions would affect actions taken in this court," said Don Spector, an attorney for the nonprofit Prison Law Office. It sued over abuses at Pelican Bay that led to Monday's hearing.
Henderson said that Bancroft's arguments left him wondering: If criminal charges can't be filed, "is there nothing a powerful federal judge can do when these things happen?"
Bringing the case to public light, which forced Alameida to resign and suffer career disgrace, was enough, Bancroft replied.
---
mercurynews.com/mld/mercurynews/news/local/states/california/counties/alameda_county/9367342.htm
Posted on Tue, Aug. 10, 2004
Expert prison witness has conflict, senator, prosecutor say
DON THOMPSON
Associated Press
SACRAMENTO - An expert witness in a guard brutality case this week, and in other inmate abuse cases across the state, has an apparent conflict of interest that is harming the beleaguered prison system's reform efforts, a key state senator and a prosecutor said Tuesday.
The allegation emerged the same day a panel of independent medical experts reported "an emerging pattern of inadequate and seriously deficient physician quality in (California Department of Corrections) facilities."
The pair of developments both involve a federal judge who is considering appointing a receiver to monitor management of the nation's largest state prison system. Problems in the system have emerged as one of Gov. Arnold Schwarzenegger's biggest unexpected headaches since he was elected last fall.
Sgt. George Raymond Arquilla is one of just two senior master trainers in the department, teaching prison guards the proper use of force. But he's testified repeatedly on behalf of guards accused of using excessive force, while he is being paid by the department.
A federal court-appointed special master reviewing guard brutality complaints out of Pelican Bay State Prison reported the department lost virtually every case before the State Personnel Board where it tried to fire a guard for using excessive force when Arquilla testified for the defense.
Special Master John Hagar criticized the department for not investigating what he said appeared to be a violation of state regulations limiting outside activities, including what he said should be restrictions on letting Arquilla testify as an expert witness against the interests of his employer. That investigation is now underway after Hagar rejected the results of an early narrowly focused probe, Hagar reported.
"We're beating ourselves," state Sen. Gloria Romero said Monday. Romero, a Democrat from Los Angeles who chairs a prison oversight committee, sent a letter Tuesday to Corrections Director Jeanne Woodford saying the department must "address the incompatibility of the sergeant's two dual roles."
The department had no immediate comment. No phone listing could be found for Arquilla. But representatives of the unions representing both supervisory and rank-and-file correctional officers defended Arquilla.
The criticism is "off-base, uninformed and improper," said Paul Goyette, who represents the California Correctional Supervisors Organization and former New Folsom prison Lt. Stephen Luke Scarsella.
Sacramento County jurors on Monday acquitted Scarsella, 49, of assault charges alleging that he dragged an inmate by his leg chains part way down a stairway, then punched him twice in the head. But they convicted Scarsella of filing a false report in the 2002 incident.
"This guy (Arquilla) is basically testifying against his own employer," said Supervising Deputy District Attorney Steve Secrest, who prosecuted Scarsella. Jurors decided Scarsella used appropriate force after hearing from Arquilla and other witnesses.
Arquilla testified under subpoena about department rules and training but offered no conclusions on Scarsella's actions, Goyette said.
Arquilla isn't paid other than his expenses for his testimony, said Lance Corcoran, a spokesman for the California Correctional Peace Officers Association. "I see no conflict of interest, in that Ray Arquilla is a nationally recognized expert in use of force."
Meanwhile, the panel of legal experts sharply criticized the correction department's physicians in reports to U.S. District Judge Thelton E. Henderson, who appointed Hagar and is considering assuming oversight of the prison system.
Doctors are frequently unqualified and there is little means or effort to weed out incompetent physicians under the department's policies, the experts found.
"An incompetent anesthesiologist or a retired neurosurgeon can be hired to see patients for diabetes and coronary heart disease, conditions that they have never been trained to treat," the experts found. "This situation exists at all of the facilities we reviewed to date and results in very poor medical management."
State Sen. Jackie Speier, a Democrat from San Francisco who co-chaired critical hearings into the department, said the reports show "the delivery of health care at state prisons is in crisis." She and Romero plan hearings on the department's $1 billion inmate health care program and the latest findings next month.
Department spokeswoman Margot Bach said officials are working to fix the problems, with a hearing set for later this month.
The twin reports were submitted last month but made public Tuesday.

---
from the July 20, 2004 edition - http://www.csmonitor.com/2004/0720/p02s01-usju.html

LINKED: Inmates moved on a chain line in the Security Housing Unit at Pelican Bay State Prison near Crescent City, Calif. California's prison population has ballooned to 163,000.

California tackles its prison problem
Facing overcrowding and rising costs, a panel calls for better management, and state voters will reconsider nation's toughest three-strikes law.
By Daniel B. Wood | Staff writer of The Christian Science Monitor
LOS ANGELES - More than anytime in the past quarter century, America's largest state - and largest correctional system - is huddled around the drawing board of prison reform.
After two decades of unprecedented prison building, and a decade after leading the nation in get-tough laws, the prison population has ballooned from 20,000 to 163,000 bringing unforeseen implications with it.
Some national observers hold that the giant criminal-justice bureaucracy made up of 54,000 employees has become more unwieldy and change-resistant than ever. But even the most battle-weary veterans of past failures say the mounting attention on California's prisons presents opportunity.
"There is more reason to be optimistic about California's ability to tackle its prison problem than anytime in a couple decades," says Vincent Schiraldi, executive director of the Justice Policy Institute in Washington. "The pressure is there, the policies are there, and the public is more attentive and involved."
A governor-appointed blue-ribbon commission concluded last month that the system has spun out of control in costs, recidivism, abuse, and lack of transparency or accountability. At the same time, two court-ordered reports on inmate abuse have been the subject of ongoing legislative hearings for the past year. And a citizen-backed initiative on the ballot this fall seeks to recast the nation's first and strictest three-strikes law.
Growing prison population
As state legislators try to close a $18 billion to $22 billion budget gap, the budget's second-biggest pie slice is coming under greater scrutiny. Adding to the yearly cost of $6 billion to run the prison system is the nation's worst recidivism rate: In 2002, 85,000 of 100,000 prison releases were back in prison within six months, according to Sen. Jackie Speier (D).
One-hundred-and-fifty state prison officials spent last week examining every aspect of criminal justice from arrest to release. One unifying message: California needs to recast the way it approaches corrective measures for prisoners while in prison - from job training to behavior counseling - so that prisoners who enter the system can find a constructive way out. Many investigators say prisons could do a better job with programs already in place if the guards were instructed to make rehabilitation a higher priority.
"Prison administrations are less in control of what is going on inside their prisons than are the guards who are not interested in promoting rehabilitation," says Richard Steffen, staff director for the Senate Government Oversight Committee looking into abuse in prisons.
Modifying three-strikes law
As prison management is coming under greater examination, the sentencing end of the criminal justice equation is also being questioned. Prompted by 10 years of out- cries of jammed courts and prisons, a citizens initiative on the November ballot will seek to tweak the nation's toughest three-strikes laws to focus more on violent crime.
"Californians are spending a lot money and prison space to keep people in prison for life for nonserious crimes," says James Benson, author of the initiative.
The initiative redefines serious and violent felonies and removes three-strikes penalties for minor infractions that have sent hundreds of third-time offenders to prison over such crimes as petty theft.
New US Supreme Court dictates on sentencing guidelines are causing a reevaluation of sentencing across the state as well. Split in a 5-to-4 decision, the Supreme Court on June 24 cast doubt on the validity of thousands of sentences, at both the state and federal level, according to legal observers.
A recent California Field Poll here shows that state voters overwhelmingly (76 percent to 14 percent) support the initiative to modify three strikes. The new measure would require that a defendant be convicted of a violent or serious felony to qualify for a third-strike sentence of 25 years to life.
The initiative faces political roadblocks, however, from opponents such as Governor Schwarzenegger and Atty. General Bill Lockyear who argue that judges already have the discretion to limit overlong sentences. A coalition of law-enforcement groups also claim that the new law could lead to the early release of 26,000 convicts.
"People in California passed three-strikes because they didn't feel safe in their homes and communities," says Carol Norris, president of the California Probation, Parole and Corrections Association. "Crime is down, which proves to us the law is doing what it was supposed to do. We don't want to reverse that progress."
Because of the split between citizens, politicians, and some justice organizations, other observers say the pendulum may swing away from the initiative when voters take a closer look at the consequences and cost savings.
Resistance to change
Despite all the activity on several fronts to examine costs, sentencing, overcrowding, and procedure, several observers say California's prison reformers have an uphill battle against the California Correctional Peace Officers Association - the prison guard union - and local communities and politicians who have a stake in the prisons they have spent the past two decades building.
"My sense is that nothing is going to change unless attitudes change, so a lot of those recommendations are not gong to go anywhere," says Senator Steffen.
Still, key officials are optimistic. "The leadership is different, all the stake holders are involved, and both internal and external evaluations are in place," says RoderickHickman, Mr. Schwarzenegger's cabinet-level administrator for prisons. He says collaboration between officials, social organizations, and citizens is making a difference.
"If we can break the cycle of reoffending for criminals, all these sentencing changes don't matter," he says. "Collaboration means you get accountability through the system from arrest to release."
---
latimes.com/news/local/la-me-prison25jun25,1,858908.story?coll=la-headlines-california
Prison Monitor Critical of Guards
Report alleges the state's former corrections chief helped the union quash a perjury investigation.
By Tim Reiterman
Times Staff Writer
June 25, 2004
SAN FRANCISCO — Exploiting weak leadership in California prisons, the 31,000-member guards union has used its clout and its controversial labor contract to impede investigations into alleged excessive force by correctional officers, a long-awaited federal report concluded Thursday.
"Timely, fair and effective investigations may well be impossible," said Special Master John Hagar, who is monitoring state prisons for a federal judge. He said the contract provided the union "with the ideal instrument to enforce the code of silence" among guards.
In his 150-page report, Hagar asked U.S. District Judge Thelton Henderson for permission to examine the impact of the state's contract with the California Correctional Peace Officers Assn. on investigations and disciplinary actions involving abuse of inmates. One provision of the pact requires the prison administration to immediately provide guards with inmate grievances against them, which Hagar said could discourage inmates from making complaints and could compromise investigations.
Hagar also asked the judge to consider criminal contempt charges against former state Corrections Director Edward Alameida and a deputy for allegedly quashing a perjury investigation involving several officers after union intervention.
But Hagar said he had decided against trying to place the entire prison system under the control of a court-appointed receiver and had dropped plans to pursue civil contempt charges against the Department of Corrections leadership. He said the current prisons administration appointed by Gov. Arnold Schwarzenegger was making adequate efforts to address the so-called code of silence and to improve oversight of the department's disciplinary system.
Henderson is expected to hold hearings and decide what action to take.
Hagar's report is the latest step in a major civil rights case that led the judge to place Pelican Bay State Prison under his supervision and name Hagar as his investigator. In 1995, Henderson ruled that brutality by guards at the notorious maximum security prison in Crescent City, on the coast near Oregon, violated the rights of inmates.
A draft report by Hagar in January said the $5.3-billion prison system was corrupted by a code of silence condoned by top prison officials under the sway of the guards union.
But Thursday's final report took a stronger aim at the union, which represents guards at the state's 32 prisons. Hagar said the union's recent court filings indicated to him "that the CCPOA will continue to interfere with administrative and criminal investigations of correctional officers who abuse inmates, and that the union will continue to enforce the code of silence" in state prisons.
The report also said witnesses brought several incidents to light "where the highest levels of [prison] officials failed to discipline correctional officers because of their fear of a CCPOA reaction."
The document criticized some union contract provisions as major barriers to reforming the prison disciplinary system.
But union Executive Vice President Lance Corcoran said the report failed to recognize the legitimate rights of a union to represent its members. "If defending the due process and constitutional rights of correctional officers is wrong," he said in a telephone interview, "then we stand unapologetically guilty."
Corcoran said unfair investigations prompted the union to seek contract provisions that provided officers with representation and information about accusations against them. He said department inquiries frequently fell apart because they were conducted incompetently and unfairly, not because of worker protections.
The union leader denied that his organization advocated a code of silence to protect accused officers. "We took an oath to protect people from bullies," he said. "If an officer does not have the wherewithal to report wrongdoing, shame on him."
The guards' contract has been the subject of legislation and hearings. To help dig the state out of its budget problems, the governor and lawmakers want the union to reopen the contract, which calls for an 11% wage increase in July.
State Sen. Jackie Speier (D-Hillsborough), who has held hearings on the prisons, praised Hagar for taking on a powerful union that donates millions of dollars to state politicians. "I think CCPOA is going to have to reassess how it is going to move forward in an era when you have a special master who is not intimidated by them," she said.
State Sen. Gloria Romero (D-Los Angeles), chairwoman of the Select Committee on Prisons, which has examined allegations of excessive force, said the federal report showed that "there was a vacuum of leadership and, right or wrong, somebody will move forward to assume the leadership…. I believe there is a role … for the CCPOA, but it must not be allowed to be the deciding role … or any kind of corrupting role."
During a conference call with reporters, Romero and Prison Law Office Director Don Spector, who filed the prisoner rights suit, said former corrections chief Alameida should be found in criminal contempt.
The Hagar report said Alameida and a deputy engaged in a 2003 cover-up of alleged perjury in connection with three excessive-force investigations at Pelican Bay. The report alleged that, after a call from a union official, Alameida shut down the investigations before they were completed and sent a misleading letter to Hagar about the cases.
Alameida's attorney, David Bancroft, said his client had a history of adversarial contacts with the union, "belying the notion that he would have bent to pressure … to close an investigation."
But the lawyer said Alameida was willing to apologize because he unknowingly shut down one or more of the investigations before completion.
"He recognizes there had been a failing of executive care on his part, but nothing like a willful, knowing, corrupt decision," the attorney said.
Alameida resigned in December. Bancroft said his client was on leave and was scheduled to retire in July.
J.P. Tremblay, assistant secretary of the Youth and Adult Correctional Agency, said prisons officials were pleased that Hagar's report recognized the merit of the agency's remedial actions, including a "zero tolerance" rule that calls for firing anyone who retaliates against whistle-blower guards and a plan for independent oversight of internal investigations.
---
http://www.mercurynews.com/mld/mercurynews/news/breaking_news/9005195.htm
Posted on Fri, Jun. 25, 2004

Former Calif corrections chief bids to stave off perjury charge
DAVID KRAVETS
Associated Press

SAN FRANCISCO - Edward Alameida, the former California Department of Corrections chief who resigned last year amid accusations he covered up a prison-abuse perjury probe, says he is under psychiatric care and therefore should not be held in contempt.
Alameida is under suspicion of impeding investigations into allegations that Pelican Bay State Prison guards committed perjury in inmate-abuse federal trials.
The Gov. Gray Davis appointee, a 32-year department veteran, has emphatically denied the allegations. But in a court filing released Thursday, his attorney said "Mr. Alameida genuinely wishes to apologize for what he would acknowledge as his professional failure for not having handled ... the investigation in the manner and to the standards the department and the public had a right to expect."
A final report issued Thursday to U.S. District Judge Thelton Henderson, by an investigator Henderson appointed, said Alameida succumbed to pressure from the California Correctional Peace Officers Association, the state's most powerful labor union, and shut down investigations of inmate abuse "well before their completion" and lied about it in court.
John Hagar's report recommended Henderson consider a contempt of court case against Alameida that could result in days or months of prison time if proven.
Alameida's attorney, David Bancroft, said in court documents that Alameida has been diagnosed with depression, clinical anxiety, has "a very strong feeling of worthlessness" and is taking medication to fight depression.
In an interview, Bancroft said Alameida's personal problems were not disclosed to invoke sympathy but were provided as a reason why the judge should not charge him for what is, at best, "a marginal case."
"Our position was, in light of this medical difficulty, what's the utility in proceeding?" he asked.
Sen. Gloria Romero, D-Los Angeles, fired back with an answer.
"If we're serious about employee discipline, one looks at what happens at the top," she said.
Hagar, however, was unmoved by Alameida's health and said he would not consider it because the revelation was submitted last week.
Alameida had promised Henderson more than two years ago that he would investigate whether guards committed perjury in court when fellow Pelican Bay guards were on trial for abusing inmates. The director said he would fire guards that committed perjury or were involved in abusing inmates.
The promise came after guards Jose Ramon Garcia and Edward Michael Powers were convicted and sentenced to seven and six years in prison, respectively. Between 1992 and 1996, they solicited inmates to attack child molesters, sex offenders and other inmates they disliked at the maximum-security facility in Crescent City.
Alameida, however, did not follow through, according to Hagar's draft report. Hagar, in his final report Thursday, reiterated that any probe that did take place was a "sham."
The report concluded that the department had no effective method for investigating inmate abuse, it was overly influenced by the prison-guard union, and that the department, as a whole, exhibits a rampant code-of-silence culture.
But Hagar noted the department has been taking steps to improve its oversight of prison guards, and said the corrections agency should not be taken over by the federal government, which was under consideration.
Hagar noted that, among other things, Alameida has been replaced and lawmakers are moving toward approving an independent agency to oversee the department.
"All in all," Hagar wrote, the department "is better organized and staffed today than at any time in the past nine years."
J.P Tremblay, a spokesman with the department that supervises 161,000 inmates with a $5.7 billion annual budget, said "we've been making a lot of progress."
Judge Henderson has not set a hearing date to publicly review Hagar's recommendations.
The case is Madrid v. Woodford, 90-3094.
---
Posted on Thu, Jun. 24, 2004
http://www.contracostatimes.com/mld/cctimes/news/breaking_news/9002648.htm?1c

Investigator calls for criminal charges against former prisons chief
By Thomas Peele
CONTRA COSTA TIMES
A federal investigator issued a final report on California's beleaguered prison system Thursday morning, calling for a U.S. District Court judge to consider criminal contempt charges against former Corrections Director Edward Alameida for allegedly ordering a cover-up of an aborted perjury investigation.
The investigator, John Hagar, concluded after months of hearings and deliberation that Alameida, under apparent pressure from the state's prison guard union, ordered a halt to an investigation into whether guards lied in federal court to protect two of their own accused of abusing inmates at Pelican Bay State Prison. The two guards were eventually convicted.
Alameida then ordered his staff to issue "false and misleading letters" to Hagar, who a judge appointed to investigate how the state prison system handles disciplinary investigations of guards, according to the final report.
If U.S. District Senior Court Judge Thelton Henderson acts on Hagar's recommendations, Alameida, 55, could face five years in federal prison.
In the 148 page report Hagar also called for former head of the department's internal investigations, Thomas Moore, to face perjury charges for allegedly lying when he testified before Hagar in July of 2003.
Hagar issued a preliminary report in January that called for both men to face criminal charges. At a hearing that same month, their lawyers argued against the recommendations. Hagar's final report said that he heard nothing in those hearing to make him change his decision.

---
http://www.sacbee.com/content/news/story/9221065p-10146331c.html
Ex-prison official gets turn in court
He made mistakes but did nothing criminal, his lawyer says.
By Andy Furillo -- Bee Staff Writer - (Published May 8, 2004)
SAN FRANCISCO - The former head of internal affairs for the state prison system made "mistakes," but nothing he did came close to representing criminal misconduct, his attorney said at a federal court hearing Friday.
Thomas Moore headed the Department of Corrections' Office of Investigative Services at a time when federal authorities were pressing for a perjury probe of a number of correctional officers. When the internal investigation fizzled, a federally appointed monitor later laid responsibility on both Moore and the former head of the corrections department, Edward Alameida.
In a draft report issued in January, the special master, John Hagar, recommended criminal sanctions against Moore and Alameida.
On Friday, it was Moore's opportunity to present his side of the story to the special master. His lawyer offered a portrayal of a newly appointed unit chief who stumbled into a years-old case that may have overwhelmed him.
"The record doesn't reflect a comprehensive transition of power ... to Mr. Moore," the attorney, Paul Q. Goyette, told Hagar in a hearing in U.S. District Judge Thelton Henderson's courtroom.
Most significantly, Goyette argued, Moore had virtually no knowledge of court orders imposed by Henderson over the past decade that governed the use of force and essentially oversaw the management of maximum-security Pelican Bay State Prison in Del Norte County. Without ever fully absorbing Henderson's decrees, it became impossible, Goyette said, for Moore to "knowingly and willingly" violate them.
But Hagar's report said that Moore lied on at least five occasions during Hagar's inquiry into the failed internal perjury probe of officers' testimony during a 2002 federal trial of two other Pelican Bay officers.
The special master's draft report into the failed perjury probe recommended a new U.S. attorney's investigation of Moore for the sworn statements he gave to Hagar. The report also recommended that both Moore and Alameida be held in criminal contempt for violating the provisions of Henderson's Pelican Bay decree.
Moore, who was re-employed within the corrections agency as a parole administrator last fall, was not at Friday's hearing. Alameida has already presented his objections to the special master.
Despite Goyette's arguments Friday, Hagar showed little sign of backing off his recommendations. Reiterating the conclusions of his draft report, Hagar told Goyette it appeared to him that Moore and Alameida prematurely closed out the officers' perjury investigation.
Hagar is expected to forward his final report on the matter to Henderson in June.
Steve Fama, an attorney with the Prison Law Office who sat in on the hearing, said nothing he heard in the hearing should change Hagar's findings.
Goyette, however, said in an interview that he had "a bit of cautious optimism."
The Bee's Andy Furillo can be reached at (916) 321-1141 or afurillo@sacbee.com .
---

http://www.sfbayview.com/041404/withourpeople041404.shtml
Connecting with our people behind enemy lines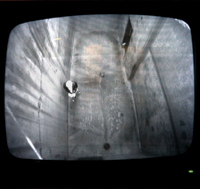 Inmates in the Security Housing Unit (SHU) at Pelican Bay State Prison spend 23 hours a day in their cells with only one hour a day in this 10- by 20-foot cement room for exercise.

by Ra'shida


Inmates in the Security Housing Unit (SHU) at Pelican Bay State Prison spend 23 hours a day in their cells with only one hour a day in this 10- by 20-foot cement room for exercise.
Pelikkkan Bay is a maximum security prison located in Kkkresent City, California. It's referred to as the "last stop" or "end of the road" because it is the concentration camp many of our people are sent to after the criminal justice system decides they do no want them in any other prison in the state.

The prison has about 3,300 people inside, about 3,200 of whom are under level four maximum security and about 100 are in level one minimum security. Level four is the highest level of security, cutting those prisoners off from all human contact unless they are lucky enough to get a visit. Level four security is broken up into the general population and the population in administrative segregation. Those latter prisoners are escorted everywhere in shackles.

Overseeing the 3,300 people behind enemy lines are about 2,000 guards who spend their days watching all incoming and outgoing traffic from sniper towers, driving around the entire prison, walking people around in shackles, and ensuring that every person there experiences extreme human isolation and physical, mental and spiritual terrorism.

The location of this prison is also strategic in breaking the spirit of the captives. By placing this prison near the Oregon border, about eight hours from the Bay Area, the criminal justice system is very successful in preventing people from receiving visits from their friends and families. If a family member or friend does make the long trip, they are only allowed a one- to three-hour visit, and depending on whether or not the prisoner is in the Security Housing Unit (SHU), you may only be able to talk to your loved ones behind glass.

Other things the prison system does to prevent a person from seeing their folks after making such a long trip is the clothing requirements visitors must meet that are not explained to many folks until they get there. Blue jeans are restricted anywhere on the premises of the plantation. This means that people who didn't know the rules prior to the trip to Kkkresent City may not be able to visit anyone because they might have packed nothing but blue jeans.

Most people wear jeans, not slacks or khakis, when they are driving on a long road trip. But if that is all you've got, then you are shit out of luck; you wasted all your transportation and lodging money.

If you carry a purse, which many women do to hold onto their money, identification, and other necessities, you must leave it behind and put all your belongings in a see-through plastic ziplock bag.

I went to Pelikkkan Bay with Alan Laird of Expressions Art Gallery who organizes trips up to the prison for people to visit their loved ones. Many of the people I met on the charter bus warned me that all the Black people in Kkkresent City are in the prison, and from what I saw, aside from one of the hotel workers, that was the truth.

We weren't even there two hours before my boyfriend and I were confronted by some police terrorists, something that we all go through in this kkkountry. We had to walk a few blocks to make it to the grocery store before it closed.

It was raining real hard, and we were walking back from the store when a police car sped by so close it almost hit us, splashing the water all over our clothes. They swerved their car in a half-moon shape right in front of us like "Dukes of Hazard."

Both kkkops were some young hick white boys, and they jumped out of the car as fast as they stopped it and rushed towards us. My boyfriend gave me his bags because it looked like the kkkops was about to rush him. They walked all up in his face yelling, asking what did we think we were doing. We had Safeway bags in our hands and our clothes were drenched from his car and our heads getting wetter and wetter since we were walking in the rain.

We answered his question by telling him he tried to hit us with his car as close as he came and that could be considered attempted murder, so they told us to keep walking. They make sure all the Black people in the city are in the jail.

Pelikkkan Bay is no joke. Many of our folks there are serving double life sentences, no parole, and are suffering at the hands of the devils working there daily. The entire prison looks like big slabs of concrete boxes to make death as horrific and slow as possible.

We got to make contact with all our people locked down because these devils want us to lose track of them, their health and their personal wellbeing. They want these people to grow sick, old and die with no one on the outside knowing.

They do not want us to pay attention to the harsh treatment and terrorism the guards put our people through. They do not want us to keep tabs on the pattern of medical poison and neglect our people are getting from prison doctors. This is exactly what we need to be paying attention to.

Even imagine how many George Jacksons and Hugo Pinells we have in these camps waiting to organize if they just had a little outside support that could help.

We need to make it clear that people in the streets are watching those prison guards, police and judges and will not allow them to continue abusing and killing our people.

Chairman Fred Hampton Jr., former political prisoner and national chairman of the Prisoners of Conscience Committee, says, "I too take the position that former political prisoner Minister Huey P. Newton took when he was 'unleashed' when he stated that if it were not for the people, he may have come out of there in a pine box if he came out at all.

"The correspondence, visits, the contact in general is essential not only for the morale of the prisoner but also his or her security. One prisoner one contact at minimal is a must!"

On April 23, another trip to Pelican Bay for people to visit their folks locked down will begin. The bus will be leaving from 3463 San Pablo – the California Hotel - and will be picking people up who fly into the Oakland Airport as well as people coming from Greyhound. He has organized transportation and accommodations, and small children go for free.

If you've got someone suffering in Pelikkkan Bay, please call Alan at (510) 547-6646 or e-mail him at expressionsart@aol.com to ride up there and check on your folks. Everyone with any family or friend in any prison needs to go check on their folks on a regular.

Email Ra'shida at rashida@sfbayview.com .
---
http://www.times-standard.com/Stories/0,1413,127~2896~1899895,00.html
Eureka Times-Standard

Pelican Bay State Prison: Behind the walls
By Chris Durant The Times-Standard

Sunday, January 18, 2004 -
First of two parts; part two will run Monday
Nestled near California's northwest corner sits Pelican Bay State Prison. The beauty of the surrounding forests and nearby coastline is a sharp contrast to the dull gray, cold, hard walls that house some of the state's most violent and dangerous convicts.
On average, about 3,350 inmates are locked up at any one time.
About half of Crescent City's population are inmates at Pelican Bay.
On Monday, there were 3,357 inmates housed in these eight different areas:
The most inmates -- 1,219 -- are in the Security Housing Units, an area described as a maximum security prison within a maximum security prison. Inmates are allowed out of their cells for about an hour and a half per day; 10 minutes for a shower and about an hour in a concrete yard the size of half a basketball court, by themselves with no basketballs or equipment. The validated prison gang members are housed here, as well as those who don't obey the rules.
General Population had 1,148 inmates Monday, kept in separated yards. This is where prisoners who behave themselves and follow the rules are kept.
Level I housing, with 377 inmates, has been compared to trustees in a county jail -- with prisoners who are not likely to try to escape and do not present a threat to others.
The Administration Segregation area is like a county jail within the prison. If a law is broken within the prison walls, the suspects are detained in the Administration Segregation area throughout the investigation. On Monday, 212 inmates were housed there.
The Gym housed 147 inmates. This is where prisoners are held when they arrive and are observed by staff to determine which area they will be sent to. Prisoners who will only be in the prison for a short time, like someone serving a month or so because of a parole violation, would also be housed here.
The Psychiatric Services unit, Transitional Housing unit and Enhanced Outpatient program held a total of 233 inmates Monday. These areas are newer and are innovative in the California Department of Corrections. They're discussed in more detail below.
About 30 other prisoners are temporarily housed in medical facilities both inside and outside the prison walls.
The prison has come under severe criticism in the past for its use of force policies and a 2000 riot that left a prisoner dead.
A 'maturing organization'

"Pelican Bay is a complex institution with multiple missions," said Chief Deputy Warden Richard Kirkland.
Pelican Bay State Prison was opened in 1989 and was built to help accommodate the increasing maximum security population in the California Department of Corrections.
"Pelican Bay State Prison is designed to house the state's most serious criminal offenders in a secure, safe and disciplined institutional setting," states a brochure from the prison's Public Information Office.
"The worst of the worst is a catch phrase but we have three security housing units and we tend to get most of the inmates that have proved to be problematic in other institutions," Kirkland said. "We're built to handle the whole spectrum of maximum security inmates."
No other California prison is built to handle the amount of violent and validated gang inmates as Pelican Bay.
"We are the only institution in the state that has dedicated Security Housing Units," Kirkland said.
Kirkland said that inmates who have proven themselves eligible are offered a number of jobs, from working in the kitchen to being an office clerk.
"Just minding their own business, getting along and keeping busy during the day," Kirkland said. "If they act out then we have a place to keep them both in short term and long term."
The prison's Public Information Officer, Lt. Steve Perez, said Pelican Bay is "a maturing organization."
Staffing has increased and policies have been developed to provide health care for inmates with mental health problems.
"Our medical and mental health care was a significant issue in a lawsuit many years back," Kirkland said.
Perez said the prison is working with the courts to implement changes beneficial to both the inmates and staff.
"Pelican Bay has had significant oversight from a court special master," Kirkland said. "They've looked at the way we've used force, they've looked at our mental health care, they've looked at the way we do investigations and they have been very impressed in the progress that we made to the extent that they no longer routinely monitor those areas."
Kirkland said the disciplinary policy is the only area that is still routinely reviewed by the courts.
The policy changes started about the mid-1990s.
"They've been fine-tuned and honed ever since," Kirkland said. "What we want to have and what we believe we have is an institution that's operated honorably and ethically, and that staff members can come in, do their jobs, do what needs to be done to maintain control of a fairly difficult population of 3,300 or 3,400 inmates and go home at the end of the day knowing that they did just what they were supposed to do."
New programs
The new programs are a source of pride among the Pelican Bay staff.
"We use our resources extremely wisely here," said Capt. C. M. Patten.
Patten said a large portion of the prison mental health system began at Pelican Bay, which remains at the forefront among Northern California prisons.
"We are pretty much the leaders as far as the type of care these inmates get," Patten said.
There are three major programs that have recently been implemented, each with their own array of staff and programs.
The Psychiatric Services Unit is a mental health treatment program for inmates who are in the Administrative Segregation or Security Housing units.
The Enhanced Outpatient Program is to help identify and treat mental health problems that prohibit an inmate from functioning in the general population.
The Transitional Housing Unit, the only one of its kind in the state, was developed to help Security Housing Unit inmates prepare to integrate into the general population. This comes when the inmate makes a commitment to disassociate himself with prison gang activity.
"It's a long and very scary process for the inmates," Patten said. "It puts their families at risk from mobsters, if you will."
There is also a Correctional Treatment Center that has been certified by the state as an acute care facility.
"The reason they're sent here is because we can provide the security," Patten said.
Addressing the inmates' concerns
Inmates who follow the rules are kept in General Population and are allowed to participate in programs and have jobs.
Quinn Malcolm Wilridge is serving a 30-years-to-life sentence for second degree robbery, his third strike.
He's the vice chairman of the Inmate Advisory Council, a committee designed so inmates can express concerns to administration. The committee was discontinued after the February 2000 riot but was re-established on a trial basis last November.
"I am basically a liaison between staff, administration and inmates," Wilridge said. "My job is to become abreast as to the inmate's concerns."
Wilridge said some of the concerns inmates have include receiving care packages from family members, and portions during meals.
"There are individuals who work in the kitchen, for whatever reason, choose to just scoop the portions off the top of the pot without stirring it and bringing the meat to the top," Wilridge said. "We're getting the juice instead of the meat."
It's not uncommon for something as small as a dispute over portions to become an issue.
"There's four real important issues to a convict," Perez said. "His canteen, his mail, his food and his business. You will find that a significant amount of complaints revolve around those issues."
Wilridge recognizes that it's incidents between inmates in the past that have led to the cancellation of certain programs and stricter guidelines on others.
"We have to take responsibility for our actions," Wilridge said. "It's the reason it is the way it is. Fortunately we're having an opportunity today to reprove ourselves."
The council's purpose is to allow prisoners to voice their concerns about making their time at Pelican Bay a little more comfortable.
"We understand that we are expected to do our time here," Wilridge said. "But what we ask is that we please not be put in a position where the time is doing us."
Weapons and drugs
Prison gang activity has led to a Security Squad within Pelican Bay, that equates to a detective's bureau in a police department. They investigate and validate gang activity, much of which includes cell-made weapons and drug smuggling.
Since August 2000, 885 weapons have been found on inmates and confiscated.
"They (inmates) can take a plastic bag and in one hour they can make a weapon," said Security Squad Narcotics Investigator Jim Dagenais.
Lighters, paper, any scrap of metal, plastic and pens can all be turned into weapons for injuring rival gang members, guards or their own gang members.
"It's like we're working with magicians here," Dagenais said.
And just because an inmate may be locked in a cell doesn't mean he can't use a weapon to injure someone.
Dagenais described a scenario where the inmate will call a guard over to the cell and talk with him, but the whole time he's noticing where the guard's vital areas are in relation to the number of holes down from the top of the inside of his cell. The holes are then marked so the inmate knows exactly where to place a cell-made spear when he decides to attack the guard. This information can also be given to other inmates who may be planning an attack.
The inmates have also fashioned handcuff keys out of various materials.
"They're good for one, two, maybe three times, but that's all they need," Dagenais said.
The inmates take advantage of every moment they aren't supervised, which isn't very often.
"You'll have one dining officer and he'll be observing, doing everything he's supposed to do but then the phone rings," Dagenais said. "He goes to answer the phone and they start dismantling the place. He comes back and they're back working. They do this constantly."
Drugs are smuggled into the prison in numerous ways.
Dagenais described a technique where part of a greeting card is soaked in liquid methamphetamine, dried and then colored on to help hide the discoloration. The card, if it makes it through, then has pieces ripped off and sold inside.
Another technique is disguising mail with drugs as legal correspondence.
A lot of money is made by selling drugs in prison.
"A gram of black tar heroin on the street is generally about $50 or $60," Dagenais said. "By the time it comes in here, they break it down 15 times and sell it for $50 a hit."
Part two in Monday's Times-Standard will focus on the gangs in Pelican Bay.

---

Jan. 16, 2004

Report alleges state prison coverup
INVESTIGATION OF PELICAN BAY GUARDS CALLED `SHAM'
By Howard Mintz and Mark Gladstone Mercury News

Citing evidence of a massive coverup within the highest levels of California's
corrections department, a court-appointed investigator has found that the
state's prison system has ``lost control'' of its ability to investigate and
discipline guards for abusing inmates and is in dire need of major reforms.
The 80-page report, prepared for a San Francisco federal judge and
released Thursday, is a scathing denunciation of the California Department of
Corrections. The report suggests that top officials, including recently resigned
CDC Director Edward Alameida Jr., could be prosecuted for defying court
orders to clean up Pelican Bay State Prison and for lying during a probe into
how the CDC handled ongoing misdeeds by prison guards at the state's
toughest maximum-security prison, located near the Oregon border. The
report describes a CDC administration under the control of the state's
powerful prison guard union and willing to abdicate its internal discipline
procedures to maintain a dangerous ``code of silence'' about inmate abuses
such as beatings and staging fights among prisoners. Among other things, the
report accuses Alameida and his top lieutenants of killing an internal probe
into whether Pelican Bay guards lied during a 2002 federal criminal trial of
two guards ultimately convicted of civil rights violations. ``It's a shocking
document,'' said state Sen. Jackie Speier, D-San Mateo. It ``is probably the
most damning description of the subculture of the department.'' The report
was prepared by John Hagar, who monitors conditions at Pelican Bay for
U.S. District Judge Thelton Henderson. Hagar said the ``code of silence''
hinders the ability of investigators to pursue claims of prison guard
misconduct, a problem not just at Pelican Bay but at prisons throughout the
state. The report's release comes at a time when the state's prison system
and its leadership are under increased scrutiny -- and the report places the
onus for reforms squarely on the new administration of Gov. Arnold
Schwarzenegger. Without reforms, Henderson, who has overseen conditions
at Pelican Bay for more than 10 years, could force changes upon the state if
he accepts Hagar's findings. Cost cuts opposed As a cost-cutting measure,
Schwarzenegger has recommended folding an independent watchdog office
responsible for investigating complaints against prison guards into California's
adult and youth authority. That move, however, is strongly opposed by
Speier and state Sen. Gloria Romero, D-Rosemead, who are holding two
days of legislative hearings next week to examine the way the corrections
department polices itself. Speier said Hagar's report shows the CDC's
internal controls are ``rotten to the core.'' The guards' union, however, said it
was ``incredulous'' about the report's conclusions, and Alameida expressed
disappointment in the findings and defended the department's handling of
Pelican Bay investigations. ``I am particularly disturbed by allegations that I
interfered with an investigation or investigations, allegations I emphatically
deny,'' Alameida said in a prepared statement. Schwarzenegger's staff
referred questions about the report to the prison authority, which oversees
the corrections department and is under the leadership of a new secretary,
Rod Hickman. Tip Kindel, a spokesman for the agency, said Hickman is
working with Hagar and Henderson and is committed to a strong,
independent internal discipline system. ``He's basically committed to restoring
public and employee confidence in the employee discipline process,'' Kindel
said. Hagar's report found that the code of silence is carried out, unchecked,
by the state's politically influential prison guards' union, a strong supporter of
former Govs. Gray Davis and Pete Wilson. The CDC's top brass backed the
code of silence to the point of bowing to union pressure and squelching an
internal probe into allegations of perjury, according to the report. The perjury
allegations arose during the 2002 trial of two former Pelican Bay guards,
Edward Michael Powers and Jose Garcia, who were convicted and
sentenced to federal prison for violating inmates' rights by attacking them or
letting other inmates attack them. After the trial, CDC officials met with
federal prosecutors to review concerns that some Pelican Bay guards lied
during the proceedings to cover up for Powers and Garcia. Perjury alleged
But Hagar found that Alameida and several top aides conducted a quick
``sham'' investigation, and that it was ordered put to an end without any
action taken. During hearings last fall before Hagar, Alameida and several
other CDC officials offered a version of their investigation that Hagar
described as ``not believable,'' flatly accusing them of lying in a federal court.
In fact, as part of his recommendations to Henderson, Hagar supports
opening federal criminal investigations into their conduct, all of which he pins
on a top-to-bottom adherence to the code of silence. Melinda Haag, the
former federal prosecutor who tried Powers and Garcia, said she was
frustrated by that code during years of probing problems at Pelican Bay,
although she found the CDC at times to be cooperative. ``I certainly
encountered resistance and a lack of candor from some people,'' Haag said
Thursday. Union officials scoff at the notion of a code of silence and deny
impeding any investigations. ``If they aren't firing enough correctional officers,
it must be the big, bad correctional union,'' said Lance Corcoran, the union's
executive vice president. ``Unfortunately, if you tell the lie long enough,
someone believes it has some credence.'' However, prisoner-rights
advocates say they expect Henderson to endorse Hagar's findings. ``It's a
total indictment of their integrity and ability to police themselves,'' said Don
Specter, lead attorney for the Prison Law Office, which has pressed the
long-running civil rights case against Pelican Bay.

---