Prison expansion out of control
By Hannah-Beth Jackson
Tuesday, August 5, 2008

I am deeply concerned by the proposed prison expansion in Camarillo and stand together with the growing coalition of concerned Camarillo and Ventura County citizens who oppose the plans to construct a 1,500-bed facility for inmates with mental-health or medical conditions. The facility is out of place in Camarillo and potentially harmful to the future of the area. Our roads, water and sewage facilities and housing stock are not adequate for the massive increases that will result from this new facility, its staff and physical plant. It will place undue stress on existing infrastructure, impact the quality of life for nearby residents, deplete the existing healthcare work force and is potentially environmentally hazardous.
The prison expansion raises real fears about public safety in our communities. The last thing our families and our economy need is the threat of escaped prisoners. Maintaining a high level of public safety will require far more resources and will not eliminate the perceived threat felt by residents.
This facility ignores the surrounding community. Those who have invested their time, resources and good faith in making Camarillo a safe, healthy and attractive place to live do not deserve to be blindsided by this kind of misplaced development that undermines their efforts.
We must ensure that a careful examination is undertaken of all possible environmental impacts to the water and sewage infrastructure, and of all other potential detriments to the health and safety of Camarillo-area residents as required by the California Environmental Quality Act. I am particularly concerned about the impacts on the healthcare and public-safety infrastructure and whether or not we can expand the local healthcare work force to make up for raids by the prison, and take care of the healthcare needs of our existing population. There is no question that increased demand for personnel will raise the cost of healthcare and public-safety services in our district.
California faces serious decisions because of the rapid, out-of-control expansion of its prison system. We need to find practical, long-term solutions to a problem that has long been a political football. We can no longer ignore the impacts of the criminal-justice system on our communities.
As the only candidate in the race for the 19th Senate District who has prosecuted violent criminals, I know firsthand the importance of a functioning prison system. However, our state is using an extremely expensive prison system not only to isolate violent offenders, but also to do the job that our underfunded mental-health system should be doing and that our decimated school system could have prevented. Maintaining our schools and social services will save billions over the long run in prison costs, and help us avoid the kind of prison expansion we may be forced to live with now.
— Hannah-Beth Jackson of Santa Barbara served in the state Assembly from 1998-2004. She is the Democratic Party nominee to replace term-limited State Sen. Tom McClintock in an open seat in the 19th Senate District, which includes parts of Ventura and Santa Barbara Counties, and a small portion of Los Angeles County, and cities of Simi Valley, Thousand Oaks, Ventura, Santa Barbara, Santa Clarita, Camarillo, Moorpark, Lompoc, Ojai and others.

---
From the Los Angeles Times
Schwarzenegger urged to end deadlock over California prison hospitals
Because state lawmakers balked at a $7-billion plan to upgrade inmate medical care, a court-appointed receiver asks governor to provide the funding under a 2006 emergency decree.
By Michael Rothfeld
Los Angeles Times Staff Writer
June 10, 2008
SACRAMENTO — The overseer of healthcare in California state prisons asked Gov. Arnold Schwarzenegger on Monday to circumvent state lawmakers by using an emergency declaration to proceed with a $7-billion plan to build medical beds.
Last month, Republicans in the state Senate blocked passage of the plan proposed by court-appointed receiver J. Clark Kelso and endorsed by Schwarzenegger to borrow money to construct 10,000 beds in up to seven facilities for ailing and mentally ill inmates and to renovate existing prison clinics.
The receiver was appointed by a federal judge as part of a lawsuit by inmates seeking to improve healthcare in prisons, which has been ruled unconstitutionally poor.
After the Senate's rejection, Kelso issued a demand that the state provide the money he needs, regardless of whether it is borrowed or comes directly from state coffers. On Monday, Kelso went further by proposing that Schwarzenegger use his authority under a prison overcrowding emergency he declared in October 2006 to execute a contract with the receiver for the construction and the funding.
"This is simply due to the Legislature's failure to act," Kelso said. "This is not the most optimal way of doing budgeting."
Kelso has been trying to proceed with his construction program without requesting that U.S. District Judge Thelton Henderson force the state to cooperate. But on Monday, Kelso said, "That's where we're starting to head, without question."
Schwarzenegger previously used the state's Emergency Services Act to transfer inmates to private prisons outside California after lawmakers failed to approve measures he proposed to reduce overcrowding. Last week, a state appeals court upheld the transfers, which had been challenged by the state prison guards' union.
The receiver said he did not believe that the emergency declaration would give the governor the ability to borrow money without lawmakers' permission. But Schwarzenegger could redirect funding already appropriated, although that would be difficult given the state's budget crisis, Kelso said.
Lisa Page, a spokeswoman for Schwarzenegger, said the governor's office had not decided whether to go along with Kelso's new plan.
"We think it's much better to work with the Legislature on a solution than go around them," Page said.
Assemblyman Todd Spitzer (R-Orange) said the receiver's idea would be "a complete exploitation of the governor's emergency powers."
Republican senators have said they are open to authorizing the medical beds in conjunction with legislation that would expedite the construction of regular prison beds for inmates under a plan approved last year .
The lawmakers hope that building all of the beds together will minimize chances that a panel of three federal judges now monitoring state prisons will order a release of inmates due to overcrowding.
"We think this is unnecessary," Senate Minority Leader Dave Cogdill (R-Modesto) said of Kelso's effort to go around the legislators. "We're trying to get a comprehensive solution."
---
Prison guards say staph infection plaguing Folsom Prison
By AARON C. DAVIS, Associated Press Writer
Tuesday, August 28, 2007
(08-28) 17:08 PDT SACRAMENTO, (AP) --

The union representing state prison guards says dozens of employees at Folsom Prison have tested positive for staph infections this year — including a potentially deadly strain — and the infections are spreading rapidly.
The California Department of Corrections and Rehabilitation says it can't confirm all of the cases in the union's tally, but staph infections among inmates have increased in recent months.
According to the California Correctional Peace Officers Association, a dozen guards as well as a prison dentist and doctor have tested positive for Methicillin-Resistant Staphylococcus Aureus, or MRSA, a highly contagious strand that's often resistant to medication.
"It's really increased in the last four weeks, in the last week alone we've had four cases," Scott Lamphere, president of the Folsom Prison chapter of the guard's union, said Tuesday.
Lamphere said another 25 prison employees, including secretaries and office workers, this year have come down with other forms of staph infections.
Scott Unger, spokesman for the Department of Corrections and Rehabilitation, said the state cannot confirm the union's statistics, but has confirmed 35 cases of MRSA among Folsom inmates in 2007. Twenty of those cases have come since June, he said.
Lamphere said the tally is likely much higher. He said prison medical staff routinely diagnose the boils that look like MRSA as spider bites, but then treat the skin infections with the same antibiotic regiment as MRSA. "Who knows how many are actually MRSA," he said.
The union, which is in a running contract dispute with the department and Gov. Arnold Schwarzenegger's administration, filed a lawsuit against the state in April alleging it is putting Folsom guards at risk from infectious diseases.
A department spokeswoman, Lt. Cheryl Campoy, said she could not respond to the guard's complaints because of the pending litigation.
"I can only say the we have an infectious diseases plan and protocols," said Campoy. "We assume that every one may be infectious and we use universal precautions" such as gloves and face masks because of that, she said.
Campoy referred questions about the alleged outbreak to Rachael Kagan, spokeswoman for Bob Sillen, the federal court-appointed receiver for the state's prison health care system.
Kagan said she was not aware of an outbreak at Folsom. Rather, she said, staph infections are endemic in prisons and the receiver's office is monitoring staph infection problems at all 33 state prisons.
"There can be a lot of panic that goes along with this infection," Kagan said. "Not to make light of the situation, but it is not something that should induce hysteria. It's not flesh-eating, it's not the plague.... It needs to be treated, and the treatment is pretty straightforward."
Two prisoners in Pennsylvania died from MRSA last year.
---
Editorial: Prison health reform
-
Published 12:00 am PDT Sunday, September 24, 2006
A real overhaul of the state's prison medical care system is in sight.
Federal courts have taken over the prison medical and mental health systems, and their agent, health care receiver Robert Sillen, has an agenda for change. Two actions stand out in a report he released Tuesday.
In July, Sillen told the governor and legislators the state would need to build 5,000 prison medical beds and 5,000 prison mental health beds. The construction also would serve to relieve overcrowding by moving sick and mentally ill inmates out of conventional prison beds. But the governor and Legislature didn't act in the special session, so Sillen is proceeding on his own. The beds will be put in place.
Legislators and the governor now have a choice when the Legislature returns in January. They can pay for the construction with bonds or directly from the general fund.
Sillen also seeks a prison-by-prison overhaul of medical services, beginning with San Quentin. Designed for 3,700 inmates, it houses 5,100. The prison processes about 400 new prisoners each week. Sillen said Tuesday he will impose a population limit and a limit on how many newly sentenced prisoners San Quentin will receive. That action alone should put pressure on the Department of Corrections and Rehabilitation to finally start managing its 172,000-inmate prison population, as called for two years ago by the governor's Corrections Independent Review Panel (see "Inmate/Parolee Population Management" at cpr.ca.gov/report/indrpt/ corr/ report/7.htm). The San Quentin cap is the beginning of what's in store for California's 33 prisons.
Those who believe that prisoners have better health care than ordinary, law-abiding citizens should be challenged to trade their health care for prison care. On average, the court found that an inmate in one of California's prisons needlessly dies every six to seven days because of grossly deficient medical care. And that's not counting significant injuries, harm or medical complications short of death. In one case an inmate injured in a fight claimed he couldn't move his legs, so a doctor stuck needles in his legs and moved his neck from side to side, paralyzing him.
What a change over the decades. In 1955, San Quentin's hospital was nationally accredited and its chief medical officer had been the commanding officer of Bethesda Naval Hospital, the flagship of U.S. Navy medical centers. Forty years later, the court described San Quentin as antiquated, dirty, poorly staffed, poorly maintained, with inadequate medical space and equipment.
Sillen is doing what needs to be done to restore some semblance of order, decency and pride to the prison system. California prisons finally may have reached a turning point after decades of deterioration.
---
Elderly prisoners place burden on state
Associated Press
SACRAMENTO — California's inmate population is rapidly aging and will cost taxpayers more in prison health care costs in the years to come, a study released Wednesday by the Public Policy Institute of California said.
It costs two to three times more to house and care for the elderly than for younger inmates, and inmates 50 or older now make up 11 percent of the population, up from 4 percent in 1990, the report said. Inmates under age 25 are just 14 percent of the population now, compared with 20 percent in 1990.
"Providing medical and health care to California's prisoners is on its way to being an acute financial challenge," said Amanda Bailey, who co-authored the report for the San Francisco-based nonprofit institute.
Higher costs are even more likely since a federal court-appointed receiver, Robert Sillen, took control of the prison medical system. He has virtually unlimited power to order increased health care spending in a system he says is killing an average of one inmate a week through malpractice or neglect.
Rachael Kagan, a spokeswoman for the federal receiver's office, said Sillen plans to improve geriatric care but is focusing first on other areas.
The report was one of three studies released Wednesday as state lawmakers begin a special session on Gov. Arnold Schwarzenegger's $6 billion plan to cut crowding in California's prisons, which are designed to hold 100,000 inmates but now hold 172,000.
The governor wants legislators to approve building two new prisons, along with community correctional and "re-entry" facilities that would provide job-training, mental health and drug treatment to inmates nearing release. He also wants to add housing at existing prisons and pay other states to house up to 10,000 inmates.
The Oakland-based National Council on Crime and Delinquency on Wednesday backed Schwarzenegger's plan to send 4,500 female inmates to community and re-entry centers.
The task force of national experts also said lawmakers should create a commission to revise the state's complicated sentencing laws and work more closely with local jails. The politically influential California Correctional Peace Officers Association endorsed those recommendations.
More than 18,000 criminals each month are released early or skip jail entirely because of local crowding, according to a new report by the California State Sheriffs' Association. Court orders limit jail populations in 20 counties, and another 12 impose their own caps to control crowding, the association said.
At today's prices, it would cost at least $5 billion to build enough new jails and juvenile halls to keep up with demand over the next 45 years, it estimated.
The association will ask lawmakers Thursday to approve long-term borrowing to help pay for the construction.
On the Net:
Public Policy Institute of California: http://www.ppic.org
National Council on Crime and Delinquency: http://www.nccd-crc.org
California State Sheriffs' Association: http://www.calheriffs.org
http://tracypress.com/2006-08-10-state-one.php
---
http://www.latimes.com/news/local/la-me-prison24may24,1,6302989.story
Disease Has Sickened 1,300 State Prisoners
By Jenifer Warren
Times Staff Writer
May 24, 2006
SACRAMENTO — Nearly 1,300 inmates at nine California prisons have been stricken with gastroenteritis, according to corrections officials, who remain stumped by the source of the bacterial outbreak.
Some inmates have been hospitalized, but most have been treated in their cells for vomiting, fever, headaches, diarrhea and cramping caused by Campylobacter bacteria. A small number of staff members also have become ill.
The symptoms surfaced at Deuel Vocational Institute in Tracy, east of San Francisco, where 379 inmates have fallen ill since May 16. The contagious disease has since struck inmates at state prisons elsewhere in the San Joaquin Valley and also in Folsom, the Sierra foothills and Norco in Riverside County.
A spokeswoman for the Department of Corrections and Rehabilitation, Terry Thornton, said health authorities have not pinpointed the source of the bacteria. She said Campylobacter can be spread through contaminated water or food, including meat or unpasteurized milk.
"It's a mystery right now," Thornton said. "We're looking at everything."
Most of the prisons with ill inmates were initially placed on 24-hour "lockdown" status after the outbreak, to reduce contact with contagious inmates and to free up staff to help with treatment, Thornton said. While on lockdown, prisons close to visitors and halt inmate programs and education.
Thornton said prison healthcare workers were most concerned about dehydration from excessive vomiting. Some inmates have been given intravenous fluids, she said.
---
http://www.metroactive.com/metro/05.24.06/hepatitis-c-0621.html


May 24-30, 2006

The Real Hep C Crisis
A deadly mix of high-risk conditions and utter denial by officials is leaving California prisons ravaged by outbreak
By Eugene Alexander Dey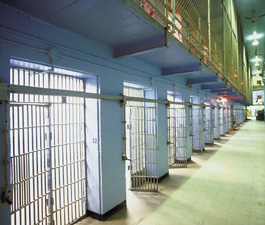 A Second Life Sentence: Inmates are facing a 40 percent Hepatitis C infection rate in California prisons.
HEPATITUS C has surpassed AIDS as the next stealth epidemic. And no demographic has been hit harder by HCV than California prisoners, who have a previously unimaginable infection rate of 40 percent. A disease of slow progression, 85 percent of inmates are projected to develop chronic HCV over a period of 10 to 40 years. These conditions are fueling a health crisis of monumental proportions because correctional health-care administrators are unable to provide even basic medical treatment, falling well below the bare-minimum constitutional requisites.
One of the inmates the California Department of Corrections and Rehabilitation is failing to treat is Larry Gilmore, originally from San Jose and now serving a life sentence for armed robbery at the California Correctional Center in Susanville. Gilmore contracted Hepatitis C many years ago. Since being diagnosed with this fatal ailment, Gilmore has no choice but to stave off the inevitable through diet and exercise.
"Right now I am being refused treatment," says Gilmore. "It is the CDCR's policy not to treat a patient until his liver has sustained considerable damage from the virus. Instead of early treatment, when a patient is healthy and able to tolerate the Interferon and Ribaviron, they insist on waiting until the liver is malfunctioning."
Due to his age and the fact that his viral load counts are within an acceptable range, Gilmore is barred from treatment under prison guidelines. Hepatitis C protocols implemented by the CDCR in 2005 automatically exclude anyone over 60 from receiving the combination drug therapy that begins at $10,000 a year. Gilmore believes prison officials implemented these exclusions as a short-sighted cost-cutting measure—without considering the consequences.
"I believe that a person should be treated upon request. We are not talking about heroic measures here," he says. "We are talking about an easily available drug treatment therapy."
According to San Francisco District Court Judge Thelton Henderson, Hepatitis C is concentrated in a system responsible for roughly 60 preventable deaths a year. In the landmark 1995 case Madrid v. Gomez, Henderson found that the inadequacies of the prison health-care system violated the Eighth Amendment rights of inmates. After officials in charge of the CDCR failed to enact a myriad of medical reforms, the judge found that "incompetence and indifference" were so "deeply entrenched" he appointed a correctional medical receiver answerable only to him. Together they will try and bring the CDCR out of the penological Dark Ages.
Grim Reality
When Steve Silvera from Vallejo came to the California Correctional Center with a five-year sentence for drug possession in late 2003, he knew little about Hepatitis C. Silvera, 41, couldn't believe that literally every other inmate has the virus.
"I had no idea so many had it [HCV]. I thought it was a rare occurrence," said Silvera, who has lived in the Bay Area since the early '90s. "Plus, on the streets, I never knew anyone to have it."
Silvera's epiphany didn't have anything to do with a hepatitis awareness campaign; instead, the death of Robert "Freddy" Hagenson brought it to his attention. Hagenson had chronic HCV that led to his death in December at age 54, when his liver failed due to advanced cirrhosis. Many at the California Correctional Center witnessed Hagenson's excruciating demise.
"It scares me that this disease can destroy a human being like it did Freddy," says Silvera. "But by the same token, preventative measures can be taken. One foolish decision in prison, like injecting drugs or a dirty tattoo needle, can end up a death sentence. Luckily, I've done neither."
Hepatitis C is a blood-borne pathogen and can spread quickly in a community of intravenous drug users. High-risk behavior like tattooing and unprotected sex can lead to transmission. But the fact that 80 percent of prisoners have histories of substance abuse—and continue to share tainted needles while incarcerated—explains why HCV is transmitted so efficiently in correctional facilities. By concentrating so many drug addicts together without substance abuse management or education about the dangers of contagious diseases, the death of inmates like Hagenson will grow in frequency as the natural progression of the liver disorder takes its toll on the afflicted.
"It was a shock to see him [Hagenson] deteriorate that fast. That was the first time I ever seen someone die in prison and I didn't like it," Silvera said. "I feel like I am serving two sentences: one the judge gave me, and the death sentence the CDCR might or might not have given me by surrounding me with so many with the disease."
Silvera, whose drug of choice was methamphetamines, is dismayed by the casual attitude toward the affliction even though nearly "everyone here has it [HCV]." With a June release date, and plans to go back to work with the roofers' union, Silvera is just trying to make it through some very deadly territory.
"Three months to the finish line, but it only takes one microscopic virus to beat me there; it's like I'm running for my life. Freddy's death made me feel like I'm walking through a mine field, and I only have three months to make it to the other side safely," said Silvera.
Legal Challenge
Hepatitis C is considered an incurable disease. However, if the combination of Interferon and Ribaviron is administered before severe cirrhosis develops and damages the liver beyond repair, 50 percent to 60 percent respond favorably and clear the virus. Yet, since the CDCR's medical is plagued by "incompetence and indifference," negligence is automatically suspected by Gilmore in the death of Hagenson.
"It really shook me up because Freddy had been pressing medical for treatment for a year or more before he died. Freddy told me that all he got was the run-around; lost blood tests, months and months of ... first they treat him and then they wouldn't. While all this was going on his liver worsened to the point of total failure. I can't help but wonder if I will meet the same end in here," says Gilmore.
With no other recourse, Gilmore is challenging his exclusion from combination therapy by filing an administrative appeal, a likely precursor to a lawsuit. Gilmore hopes to force the CDCR to abandon their protocols that deny him treatment based solely on age. In the statistical likelihood his condition develops into chronic HCV, he would be denied treatment under the new protocols and allowed to die.
Henderson recently appointed Robert Sillen as the court's receiver. For inmates like Gilmore, Sillen's success is a matter of life and death. The judge gave the receiver, a respected health-care manager, six months to implement life-saving measures. Already considered a national disgrace, the resignation of the Corrections Secretary Rod Hickman in March has sent the beleaguered agency into an unprecedented downward spiral. Some CDCR critics suggest that the governor should appoint an outsider with the political clout and wherewithal to transcend decades of bureaucratic ineptitude. Others want Henderson to place the entire agency under federal control. Gilmore just wants the CDCR to abandon its current protocols and provide treatment for those afflicted with this deadly disease.
"If the politicians and voters think it is such a great idea to build this huge, overbloated prison system—and pass out life sentences like candy—then they should be willing to pay the price of decent health care," added Gilmore. "[The] HCV care is an example of short-term thinking. There will come a day when there will be an aging prison population, half of which will be HCV infected. Treatment now will be far cheaper than down the road, when thousands will require more expensive measures in the end stages of liver disease."

Serving a life sentence for a nonviolent drug conviction under the three strikes law, writer Eugene Dey is an inmate at the California Correctional Center in Susanville.
---
http://seattlepi.nwsource.com/opinion/142914_hepatitis08.html
SEATTLE POST-INTELLIGENCER

Hepatitis C a little-known killer
Wednesday, October 8, 2003
By JIM KASTAMA
STATE SENATOR
When Kitty Candelaria's husband David was diagnosed with the Hepatitis C virus in November 1996, she didn't know about the shame and misinformation attached to it.
It began when a doctor, who assumed David had acquired the blood-borne virus by injecting intravenous drugs, tried repeatedly to make him admit just that. From that point on, David was so worried about being falsely labeled an IV drug user that he refused to tell anyone what was wrong with him.
The virus slowly ravaged his liver. Blood draws left puncture wounds that wouldn't heal, making David look like the IV drug user he feared people assumed he was. He finally quit work and told his shocked co-workers a month before dying on March 24, 2001, at the age of 46.
His last days were spent lying in the hospital, with Kitty by his side, waiting for a liver transplant that never came.
After David's death, Kitty still had many unanswered questions. Was she infected? Could their two daughters be infected? Why doesn't the public know about this killer virus?
Leaving the hospital that morning, Kitty Candelaria vowed to help break the silence. She soon started the National Hepatitis C Institute out of her Puyallup home. The institute's volunteers are working with established organizations to mount a national awareness and prevention campaign.
Between 8,000 and 10,000 people die of Hepatitis C annually in the United States, according to the U.S. Centers for Disease Control and Prevention. That rate is predicted to double or triple during the next two decades.
In Washington, nearly 11,000 cases have been reported to the state Health Department. Because only about 10 percent of cases are actually reported, national prevalence data indicate that as many as 106,000 people could be infected statewide.
Most people walk around with Hepatitis C for decades and never know it because it often causes no symptoms when first transmitted. Had the Candelarias known years ago that David, a Vietnam veteran, was at risk, Kitty says a test could have been done and perhaps saved his life. Veterans, health care workers, IV drug users and the prison population are at the highest risk because they come into contact with potentially infected blood or body fluids.
When Hepatitis C finally is diagnosed, often the damage is done. In the meantime, those who are infected continue to infect others unwittingly. The virus is estimated to spread 10 times faster than HIV/AIDS, so it's not a question of if we have an outbreak, but when.
No vaccine or cure exists. Treatment can cost at least $23,000 a year and is not universally effective. Our focus, then, should be on testing and education.
I worked to pass SB5039 during the 2003 legislative session. The new law directs the state Health Department to lead an effort to create, by Jan.1, 2004, a statewide plan to prevent and manage the disease.
This law puts Washington among fewer than a handful of states that have developed a plan to prepare for Hepatitis C; California, Texas and Hawaii also implemented plans during the past three years.
The state plan should recommend ways to:

Educate the public and the medical community.

Prevent and manage Hepatitis C among the highest-risk populations.

Have the capacity to perform voluntary testing.

Identify the sources and availability of funds.
Our state isn't required to devote money to developing its Hepatitis C plan. Only funds from the federal government and private sources can be used. Unfortunately, money is the reason our state's preparation efforts have stalled.
Most federal funding for blood-borne illness has been earmarked for preventing and treating HIV/AIDS. There is very little outside money available for Hepatitis C.
Hepatitis C is a different disease from AIDS. Although both viruses are blood borne and can be spread by behaviors such as IV drug use, Hepatitis C extends into the general population far more regularly than HIV/AIDS.
Since Hepatitis C transmission can occur in as little as one-tenth of a drop of blood, even the most seemingly incidental practices potentially can transmit the virus to anyone. If we allow it to worsen, an epidemic of Hepatitis C would be far worse than AIDS.
We are all at risk for Hepatitis C, so we should look forward to the state's awareness plan being completed on schedule. It's the only way to ensure no more Kitty Candelarias are forced to watch helplessly while their husbands die in their arms.
--------------------------------------------------------------------------------
Sen. Jim Kastama, D-Puyallup, represents the cities of Puyallup, Milton, portions of Fife and Edgewood, and the communities of Midland and Summit/South Hill. For more information about the National Hepatitis C Institute, call 253-840-0202 or visit the Web site at www.nationalhepatitiscinstitute.org
© 1998-2003 Seattle Post-Intelligencer