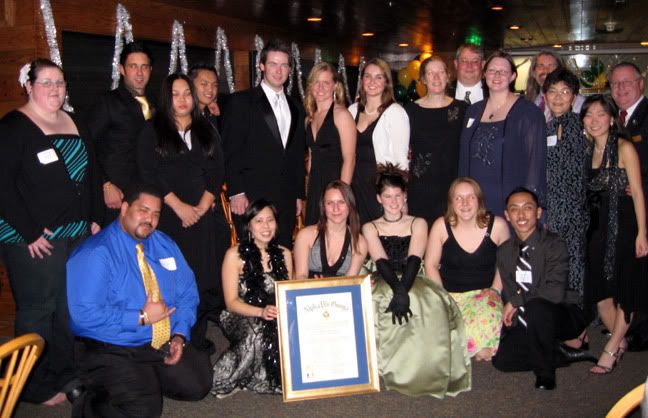 We have a *new* website!
http://apo.uaa.alaska.edu/AZH/
WHO WE ARE...
We are a group of students from the University of Alaska Anchorage who helped charter Alpha Phi Omega Co-Ed Service Fraternity Alpha Zeta Eta Chapter on campus. Our main focus is on Leadership, Friendship, and Service.
We provide service to the Fraternity, Campus, Community, and to the Nation. Since October 2005, we have participated in various service projects such as making St. Patrick's Day cards to the Pioneer's Home residents, dressing up as Critters at the Trick or Treat Town, Trick or Treat for UNICEF, helped low-income families pick out Christmas presents during the GIFT Program, Habitat for Humanity, Special Olympics Fall Games, read to Kindergartners on Dr. Seuss's Birthday, and serve as volunteer judges at the Klatt Elementary School Science Fair.
Besides doing community service, we also like to make new friends and gain new leadership skills. Our past fellowships include attending an Ace's Hockey Game (an interfellowship with Nu Omega - UAF!), getting coffee at Starbucks, Beartooth Theatre movie, bowling, scrapbooking party, and having lunch at Sagaya.
We also attend and hold leadership workshops. Some of our workshops are held at conferences in our Section, Region, and with everyone at Nationals. Section 8, the section our state belongs to, had their Sectional Conference on April 22 at Seattle University in Seattle, Washington where three of our members flew down to attend. Some of our current members have attend conferences at University of Washington, Gamma Alpha Chapter, and University of Alaska Fairbanks, Nu Omega

*Our Latest Project*: APO Week! Check out our calendar!
*NEW* pictures posted!!!