Divas Signed for December 17th's Joint Show
Malia Hosaka
Alere Little Feather
Lorelei Lee
Dark Angel
Kendra
Cindy Rogers
Persephone
Lucious Lily
Brandi Wine
Rowdy Red

WCEW Spotlight!
Alere Little Feather Faces off with Cindy Rogers at Chaos with a Title Match at stake...
Joint Show, WCEW Stars and ThunderGirls, Men and Women, OH WHAT A NIGHT!
The next big WCEW/ThunderGirls venture is set for December 17th in Hamlet North Carolina at the National Guard Armory with a special belltime of 7pm. Top DIVAS already signed included: Malia Hosaka, "Former WCEW/ThunderGirls Champion" Brandi Wine, Cindy Rogers, Kendra, Lucious Lily, Persephone, Alere Little Feather, Mrs. Jeanne, Lorelei Lee and many more to be announced...

****** Two Mega Matches have been signed as first "Former WCEW/ThunderGirls Champion" Brandi Wine will take on "International Sensation" Malia Hosaka, THEN in a "Title Match on a Pole Match" Cindy Rogers will face Alere Little Feather for a shot at Divas Champion, Allison Danger, in early 2006...

****** "Prime-Time" Amy Lee has contacted our offices and has said the she will be at "Christmas Chaos" and plans to make an EXTREME IMPACT....


If you have problems emailing us at our Office email, please use our WCEWBooking@yahoo.com account. Thanks...

The Video for the shows and Match Downloads are available at BattlingBeauties.com ... For more info. Check Out http://www.ThunderGirlsTheater.com or admin@thundergirls.com

For more info or booking questions contact: WebDesigner@indykingdesigns.cjb.net.

ThunderGirls Video and DvD News...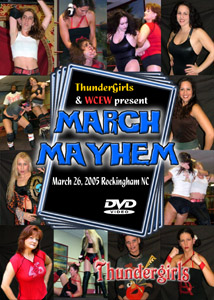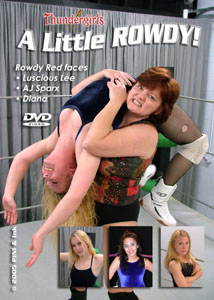 WCEW/ThunderGirls Divas Champion

Divas champion:
Allison Danger
1. Brandi Wine
2. Cindy Rogers
3. Alere Little Feather
4. Persephone
5. Rowdy Red