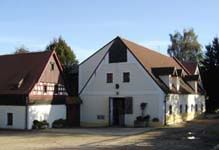 | Blackthorn Hills Farm | Wise Owl Farm |
Welcome to White Oleander Farm, where elite friesian horses and their crosses are bred, sold, and trained. We have several other breeds residing here, but our main focus is the friesian horse, and strengthening their presence in sim. This stable is just one of many that are ran and owned by Noel, who has been in SIM since around 2001 or so. Opened in early 2005, this stable has been a success story from the get-go. We have brought the community some of the best, top trained, and well-bred horses for both competition and breeding purposes and hope to continue to do so. I hope you enjoy the site, and the horses, feel free to take a look around.


December 30th, 2007 - After a long time of leaving the news section of WF neglected, I'm delighted to be able to update our visitors with WF's newest accomplishment. At SAI's Show Grounds we were awarded the honor of being named the 2007 Show Farm of the Year. After having been running since 2005, I feel the title was rightly earned. Housing brilliant competitors such as Ogeden, Mowgali, Brutus II, etc. has really brought our reputation to a high standing.
September 1st, 2006 - A new layout has finally been put up made by yours truly. Since the website has been put up a layout made by my dear friend, Tashya, was used. Well, I've finally gotten off my lazy ass and gotten some work done. There are a few changes in our roster as well. All of our miniature horses have been removed from the stable and have been sent to our storage box because of our lack of time for them. Sometime in the future they will be resurrected, but as of now I have no time for them. We're down to 5 stallions and a handful of mares, after saleing Mozielen to Sanna of Horses of Music to reside with Astrid WF. We've been doing quite successfully in the show arena with our horses and most are reaching Hall of Fame status, well our stallions anyways. The demand for our horses blood is becoming more and more in style and we're thrilled to have such a well known stable among other SIMmers.
July 25th, 2006 - We have opened up yet another subdivision of the WF name for our stock horses called Wise Owl Farm. I'd suggest taking a visit over there to see just what's going on. We've got a beautiful layout up with some top western babies residing there. We're still in the process of having our blowout sale and some fine horses are still up for grabs. Most were purchased the first day, but a few of our best show horses are up for grabs including Hyarky, Nyte, and more!
July 14th, 2006 - Some of our show stock is up for sale. This consists of out top notch hombred Hanoverian gelding, Bruuno WF; son of Brutus II, plus some kickin western mares and some miniatures. You really want to take a look at these guys because they have great parentage and a good show record. WF always trys to provide the best for our fellow SIMmers and likes to get our horses out in the arena before-hand. Really ladies, this is a great opportunity to get your hands WF magick.
June 21st, 2006 - New things with White Oleander Farm once again. A few reclaimings took place and a number of our homebreds are now being placed up for sale at a liquidation sale. After the reclaimings we ended up with more horses than our time could allow; with that said go visit our sales board. ColorMePinebar WF has rejoined us and we've decided not to sale him in the liquidation sale. We plan to get him in the showing arena to get some showing under his belt, then who knows; maybe we'll put him up for sale again. I doubt we'll be keeping a Scribble Pine Bar son permanently just because we need diverse APHA blood in our barn having only one APHA stallion and one AQHA stallion. YourHandInMine WF was born not to long ago and she is the daughter of Scribble Pine Bar; we've retained her for showing purposes. Our two racehorses, Top This Cat and Makintheblues, have done brilliantly and are burnin up the racetrack. I'd just like to take a minute to congratulate them and point you towards their stalls. In their coming 3-year-old career we'll be taking them to the Triple Crown. Maybe we'll have winners on our hand.
April 20th, 2006 - So, it's 4/20. For those of you who know the significance of this date, I addore. Happy 4/20 everyone. We've added a new addition to the stable. We adopted a black Shetland Pony stallion from Pewter Oakes Adoptions named Sirrock. He's as easily handled as he is beautiful. Couldn't be more pleased to have added him to the stable. Ever since Foxhaven's Mint Chocolate left WF, I've always had an empty stall in my stable looking to be replaced by a Shetland. Now he's here. The great Sirrock. Nyte WF is still avaliable by private treaty sale. Also please check out our sales. We've got some nice horses up for sale consisting of arabian and friesian homebreds.
April 15th, 2006 - We're back, after a long break. I was in the process of moving from one house to another, in real life, and I've finally gotten to my middle-of-nowhere destination and have my internet back. My horses have been on a break from showing for quite some time, and I plan to have a handful of them back in the showing arena immediately. The going-ons here are as follows: we still have horses for sale from our 2006 foal crop. They are soon going to be posted at the sales arena, but until then drop by our office and take a look at them. Skip A Pepper has produced his first foal, Be More Skippy WF, and we've already gotten great comments about him. We're back in the saddle now, so be ready for WF and BT to start appearing more in the SIM community.
December 6th, 2005 - We have a couple of new things going on. Okay, so we've gotten our 2006 foal crop together and we have decided who we are and aren't going to sale. Please look about and you'll see the link to get there. To inquire about a foal you have to e-mail, it's a simple process. Mowgali, who is residing at our Corolla division, has been successfully showing and is planned to sire his first foal soon. He will have a foal crop of his own eventually when I have more free mares and time to plan it all out. I've been lacking updates recently, but there you go. A couple of my stallions are still avaliable for lease. I think that's about it for now.
November 17th, 2005 - We now a couple of our stallions avaliable for lease. They are great horses and you'll be given breeding & showing rights. I do, however, retain the right to breed the stallion whenever I'd like, no questions asked. And should you not show him properly or do something I deem unacceptable I will terminate the lease. Go take a look though. Scribble Pine Bar, Impressive Doc Bar, and Brewers Little Halidar are the fellows. Also we took Scribble Me A Queen WF down from being for sale and sold two of our lovely morabs that we bred at Blackthorn Hills Farm.
October 29th, 2005 - Two of our boys have found new homes. Brewin Up Trouuble WF went to DeeAnne and was gelded. He's going to do wonders with her, no doubt. We're really excited that he went to such a loving home. Also Color Me Pinebar WF went to a new home with Tashya at GBA to be her rising stud to stand next to Barlnk Socketteer. We couldn't be prouder of these boys. We decided, once again, not to sell Bruuno WF. Now that he's a gelding, there's a little more room in the stable. Still for sale by Private Treaty is Scribble Me A Queen WF and Nyte WF. A beautiful APHA filly and Quariesian Gelding. (with semen stored away)
October 28th, 2005 - We've made a few modifications to our stable. We've had Bruuno WF gelded and have stored away semen from him so that in the future, should we want a foal by him, the possibility is there. Also we've placed our 2002 Palomino Quariesian Gelding, Nyte WF, for sale by private treaty. Not to mention we've just now placed Scribble Me A Queen WF up for sale as well; again, by private treaty only. Mowgali is now being boarded away from White Oleander Farm at Scripture Estates in Spur as we don't have a stable in Spur.
October 27th, 2005 - WF has put some of our youngstock up for sale by private treaty only. Look under our youngstock section of the barn to see who's for sale. They have 'For Sale' listed behind their names. No other horses are for sale other than the ones that have 'For Sale' behind their names. These horses are only avaliable to show homes so don't inquire if you're not intending on showing them
October 26th, 2005 - WF has added a new stallion to our show string named Mowgali. He is going to be our next Ogeden and hopefully be as famed as him one day. Mowgali comes from a brilliant background with preferent, model, and ster horses running through his blood. He is destined for greatness and will be present at the 2005 SFR Grand National Horse Show. Go visit him, you'll adore him.