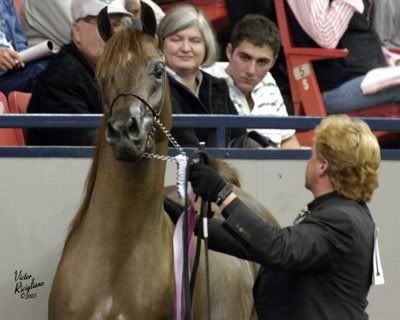 BT BWIAZOT++++ 2002 Chestnut Polish Arabian Stallion
Sired by *Census and Out of Borjczky (x Europejczyk)
A beautiful Polish-bred Stallion coming from a powerful and dominating sporthorse background, from the day he was born his path was set ahead of him. At the age of 4 after having been professionally trained in Training Level Dressage he was sent on his way to join the well-known August Arabians to head on to bigger and better things. Since joining them he has managed to go to high ranked shows bringing home championships such as the Scottsdale and Pacific Slopes. We're very proud of the road this young stallion has taken. Having recently rejoined our herd in February of 2007, you can expect to see him in the 2007 AHAC Show Ring.





*CENSUS++++

Gennesis
*Mellon
EW Rema
Zamiana
Borek
Zasluga

BORJCZKY+/

Europejczyk
*El Paso
Europa
Euterpe
Probat
Eunice

- BT Algonkqin, 2007 Chestnut Polish Colt Out of BT Alicja
- BT Engraved, 2005 Chestnut Polish Filly Out of *Etca






1st Level Dressage and 2'6 Hunters
AHAC Points: 1532
AHAC Title: Legion of Masters (++++)


Bahiya Arabian Classic 2006 [ISG]
Sport Horse In-Hand Champion Stallion
Champion - Jr. Sporthorse Stallions In-Hand
ResChampion - Sport Horse Under Saddle Open
ResChampion - Sport Horse Under Saddle Jr. Horse
ResChampion - Training Level Dressage
2006 Al-Anka Classic [ISG]
ResChampion - Four Year Old Stallions In-Hand
ResChampion - Sport Horse Under Saddle Jr. Horse
Top Ten - Jr. Sporthorse Stallions In-Hand
Top Ten - Sport Horse Under Saddle Open
Top Ten - Four Year Old Stallions
Top Ten - Training Level Dressage
Pacific Slopes 2006 [ISG]
Champion - Jr. Sporthorse Stallions In-Hand
Champion - Four Year Old Stallions
ResChampion - Training Level Dressage
Top Ten - Jr. Sporthorse Stallions In-Hand
Top Ten - Sport Horse Under Saddle Open
Scottsdale 2006 [ISG]
Champion - Sport Horse Under Saddle Open
Top Ten - Four Year Old Stallions
Top Ten - Jr. Sporthorse Stallions In-Hand
Top Ten - Sport Horse Under Saddle Jr. Horse
Top Ten - Training Level Dressage
The Region Two Qualifier 2006 [ISG]
Champion - Sport Horse Under Saddle Jr. Horse
ResChampion - Training Level Dressage
Top Ten - Four Year Old Stallions
Top Ten - Jr. Sporthorse Stallions In-Hand
Orientalica 2006 [ISG]
Top Ten - Four Year Old Stallions
Arabian Fiesta 2006 [ISG]
Top Ten - Four Year Old Stallions
Arabica 2006 [ISG]
ResChampion - Four Year Old Stallions
Top Ten - Jr. Sporthorse Stallions In-Hand
Top Ten - Sport Horse Under Saddle Jr. Horse
Top Ten - Training Level Dressage
Scandanavian Open 2006 [ISG]
Top Ten - Four Year Old Stallions
German Nationals 2006 [ISG]
Top Ten - Jr. Sporthorse Stallions In-Hand
Top Ten - Sport Horse Under Saddle Jr. Horse
Top Ten - Training Level Dressage
Abubakar Arabian Classic 2006 [ISG]
Sport Horse In-Hand Reserve Champion Stallion
Champion - Jr. Sporthorse Stallions In-Hand
ResChampion - Training Level Dressage
Top Ten - Four Year Old Stallions
Top Ten - Sport Horse Under Saddle Jr. Horse
The Navajo Cup 2006 [ISG]
Top Ten - Four Year Old Stallions
Str�hen International 2006 [ISG]
ResChampion - Sport Horse Under Saddle Jr. Horse
Top Ten - Jr. Sporthorse Stallions In-Hand
Top Ten - Training Level Dressage
American Invitational 2006 [ISG]
ResChampion - Jr. Sporthorse Stallions In-Hand
ResChampion - Sport Horse Under Saddle Jr. Horse
Top Ten - Training Level Dressage
Top Ten - Four Year Old Stallions
Champlain Classic 2006 [ISG]
Top Ten - Jr. Sporthorse Stallions In-Hand
Top Ten - Sport Horse Under Saddle Jr. Horse
Top Ten - Training Level Dressage
The Basmah Arabian Event 2006 [ISG]
Sport Horse In-Hand Champion Stallion
Champion - Jr. Sporthorse Stallions In-Hand
Champion - Sport Horse Under Saddle Jr. Horse
Champion - Training Level Dressage
Top Ten - Four Year Old Stallions
Menton International 2006 [ISG]
ResChampion - Training Level Dressage
Top Ten - Jr. Sporthorse Stallions In-Hand
Top Ten - Sport Horse Under Saddle Jr. Horse
Merrist Wood 2006 [ISG]
Champion - Training Level Dressage
ResChampion - Jr. Sporthorse Stallions In-Hand
Top Ten - Sport Horse Under Saddle Jr. Horse
Mooslargue International 2006 [ISG]
Champion - Four Year Old Stallions In-Hand
Champion - Sport Horse Under Saddle Jr. Horse
Top Ten - Jr. Sporthorse Stallions In-Hand
Top Ten - Training Level Dressage
All Nations Cup 2006 [ISG]
Top Ten - Four Year Old Stallions In-Hand
Top Ten - Sport Horse Under Saddle Jr. Horse
Top Ten - Training Level Dressage
Aneksja 2006 [ISG]
Top Ten - Four Year Old Stallions In-Hand
Le Classiqe d'Automne 2006 [ISG]
Top Ten - Jr. Sporthorse Stallions In-Hand
Top Ten - Sport Horse Under Saddle Jr. Horse
Top Ten - Training Level Dressage
THE Fredericton 2006 [ISG]
Top Ten - Jr. Sporthorse Stallions In-Hand
Top Ten - Sport Horse Under Saddle Jr. Horse
Top Ten - Training Level Dressage
Lingfield 2006 International B Show [ISG]
Champion - Training Level Dressage
Top Ten - Sport Horse Under Saddle Jr. Horse
Lublin Arabian Horse Show 2006 [ISG]
ResChampion - Jr. Sporthorse Stallions In-Hand
ResChampion - Training Level Dressage
Top Ten - Sport Horse Under Saddle Jr. Horse - Top Ten
Top Ten - Four Year Old Stallions In-Hand
2006 German National Stallion Show [ISG]
Top Ten - Four Year Old Stallions In-Hand
Middle East Championships 2006 [ISG]
Top Ten - Jr. Sporthorse Stallions In-Hand
Top Ten - Sport Horse Under Saddle Jr. Horse
Top Ten - Training Level Dressage
2006 Saint Tropez All Arabian Horse Show [ISG]
Top Ten - Four Year Old Stallions In-Hand
2006 Sakr & McNair Tribute Show [ISG]
ResChampion - Jr. Sporthorse Stallions In-Hand
Top Ten - Sport Horse Under Saddle Jr. Horse
Top Ten - Training Level Dressage
2006 Sopron Arabian Horse Show [ISG]
ResChampion - Four Year Old Stallions In-Hand
Top Ten - Jr. Sporthorse Stallions In-Hand
Top Ten - Sport Horse Under Saddle Jr. Horse
Top Ten - Training Level Dressage
Razzle Dazzle Classic 2006 [ISG]
Champion - Training Level Dressage
Top Ten - Four Year Old Stallions In-Hand
Top Ten - Jr. Sporthorse Stallions In-Hand
Top Ten - Sport Horse Under Saddle Jr. Horse
Poprad Arabian Horse Show [ISG]
ResChampion - Four Year Old Stallions In-Hand
ResChampion - Jr. Sporthorse Stallions In-Hand
ResChampion - Training Level Dressage
Top Ten - Sport Horse Under Saddle Jr. Horse
Bishkek Classic 2006 [ISG]
ResChampion - Training Level Dressage
Top Ten - Four Year Old Stallions In-Hand
Top Ten - Jr. Sporthorse Stallions In-Hand
Top Ten - Sport Horse Under Saddle Jr. Horse
Guinness Invitational 2006 [ISG]
Champion - Sport Horse Under Saddle Jr. Horse
Champion - Training Level Dressage
Top Ten - Jr. Sporthorse Stallions In-Hand
Corona Classic 2006 [ISG]
Sporthorse In-Hand Reserve Champion Stallion
Champion - Jr. Sporthorse Stallions In-Hand
ResChampion - Sport Horse Under Saddle Jr. Horse
ResChampion - Training Level Dressage
Nova Scotia International Cup 2006 [ISG]
Champion - Sport Horse Under Saddle Jr. Horse
ResChampion - Training Level Dressage
Top Ten - Four Year Old Stallions In-Hand
Top Ten - Jr. Sporthorse Stallions In-Hand
2007 Blackthorn Hills Homebred Invitational II
ResChampion - Junior Breeding Stallion In-Hand
AHAC 2007 Scottsdale Show
Champion - First Level Dressage
Champion - Hunter Hack (Fences 2' to 2'6)
Top Ten - Produce of Dam
Top Ten [G3] - Freestyle Dressage
Top Ten [G3] - Junior Sporthorse Stallions In-Hand
Top Ten [G5] - Sporthorse Under Saddle Jr. Horse
AHAC 2007 Qatar International
Champion - Sporthorse Under Saddle Jr. Horse
Champion - Hunter Seat Over Obstacles (2'6 to 3'0)
Top Ten - Junior Sporthorse Stallions
Top Ten - First Level Dressage
Top Ten - Hunter Hack (Fences 2' to 2'6)
Top Ten [G2] - Freestyle Dressage
Top Ten [G2] - Five Year Old Stallions
Top Ten [G3] - Get of Sire
Top Ten [G7] - Classic Head Stallions
AHAC 2007 Dubai International
Top Ten - Five Year Old Stallions
AHAC 2007 Str�hen International
Top Ten - Five Year Old Stallions
Top Ten G3 - Get of Sire
Top Ten G3 - Produce of Dam
AHAC 2007 Egyptian National Championships
Champion G2 - First Level Dressage
Champion G2 - Hunter Seat Over Obstacles (2'6 to 3'0)
ResChampion - Junior Sporthorse Stallions
Top Ten - Get of Sire
Top Ten - Produce of Dam
Top Ten - Classic Head Stallions
Top Ten G2 - Five Year Old Stallions
Top Ten G3 - Hunter Hack (Fences 2' to 2'6)
Top Ten G4 - Freestyle Dressage
Top Ten G5 - Sporthorse Under Saddle Jr. Horse
AHAC 2007 Sharjah International
Champion - Hunter Seat Over Obstacles (2'6 to 3'0)
Top Ten - Five Year Old Stallions
Top Ten - Get of Sire
Top Ten - Junior Sporthorse Stallions
Top Ten - First Level Dressage
BT Morkhan Arabian Classic 2007
Top Ten - Five Year Old Stallions
AHAC Abu Dhabi 2007
Top Ten - Produce of Dam
BT Sitwat Arabian Show 2007
Top Ten - Hunter Seat Over Obstacles (2'6 to 3'0)
Top Ten - Five Year Old Stallions
Top Ten - First Level Dressage
Badi Arabian Event 2007
Top Ten - Five Year Old Stallions
AHAC 2007 U.S. Nationals
Top Ten - Five Year Old Stallions
Top Ten - Junior Sporthorse Stallions
Top Ten - Hunter Seat Over Obstacles (2'6 to 3'0)
Top Ten - Get of Sire
Top Ten - Produce of Dam
AHAC Arabian Breeders World Cup 2007
ResChampion - Junior Sporthorse Stallions
Top Ten - Hunter Seat Over Obstacles (2'6 to 3'0)
Top Ten - Five Year Old Stallions
Top Ten - First Level Dressage
Top Ten - Produce of Dam
AHAC Wels International 2007
International Reserve Champion Junior Stallion
Champion - Five Year Old Stallions
Top Ten - Get of Sire
Top Ten - Produce of Dam
AHAC Tulip Cup 2007
Top Ten - Five Year Old Stallions
Top Ten - Get of Sire
Top Ten - Produce of Dam
AHAC 2007 Jordan National Championships
Champion - Junior Sporthorse Stallions
Top Ten - Five Year Old Stallions
Top Ten - First Level Dressage
Top Ten - Hunter Seat Over Obstacles (2'6 to 3'0)
AHAC 2007 European Championships
Champion - Produce of Dam
Top Ten - Junior Sporthorse Stallions
Top Ten - Hunter Seat Over Obstacles (2'6 to 3'0)
AHAC 2007 Dutch National Championships
Top Ten - Five Year Old Stallions
Top Ten - Produce of Dam
2007 AHAC Israeli National Championships
Top Ten - Five Year Old Stallions
Top Ten - Produce of Dam
2007 Blackthorn Hills Homebred Invitational III
Champion - Junior Breeding Stallion
BT Rizwana Arabian Spectacular 2007
Champion - Hunter Seat Over Obstacles (2'6 to 3'0)
ResChampion - Five Year Old Stallions
Top Ten - First Level Dressage
AHAC 2007 Egypt International
Top Ten - First Level Dressage
Top Ten - Hunter Seat Over Obstacles (2'6 to 3'0)
AHAC 2007 Salon Du Cheval
Top Ten - Five Year Old Stallions
AHAC 2007 Brazilian National Championships
Top Ten - Five Year Old Stallions
Top Ten - Produce of Dam
Top Ten - Hunter Seat Over Obstacles (2'6 to 3'0)
AHAC Sharjah 2007
Champion - Five Year Old Stallions
Top Ten - First Level Dressage
Top Ten - Hunter Seat Over Obstacles (Fences 2'6 to 3'0)
AHAC 2008 Region 1 Championships
Top Ten - Six Year Old Stallions
Top Ten - Freestyle Dressage Jr Horses
AHAC 2008 Canadian Nationals
Top Ten - Six Year Old Stallions
Top Ten - Junior Sporthorse Stallions
Top Ten - Freestyle Dressage Jr Horses
Top Ten - Hunter Hack (Fences 2' to 2'6)
AHAC 2008 Region 2 Championships
Top Ten - Six Year Old Stallions
Top Ten - Produce of Dam
Top Ten - First Level Dressage
Top Ten - Freestyle Dressage Jr Horses
Top Ten - Hunter Hack (Fences 2' to 2'6)
AHAC Ajman National Show 2008
Top Ten - Produce of Dam
Top Ten - Freestyle Dressage Jr Horses
AHAC Abu Dhabi 2008
Top Ten - Produce of Dam
AHAC Scottsdale Arabian Horse Show 2008
Champion - First Level Dressage
Top Ten - Produce of Dam
Top Ten - Hunter Hack (Fences 2' to 2'6)
AHAC 2008 Egyptian National Championships
Top Ten - Six Year Old Stallions
Top Ten - Produce of Dam
AHAC 2008 Str�hen International
Top Ten - Produce of Dam
AHAC Qatar International 2008
Top Ten - First Level Dressage
AHAC 2008 Sharjah International
Top Ten - Six Year Old Stallions
AHAC Arabian Breeders World Cup 2008
ResChampion - Six Year Old Stallions
Top Ten - Freestyle Dressage Jr Horses
Top Ten - Hunter Hack (Fences 2' to 2'6)
AHAC 2008 U.S. Nationals
Top Ten - Six Year Old Stallions
Top Ten - Produce of Dam
Top Ten - First Level Dressage
Top Ten - Freestyle Dressage Jr Horses
Top Ten - Hunter Hack (Fences 2' to 2'6)
AHAC Wels International 2008
Top Ten - Six Year Old Stallions
AHAC Tuilp Cup 2008
Top Ten - Six Year Old Stallions
AHAC Buckeye 2008
Top Ten - Six Year Old Stallions
Top Ten - Produce of Dam
Top Ten - Junior Sporthorse Stallions
Top Ten - Freestyle Dressage Jr Horses
AHAC 2008 Austrian National Championships
ResChampion - Six Year Old Stallions
Top Ten - Produce of Dam
AHAC Arabica 2008
Top Ten - Junior Sporthorse Stallions
AHAC Orientalica 2008
Champion - Six Year Old Stallions
AHAC 2008 Jordan National Championships
Champion - Produce of Dam
AHAC 2008 Menton International
International ResChampion Junior Stallion
ResChampion - Six Year Old Stallions
ResChampion - Freestyle Dressage Jr Horses
Top Ten - Junior Sporthorse Stallions
AHAC 2008 German Nationals
Champion - Junior Sporthorse Stallions
AHAC 2008 Czech National Championships
ResChampion - Junior Sporthorse Stallions In-Hand
Top Ten - Six Year Old Stallions
Top Ten - Produce of Dam
Top Ten - First Level Dressage
Top Ten - Freestyle Dressage Jr Horses
Top Ten - Hunter Hack (Fences 2' to 2'6)
AHAC Emerald Trophy 2008
Top Ten - Produce of Dam
AHAC Asil Cup 2008
ResChampion - Produce of Dam
AHAC 2008 Scandinavian Open Championships
Top Ten - Six Year Old stallions
Top Ten - Juinor Sporthorse Stallions
Top Ten - Freestyle Dressage Jr Horses
Top Ten - Hunter Hack (Fences 2' to 2'6)
AHAC Mooslargue 2008
Champion - Six Year Old Stallions
AHAC Towerlands UK 2008
ResChampion - First Level Dressage
Top Ten - Freestyle Dressage Jr Horses
Top Ten - Hunter Hack (Fences 2' to 2'6)
AHAC Danish National Championships 2008
Champion - Produce of Dam
AHAC Vilhelmsborg 2008
Top Ten - Six Year Old Stallions
Top Ten - Produce of Dam
Top Ten - Juinor Sporthorse Stallions
Top Ten - Freestyle Dressage Jr Horses
AHAC Moroccan Nationals 2008
ResChampion - Hunter Hack (Fences 2' to 2'6)
Top Ten - Six Year Old Stallions
Top Ten - Juinor Sporthorse Stallions
AHAC Norwegian National Championships 2008
Top Ten - Produce of Dam
Top Ten - First Level Dressage
Top Ten - Freestyle Dressage Jr Horses
AHAC Saint Tropez Arabian Cup 2008
International Champion Junior Stallion
Champion - Six Year Old Stallions
AHAC Merrist Wood 2008
Top Ten - Six Year Old Stallions
Top Ten - Produce of Dam
Top Ten - Juinor Sporthorse Stallions
Top Ten - First Level Dressage
Top Ten - Freestyle Dressage Jr Horses
Top Ten - Hunter Hack (Fences 2' to 2'6)
AHAC Middle East Championships 2008
Top Ten - Six Year Old Stallions
Top Ten - Produce of Dam
Top Ten - First Level Dressage
Top Ten - Hunter Hack (Fences 2' to 2'6)
AHAC Dutch Nationals 2008
Top Ten - Six Year Old Stallions
Top Ten - Produce of Dam
AHAC European Championships Verona 2008
Champion - Hunter Hack (Fences 2' to 2'6)
AHAC Egypt International 2008
Top Ten - Produce of Dam
Top Ten - Freestyle Dressage Jr Horses
Top Ten - Hunter Hack (Fences 2' to 2'6)
AHAC Brazilian Nationals 2008
ResChampion - Hunter Hack (Fences 2' to 2'6)
Top Ten - Six Year Old Stallions
AHAC St. Petersburg Open 2008
Champion - Hunter Hack (Fences 2' to 2'6)
AHAC Salon Du Cheval 2008
Top Ten - Six Year Old Stallions
AHAC Sharjah 2008
Top Ten - Produce of Dam
Top Ten - First Level Dressage
AHAC Region 1 Championships 2009
Top Ten - Seven Year Old Stallions
Top Ten - Freestyle Dressage Jr Horses
Top Ten - Hunter Seat Over Obstacles (2'6 to 3'0)
AHAC Region 2 Championships 2009
ResChampion - Hunter Seat Over Obstacles (2'6 to 3'0)
ResChampion - Senior Sporthorse Stallions
Top Ten - Freestyle Dressage Jr Horses
Top Ten - Seven Year Old Stallions
AHAC Canadian Nationals 2009
Top Ten - Seven Year Old Stallions
Top Ten - Hunter Seat Over Obstacles (2'6 to 3'0)
AHAC Ajman National Show 2009
Top Ten - Seven Year Old Stallions
Top Ten - Hunter Seat Over Obstacles (2'6 to 3'0)
AHAC Scottsdale Arabian Horse Show 2009
Top Ten - Seven Year Old Stallions
Top Ten - Freestyle Dressage Jr Horses
Top Ten - Hunter Seat Over Obstacles (2'6 to 3'0)
AHAC Voghera 2009
Regional ResChampion Senior Stallion
Champion - Seven Year Old Stallions
Top Ten - Hunter Seat Over Obstacles (2'6 to 3'0)