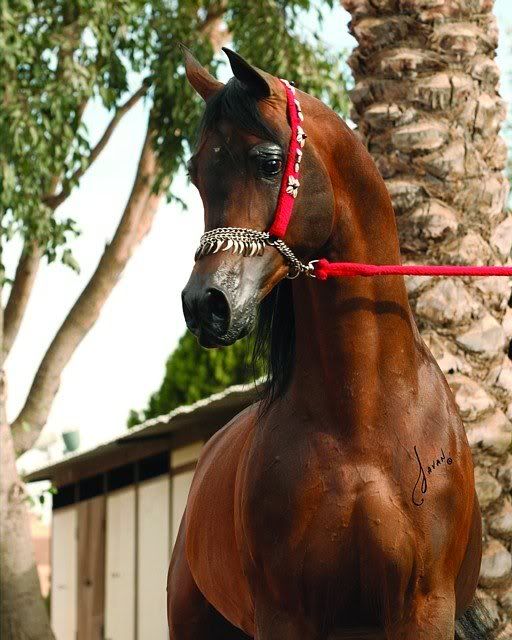 *CENSUS++++ 1998 Bay Polish Arabian Stallion
Sired by Gennesis and Out of Zamiana (x Borek)
*Census is a fabulous Sporthorse Stallion that we purchased from the AHA Auction within Equine and Canine Fancy. His pedigree is full of polish perfection and we're pleased to have added such a talented, bewitching horse to our herd. An enthralling young competitor with such coordinated, planned out footwork and pleasing lift, *Census quickly made his way up the ladder in fame. He's got a great personality that promotes his well-balanced career and he has become such a bulwark for Blackthorn Hills Farm. A delicately sculpted head and large, exhuberant nostrils, and kind, expressive eyes, you can really tell he is a work of God.





GENNESIS

*Mellon
Celebes
Mantyla
EW Rema
*El Paso
EW Sabaska

ZAMIANA

Borek
Fawor
Borowina
Zasluga
Wigor
Zamiec

- Dahabu Ibis, Grey Polish Filly Out of *Beyberry Beauty
- BT Pzercja, 2007 Bay Polish Filly Out Of Patrycja
- *BT Emilacj, 2006 Bay Polish Filly Out of BT Erykah
- BT Czeltic, 2006 Grey Polish Colt Out of BT Czelbe
- GM Foxy Cleopatra, 2006 Bay Filly Out of Elegant As
- BT Borowska, 2005 Chestnut Polish Filly Out of Borjczky
- BT Drywater, 2006 Bay Polish Filly Out of Dekwizja AM
- CKS Czeslawa, 2005 Bay Polish Filly Out of PGN Blozzim
- Fountain, 2005 Bay Polish Colt Out of Fryderyka
- BT Bajymor, 2004 Bay Polish Colt Out of Borjczky
- BT Pwionek, 2003 Bay Gelding Out of WA Pwiotny
- BT Calendyr, 2003 Bay Filly Out of BT Pherzaamcus
- BT Genius, 2002 Bay Morab Filly Out of Natalia
- BT Bwiazot, 2002 Chestnut Polish Colt Out of Borjczky
- S Captyn, 2002 Chestnut Polish Colt Out of Kasia
- BT Bohgana, 2002 Bay Polish Colt Out of
- Celestian AM, 2002 Bay Polish Filly Out Of Crona Dyamina
- BT Entropian, 2002 Bay Polish Filly Out of Eurficyt
- BT Ekdariusz, 2001 Grey Polish Colt Out of BT Erykah
- S Beata, Bay Polish Arabian Filly Out of Bandia






Hunter Pleasure, 3rd Level Dressage, & 3'6 Show Jumping
AHAC Points: 1408
AHAC Title: Legion of Masters (++++)


2004 All Nations Cup [ECF]
Top Ten - 4 to 5 Year Old Stallions
2004 Region 5 Championships [ECF]
ResChampion - Hunter Hack
Top Ten - 2000 Arabian & Half-Arabian
Top Ten - Show Jumping (2'0-2'6 In Height)
Top Ten - Training Level Dressage
Top Ten - Jr. Horse Hunter Pleasure
The Jubilee Showcase 2004
ResChampion - Arabian Junior Breeding Stallion 3 to 5
2005 ASAHA Scottsdale
Top Ten - Junior Sporthorse Stallions
Top Ten - First Level Dressage
Top Ten - Hunter Hack (Fences 2' to 2'6)
The Jubilee Showcase 2005
ResChampion - Arabian Junior Breeding Stallion 3 to 5
Top Ten - The Jubilee Showcase $10,000 Open Halter (Group II)
2005 ASAHA All Nations Cup
Top Ten - Five Year Old Stallions
2005 ASAHA Elran Cup
International Reserve Jr Stallion Champion
Champion - Five Year Old Stallions
2005 ASAHA Dubai International
Top Ten - Five Year Old Stallions
2005 ASAHA Region 7 Championships
Regional Reserve Champion
Champion - Senior Stallions
ResChampion - 5 Year Old Stallions
Top Ten - Hunter Hack (2'0 - 2'6)
2005 ASAHA Region 1 Championships
Top Five - Hunter Pleasure Jr. Horse
2005 ASAHA US Nationals
National Reserve Jr Stallion Champion
Champion - Five Year Old Stallions
2005 ASAHA Sporthorse National Show
ResChampion - Hunter Hack (2'0 - 2'6)
Top Ten - Senior Stallions
2006 ASAHA Region 2 Championships
Regional Champion Sporthorse Stallion
ResChampion - Junior Sporthorse Stallions
ResChampion - 2nd Level Dressage
ResChampion - Jumper (Fences 3'3 to 3'6)
Top Ten - Six Year Old Stallions
2006 ASAHA Hamburg Classic
Top Ten - Six Year Old Stallions
AHAC 2006 Canadian National Championships
Champion - Junior Sporthorse Stallions
Champion - Jumper (Fences 3'3 to 3'6)
Top Ten - Six Year Old Stallions
Top Ten - Second Level Dressage
Top Ten - Hunter Pleasure Jr. Horse
AHAC Elran Cup 2006
Top Ten - Six Year Old Stallions
AHAC Towerlands UK 2006
ResChampion - Six Year Old Stallions
AHAC Mooslargue International 2006
Champion - Junior Sporthorse Stallions
ResChampion - Six Year Old Stallions
Top Ten - Jumper (Fences 3'3 to 3'6)
Top Ten - Second Level Dressage
Top Ten - Hunter Pleasure Jr. Horse
AHAC Qatar 2006
Top Ten - Six Year Old Stallions
AHAC Merrist Wood 2006
Top Ten - Six Year Old Stallions
Top Ten - Junior Sporthorse Stallions
Top Ten - Jumper (Fences 3'3 to 3'6)
Top Ten - Second Level Dressage
AHAC 2006 US Nationals
ResChampion - Junior Sporthorse Stallions
ResChampion - Jumper (Fences 3'3 to 3'6)
Top Ten - Six Year Old Stallions
Top Ten - Second Level Dressage
AHAC 2006 All Nations Cup
Top Ten - Six Year Old Stallions
AHAC 2006 Region 2 Championships
Top Ten - Six Year Old Stallions
Top Ten - Junior Sporthorse Stallions
Top Ten - Jumper (Fences 3'3 to 3'6)
Top Ten - Second Level Dressage
AHAC Tulip Cup 2006
Top Ten - Six Year Old Stallions
AHAC 2006 Ströhen International
ResChampion - Six Year Old Stallions
AHAC 2006 Sporthorse Nationals
Top Ten [G2] - Junior Sporthorse Stallions
Top Ten - Sporthorse Under Saddle Jr. Horse
Top Ten - Second Level Dressage
Top Ten - Musical Freestyle
Top Ten - Jumper (Fences 3'3 to 3'6)
AHAC 2006 Ajman
Top Ten - Six Year Old Stallions
AHAC 2006 Polish National Show
ResChampion - Six Year Old Stallions
2006 Adelbert Arabian Showcase
Top Ten - Six Year Old Stallions
The Jubilee Showcase 2006
Top Ten - Six Year Old Stallions
2006 Jawhar Arabian Sporthorse Show
ResChampion - Junior Sporthorse Stallions
ResChampion - Second Level Dressage
Top Ten - Sporthorse Under Saddle Jr. Horse
Top Ten - Jumper (Fences 3'3 to 3'6)
AHAC 2006 Middle East Championships
ResChampion - Six Year Old Stallions
Top Ten - Freestyle Dressage
Top Ten - Junior Sporthorse Stallions
Top Ten - Sporthorse Under Saddle Jr. Horse
Top Ten - Second Level Dressage
Top Ten - Jumper (Fences 3'3 to 3'6)
AHAC 2006 European Championships
Champion - Jumper (Fences 3'3 to 3'6)
Top Ten - Six Year Old Stallions
Top Ten - Freestyle Dressage
Top Ten - Sporthorse Under Saddle Jr. Horse
Top Ten - Second Level Dressage
Top Ten [G2] - Junior Sporthorse Stallions
The Baahir Arabian Cup 2006
Top Ten - Six Year Old Stallions
AHAC 2006 Israel National Championship
Top Ten - Six Year Old Stallions
Top Ten - Freestyle Dressage
Top Ten - Junior Sporthorse Stallions
Top Ten - Sporthorse Under Saddle Jr. Horse
Top Ten - Jumper (Fences 3'3 to 3'6)
AHAC 2006 Egypt International
Top Ten - Junior Sporthorse Stallions
Top Ten - Sporthorse Under Saddle Jr. Horse
Top Ten - Jumper (Fences 3'3 to 3'6)
Top Ten - Six Year Old Stallions
Top Ten - Second Level Dressage
Top Ten - Freestyle Dressage
AHAC 2006 Dubai International
International Champion Junior Stallion
Champion - Six Year Old Stallions
AHAC 2006 Salon du Cheval
Champion - Six Year Old Stallions
Top Ten [G6] - Most Classic Stallions
AHAC Sharjah 2006
Top Ten - Six Year Old Stallions
Top Ten - Junior Sporthorse Stallions
Top Ten - Freestyle Dressage
Top Ten - Second Level Dressage
Top Ten - Jumper (Fences 3'3 to 3'6)
Top Ten [G2] - Sporthorse Under Saddle Jr. Horse
Top Ten [G6] - Classic Head Stallions
AHAC Emerald Trophy 2006
Top Ten - Six Year Old Stallions
Top Ten - Freestyle Dressage
Top Ten - Junior Sporthorse Stallions
Top Ten - Second Level Dressage
Top Ten - Jumper (Fences 3'3 to 3'6)
Top Ten [G5] - Classic Head Stallions
AHAC Asil Cup 2006
Top Ten - Six Year Old Stallions
Top Ten [G5] - Classic Head Stallions
AHAC 2007 Region 1 Championships
Champion - Jumper (Fences 3'3 to 3'6)
Top Ten - Freestyle Dressage
Top Ten - Third Level Dressage
Top Ten [G2] - Sporthorse Under Saddle Sr. Horse
Top Ten [G2] - Seven Year Old Stallions
The Haakim Cup 2007
Top Ten - Seven Year Old Stallions
AHAC 2007 Region 2 Championships
Top Ten - Sporthorse Under Saddle Sr. Horse
Top Ten - Jumper (Fences 3'3 to 3'6)
Top Ten [G2] - Seven Year Old Stallions
Top Ten [G2] - Freestyle Dressage
AHAC 2007 Ajman
Top Ten [G2] - Seven Year Old Stallions
AHAC 2007 Scottsdale Show
ResChampion [G2] - Seven Year Old Stallions
Top Ten - Third Level Dressage
Top Ten - Senior Sporthorse Stallions
Top Ten [G2] - Sporthorse Under Saddle Sr. Horse
Top Ten [G2] - Jumper (Fences 3'3 to 3'6)
Top Ten [G4] - Freestyle Dressage
AHAC 2007 Qatar International
Top Ten - Freestyle Dressage
Top Ten - Senior Sporthorse Stallions
Top Ten - Sporthorse Under Saddle Sr. Horse
Top Ten - Third Level Dressage
Top Ten - Low Jumper (Fences 3'3 to 3'6)
Top Ten [G2] - Seven Year Old Stallions
Top Ten [G2] - Classic Head Stallions
AHAC 2007 Dubai International
Top Ten - Seven Year Old Stallions
AHAC 2007 Egyptian National Championships
Top Ten - Freestyle Dressage
Top Ten - Third Level Dressage
Top Ten [G2] - Low Jumper (Fences 3'3 to 3'6)
Top Ten [G2] - Seven Year Old Stallions
Top Ten [G3] - Classic Head Stallions
AHAC 2007 Sharjah International
Champion - Nine Year Old Stallions
Top Ten - Senior Sporthorse Stallions
Top Ten - Third Level Dressage
Top Ten - Low Jumper (Fences 3'3 to 3'6)
AHAC Abu Dhabi 2007
Top Ten - Nine Year Old Stallions
BT Sitwat Arabian Show 2007
ResChampion - Nine Year Old Stallions
Top Ten - Third Level Dressage
Top Ten - Low Jumper (Fences 3'3 to 3'6)
Badi Arabian Event 2007
Top Ten - Nine Year Old Stallions
AHAC 2007 U.S. Nationals
ResChampion - Low Jumper (Fences 3'3 to 3'6)
Top Ten - Nine Year Old Stallions
Top Ten - Third Level Dressage
AHAC Arabian Breeders World Cup 2007
ResChampion - Low Jumper (Fences 3'3 to 3'6)
Top Ten - Nine Year Old Stallions
Top Ten - Third Level Dressage
AHAC Wels International 2007
Top Ten - Nine Year Old Stallions
AHAC Tulip Cup 2007
Top Ten - Nine Year Old Stallions
AHAC 2007 Jordan National Championships
Champion - Nine Year Old Stallions
Top Ten - Senior Sporthorse Stallions
Top Ten - Third Level Dressage
Top Ten - Low Jumper (Fences 3'3 to 3'6)
AHAC 2007 European Championships
Top Ten - Nine Year Old Stallions
Top Ten - Senior Sporthorse Stallions
Top Ten - Sporthorse Under Saddle Sr. Horse
Top Ten - Third Level Dressage
Top Ten - Low Jumper (Fences 3'3 to 3'6)
AHAC 2007 Dutch National Championships
Top Ten - Nine Year Old Stallions
2007 AHAC Israeli National Championships
Top Ten - Nine Year Old Stallions
BT Rizwana Arabian Spectacular 2007
Top Ten - Nine Year Old Stallions
Top Ten - Third Level Dressage
Top Ten - Low Jumper (Fences 3'3 to 3'6)
AHAC 2007 Egypt International
Top Ten - Nine Year Old Stallions
Top Ten - Low Jumper (Fences 3'3 to 3'6)
AHAC 2007 Salon Du Cheval
Top Ten - Nine Year Old Stallions
AHAC 2007 Brazilian National Championships
National Champion Senior Stallion
Champion - Nine Year Old Stallions
Champion - Sporthorse Under Saddle Sr. Horse
Top Ten - Senior Sporthorse Stallions
Top Ten - Third Level Dressage
AHAC Sharjah 2007
Top Ten - Nine Year Old Stallions
Top Ten - Sporthorse Under Saddle Sr. Horse
Top Ten - Low Jumper (Fences 3'3 to 3'6)
AHAC 2008 Region 1 Championships
Top Ten - Third Level Dressage
Top Ten - Mid-level Jumper (Fences 3'3 to 3'6)
AHAC 2008 Canadian Nationals
Champion - Dressage Seat Equitation
Top Ten - Hunter Under Saddle Sr. Horse
Top Ten - Mid-level Jumper (Fences 3'3 to 3'6)
Top Ten - Third Level Dressage
AHAC 2008 Region 2 Championships
ResChampion - Third Level Dressage
Top Ten - Eight Year Old Stallions
Top Ten - Mid-level Jumper (Fences 3'3 to 3'6)
AHAC Ajman National Show 2008
Top Ten - Dressage Seat Equitation
Top Ten - Mid-level Jumper (Fences 3'3 to 3'6)
AHAC Abu Dhabi 2008
Top Ten - Eight Year Old Stallions
AHAC Scottsdale Arabian Horse Show 2008
Top Ten - Dressage Seat Equitation
AHAC 2008 Egyptian National Championships
Top Ten - Eight Year Old Stallions
Top Ten - Dressage Seat Equitation
Top Ten - Hunter Under Saddle Sr. Horse
AHAC Qatar International 2008
Top Ten - Third Level Dressage
Top Ten - Dressage Seat Equitation
AHAC 2008 Sharjah International
Top Ten - Third Level Dressage
Top Ten - Dressage Seat Equitation
Top Ten - Hunter Under Saddle Sr. Horse
Top Ten - Mid-level Jumper (Fences 3'3 to 3'6)
AHAC Arabian Breeders World Cup 2008
ResChampion - Hunter Under Saddle Sr. Horse
Top Ten - Eight Year Old Stallions
Top Ten - Third Level Dressage
Top Ten - Dressage Seat Equitation
Top Ten - Mid-level Jumper (Fences 3'3 to 3'6)
AHAC 2008 U.S. Nationals
Champion - Dressage Seat Equitation
Top Ten - Eight Year Old Stallions
Top Ten - Third Level Dressage
Top Ten - Hunter Under Saddle Sr. Horse
AHAC Wels International 2008
Top Ten - Eight Year Old Stallions
AHAC Travagliato 2008
Top Ten - Eight Year Old Stallions
AHAC Region 1 Championships 2009
ResChampion - Freestyle Dressage Sr Horses
Top Ten - High Jumper (Fences 4'0 to 4'6)
Top Ten - Third Level Dressage
AHAC Region 2 Championships 2009
Top Ten - High Jumper (Fences 4'0 to 4'6)
AHAC Canadian Nationals 2009
Top Ten - Eleven and Up Stallions
Top Ten - High Jumper (Fences 4'0 to 4'6)
AHAC Ajman National Show 2009
ResChampion - Eleven and Up Stallions
ResChampion - Senior Sporthorse Stallions
Top Ten - High Jumper (Fences 4'0 to 4'6)
AHAC Abu Dhabi 2009
Top Ten - Eleven and Up Stallions
AHAC Scottsdale Arabian Horse Show 2009
ResChampion - Eleven and Up Stallions
Top Ten - High Jumper (Fences 4'0 to 4'6)
AHAC Voghera 2009
Top Ten - Senior Sporthorse Stallions
Top Ten - High Jumper (Fences 4'0 to 4'6)