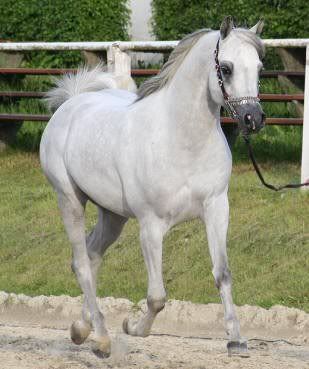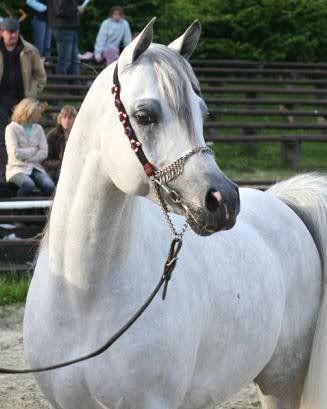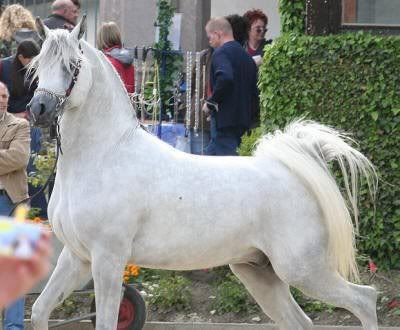 MU'TAZZ++++ 1999 Gray Straight Egyptian Arabian Stallion
Sired by Ashhal Al Rayyan and Out of Al Wajba Al Rayyan (x Safir)
Co-owned with Chelsea, Showing in Impulsion SIM
Retired from All-SIM Showing in January 2009
What an addition, that's really all I can say. On August 29th of 2006 Chelsea of Manor Egyptian Stud offered one of her prized stallions for sale. At first, our thoughts on the matter were simply no because we did not need another stallion to join our already large herd, but after some deep thought and consideration, plus Chelsea's persuasion, we realized that letting this stallion slip through our hands was not acceptable. He's got a very well though-out pedigree behind him with his sire, Ashhal Al Rayyan, being named 1999 National Champion Colt and 1999 International Junior Champion Colt, best Qatari-bred Horse, and 2000 Qatar International Reserve Junior Champion Colt. In 2004 he was named International Champion Stallion of Qatar. Impressive accomplishments for such a horse of dominating presence. Passed on to Mu'tazz was a modest spirit that reminds you of an older horse who's experienced his days and has mellowed out. With spunk behind those kind eyes, not only can he be calm, but when the spirits are up around him he can be the most energetic, expression-filled horse you've ever met. We're quite proud to call Mu'tazz our own, especially having sold our beautiful Crabbet Arabian to Chelsea not long back. A stall was empty in our barn, and Mu'tazz was the horse to fill it. He's already been used as a breeding sire, as well as performance horse, and the foals he has managed to sire are jewels. They've all got very beautiful heads and personalities to boot. There is no doubt in our minds he's going to leave an imprint at this stable before it's all said and done with.





ASHHAL AL RAYYAN

Safir
Salaa El Dine
Aisha
Ansata Majesta
Ansata Halim Shah
Ansata Malika

AL WAJBA AL RAYYAN

Safir
Salaa El Dine
Aisha
Ansata Sharifa
Ansata Ibn Shah
Ansata Samantha

- Mhotep, 2007 Grey Egyptian Colt Out of El Bayda Malak
- BT Mar'tuzz, 2007 Grey Egyptian Colt Out of Sarabi
- Mu'ayyad M, 2006 Egyptian Colt Out of Majdia'Ra
- Ajib el Hamzah M, 2005 Gray Egyptian Colt Out of Bint Saree
- Akaru Sangh, 2005 Gray Egyptian Colt Out of Sangh Arina
- Malika M, 2005 Egyptian Filly Out of Sayyali
- Phazon M, 2005 Egyptian Filly Out of Madheeraija
- BT Mert-ekert, 2005 Black Egyptian Filly Out of Mukahhal Haalim
- Bint Amisi M, 2004 Gray Egyptian Filly Out of Najmah
- BT Al Madiid Zanbuck, 2004 Gr Egyptian Colt Out of Tayyeb Zanbuck
- BT Mu'zira, 2004 Black Egyptian Filly Out of AK Asiir Gazira
- BT Mu'tayna, 2003 Black Egyptian Filly Out of AK Asiir Gazira
- D Mu'azzaz, 2003 Grey Egyptian Filly Out of Dabilla
- BT Marzouk, 2002 Grey Egyptian Colt Out of Meskhenet
- C Mu'tazza, 2002 Grey Egyptian Filly Out of G Nafouu
- Ibn Ho'tepsekhemwy, Grey Egyptian Colt Out of El Darourat






English Pleasure, Pleasure Driving, and Native Costume
AHAC Points: 1132
AHAC Title: Legion of Masters (++++)



Abubakar Arabian Classic 2006 [ISG]
Overall Junior Stallion Reserve Champion
Champion - Four Year Old Stallions
Champion - Pleasure Driving Open
Champion - Pleasure Driving Jr. Horse
Top Ten - English Pleasure Jr. Horse
Top Ten - Native Costume
Top Ten - Sire With Get
Top Ten - Sire With Weanling Top Ten
Champlain Classic 2006 [ISG]
Champion - Pleasure Driving Jr. Horse
Top Ten - Four Year Old Stallions
Top Ten - English Pleasure Jr. Horse
Top Ten - Sire With Get
Top Ten - Sire With Weanling
Top Ten - Pleasure Driving Open
Outer Banks Showcase 2006 [ISG]
Champion - Sire With Weanling
ResChampion - Four Year Old Stallions
Top Ten - English Pleasure Open
Top Ten - English Pleasure Jr. Horse
Top Ten - Pleasure Driving Open
Top Ten - Pleasure Driving Jr. Horse
Top Ten - Sire With Get
AHAC 2006 Canadian National Championships
National Reserve Champion Junior Stallion
Champion - Four Year Old Stallions
Top Ten - English Pleasure Jr. Horse
Top Ten - Pleasure Driving Jr. Horse
Top Ten - Native Costume Jr. Horse
AHAC 2006 Region 1 Championships
ResChampion - Native Costume Jr. Horse
Top Ten - Four Year Old Stallions
Top Ten - English Pleasure Jr. Horse
Top Ten - Pleasure Driving Jr. Horse
AHAC 2006 Towerlands UK
International Reserve Champion Junior Stallion
Champion - Four Year Old Stallions
AHAC Mooslargue International 2006
Champion - Four Year Old Stallions
Top Ten - English Pleasure Jr. Horse
Top Ten - Pleasure Driving Jr. Horse
Top Ten - Native Costume Jr. Horse
AHAC Qatar 2006
ResChampion - Seven Year Old Stallions
AHAC Merrist Wood 2006
ResChampion - Informal Combination Open
Top Ten - Pleasure Driving Jr. Horse
Top Ten - Native Costume Jr. Horses
AHAC 2006 All Nations Cup
Top Ten - Seven Year Old Stallions
AHAC 2006 Region 2 Championships
Champion - Native Costume Jr. Horse
Top Ten - Pleasure Driving Jr. Horse
AHAC Tulip Cup 2006
International Reserve Champion Senior Stallion
Champion - Seven Year Old Stallions
AHAC 2006 Ströhen International
Top Ten - Seven Year Old Stallions
Top Ten [G3] - Open Liberty
AHAC 2006 Ajman
Champion [G2] - Open Liberty
Top Ten - Seven Year Old Stallions
2006 Adelbert Arabian Showcase
Top Ten - Seven Year Old Stallions
The Jubilee Showcase 2006
Top Ten - Seven Year Old Stallions
AHAC 2006 Middle East Championships
Top Ten - Seven Year Old Stallions
Top Ten - Pleasure Driving Jr. Horse
Top Ten - Informal Combination
Top Ten [G2] - Classic Head Stallions
Top Ten [G2] - English Pleasure Jr. Horse
Top Ten [G4] - Native Costume
AHAC 2006 European Championships
Top Ten - Seven Year Old Stallions
Top Ten - English Pleasure Jr. Horse
Top Ten - Pleasure Driving Jr. Horse
Top Ten - Native Costume
Top Ten - Informal Combination
Top Ten - Classic Head Stallions
The Baahir Arabian Cup 2006
Overall Champion Senior Stallion
Champion - Seven Year Old Stallions
AHAC 2006 Israel National Championship
Top Ten - Seven Year Old Stallions
Top Ten - English Pleasure Jr. Horse
Top Ten - Pleasure Driving Jr. Horse
Top Ten - Informal Combination
Top Ten [G5] - Native Costume
AHAC 2006 Egypt International
ResChampion [Group 4] - Native Costume
Top Ten - Seven Year Old Stallions
Top Ten - Informal Combination
Top Ten [G2] - English Pleasure Jr. Horse
Top Ten [G4] - Classic Head Stallions
AHAC 2006 Dubai International
Top Ten - Seven Year Old Stallions
AHAC 2006 Salon du Cheval
Top Ten - Seven Year Old Stallions
Top Ten [G6] - Most Classic Stallions
AHAC Sharjah 2006
Top Ten - Seven Year Old Stallions
Top Ten - English Pleasure Jr. Horse
Top Ten - Informal Combination
Top Ten [G2] - Classic Head Stallions
Top Ten [G7] - Native Costume
AHAC Emerald Trophy 2006
Champion - Pleasure Driving Jr. Horse
ResChampion [Group 2] - Native Costume
Top Ten - Seven Year Old Stallions
Top Ten - English Pleasure Jr. Horse
Top Ten - Informal Combination
Top Ten [G7] - Classic Head Stallions
AHAC Asil Cup 2006
Top Ten - Seven Year Old Stallions
Top Ten [G5] - Classic Head Stallions
AHAC 2007 Region 1 Championships
Top Ten - Native Costume
Top Ten - English Pleasure Sr. Horse
Top Ten - Pleasure Driving Sr. Horse
Top Ten - Eight Year Old Stallions
Top Ten [G2] - Informal Combination
The Haakim Cup 2007
Top Ten - Eight Year Old Stallions
AHAC 2007 Region 2 Championships
ResChampion [G2] - Pleasure Driving Sr. Horse
Top Ten [G2] - Informal Combination
Top Ten [G3] - English Pleasure Sr. Horse
Top Ten [G11] - Native Costume
AHAC 2007 Ajman
National Champion Senior Stallion
Champion - Eight Year Old Stallions
AHAC 2007 Scottsdale Show
ResChampion [G2] - Native Costume
Top Ten - Eight Year Old Stallions
Top Ten - Pleasure Driving Sr. Horse
Top Ten [G2] - Informal Combination
Top Ten [G4] - English Pleasure Sr. Horse
AHAC 2007 Qatar International
Champion - Native Costume Sr. Horse
ResChampion [G9] - Classic Head Stallions
Top Ten - Informal Combination
Top Ten - Eight Year Old Stallions
Top Ten - English Pleasure Sr. Horse
Top Ten - Pleasure Driving Sr. Horse
2007 Blackthorn Hills Egyptian Classic
Unanimous Champion - Eight Year Old Stallions
AHAC 2007 Dubai International
Top Ten - Eight Year Old Stallions
AHAC 2007 Egyptian National Championships
ResChampion [G2] - Pleasure Driving Sr. Horse
Top Ten [G3] - English Pleasure Sr. Horse
Top Ten [G3] - Informal Combination
Top Ten [G5] - Native Costume Sr. Horse
Top Ten [G6] - Classic Head Stallions
AHAC 2007 Sharjah International
Top Ten - Eight Year Old Stallions
AHAC Abu Dhabi 2007
Top Ten - Eight Year Old Stallions
BT Sitwat Arabian Show 2007
Top Ten - Eight Year Old Stallions
Badi Arabian Event 2007
Top Ten - Eight Year Old Stallions
AHAC Egyptian Event 2007
Champion - Eight Year Old Stallions
Top Ten - Liberty Sr. Stallion
AHAC 2007 U.S. Nationals
Champion - Informal Combination
ResChampion - Eight Year Old Stallions
Top Ten - Native Costume Sr. Horse
AHAC Arabian Breeders World Cup 2007
ResChampion - Eight Year Old Stallions
Top Ten - English Pleasure Sr. Horse
Top Ten - Native Costume Sr. Horse
Top Ten - Informal Combination
AHAC Wels International 2007
Top Ten - Eight Year Old Stallions
BT Rizwana Arabian Spectacular 2007
Overall ResChampion Senior Stallion
ResChampion - Eight Year Old Stallions
AHAC 2007 Salon Du Cheval
ResChampion - Eight Year Old Stallions
AHAC Sharjah 2007
ResChampion - Eight Year Old Stallions
Top Ten - Pleasure Driving Sr. Horse
Top Ten - Ladies English Sidesaddle
Top Ten - Native Costume Sr. Horse
Top Ten - Informal Combination
AHAC 2008 Region 1 Championships
Top Ten - Eight Year Old Stallions
AHAC 2008 Canadian Nationals
Top Ten - Eight Year Old Stallions
Top Ten - English Pleasure Sr. Horse
Top Ten - Ladies English Sidesaddle
AHAC 2008 Region 2 Championships
ResChampion - Ladies English Sidesaddle
Top Ten - Eight Year Old Stallions
Top Ten - Mounted Native Costume Sr. Horse
AHAC Ajman National Show 2008
Champion - Eight Year Old Stallions
AHAC Abu Dhabi 2008
Champion - Eight Year Old Stallions
AHAC Scottsdale Arabian Horse Show 2008
Top Ten - Pleasure Driving Sr. Horse
Top Ten - Ladies English Sidesaddle
AHAC 2008 Egyptian National Championships
Top Ten - Pleasure Driving Sr. Horse
Top Ten - Ladies English Sidesaddle
AHAC Qatar International 2008
Top Ten - Eight Year Old Stallions
Top Ten - Mounted Native Costume Sr. Horse
AHAC 2008 Sharjah International
Champion - Pleasure Driving Sr. Horse
AHAC Arabian Breeders World Cup 2008
Champion - Eight Year Old Stallions
ResChampion - Ladies English Sidesaddle
Top Ten - English Pleasure Sr. Horse
Top Ten - Pleasure Driving Sr. Horse
AHAC 2008 U.S. Nationals
Top Ten - English Pleasure Sr. Horse
AHAC Tuilp Cup 2008
Top Ten - Eight Year Old Stallions
AHAC Egyptian Event 2008
ResChampion - Nine Year Old Stallions
AHAC Arabica 2008
Top Ten - Mounted Native Costume Sr. Horse
AHAC Orientalica 2008
Top Ten - Eight Year Old Stallions
AHAC 2008 Jordan National Championships
Top Ten - Eight Year Old Stallions
Top Ten - English Pleasure Sr. Horse
Top Ten - Ladies English Sidesaddle
Top Ten - Mounted Native Costume Sr. Horse
AHAC 2008 Menton International
Top Ten - English Pleasure Sr. Horse
Top Ten - Pleasure Driving Sr. Horse
Top Ten - Ladies English Sidesaddle
AHAC 2008 German Nationals
Top Ten - Eight Year Old Stallions
Top Ten - English Pleasure Sr. Horse
AHAC 2008 Czech National Championships
Top Ten - Eight Year Old Stallions
AHAC 2008 Scandinavian Open Championships
ResChampion - Pleasure Driving Sr. Horse
Top Ten - Eight Year Old Stallions
AHAC Emerald Trophy 2008
Top Ten - Eight Year Old Stallions
AHAC 2008 Egyptian Event Europe
Top Ten - Nine Year Old Stallions
Top Ten - Classic Head Sr stallions
AHAC Dutch Nationals 2008
Top Ten - Eight Year Old Stallions
AHAC European Championships Verona 2008
Top Ten - Eight Year Old Stallions
Top Ten - Pleasure Driving Sr. Horse
Top Ten - Ladies' English Sidesaddle
Top Ten - Mounted Native Costume Sr. Horse
AHAC Egypt International 2008
Champion - English Pleasure Sr. Horse
Top Ten - Eight Year Old Stallions
AHAC Salon Du Cheval 2008
ResChampion - Eight Year Old Stallions
AHAC Sharjah 2008
Top Ten - Eight Year Old Stallions
Top Ten - English Pleasure Sr. Horse
Top Ten - Pleasure Driving Sr. Horse
Top Ten - Mounted Native Costume Sr. Horse