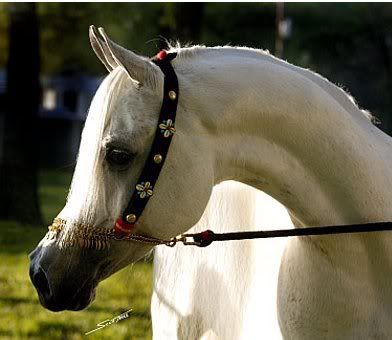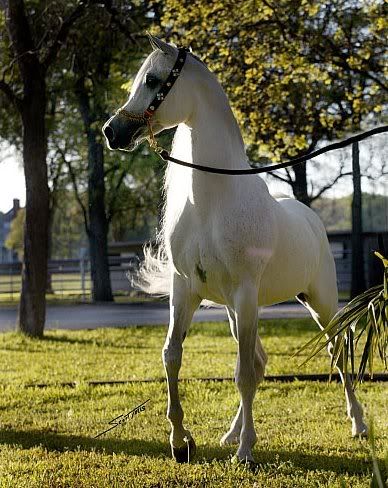 BT ERYKAH++ 1996 Fleabitten Grey Polish Arabian Mare
Sired by Atticus and Out of Farion Rafaar (x Aloes)
Retired to Brood in February 2007
This mare is one our our finest homebred mares to-date coming from our All-SIM stock. She was sired by a brilliant pure polish competitor known by the name of Atticus who has sired 20 and counting foals who have all been taking the arena by storm. BT Erykah is no mare to surpass. Her beauty is enough to warm the hearts of many, and her careful elastic movements make her a sure-fire winner in the showing arena. BT Erykah is Atticus and Farion Rafaar's second foal together, both of which having been fillies. This mare is a full sister to our 2005 chestnut filly BT Artanis. We are thrilled to have brought one of our homebreds into Impulsion, and we feel this mare is going to do nothing but leave ISG members admiring. Atticus has managed to pass on his dished head, large nostrils, and overly expressive eyes to his daughter and Farion Rafaar has given her her glimmering fleatbitten grey coat. The cross has given us a power sporthorse. BT Erykah is nothing short of a queen. She throws off a celestial vibe that almost leads people to believe she is more than just a horse, but a spirit sent to earth. If I could go back and rename this girl she would certainly be named after the Norse Goddess, Freya; the most beautiful and propitious of the goddesses.





ATTICUS++++

*Monogramm
Negatraz
Monogramma
Kawalkada
Penitent
Kabala

FARION RAFAAR++

Aloes
*Celebes
Algoa
Wielka Danata
Danser
Wielka Nuredda

- BT Empyreal, Chestnut Polish Filly Sired by *Blow
- BT Emilacj, 2006 Bay Polish Filly Sired by *Census
- BT Erdyn, 2003 Black FSH Colt Sired by Ogeden
- BT Erwijn, 2004 Grey Polish Colt by BT Discovery
- BT Elwira, 2002 Chestnut Polish Filly Sired by Lukasz
- BT Elzbieta, 2001 Chestnut Polish Filly Sired by Lukasz
- BT Ekdariusz, 2001 Grey Polish Colt Sired by *Census surrogate used






3rd Level Dressage and 3'6 Show Jumping
AHAC Points: 375
AHAC Title: Legion of Merit (++)



2006 MJP July "I Want In" Show [ISG]
Overall Level 3 Reserve Champion
2nd - Level 3 Show Jumping (Fences 3'3 - 3'6) - Speed
2nd - Level 3 Show Jumping (Fences 3'3 - 3'6) - Power
4th - Level 3 Show Jumping (Fences 3'3 - 3'6) - Speed and Power
Ströhen International 2006 [ISG]
Champion - 3rd Level Dressage
Top Ten - Senior Sporthorse Mares
Top Ten - Sporthorse Under Saddle Open
Top Ten - High Jumper
Abubakar Arabian Classic 2006 [ISG]
Overall Reserve Champion Senior Sporthorse Mare
Champion - Senior Sporthorse Mares
Champion - 3rd Level Dressage
Champion - High Jumper
Top Ten - 10 Year Old Mares
Top Ten - Sporthorse Under Saddle Open
American Invitational 2006 [ISG]
Champion - 3rd Level Dressage
Champion - High Jumper
ResChampion - 10 Year Old Mares
ResChampion - Sporthorse Under Saddle Open
Top Ten - Senior Sporthorse Mares
Champlain Classic 2006 [ISG]
ResChampion - High Jumper
Top Ten - 10 Year Old Mares
Top Ten - Senior Sporthorse Mares
Top Ten - 3rd Level Dressage
Menton International 2006 [ISG]
ResChampion - High Jumper
Top Ten - Senior Sporthorse Mares
Top Ten - Sporthorse Under Saddle Open
Top Ten - 3rd Level Dressage
Outer Banks Showcase 2006 [ISG]
ResChampion - Senior Sporthorse Mares
ResChampion - High Jumper
Top Ten - 3rd Level Dressage
Top Ten - 10 Year Old Mares
Emerald Trophy 2006 [ISG]
Top Ten - 10 Year Old Mares
Bacardi Classic 2006 [ISG]
Overall Reserve Champion Senior Sporthorse Mare
Champion - Senior Sporthorse Mares
ResChampion - High Jumper
Top Ten - 10 Year Old Mares
Top Ten - Sporthorse Under Saddle Open
Top Ten - 3rd Level Dressage
TDA 2006 European Dressage Championships [ISG]
ResChampion - 3rd Level Dressage Test I
1st - 3rd Level Dressage Test II
1st - Dressage Seat Equitation
7th - 3rd Level Dressage Freestyle to Music
8th - Mare Conformation Halter
Elran Cup 2006 [ISG]
Top Ten - 10 Year Old Mares
AHAC Merrist Wood 2006
Champion - Ten Year Old Mares
Top Ten - Jumper (Fences 3'3 to 3'6)
Top Ten - Third Level Dressage
AHAC 2006 All Nations Cup
Champion [G4] - Ten and Up Year Old Mares
AHAC 2006 Region 2 Championships
Champion - Senior Sporthorse Mares
ResChampion - Third Level Dressage
Top Ten - Ten Year Old Mares
Top Ten - Jumper (Fences 3'3 to 3'6)
AHAC 2006 Ströhen International
Top Ten - Ten Year Old Mares
AHAC 2006 Sporthorse Nationals
Champion - Third Level Dressage
Top Ten - Senior Sporthorse Mares
Top Ten - Sporthorse Under Saddle Open
Top Ten - Jumper (Fences 3'3 to 3'6)
AHAC 2006 Ajman
ResChampion - Ten Year Old Mares
AHAC 2006 Polish National Show
Champion - Ten and Up Year Old Mares
2006 Adelbert Arabian Showcase
ResChampion - Ten Year Old Mares
The Jubilee Showcase 2006
Top Ten - Ten and Up Year Old Mares
Top Ten - Get of Sire
2006 Jawhar Arabian Sporthorse Show
Champion - Senior Sporthorse Mares
Champion - Third Level Dressage
Top Ten - Sporthorse Under Saddle Open
Top Ten - Jumper (Fences 3'3 to 3'6)
AHAC 2006 Middle East Championships
Champion - Get of Sire
ResChampion - Third Level Dressage
Top Ten - Sporthorse Under Saddle Sr. Horse
Top Ten [G2] - Jumper (Fences 3'3 to 3'6)
AHAC 2006 European Championships
Champion - Senior Sporthorse Mares
Top Ten - Ten Year Old Mares
Top Ten - Sporthorse Under Saddle Sr. Horse
Top Ten - Third Level Dressage
Top Ten - Jumper (Fences 3'3 to 3'6)
Top Ten - Get of Sire
The Baahir Arabian Cup 2006
Champion - Ten Year Old Mares
Champion - Get of Sire
AHAC 2006 Israel National Championship
ResChampion - Third Level Dressage
ResChampion - Ten Year Old Mares
Top Ten - Senior Sporthorse Mares
Top Ten - Jumper (Fences 3'3 to 3'6)
Top Ten - Sporthorse Under Saddle Sr. Horse
Top Ten - Get of Sire
AHAC 2006 Egypt International
Champion - Third Level Dressage
ResChampion - Sporthorse Under Saddle Sr. Horse
Top Ten - Ten Year Old Mares
Top Ten - Senior Sporthorse Mares
Top Ten - Get of Sire
AHAC 2006 Dubai International
Champion - Get of Sire
Top Ten - Ten Year Old Mares
AHAC 2006 Salon du Cheval
Top Ten [G4] - Ten and Up Year Old Mares
Top Ten [G6] - Most Classic Mares
AHAC Sharjah 2006
ResChampion [G2] - Classic Head Mares
ResChampion - Third Level Dressage
Top Ten - Ten Year Old Mares
Top Ten - Senior Sporthorse Mares
Top Ten [G2] - Get of Sire
AHAC Emerald Trophy 2006
ResChampion - Senior Sporthorse Mares
Top Ten - Ten Year Old Mares
Top Ten - Sporthorse Under Saddle Sr. Horse
Top Ten - Third Level Dressage
Top Ten - Jumper (Fences 3'3 to 3'6)
Top Ten - Get of Sire
Top Ten [G14] - Classic Head Mares
AHAC Asil Cup 2006
Top Ten - Ten Year Old Mares
Top Ten [G2] - Get of Sire
Top Ten [G8] - Classic Head Mares
AHAC 2007 Region 1 Championships
Top Ten - Get of Sire
Top Ten - Fourth Level Dressage
Top Ten - Jumper (Fences 3'3 to 3'6)
Top Ten [G2] - Senior Sporthorse Mares
Top Ten [G2] - Sporthorse Under Saddle Sr. Horse
2007 Blackthorn Hills Homebred Invitational
ResChampion - Senior Breeding Mare
AHAC 2007 Region 2 Championships
Top Ten - Fourth Level Dressage
Top Ten [G2] - Get of Sire
Top Ten [G3] - Senior Sporthorse Mares
Top Ten [G5] - Sporthorse Under Saddle Sr. Horse
Top Ten [G11] - Eleven and Up Year Old Mares
AHAC 2007 Ajman
Champion [G2] - Eleven and Up Year Old Mares
2007 Blackthorn Hills Homebred Invitational II
Top Ten - Senior Breeding Mare
AHAC 2007 Scottsdale Show
Top Ten - Fourth Level Dressage
Top Ten - Jumper (Fences 3'3 to 3'6)
Top Ten [G2] - Sporthorse Under Saddle Sr. Horse
Top Ten [G4] - Senior Sporthorse Mares