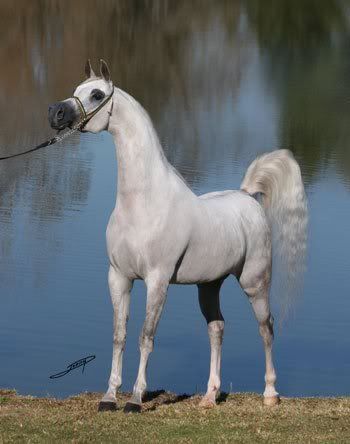 SARABI+ 1994 Gray Straight Egyptian Arabian Mare
Sired by ET Crown Prince and Out of SF Moon Maiden (x Nabiel)
Retired to Brood in April 2007
A full sister to Abraxas Moonstruk, it's not wonder this girl is such a great show horse. She has certainly been given the talents of both her sire and dam. We are proud to have brought this girl, originally created by myself, back to Blackthorn Hills after reclaiming her from Liz. Sarabi is an awesome mare and has produced a filly that is one of a kind. In her years of showing, she has been named 2003 Scottsdale Champion, 2004 Buckeye Champion, 2005 European National Champion, 2005 All-Nations Cup Reserve World Champion, 2005 Towerlands UK International Reserve Champion, and 2006 Canadian National Champion. This mare has taken us to the top with her flawless carriage and her in action, well it's more than just a show, it's a spectacular site to see. She has been mothering some of our best upcoming foals and one of them being the son of *Moubarak El Amani, an Imperaaz Amani son.





ET CROWN PRINCE

TheEgyptianPrince
*Morafic
*Bint Mona
RDM Maar Hala
El Hilal
Maar Jumana

SF MOON MAIDEN

Nabiel
*Sakrr
*Magidaa
Kachina Moon
El Hilal
Nafairtiti

- Merit Bint Sarabi, 2008 Grey Egyptian Filly Sired by Thee Baraka O
- BT Mar'tuzz, 2007 Grey Egyptian Colt Sired by Mu'tazz
- BT Simba el Mahfuj, 2006 Bay Egyptian Colt Sired by Al Sadiki Musim
- BT Tawil Sadeek, 2005 Bla Egyptian Colt Sired by *Moubarak El Amani
- BT Aiken, 2004 Grey Colt Sired by Aamir Dreamaar
- BT Ezmeralda, 2003 Grey Filly Sired by BT Mythorium
- BT Siirayc, 2003 Black Egyptian Colt Sird by Farid Siraaj Surrogate
- BT Saraticus, 1999 Grey Mare Sired by Atticus






Western Pleasure & Hunter Pleasure
AHAC Points: 214
AHAC Title: Legion of Honor (+)



2003 All-SIM Scottsdale
Regional Western Champion
Champion - Nine and Up Mares
Champion - Senior Horse Western Pleasure
1st - Senior Horse Hunter Pleasure
2004 Pacific Slopes [ECF]
Top Ten - Ten and Up Mares
Top Ten - Western Pleasure
Top Ten - Western Trail
2004 Arabian Showcase [ECF]
Champion - 1994 Arabian Mares
2004 Buckeye [ECF]
Overall Show Jumping Reserve Champion
Champion - Hunter Hack
ResChampion - 1994 Arabian And Half-Arabian
Top Ten - Hunter Pleasure Open
Top Ten - Western Pleasure Open
Top Ten - Trail Open
The Jubilee Showcase 2005
Top Ten - Arabian Senior Breeding Mare 6 & Over
ASAHA European Championships 2005
Champion - Ten and Up Year Old Mares
2005 ASAHA All Nations Cup
ResChampion - Ten and Up Year Old Mares
2005 ASAHA Towerlands UK
ResChampion - 10 and Up Year Old Mares
2006 ASAHA Region 2 Championships
Top Ten - Hunter Pleasure Open
Top Ten - Trail Open
AHAC 2006 Canadian National Championships
Champion - Eleven and Up Year Old Mares
Champion - Western Trail Sr. Horse
Top Ten - Hunter Pleasure Sr. Horse
Top Ten - Western Pleasure Sr. Horse
AHAC Elran Cup 2006
Top Ten - Ten and Up Year Old Mares
AHAC 2006 Ströhen International
Top Ten G5 - Eleven and Up Year Old Mares
AHAC 2006 Ajman
Top Ten G4 - Eleven and Up Year Old Mares
AHAC 2006 European Championships
Top Ten - Eleven and Up Year Old Mares
Top Ten - Hunter Pleasure Sr. Horse
Top Ten - Trail Sr. Horse
Top Ten G2 - Western Pleasure Sr. Horse
AHAC 2006 Israel National Championship
ResChampion - Hunter Pleasure Sr. Horse
Top Ten - Ladies' Western Sidesaddle
Top Ten - Trail Sr. Horse
Top Ten G2 - Western Pleasure Sr. Horse
AHAC 2006 Dubai International
Top Ten - Eleven and Up Year Old Mares
AHAC 2006 Salon du Cheval
Champion - Most Classic Mares
Top Ten G4 - Ten and Up Year Old Mares
AHAC Sharjah 2006
Champion [G6] - Eleven and Up Year Old Mares
Top Ten - Hunter Pleasure Sr. Horse
AHAC 2007 Canadian Nationals
Top Ten - Ladies' Western Sidesaddle
Top Ten G2 - Trail Sr. Horse
Top Ten G2 - Western Pleasure Sr. Horse
Top Ten G9 - Classic Head Mares
Top Ten G13 - Eleven and Up Year Old Mares
AHAC 2007 Region 1 Championships
Champion G2 - Eleven and Up Year Old Mares
AHAC 2007 Qatar International
Champion G5 - Eleven to Fifteen Mares
AHAC 2007 Ströhen International
Top Ten G5 - Eleven to Fifteen Mares
AHAC 2007 Egyptian National Championships
Top Ten G7 - Eleven to Fifteen Mares
AHAC 2007 Sharjah International
Top Ten - Western Pleasure Sr. Horse
Top Ten - Trail Sr. Horse
Kili Inc. New Year's Show 2007
Top Ten G4 - Eleven and Up Year Old Mares
BT Morkhan Arabian Classic 2007
Top Ten - Eleven and Up Year Old Mares