(1921-1999)
Priest - Scholar- Exorcist
In Defense of Father Malachi Martin
William H. Kennedy
Appeared in Seattle Catholic July 2002
[Updated March 2003]
Note: William Kennedy was interviewed on 'A Closer Look' radio program hosted by Michael Corbin on February 2, 2003 and discussed the life and career of the late Father Malachi Martin. The show can be heard online with Realplayer . Go to http://www.4acloserlook.com/dates.html
The primary objective of this examination is to respond to recent attacks made against the late Father Malachi Martin. Fordham University social scientist Michael Cuneo and veteran Vatican journalist Robert Blair Kaiser, among others, have recently published information which makes some harsh and unfounded claims concerning Father Martin and, for the sake of historical accuracy, it is necessary to offer rejoinders to these allegations.
Part One: A Priest Forever
In American Exorcism: Expelling Demons in the Land of Plenty [Double Day 2001] Cuneo reviews Martin's career and offers some astounding accusations concerning the validity of Malachi's scholarship. Cuneo was correct in his initial review of Martin's life and work but missed some important details. In his formation as a Jesuit Martin received three earned doctorates in Semitic languages, archaeology and Oriental history and was subsequently made Professor of Semitic Languages at the Pontifical Biblical Institute in Rome . Ordained in 1954 Martin was a top-level advisor to Popes John XXIII and Paul VI as well as working closely with the Jesuit Cardinal Bea. Martin worked in the Vatican 's intelligence division and conducted secret missions into Eastern Europe to fund the oppressed Church which suffered under Communism . During the Second Vatican Council Martin drafted the document which exonerated the Jews from culpability in the execution of Jesus Christ for which he received universal approval from the council and international accolades.
Martin left the organizational Church in 1964 and resigned from the Society of Jesus but he in no way, shape or form ever stopped being a priest of the Roman Catholic Church. Pope Paul VI released Martin from all his vows except for chastity and agreed to allow him to act as a Roman Catholic priest in other ways. The Pope gave Martin permission to say Mass privately and he continued to conduct the Tridentine Mass, which was formalized at the Council of Trent, for the rest of his life. Under canon law the Pope has the right to limit the faculties of any priest.
Martin falls into the category of a fully functioning [i.e., allowed to administer all the sacraments] Roman Catholic Priest whose faculties [rights] excluded him from working full time in a parish or in a religious order. Martin was required to wear normal clothing as opposed to a Roman Collar so that he would not be mistaken for a local parish priest. Apart from this minor restriction in dress Martin was in every respect a Roman Catholic priest.
As those who knew him can tell you Martin never slowed from his priestly duties - saying Masses at his apartment chapel, hearing confessions, conducting marriage ceremonies, administering last rights et al on a daily basis. Father Charles Fiore, who knew Martin for years, states that when Martin came to New York his written faculties - which Fiore saw - were accepted by then Cardinal Cooke. Consequently, Martin's status as a bone fide Roman Catholic Priest with legitimate faculties is beyond reproach.
[see: http://www.unitypublishing.com/newswire/fiore3.html ]
Martin's stated reason for leaving the Jesuits and the institutional Church was that he felt that Roman Catholicism was changing too fast and the institution he had grown up with was becoming an alien form of religion for him. People today do not realize how many drastic changes erupted in the Church in the wake of the Second Vatican Council. This seemingly solid monolithic institution crumbled into an unrecognizable heap by 1970. Even the Mass was radically altered into vernacular hybrids which were unrecognizable to even the most devout of Catholics. Despite what critics may contend, these radical changes were the only reason Martin left the Jesuits as will be evinced below.
In this regard Martin never really left the legitimate Church of Rome or the Jesuits but rather these institutions so veered from orthodoxy that, in a sense, they left Martin. Martin remained true to the original intent of Saint Loyola and his earliest followers while other Jesuits - like J.C. Murray - sought to alter the very foundations of the Christian Faith. With some Jesuits of Martin's era even claiming to be atheists, Martin was loyal to the True Faith. [see: http://origin.island.lk/2002/05/29/midwee08.html]
Having been left without an income after leaving the Jesuits, Father Martin worked a variety of odd jobs while conducting academic research. He published his reflections on Paul VI called The Pilgrim (under the pseudonym Michael Serafian). Martin first moved to Paris and later came to New York initially to work on a book The Encounter [1969]. In this regard Martin won a Guggenheim Fellowship to support himself while he wrote this tome that explores the relationship between Judaism, Christianity and Islam and which predicted the crisis into which the world's three great religions have fallen.
Martin became the priest for a Greek family in the shipping field at the suggestion of Cardinal Cooke. Americans are for the most part unfamiliar with the European practice of wealthy and aristocratic families adopting a priest as a personal spiritual advisor. Such priests become part of the family. A case in point is that of the Von Trapp Family Singers who adopted Msgr. Franz Wasner as their family priest in Austria . Msgr. Wasner became so much a part of their family that he fled with the Von Trapps to the USA after the Nazis sought to conscript Baron Von Trapp as a U-Boat commander. Msgr. Wasner was written out of the Hollywood version of the Von Trapp family's life entitled The Sound of Music but was buried in their family plot in Vermont.
Rumors continue to fly that Father Martin was having a romantic affair with the lady of this Greek family and Cuneo repeats this falsehood. From all reliable accounts this is clearly a blatant lie. Father Martin's relationship with this woman was purely Platonic in nature. Again, Americans cannot relate to this practice of having an adopted family priest as very few well-to-do Catholic families in the USA ever have such a spiritual advisor. In this instance the lady in question emphatically and categorically denies having any romantic involvement with Father Martin. It is horrible that anyone should promote such lies. Perhaps there is far more to this untruth than is commonly realized.
After settling in the USA Martin began to produce best sellers that included both factual scholarship and fact based fiction - a concept Martin borrowed from Norman Mailer who called this genre 'faction'. Martin's books were extremely well received and influential. Although the institutional church either ignored or dismissed Martin's work his books found a huge audience. William Buckley hired Martin to write for the National Review. Even the renowned author Saul Bellow quoted Martin in his 1976 Nobel Prize acceptance speech.
In his many tomes Martin pointed out that the Vatican was allying itself with Global Elites in various schemes to control international politics and the World economy. Cuneo denies that Father Martin had the proper sources within the Vatican to back up his then seemingly absurd assertion. However, Martin's own brother was a priest who remained in the Holy See many years after his departure and Martin himself remained in contact with a variety of other high level Vatican sources. As will be demonstrated, Martin had accurate information from some top Vatican officials] concerning a banking cabal and the current priest pedophilia crisis rocking the Catholic Church. There is absolutely no way Martin could have known of the details of these conspiracies within the Church without high level informants. Cuneo never realizes this hard fact and, consequently, his attacks against Martin's 'insider' status are moot.
It must be recalled that Martin was making these assertions about the Holy See both in print and in public talks years before the famous Vatican Bank scandal which erupted in the 1980's. Martin definitively described the major players in various corrupt Vatican banking plots in his 1978 best- seller The Final Conclave [pages 24-31]. In 1982 the Italian government uncovered a money laundering scheme wherein the Vatican Bank, the P-2 Freemasonic Lodge and factions of the Mafia united in a criminal cabal to launder ill gotten money derived from illicit drug running, gambling and extortion. This resulted in the removal of gangster/Archbishop Paul 'The Gorilla' Marcinkus as President of the Vatican Bank and prompted his deportation back to Chicago where he reunited with the equally vile Cardinal Cody who operated as an international bagman for the Accardo Crime Family. All of this culminated in the dramatic Masonic ritual murder of gangster/banker Roberto Calvi from a London bridge in 1982. Martin mentioned Marcinkus and Cody in relation to corrupt banking practices in The Final Conclave on page 27 - some four years before the fall of these two Vatican wheeler dealers. Factions of this cabal may even have a hand in the untimely death of Pope John Paul I in 1978. [ Wilson : 98-99]
This Masonic/Mafia/Vatican conspiracy has been conclusively documented. Martin believed that the Freemasonic Lodge was Satanic in nature and that those various factions all took blood oaths to support each other in their various banking scams. [For a complete record of this cabal see David Yallop's In God's Name: An Investigation into the Murder of Pope John Paul I, Trafalgar Square : 1997] Martin also contended that this cabal was involved in even more heinous acts against children.
Father Martin reported in 1996 that the Vatican was involved in an elaborate cover-up to protect child molesting priests and that predatory homosexuals had covertly gained control of the major seminaries in Europe and the USA. Martin further claimed that 'secret gay sex cults' were being formed within these seminaries, which involved both child sex acts and homosexual relations between gay adult priests and seminarians. One of the worst culprits, in Martin's estimation, was Cardinal Bernard Law of Boston . This fact was reported to the author of this piece in 1996 at a meeting with Father Martin. Martin also claimed that these secret sex cults employed mind control techniques and various forms of brainwashing to keep victims in line.
Martin's reason for not publishing this revelation was that he feared for his life having received repeated death threats from a variety of anonymous channels. Martin's anxiety was not unfounded as his associate Fr. Alfred Kunz who was investigating reports of Satanic child abuse by priests was murdered in a occult ritual fashion in 1998 after repeatedly being warned to halt his research. Fr. Kunz's murder has never been solved. [see: http://www.danesheriff.com/unsolved.htm] Now that the child sex cult ring in the Archdiocese of Boston and the rest of the US Church has come to light, much of Malachi's claims in this area are confirmed.
Most alarming is the case of Paul Shanley – a Boston based diocesan priest who for 30 years molested pre-teen as well as adolescent boys and was even a founding member of the perverted North American Man/Boy Love Association [NAMBLA]. Even though a variety of individuals reported Shanley to Bernard Cardinal Law, Shanley was allowed to continue his sick lifestyle. When reports surfaced in one parish of Shanley's activities the Chancery merely transferred him to another and paid off the victim's families and once more transferred Shanley to another parish where he resumed his pedophile lifestyle. The Archdiocese of Boston never sent Shanley for psychiatric help in the course of what Shanley called his 30-year 'youth ministry'.
Martin alluded to this child-molesting cult in several times in his writing and they are worth reviewing at length considering that much of what he claimed has recently come to light in the popular press:
"Most frighteningly for John Paul, he had come up against the irremovable presence of a malign strength in his own Vatican and in certain bishops' chanceries. It was what knowledgeable Churchmen called the 'superforce.'… the incidence of Satanic pedophilia — rites and practices — was already documented among certain bishops and priests as widely dispersed as Turin, in Italy, and South Carolina, in the United States. The cultic acts of Satanic pedophilia are considered by professionals to be the culmination of the Fallen Archangel 's rites…[Keys of this Blood: 632]
"Suddenly it became unarguable that now during this papacy, the Roman Catholic organization carried a permanent presence of clerics who worshipped Satan and liked it; of bishops and priests who sodomized boys and each other; of nuns who performed the "Black Rites" of Wicca, and who lived in lesbian relationships… every day, including Sundays and Holy Days, acts of heresy and blasphemy and outrage and indifference were committed and permitted at holy Altars by men who had been called to be priests. Sacrilegious actions and rites were not only performed on Christ's Altars, but had the connivance or at least the tacit permission of certain Cardinals, archbishops, and bishops . . . In total number they were a minority — anything from one to ten percent of Church personnel. But of that minority, many occupied astoundingly high positions or rank.
. . .The facts that brought the Pope to a new level of suffering were mainly two: The systematic organizational links — the network, in other words — that had been established between certain clerical homosexual groups and Satanist covens. And the inordinate power and influence of that network." [Martin quoted: www.theharrowing.com/martin.html]
"In at least three major cities, members of the clergy have at their disposal at least one pedophiliac coven peopled and maintained exclusively by and for the clergy. Woman religious can find a lesbian coven maintained in a similar way. [Hostage to the Devil: XII]
Part Two: The Superforce in Action
Martin was dismissed as being a 'conspiracy theorist' and a 'crank' when he wrote these words concerning Satanic child sex rings which were operated by cardinals, bishops and priests. What Martin termed the Superforce is a real power in the World. Considering that Cardinal Law protected Father Paul Shanley for many years - even after Law knew Shanley was as vile as to take a child out of his religious knowledge class [CCD] and molest him in a Church confessional - Martin was correct. Priests were, and most likely still are, molesting children in the most sacred parts of the Church with the aid and, it seems, encouragement of cardinals and bishops. If molesting a child in a confessional does not constitute an act of Satanic worship than nothing does. Ritual Satanists – comprised mostly of teenagers who read Anton LeVay's Satanic Bible and perform an occasional ceremony - pale in comparison to the abominable rites of Paul Shanley and his child-molesting cult. [Source: CNN May 2, 2002 Priest arrested on child rape charges]
A former victim of Shanley has recently come forward and filed a law suit alleging Shanley sexually abused him at various locations, including a bed and breakfast co-owned by the priest, when Shanley lived in California in the 1990s. ``He invited me down to Palm Springs , where he exploited me at that resort,'' Kevin English, 30, told the press. ``He would encourage me to have sex with his clients or whatever. He'd say, `Those guys are from Holland . Why don't you go into the Jacuzzi with them?' I think he was pimping me and I didn't even know it.'' Shanley ran this vile hotel while being on the active priest list of the Archdiocese of Boston . Shanley also ran a church owned hotel in NYC called Leo House and was made director of this facility in 1997 even though Law knew of Shanley's sick past. [Source: Boston Globe 6/26/02 Magazine details accusations on Shanley by Sacha Pfeiffer]
There is even proof of overt Satanic Ritual Abuse [SRA] among the hierarchy of the Boston Archdiocese. Monsignor Frederick Ryan – the Vice Chancellor of the Archdiocese and close advisor to Cardinal Law - plied a teenage boy with alcohol, had him tattooed with a cartoon devil and sexually abused him in Rhode Island two decades ago. This was not the act of some isolated and demented priest – it was the work of a major figure in the Boston Chancery. In this instance the Mark of Satan was pressed into the boy's flesh by the perverted Devil Worshiper Msgr. Frederick Ryan. [Source: Boston Herald June 25, 2002 Ex-Bruin deposed in church abuse case by Robin Washington
[see: http://onenews.nzoom.com/onenews_detail/0,1227,140759-1-9,00.html ]
Another explicit case of Ritual Satanic Abuse of the sort Father Martin reported on in the Boston Church comes with the Alpha Omega House run by Rev. Bernard J. Lane in Littleton, Massachusetts. This was a home for troubled and drug addicted youths run in a joint effort by the Archdiocese of Boston and the Massachusetts Department of Youth Services. Lane repeatedly sexually abused boys put in his care for decades. Two victims who wish to remain anonymous claim that the Alpha Omega House had a room which was painted jet black [windows too] and where instances of bizarre sexual abuse took place. In the 'Black Room' such priests as Lane, Shanley and Paquin systematically molested drug addicted and emotionally troubled youths. One victim reports having seen an inverted cross in the Black Room on three different occasions ,however, it was not always present during 'Black Room therapy' sessions. [Source: Boston Globe 5/7/2002 Priest who ran youth home in '70s accused by Globe Staff & interviews with victims 7/02]
Ritual Satanic Abuse in the Catholic Church has proven to be on an international scale as seen in the case of Irish priest Father Sean Fortune. The local bishop allowed Fortune to sexually abused young boys for decades and Fortune himself threatened to put the 'Devil's Curse' on anyone who ran afoul of him. Father Fortune even put a curse on the parish trustees who confronted him on a variety of infractions. Fortune hexed them from his pulpit, saying their first-born children would be crippled. "It seems silly, but the old people in town believed it," recalled Gemma Hearne a church member. "It's unlucky to go against the priest." This eventually led to criminal prosecution but only after the Satanist Fortune terrorized poor Irish children for decades. The night before his trial Fortune saved the Irish government court costs by killing himself. [Source: Washington Post see: http://www.oneinfour.org/archives/000030.html ]
Furthermore, Cardinal Bernard Law of Boston recommended that Rev. George Berthold be given a teaching position at a Southern seminary even though Berthold was dismissed as Dean of Students from St. John's Seminary Boston , Ma. for attempting to initiate a 19-year-old seminarian into a secret gay cult consisting of priests and seminarians. Law claimed Berthold had a spotless record in Boston after removing him for predatory homosexual activity after students repeatedly complained. It seems what Father Martin called the Superforce looks out for its own. [Source: Boston Globe Staff May 15, 2002 , Law recommended fired dean for college teaching position ]
Considering that the Archdiocese of Boston refuses to release all of its documents concerning abusive priests and had its lawyers force all the victims into signing 'gag order' confidentiality agreements in this matter God only knows the full extent of the Superforce's vile activities in Massachusetts
Any reasonable person can conclude that Cardinal Law is to children what Judas was to Jesus - a betrayer of innocence and a destroyer of purity.
A Boston Herald report demonstrates that the Superforce goes all the way to the top of the Holy See. Recently released church documents clearly demonstrate that Pope Paul VI, Cardinal Humberto Medeiros and other high ranking Vatican officials conspired to cover up the illegal activities of Father James Porter currently in prison in Massachusetts for molesting at least 26 children while serving as their pastor. The Vatican denied hearing about Porter's child sex activities until 1985 when in reality they were well aware of his perverted actions in 1973. This is clearly a cabal the likes of which Father Martin warned against for many years. [Source: Boston Herald May 16, 2002 , Record: Vatican knew of scandal cover-up in 1973, by Jack Sullivan]
Father Malachi's assertion that various forms of mind control and brainwashing were used to keep victims in line has been confirmed with the testimony of a victim of the pervert Rev. Ronald H. Paquin. In a dramatic 'impact statement' [confrontation] at Paquin's trial in Salem, Massachusetts, a 26 year old victim stated the following under oath, "you brainwashed me...as your sex slave...you created a world for me where I believed that 'its normal for sons to shower with their fathers'...a world where 'fathers and sons' are supposed to share these sexual acts...Ronald Paquin, you are a sexual predator of exploitable innocents...you abused your title of 'Father'...I am ashamed that your brainwashing lasted as long as it did with me." [Source: Boston Globe 1/3/03 Molester priest Paquin cuts deal to testify in abuse civil lawsuits by Tom Mashberg]
Nuns are also part of the Superforce. Marie Docherty, also known as Sister Alphonso – a British Franciscan - was convicted in September 2000 of four counts of repeatedly abusing, humiliating and cruelly treating young girls at former children's homes run by the Roman Catholic Church in Scotland . The charges included ramming a chocolate bar down a child's throat, throwing items of soiled underwear at another and pushing a girl into a radiator. Several victims claim Docherty forced them to kiss a dead body repeatedly. Over 400 other cases of abuse by this ghoulish nun are still pending. The Franciscans protected Docherty for decades even after multiple reports of abuse flooded all three branches of the Franciscan Order in the United Kingdom . [Source: The Times Britain , Nun guilty of 15-year regime of child cruelty, by Gillian Harris]
According to a recently released 1996 survey of nuns in the United States [which was intentionally never published by the Church] it is reported that a minimum of 34,000 Catholic nuns [about 40% of all American nuns] claim to have been sexually abused. Three of every four of these nuns claimed that they were sexually victimized by a priest, nun or other religious person. Two out of Five nuns who stated they were sexually abused claimed that their exploitation included some form of genital contact. All nuns who claimed repeated sexual exploitation reported that they were pressured by religious superiors for sexual favors. [Source Boston Globe 1/8/03 , Sex abuse of Catholic nuns cited by Bill Smith]
Since the Superforce was exposed in January 2002 at least 225 of the nation's more than 46,000 Roman Catholic priests have either been dismissed from their duties or resigned to date. In March, the Rev. Anthony O'Connell resigned as bishop of Palm Beach , Fla. , after admitting he abused a seminary student in Missouri more than 25 years ago. In May, Milwaukee Archbishop Rembert Weakland's resignation was accepted by the Vatican a day after he acknowledged paying a man $450,000 to settle a sexual misconduct allegation against him. In June, Bishop J. Kendrick Williams of Lexington , Ky. , resigned amid accusations of sexual abuse, becoming the third U.S. bishop brought down in the scandal rocking the church. Bishops in Poland and Ireland were also forced to resign this year in sex abuse scandals. [Source: Associated Press June 11, 2002 , Vatican : Kentucky Bishop Resigns, by Victor L. Simpson]
The Superforce is now engaging in a public relations blitz having convened a meeting to address sexual abuse policy within the Church. However, there is a faction of the Superforce which is self-righteous enough to not even care about bad public relations – they are denouncing the zero-tolerance policy called for in the media. As hard as it is to believe there are those Superforce bishops who feel that a zero-tolerance policy toward priests who sexually abuse children is unfair to the priests! [Source: New York Times Apr. 26, 2002 , Zero-tolerance policy divides U.S. bishops, by Laurie Goodstein and Sam Dillon]
On Dec 13, 2002 Pope John Paul II accepted Bernard Law's resignation as Archbishop of Boston . This came after further proof of a strange sex cult in the Archdiocese emerged. Released documents demonstrated that Father Robert Meffan enticed teenaged girls preparing to become nuns to have sex with him with the promise that they were about to witness "the second coming of Christ." Meffan claimed to be Jesus Christ and was never reprimanded even though Law Knew about his Messianic claims and his rape of teenage girls. Upon his retirement Meffan received a letter from Cardinal Law expressing true gratitude for his priestly care and ministry, even though he had much earlier been warned by a subordinate that Meffan was so unbalanced "he could really harm us". [Source: The Guardian December 10, 2002 A Law unto himself? US Cardinal fights for survival by Stephan Bates]
During the last week of Law's reign it was revealed that Father James D. Foley fathered two children and was involved in the drug overdose death of his children's mother with the full knowledge of the Chancery officials. Foley was also reported to Law for claiming to be the 'Savior' during his homilies yet was allowed to remain as a pastor in Salem , Massachusetts . [Source: Boston Globe 12/29/02 A 'classic misuse of power' by S. Kurkjian]
At the writing of this piece the Attorney General of Massachusetts , the Hon. Thomas Reilly, is considering prosecuting Bernard Law under the Racketeering Influence and Corrupt Organizations [RICO] act - normally reserved for mafia families and street gangs – because of Law's complicity in the rape of children. If Reilly does charge Law under this act than that would officially confirm Martin's allegation that a conspiracy has been in play for decades. [Source: Boston Globe May 4, 2002 Reilly doesn't rule out charges vs. superiors, by Kevin Cullen]
The future of the Superforce seems solid despite the great unbalance that it has suffered. Cardinal Oscar Rodriguez Maradiaga of Honduras is mentioned as a possible successor to Pope John Paul II. After what he told the influential Italian Catholic monthly Thirty Days, every Catholic – as well as anyone who wishes the Church well - should seriously pray that he doesn't get the job. Maradiaga contends that the media coverage of the priest sex scandal is somehow anti-Catholic.
In his interview, Rodriguez accuses the American media of acting with "a fury which reminds me of the times of Diocletian and Nero and more recently, Stalin and Hitler" and declares: "The church should be free of this kind of treatment." After attacking Ted Turner for being "openly anti-Catholic," he goes on to insist that "newspapers like The New York Times, The Washington Post and The Boston Globe" are "protagonists of what I do not hesitate to define as a persecution against the church."
To cement his views, Maradiaga sees Boston 's Cardinal Bernard Law - under challenge for transferring pedophilic priests from one assignment to another - as the victim of a "witch hunt." For Rodriguez, the investigation into Law recalls 'the dark days of Stalinist trials of churchmen of Eastern Europe .'
The Cardinal recently told a news conference "it would be a tragedy to reduce the role of pastor to that of cop." He went on: "I'd be prepared to go to jail rather than harm one of my priests." Which means what - that "a pastor" should protect priests who commit crimes? Are self-protection and institutional preservation the priorities of church leadership? For the Superforce and the child molesting priests the answer to these question is categorically and unreservedly yes. [Source: Washington Post June 12, 2002 , A Cardinal who shouldn't be Pope, by E.J. Dione Jr.]
For being one of the first best selling scholars to claim that such cabals existed Martin was deemed anathema by the mainstream Establishment and these Global Elites might have had a shadowy hand in the vilification of his life and work after his passing.
Part Three: Hostage to the Devil
Prof. Cuneo is correct in pointing out that Father Martin's most popular and influential book was Hostage to the Devil: The Possession and Exorcism of Five Living Americans [1976] [which will be referred to as Hostage for short] Cuneo suggests that Father Martin wrote this study as a means to exploit the success of William Friedkin's now classic cult horror film The Exorcist [1973] which is based on the William Peter Blatty novel of the same name. In reality Father Martin first got involved in exorcism while working as an archaeologist in Egypt during the 1950's.
In his mistaken theory Cuneo contends that Friedkin's film somehow started the huge interest in the phenomenon of exorcism in American popular culture which then caused Martin to capitalize on this theme. In his analysis Cuneo makes far too much of the impact of Friedkin's hair raising production. This film was a success but it was far from the first time Hollywood , Broadway and fiction writers explored this theme of possession and exorcism for a popular audience. Arthur Miller's Broadway play The Crucible [1951] highlighted the possession and exorcism of a group of girls in Salem , Massachusetts in 1692. [Miller used this theme as a metaphor for Communist witch hunts] The experimental film The Bad Seed [1955] featured a young girl who was so evil that she is struck down by a lightening bolt seemingly by the hand of God. Aldous Huxley's non-fiction book The Devils of Loudun [1952] focused on the possession of a group of nuns in 18th century France and was so popular that it was adopted into a Broadway play [1965] and a film [1971]. The Ken Russell film version of Huxley's book entitled The Devils [1971] produced as much controversy as The Exorcist did two years later having been banned in Italy and Ireland in 1972. Even the classic Star Trek series featured three episodes in which demonic possession was strongly suggested.
Cuneo seems to be unaware that the concept of possession and exorcism were popular themes in the post war era. In 1951 newspapers around the globe reported the events surrounding an ergot food poisoning incident in the French village of Pont St. Esprit wherein the seeming symptoms of possession became apparent after locals ingested the mind altering psychedelic ergot fungus that accidentally made its way into some bakery bread. The unaffected villagers refused to return home until the local Bishop performed an exorcism at the bakery where the tainted bread was sold.
Consequently, Cuneo 's claim that The Exorcist film single-handedly sparked widespread interest in demonic possession and exorcism is clearly false.
This leads to an extremely important point which evaded Cuneo . The concept of possession by evil spirits and the process by which they are expelled is as old as humanity itself and is not the sole property of Roman Catholics or other Christians. Hinduism, Buddhism, Taoism, Judaism, Islam and various tribal faiths all shave beliefs in and accounts of possession and exorcism. The concept of casting out demons has been with humanity for all its various epochs and in every region on Earth. To believe, as Cuneo contends, that the United States in the post war era was somehow devoid of a belief in this phenomenon demonstrates a lack of basic knowledge or a deliberate scrambling of facts on his part. Cuneo suggests that this phenomenon is flaky and weird but it is nearly not as 'fringe' as he makes out. Nor did it emerge from obscurity with Friedkin's film. For someone who teaches sociology and cultural anthropology Cuneo should have been aware of these facts.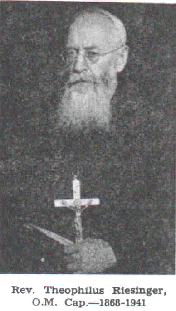 A specific fact which was completely lost to Cunceo concerns the hugely popular career of Catholic exorcist Father Theophilus Riesinger during the 1920's and 30's. Riesinger's services as an exorcist were widely called upon by bishops in the United States. In fact a book chronicling some of Father Riesinger's work was a best seller in 1935 and was entitled Begone Satan ! by Rev. Celestine Kapsner, O.S.B. Father Carl Vogal later updated this book and it has been in print since it came out in 1935. Riesinger died in 1941 and the horrors of WW2 became the great evil for the next few years. [Begone Satan is online here]
Cuneo misses the hard fact that a continual interest in possession and exorcism can be traced from the death of famous Father Riesinger in 1941 to the Broadway opening of Miller's dark play of possession called The Crucible in 1951 - only ten years later. Consequently, Cuneo's theory that The Exorcist film caused wide spread interest in possession is wrong. At best this film merely played upon familiar, however horrifying, themes.
Cuneo also contends that Father Martin fabricated the case studies he proffers in Hostage to the Devil because there exists no formal records on the matter. However, he failed to mention that all of the files of the Archdiocese of New York , where Martin's case studies take place save for one, are sealed in matters of exorcism. Cuneo relies on the testimonies of priests who were around New York at the time and do not recall the cases in question. That does not mean that they did not occur - it only means that the various priests Cuneo consulted were not made aware of them. Martin states that the real names of his subjects are kept private as to save them from media exploitation. Oddly Cuneo makes a similar caveat in his introduction:
"All of the incidents recounted in this book are true. Due to their intimate nature, however, I have sometimes disguised real-life identities." [ Cuneo : xiv]
Under these conditions the charge of fabrication can just as easily be leveled against Cuneo .
Another point which evades Cuneo is the fact that Father Martin was involved in exorcism for over twenty years after the publication of Hostage. Martin never made a red cent off of these cases nor did he openly discuss the real life identities of the victims of these cases again to ensure the privacy of those involved. Father Malachi Martin never wrote a sequel to Hostage to the Devil even though he was offered huge sums by major US publishers for both book and film rights.
If Martin were merely an exploiter and opportunist as Cuneo claims, he certainly would have taken up one of these multi-million dollar offers and sold his case studies for cold hard cash. A case in point is 'Son of Sam' serial killer David Berkowitz. After his arrest for various murders Berkowitz requested to see Father Malachi Martin for spiritual guidance. Martin visited Berkowitz in his jail cell and concluded that the young postal worker turned murderer was demonically possessed. After Berkowitz was sentenced to a long prison term various publishers offered Martin vast sums to write a book on the 'Son of Sam' murders and his relationship with this deranged killer. Berkowitz himself wanted Martin to write the account. However, Martin refused all offers claiming that authoring such a book would be a petty exercise in exploitation and sensationalism.
Berkowitz's psychiatrist David Abrahamsen M.D. made a fortune off of Berkowitz's name by publishing his notes and recorded transcripts. The courts in New York ruled that Berkowitz himself could not profit from his crimes and hence passed the famous Son of Sam law named after this serial killer. However, Dr. Abrahamson was allowed to keep his share of the profits from this book and went on to publish other highly popular true crime books based on his association with Berkowitz. Malachi Martin likewise could have sold his story about Berkowitz for a small fortune but saw this as exploitive.
The motion picture Summer of Sam featured David Berkowitz's murder spree and made millions of dollars for director Spike Lee in 1999. Martin never made any money off of Berkowitz even though he had many offers.
The financial potential for Berkowitz's story was huge even after over 20 years after the killer was jailed. This is evinced in Spike Lee's blockbuster film Summer of Sam [1999] which focused on the Son of Sam killing spree. Martin felt that it was his mission to aid those who felt distressed in the area of demonic possession and refused to sensationalize their plight
For a review of the many other investigations into possession Father Martin was involved in after the publication of Hostage see Ralph Sarchi's recent book Beware the Night [St. Martin's Press 2001] written after Martin's passing. Martin also describes some of the exorcisms he has been involved with on the Coast to Coast late night radio program hosted by Art Bell. [see Sources section below for show dates] Again, it must be pointed out that Martin never cashed in on his involvement with cases of possession and exorcism. Martin refused millions of dollars from publishers and film makers whose only goal was sensationalism. In fact Martin lived quite modestly and donated the bulk of the money he made from his best sellers to various charities for the poor and to various civil liberty/free speech causes. Martin's largest personal expense centered on taking friends and quests out to dinner which he loved to do.
Cuneo was wrong in suggesting that Martin was only after money and was a sensationalist when he wrote Hostage. Malachi Martin wrote this book to aid those afflicted and to inform the general public of the dangers of possession. As demonstrated, Cuneo 's treatment of Father Martin's career and the entire phenomenon of exorcism are poorly researched and are not to be taken seriously.
Part Four: Kaiser's Queen Dream
Robert Blair Kaiser proffers a most bizarre account of Martin's life and work in his book Clerical Error [Continuum 2002]. Kaiser, a one time Jesuit Novice turned journalist, claims that Malachi Martin was having an affair with his wife Mary during the Second Vatican Council. For this reason, Kaiser contends, Martin was forced to leave the priesthood. Now that Martin is dead and Kaiser's ex-wife Mary has dropped out of sight having remarried, there is no one around to refute Kaiser's vicious claims.
Kaiser did not go public until long after Martin was dead - most likely as to avoid a libel case.
According to Kaiser, Martin and his wife had an affair behind his back while Martin was a houseguest. Oddly, Martin's reason for being with the Kaisers was to aid Robert Kaiser in his journalistic account of the Second Vatican Council. Martin had helped Kaiser before as evinced in Kaiser's own account:
"I was under terrific deadline pressure. I took his [Martin's] offer and he began feeding me dozen-page memos on the history of the Church (a subject I was weak on)"...[Kaiser: 147]
Even a cursory glance at Kaiser's charges makes one question the validity of his assertions and, at times, his very sanity. Kaiser's narrative demonstrates what can only be described as paranoid thinking. An extreme example is as follows:
"While the customs officers were making little chalk marks on my bags I watched Mary and Malachy with their heads in earnest conversation. For an instant, I stiffened. I thought of two other times when I had seen them with their heads together. It happened first when returning from a trot on the beach with our infant daughter on my shoulders. Another time I had driven to Lavinio one afternoon and had come upon them unexpectedly on our patio. On both occasions they put on smiling faces as soon as they saw me. I had wondered about that then; I feel a pang of resentment now. I asked myself why Mary hadn't gotten someone else to come with her to the airport, or why she came at all." [Kaiser: 172]
In an even more bizarre and disturbing section Kaiser demonstrates his homosexual feelings for Father Martin:
"I had a primal dream. I was in a large room kneeling on the floor in a large circle of Novices. One of them was unmistakably Malachy Martin, who stood and announced to the group that I had been rejecting him. He proceeded to remove his cassock, lay it down and put his arms around my neck. Just as he was about to kiss me I woke up.
Now what, I asked myself, was this all about? A Freudian Psychiatrist would undoubtedly call this a homosexual dream. If it was, however, I didn't see it as a sign of my homosexuality, but of Malachy's. My dream was a warning that Malachy wanted me." [Kaiser: 178]
Nowhere does Kaiser [or anyone else] ever accuse Martin of homosexually seducing them in the real world. Kaiser does not seem to realize that the dream world means nothing in reality. For Kaiser to project [yes I am using Freudian psychology] his own homosexual [or bisexual] feelings onto Father Martin is laughable. It was Kaiser's own perverted dream not Martin's. Any reasonable person can clearly see that Kaiser was sexually attracted to men. His own words are proof enough. Perhaps Kaiser's own inability to come to terms with his own same sex orientation caused him to lash out at Martin many years later. This leads to what perhaps constitutes the real reason Kaiser attacked Martin's character after the death of the popular priest. Father Malachi Martin, S.J., Father John Courtney Murray, S.J. and Archbishop T.D. Roberts noticed Kaiser's disturbed nature and, in the early 1960's, performed what is now known as an intervention. The three clerics persuaded Kaiser to seek psychiatric treatment and, consequently, Kaiser checked himself into a mental institution - a fact he enjoys making light of in his various public talks. However, the psychiatric hospital where Kaiser was interned evaluated his mental condition and a team of psychiatrists diagnosed Kaiser as suffering from acute paranoia and schizophrenia. [Kaiser: 261]
It is a common trend for former psychiatric patients to harbor strongly held resentments against those who suggest they seek professional help. Rather than concede that they suffer from deep-rooted psychological problems such disturbed and unbalanced individuals often lash out against their interveners and accuse them of fantastical conspiracies waged against them.
Perhaps this accounts for the real motives behind Kaiser's attack. It is a case of a paranoid attacking the intentions of someone who tried to help him. All of Kaiser's other claims about his wife and Father Martin must be taken with a large grain of salt. It is really hard to take anything Kaiser says seriously after reading his elongated crazy rant which he published as a book. Kaiser even alludes to an alcohol problem that further added to this break with reality:
"IN THE DAYS that followed, I lived mainly on gin, spent most of my nights staring at the ceiling in my bedroom, trying to process everything" [Kaiser: 239]
As mentioned, after leaving the Vatican and the Jesuits Father Martin continued to say Mass privately and for those who requested attendance at his services. Kaiser claims he did not have permission to do so. [Kaiser: 297] When Father Martin was later to move to New York he came into conflict with then Cardinal O'Connor who claimed Father Martin had no faculties [right] to act as a priest in the Archdiocese of New York. As mentioned Cooke accepted Martin's faculties but O'Connor tried to revoke Martin's status. When Martin threatened to sue O'Connor over this issue the Cardinal backed down and consequently conceded that Martin had the right to act as a priest under the dictates set forth by Pope Paul VI. Even the EWTN Catholic cable station - which has no love for Martin - concedes that one should take Father Martin at his word concerning his status as a bone fide Roman Catholic priest. [see sources section for EWTN official statement on Martin's authentic status]
Kaiser completes his rant with the following:
"Malachy Martin fled to New York City, a renegade liberal as well and soon became the darling of the Church's lunatic fringe, which lionized him for a series of fantastical books about demonic possession and the skullduggery of traitorous prelates within the Vatican itself. He died of a stroke in 1999." [Kaiser: 297]
The 'lunatic fringe' that Kaiser speaks of is what Father Martin referred to as the 'underground church' during his many appearances on the Coast to Coast radio show hosted by Art Bell. This 'underground church' constitutes those who prefer the Tridentine Mass over the New Mass, those who feel that the Church's ancient teachings concerning the Devil's influence in the World is true and those who do not trust the Vatican's alliance with Global Elites who launder drug money and undertake other nefarious activities. These beliefs are far from being deemed 'lunatic'.
The real 'lunatic fringe' in the Roman Catholic Church consists of Cardinals who give safe harbor to child molesters posing as priests [Law, Egan et al], the predatory homosexuals who run and enroll in Roman Catholic seminaries and form bizarre sex cults and the power brokers who have allied the Vatican's vast financial resources with organized crime. It is the skullduggery of these sorts of Catholics that causes the most harm. The devotional practices and beliefs of Traditional Catholics harm no one.
Father Martin merely exposed the vile undercurrent in the Roman Catholic Church which, since his passing, has erupted in the popular media. Martin was a 'spiritual refuge' from the clearly insane activities of the 'lunatic fringe' which has taken over the Vatican .
If Kaiser were a journalist of integrity he would focus on this real 'lunatic fringe' and not on Father Martin and the many harmless people who subscribe to an older and more humane form of Roman Catholicism which Malachi Martin so loved and actively promoted.
Part Five: Malachi Martin's Final Thoughts on the Papacy
Father Malachi Martin always had a soft spot for Pope John Paul II who he had known in the 1950's as Father Karol Jozef Wojtyla. Martin had met Wojtyla when he traveled to Poland as means to bring money to the struggling church there. The Church in Poland suffered greatly under the Communists with all of Poland's university theology departments being abolished in 1954.
Martin watched the rise of Wojtyla in the Church with great hope. However, as the Superforce began to dominate the Vatican hierarchy and eventually the Petrine Office itself, Martin became more and more disenchanted with the Holy Father. In this regard Martin began to move toward a position called sedevacantism - the belief that the Throne of Saint Peter is empty because of doctrinal heresy. This perspective carries with it the notion that the popes since Vatican II (from John XXIII to John Paul II) have not been valid popes. In effect this means that the Pope is no longer the generator of authentic Roman Catholicism. Hence, much like the Maronites of Syria and Lebanon - who were cut off from Rome for centuries yet retained the true Faith - Catholics today must function without the Petrine Office.
Towards the end of his life Martin began to associate more and more with sedevacantist Churches like that run by Bishop Robert McKenna in the Tri-State area. It was with this particular Church that Father Martin advised on such matters as exorcism and attended some of Bishop McKenna's services. The last straw for Martin as far as the current Church of Rome goes came with his final visit to the Holy See after the publication of Windswept House when Vatican officials - including the Pope - scoffed at his last ditch effort to get the Institutional Church to redress the errors into which it had fallen. Upon his return to the United States Father Malachi Martin had adopted a full sedevacantist stance. With this he accepted the de facto status of bishops outside of the See of Rome which he considered to constitute an underground church. Martin's sedevacantism has been confirmed by Mr. Robert Moro who was his driver and assistant for many, many years and who was the only person with Father Malachi on a day to day basis. Martin also informed the medical doctor I mentioned earlier of his sedevacantist stance and mentioned to me not long before his passing that his dealing with the Vatican was 'like beating a dead horse'. The title of Martin's final book which he was working on at the time of his death sums up his final view of the Petrine Office - Entitled Primacy: How the Institutional Roman Catholic Church Became a Creature of the New World Order.
Martin did, however, accept the validity of Traditional Tridentine Masses which were said by groups who were still in communion with Rome like Una Voce and The Priestly Fraternity of Saint Peter - two groups he respected greatly. He also accepted the validity of various churches who were outside of Rome. Martin never went public with his final stance as not to upset or alienate those Traditional Catholics who offered allegiance to the current holder of the Petrine Office. Nor did he wish to engage in the constant bantering between Traditional Roman Catholic Groups.
In essence, Martin was sedevacantist but did not necessarily want to discourage those Traditional Catholics who seek to reform the Petrine Office from within.
Father Martin in later years
Part Six: Malachi Martin's Legacy in the 21st Century
The author of this piece met Malachi Martin in New York City in 1995 through a mutual friend who is a medical doctor in the Tri-State area. The reason for my meeting Malachi Martin centered on a proposed book I was considering putting together on traditional Catholic priests. Father Martin enjoyed the idea of having a chapter on himself to clear up some misconceptions about his career. Over the course of the next few years we kept in contact with by phone and with three more visits to New York I made specifically to see Father Martin.
During the course of these meetings and conversations we considered expanding this chapter into a full length biography. However, in 1998 Martin asked me to hold off writing about him until after his death. His reason for this was that he did not want to spend his twilight years responding to my biography which would undoubtedly have led to controversy and public debate. This came after some discussion with his spiritual advisor in Rome. Martin also was working on a final book which wanted to research, write and promote in the few years he that he felt he had left. Father Martin and I did, however, continue to remain in contact specifically to share any new or interesting information which either of us came across. I was merely one of dozens if not hundreds of researchers Father Martin had contact with. Some of these researchers had known Martin for decades.Martin's last book he was working on had the provisional title of Entitled Primacy: How the Institutional Roman Catholic Church Became a Creature of the New World Order. [This was the longest of three proposed titles] I never saw any draft of this book, any outline nor did Father Martin mention any of the contents of this 'work in progress'. However, I can say that during the research of this book Father Martin called me concerning two issues which strongly concerned him about some information from the internet which might have appeared in the final draft of Entitled Primacy .
Before I discuss these issues I would like to address several individuals who are making some strange claims concerning Malachi Martin. Some of these individuals are insinuating that they are somehow Malachi Martin's deemed successors while others are misrepresenting his intentions.
Ed Dames is a psychic and occultist who practices a form of ESP called remote viewing. When Malachi Martin was a guest on the Coast to Coast radio show the host Art Bell bought Dames on the program without Martin's prior knowledge. Art Bell and Ed Dames tried to get Martin to endorse Dames's remote viewing course [which starts at $4000] on the show. Martin did not endorse Dames's remote viewing course either on or off the Coast to Coast show. In fact Martin stated on the show that such practices could be spiritually and psychologically damaging. Since Martin's death Dames has attempted to hijack Malachi Martin's name into his New Age purview and evokes Martin's name as if he is the successor to Martin especially in relation to Dames's weird view concerning the Fatima teachings. Martin did not endorse Dames purview nor did he anywhere write or state that Dames was his successor.
The Ding-a-Ling Kathleen Keating appropriately appeared on the Bell Show
Kathleen Keating is a radio talk show host who interviewed Malachi Martin on her show. Keating was one of the hundreds of researchers who exchanged information with Malachi Martin. Since Martin's death Keating has published a book entitled The Final Warning and has insinuated that this book was a Malachi Martin endorsed production and was somehow an extension of Malachi Martin's corpus. Reading it one can see that it is merely a rip-off of Hal Lindsey's Late Great Planet Earth with a little Roman Catholicism thrown in for good measure. It lacks the erudition of a Malachi Martin production and is a sketchy and disconnected work.
Even more alarming are some of Keating's claims concerning her importance in both the political and metaphysical spheres. On the Art Bell show [airdate 4/13/2000] Keating claims that she and her pet dog were harassed by the Anti-Christ Himself! Keating did not say that she was oppressed by a demon [which many people claim] but by the Third Person of the Infernal Trinity! Here is a transcription of Keating's encounter with what she believes is the Prince of this World:
...Okay, well, it was early in the morning, and I had to get my dog out and she's a very early type dog, and you have to get her out, and I walked her out to the backyard and opened the back door, and down the stairs she went. And immediately we both saw this man standing in the backyard. And out in this country most people wear cowboy boots and a cowboy hat. And jeans. And here's this guy in what looked like a three thousand dollar Armani suit. But not a tie or anything, he had like a turtleneck on. And his hair was tied back, and he was swarthy looking—good looking. Very slick hair, you know,—I won't say "greasy", but it looked really slick.
...Yeah, no I'm not, I wish I were, because that would explain this, but it was like I sort've mumbled "Hi", but I couldn't quite get it out because I first of all was startled that the guy was there. My dog couldn't advance on him, and she's the type of dog that's very aggressive when there are strangers around. She couldn't move, she couldn't bark, and this dog lives to bark, and she could not move, she could not move, and this guy started walking back and forth, looking at me. And I got behind the door a little bit, and some-what looked at him, but I didn't want to meet his eyes because I'd been warned about that. He's so charismatic, he'll pull you in. Into his power, into his realm.
...And so, you know, I kept thinking, I don't see this, but I do see it. So what do I do now, you know? And it was like, Oh Lord, help me! Oh crap, what do I do now? It was almost as if I couldn't shut the door. Which was a terrible feeling. And he kept walking and looking at me. And I started to close, I was able to close the door just a little bit more, and I had my crucifix on my door, and I thank God for that! And he just walked away into thin air. And my dog looked at me, and I looked at her, and she came back in, she didn't care if she had to go, she was coming back inside. And I locked the door, and that was the end of that!
Keating told Martin about her encounter with the Anti-Christ on the Art Bell program:
Art Bell: When you spoke to Father Martin about this, how did he react?
Keating: He was skeptical at first, but when I told him the project that I was working on which he was helping me, at what particular phase I was in, he listened very carefully, and you know, Art, that Malachi would think about something a long time and get back to you...

Keating never mentioned whether Martin got back to her on this matter and I doubt that he ever did. If Malachi Martin believed that Keating was legitimately being harassed by the Anti-Christ he would have mentioned it in print or at least to some of his close friends like Father Charles Fiore [who never heard Malachi speak of this matter] or the medical doctor I mentioned earlier who regularly met with Martin the last few months of his life. Neither of these true close confidants of Martin ever heard Malachi mention Keating meeting the Anti Christ and he would have told these men if he thought it had any merit.
Strangely Keating's description of the 'Anti-Christ' greatly resembles the comedian Andrew Dice Clay. The Final Warning I have is to ignore Kathleen Keating.
Keating's Anti Christ?
Malachi Martin never designated anyone as his successor nor could anyone legitimately claim to be his successor. Father Martin is a unique individual whose talents and erudition could never be transferred to anyone else.
Hutton Gibson
Radio talk show host and conspiracy buff Alex Jones recently made some negative comments about Malachi Martin on his 1/17/2003 broadcast. Jones' guest was none other than Catholic writer and noted controversialist Hutton Gibson now 84 years old. When a caller asked about Malachi Martin's career Gibson and Jones had the following exchange:
Gibson: I have read some of Malachi's works and think he was part of a plot.
Jones: So you think it was disinfo?
Gibson: A good deal of it, yes.
[Commercial Break...]
Jones: ...Father Malachi Martin wrote the 'Keys of this Blood' and other books that I have read...and only talked about some of the New World Order system...and in the last segment Hutton Gibson said that he thought he [Martin] was putting out some misinformation and one of their agents...they do that allot...they mix a little bit of truth with a lot of lie or a little bit of lie with a lot of truth...as a poison pill...why would you say that?...I mean give us your summation of what the New World Order really is and how its really run compared to what Malachi Martin had to say...[Source: http://www.prisonplanet.com/archives.html ]
Gibson never outlined his reasons for making this accusation about Father Malachi Martin on the show. Instead of offering sound evidence of the stark claim that Martin was a disinformation agent of the New World Order, Gibson merely went on to rehash some topics which are found in Keys of this Blood. What exactly is Hutton Gibson talking about? Why does Alex Jones - who uses Malachi Martin's Hegelian critique of modernity almost daily [see Keys of this Blood page 201] - allow such unfounded claims to be expressed without proper documentation? To make such a harsh assertion and then offer absolutely no solid substantiation is very poor journalism. What proof does Hutton Gibson have to offer and what qualifies him to make such outrageous and unfounded claims about Malachi Martin?
Father I will defend you!!!
Apart from being the father of famous actor Mel Gibson, Hutton has had a varied career being a railway brakeman and champion of the quiz show Jeopardy! in the 1960's. Hutton Gibson produced a Catholic sedevacantist book entitled Is the Pope Catholic? which is a well thought out treatment of the state of the Church in our time and well worth reading. However, Gibson's work met with little academic or popular success. The elder Gibson never achieved any degree of accomplishment as a popular writer on the level of Malachi Martin and perhaps this has contributed to his unfounded claims about the priest. Hutton may just be a jealous old Catholic curmudgeon in this case. Much of this lack of success stems from Gibson's continued allegiance to the anti-Communist teachings of Senator Joseph McCarthy [as hard as it is to believe that McCarthyism still has any original proponents.]
In another diatribe when Gibson was asked about the use of the term 'homosexual' he stated 'What are you supposed to call a queer?' [Alex Jones show airdate 3/12/03] What good does such bigoted statements do? How does this help those who suffer with sexuality issues who may come to the Catholic Church for help? Such statements only drive people away from traditional religion.
If not for Mel Gibson's film success combined with his promotion and fanatical defense of his dad as a thinker, Hutton Gibson would not get any national radio exposure. Gibson's unfounded claims about Father Martin must be ignored by any reasonable person.
Another recent attack against Malachi Martin comes with Father Palladino's book The Eclipse of the Church which focuses on the events which occurred at the 1963 Conclave wherein Pope Paul VI was elected to the Petrine Office. Palladino correctly points out that Cardinal Siri was initially elected Pope at the Conclave but, for whatever reasons, a re-ballot elected Pope Paul VI. Palladino suggests that Martin had a dirty hand in organizing this re-balloting and getting his friend Paul VI elected. What Palladino and other critics do not realize is that Martin was merely an outside aid to the Jesuit Cardinal Bea and was not a power broker at the Conclave. Martin had only taken his final Jesuit vows in 1960 was was not around long enough to pull any real weight in Vatican affairs.
Any influence Martin exerted in the Vatican was merely deferred power from Cardinal Bea and he was, in this regard, merely a multilingual errand boy for his Jesuit superiors. Martin was certainly an insider at the Vatican at this point but he definitely was not a power broker who set policy. Having this deferred power without doubt went to Martin's head [as he informed the author of this article] but he was merely doing the bidding of his leaders. Martin's role at the 1963 Conclave may be likened to that of President George W. Bush's Chief of Staff Andrew Card. Like Card, Martin was an insider but only wielded the power of his superior over other men. Blaming Martin for the events which occurred at the 1963 Conclave is like blaming Andrew Card for the 2003 War in Iraq because Card followed the orders of the President in organizing the conflict. Both men were insiders but were only exerting the influence of their superiors.
It should also be pointed out that part of Martin's motivation for leaving the Vatican in 1965 was that he did not like the dirty dealings of the liberals in the Church. Martin was certainly in the liberal camp in 1963 but had grave reservations about the back stabbing methods and radical changes that the leftists in the Vatican were planning. Any activities Martin undertook between his arrival in Rome in 1958 until his departure in 1965 was directed by daily contact with his Jesuit superiors and makes him exempt from criticism during this period. Consequently, Palladino's criticism of Martin fails to see the entire picture and must be dismissed by the discerning thinker.
Recent rumors have appeared on various Catholic e-groups that Malachi Martin had Jewish blood and was a member of various Jewish groups. This is plainly a blatant lie. Martin's father was an Englishman who moved to Ireland and his mother was fully Irish - this has been confirmed by Martin's surviving relatives in Ireland. Any contact he had with Jewish groups centered on his status as a Hebrew scholar. Any gossip centering around Martin being an 'agent' of Jewish interests is pure bunk and has no basis in reality and must be ignored.
Clinton giving a Masonic signal the image to the right is the Coat of Arms of the DeMolay
As mentioned, Malachi Martin and I did discuss two topics which I will address now. I must categorically and emphatically state that I am not claiming that these topics would have appeared in his final book the contents of which are completely and utterly unknown to me. Martin and I talked on the telephone for over two hours on the first topic and 3 hours on the second. I recall this because on both occasions Martin called my home when I was not there and I returned his call and remember the long distance charges which were high and got my attention at the end of the month.
The first topic which Martin was extremely concerned with was then President Bill Clinton's association with Freemasonry. Clinton was a member of the Freemasonic youth group called the DeMolay International. This group is for boys and men 12 to 21 and meetings are held in Masonic Temples and the ritual, ranks and ideology mimic the adult order. It alarmed Martin that Clinton was not just a nominal member but was bestowed the title of Chevalier - the highest honor in this organization equal in difficulty to becoming an Eagle Scout. Martin was suspicious about how the adult leaders of this group [who were of course Freemasons] helped Clinton cope with his abusive step father and how far they may have influenced his political ambitions.
This concern came after photos of Clinton were published in which he is seen receiving Holy Communion from a Roman Catholic priest. Martin feared that Clinton had or would become a Roman Catholic. The combination of Masonry and Catholicism in a US president sounded alarm bells in Martin's mind.
Clinton receiving communion from a Roman Catholic Priest [which is against cannon law]
The second matter Martin and I discussed was formation of the Joint Forces Command by Clinton Defense Secretary William Cohen. This new military force was training to seize US cities and engage in urban combat. This concerned Martin as he saw this new army as being a device to bring a totalitarian state to the USA.
In the final analysis Father Malachi Martin scholarship is sound and his reputation cannot really be defamed by critics when solid facts concerning his life and work are proffered.
Sources
Allen, Thomas B., Possessed: the true story of an exorcism, Bantam Books: 2001.
Cuneo, Michael, American exorcism: expelling demons in the land of plenty, Double Day: 2001.
Kaiser, Robert Blair, Clerical Error, Continuum: 2002.
Wilson, Robert A., Everything is under control, HarperPerennial: 1998 .
Martin, Malachi,
- Hostage to the devil : the possession and exorcism of five living Americans, HarperSanFrancisco: 1992.
- The keys of this blood : the struggle for world dominion between Pope John Paul II, Mikhail Gorbachev, and the capitalist West, Simon and Schuster: 1990.
- The decline and fall of the Roman church, Putnam: 1981.
- The encounter, Straus and Giroux: 1969.
- Coast to Coast hosted by Art Bell. [Note: Martin Interviews: 10/18/96 , 11/15/96 , 4/4/97 , 7/11/97 , 12/3/97 , 5/4/98 , 7/13/98 ]
Links of Interest
Malachi Martin
Malachi Martin voted as top 100 Catholics of 20th Century in popular poll:
http://www.dailycatholic.org/issue/archives/1999Sep/183sep27,vol.10,no.183txt/sep27top.htm
Saul Bellow quotes Malachi Martin in 1976 Nobel Lecture [paragraph 11]: http://www.nobel.se/literature/laureates/1976/bellow-lecture.html
Martin addresses his critics: http://www.unitypublishing.com/newswire/mm_critics.html
Fr. Fiore on Martin: http://www.unitypublishing.com/newswire/fiore3.html
EWTN statement on Father Malachi Martin: "Malachi Martin states, and the Holy See will confirm if asked, that 'In 1965, Mr. Martin received a dispensation from all privileges and obligations deriving from his vows as a Jesuit and from priestly ordination.' [Congregation for Institutes of Consecrated Life and Societies of Apostolic Life, 25 June 1997, Prot. N. 04300/65]. Malachi Martin alleges that he has the permission of the then Pope, Paul VI, to say the Mass in private. Although laicized priests are prohibited from performing the sacraments, except in certain cases provided for in Canon Law, there is no way to verify whether he has such an exception, and the Congregation would not necessarily know if the Pope verbally assured him he could celebrate Mass in private. Generally a man should be taken at his word unless there is evidence to the contrary." Colin B. Donovan, STL (for EWTN)
Martin Interview: Great two hour interview with Father Martin on Paranet Continuum Radio [Realplayer required] shows # 117 and #118 airdates 7/7/96 & 7/17/96 go to:
http://www.paranetinfo.com/shows3.html
Robert Blair Kaiser: http://www.kaiser-allen.com/
Michael Cuneo: http://www.fordham.edu/sociology/cuneo_001.htm
Art Bell : http://www.artbell.com
Michael A. Hoffman II: http://www.hoffman-info.com/occult2.html
Exorcism: http://www.logoschristian.org/catholic.html
Roman Catholic Church Sex Scandal [Superforce]:
Boston Herald: http://toa.hiasys.com/
Boston Globe: http://www.boston.com/globe/spotlight/abuse/betrayal/ [Note: The Boston Globe won the 2003 Pulitzer Prize for its coverage of the Priest sex cabal in Massachusetts]