WONDER WOMAN


(Roz Doyle) played by Peri Gilpin
Roz went as Wonder Woman one episode for Halloween. She looked HOT!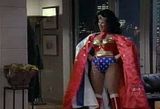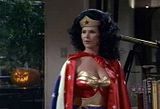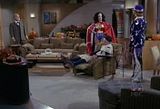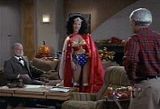 Video: http://www.megaupload.com/?d=D4OKRZE0
Roz Doyle is the long-suffering producer of Frasier's radio show on KACL 780. Daughter of the Attorney General of Wisconsin, Roz dropped out of college because it interfered with Bruce Springsteen's touring schedule!

Roz is a very attractive woman, and as such has attracted a lot of male admirers. There is hardly a show goes by when she is dating someone, and more often than not it is a different person in each episode. A couple of her notable admirers are Bob "Bulldog" Briscoe, formally the host of the sports show on KACL but now works in the archive room, and Noel Shempsky, a Star Trek obsessed general dogsbody who campaigned for the character Rozalinda, the four-breasted queen of the planet Rozniak to be introduced to his favourite sci-fi show.

In 1997 after a trist with a 20 year old waiter at Cafe Nervosa, Roz found herself pregnant and is now a single mother to Alice May Doyle. She had a fairly long relationship with Roger, a dustman, but is now single again.

Roz's personal hero is Wonder Woman, and she dressed up as her idol at Frasier's Halloween party in 2001.
(Roz Doyle) Peri Gilpin figures she was destined to portray a character such as bottom-line radio producer Roz Doyle on "Frasier." For one thing, her late father (Jim O'Brien) was a nationally known broadcaster who used to take young Peri into a radio station in Dallas to sing "Happy Birthday" over the airwaves. Later she worked in Hollywood with the "Wings" producer (now deceased) for whom her character is named in tribute. (She even lives on the same street on which Roz Doyle once resided.)
Born in Waco, TX, Gilpin was raised in Dallas, where she carried on a family tradition when she began her professional acting career at age 9 by appearing in television commercials. In addition to having a father who was a television newscaster and a stepfather who is a performer in commercials, she has a mother who is a seasoned actress, currently seen in commercials, and two sisters and one brother who also have ventured into acting.
While attending school in Dallas, Gilpin studied acting at the Dallas Theater Center, where she performed in various stage productions and was inspired by the center's house manager, Chantal Westerman ("Good Morning, America"). After high school, she continued her acting studies at the University of Texas at Austin and the British-American Academy in London, England.
Returning to the United States, she found work in Dallas as a make-up artist, but her life- long desire to act motivated her to become an apprentice with the renowned Williamstown (MA) Theater Festival. Her stage credits include starring in the Off-Off-Broadway production of "Lucky Lucy and the Fortune Man" and numerous regional theater productions, including "The Crucible," "Hawthorne County," "A Midsummer Night's Dream" and "The Maderati" (for which she also served as associate producer).
After guest-starring on such series as "21 Jump Street," "Max Monroe: Loose Cannon" and "Matlock," she became a regular on "Flesh 'N Blood," starring opposite David Keith. She also has guest-starred on the series "Designing Women" and NBC's "Wings" and "Cheers."
Gilpin resides in Los Angeles, where she enjoys gardening, entertaining and spending time with her two dogs.
LINKS
http://movies.yahoo.com/shop?d=hc&id=1800354396&cf=gen&intl=us
http://www.imdb.com/name/nm0004963/
http://www.google.com/search?hl=en&q=Peri+Gilpin
http://images.google.com/images?hl=en&q=Peri%20Gilpin&sa=N&tab=wi