1. Rapidshare has great upload and download speed.
2. The bad thing is you can only download up to 50mb within one hour. So when you exceed this limit no more downloads within that hour (get it?).
3. You must wait a certain amount of time before the download starts.
4. There are happy hours and that's when you can download as much as you want. However if there are too many people downloading the same file you must wait and download again later.
5. The file uploaded will be removed after 30 days if nobody else tries to download it.

** NOW ON WITH THE PICTURES (moochi's step by step guide to dling from rapidshare)

1. Click the link of the file you want to download, usually it's located on the right of "RAPIDSHARE LINK".

2. Now that another window opened please scroll down do the bottom of the page and click "free".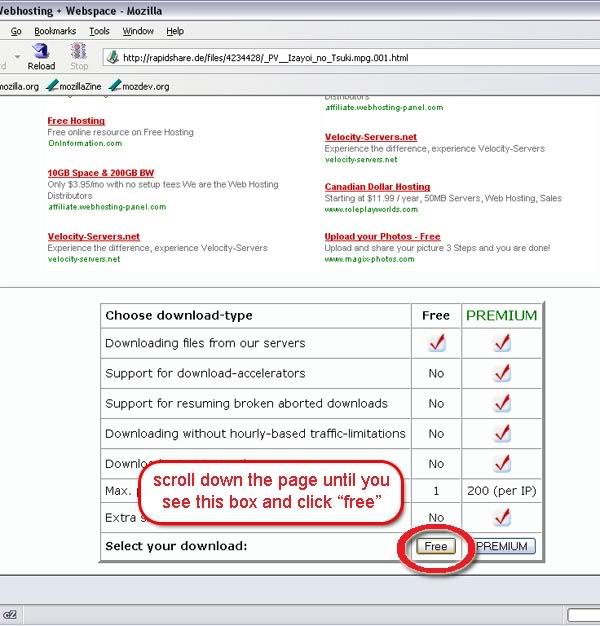 3. Ok after that the page will load into one that tells you to wait a certain amount of time. SO WAIT. (it's at the bottom)







4. Finally you can download your file when its name appears and your pointer arrow turns into a a cursor like a hand or whatever you set it to. Right click and save target as OR just drag it into a download accelerator (ie. FLASHGET). Now if it is a split file then remember to NOT RENAME IT and save all files to same folder.







Last step: You don't need to do this step if it is not a split file. If your file has a number at the end it is one. Please proceed to the HJ SPLITTER INSTRUCTION which is located here: CLICK CLICK