Israel the GEM, Multi-racial, freedom, Equality for all

The Democratic humanitarian free oasis in the racist fascist totalitarian oppressive jungle of the Middle east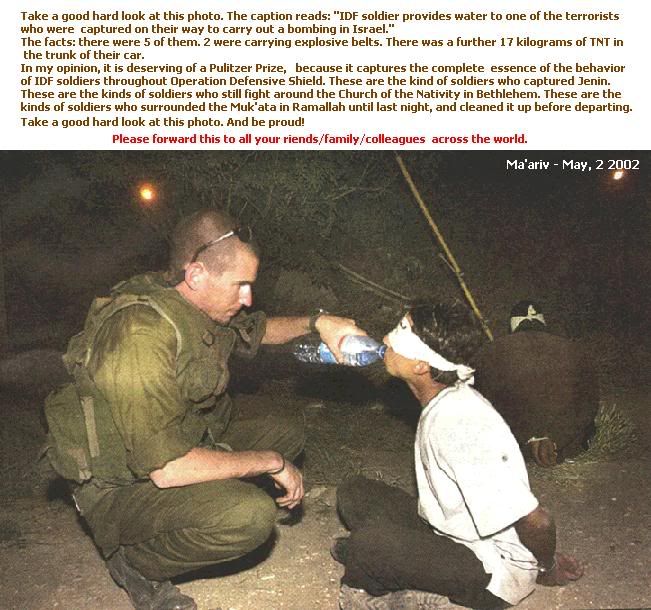 ____________


Israel the GEM, Multi-racial, freedom, Equality for all

IDF & MINORITIES



http://www.idfisrael.com/minorities.htm IDF is a people's movement, (women & minorities)


Jenin "massacre"? Think again!



http://www.factsofisrael.com/blog/archives/000015.html




Rescue operation drills conducted by the Homefront Command


Sports day
http://www.mahal2000.com/soldier/gallery.htm

__________




ISRAEL'S NEXT TOP MODEL (you can't get more multi racial, more multi color than that)

This year (2006) marked the second season of the reality tv competition searching for Israel's Next Top Model (the show is a knock off of Tyra Bank's program "America's Next Top Model"). The three finalists are depicted in this picture. All are Israeli young women. Two are Jewish, one is Muslim. Kristine, the blond model was born in Russia. Mimi, the black model was born in Ethiopia.
Her family belongs to the group of courageous Ethiopian Jews who braved starvation, exposure to the elements, wild animals, brutal marauders and exhaustion to escape Ethiopia by WALKING to the Holy Land. Niral, the brown haired beauty on the left, was born in Israel to a Muslim-Israeli family.
Niral won the competition and is now , Israel's Next Top Model.
_______




First Muslim Cabinet minister for Israel, (Raleb Majadele - Arab Muslim minster in Israeli democratic government)
Israel was on the verge of installing the first Muslim Cabinet minister in ... But the country has had only one Arab Cabinet minister before: Salah Tarif.
http://rss.cnn.com/~r/rss/cnn_world/~3/83409946/index.html

Salah Tarif



http://www.jewishvirtuallibrary.org/jsource/biography/Tarif.html
____

IsraTV exclusive: Major Lee Cho O in the IDF Born in Vietnam, she came to Israel with her family as a refugee. As many boatpeople, she came to Israel in 1977 by a decision by former Prime Minister Menahem Begin.
Israel - Peace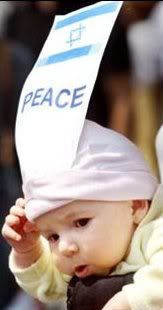 This is Israel's Education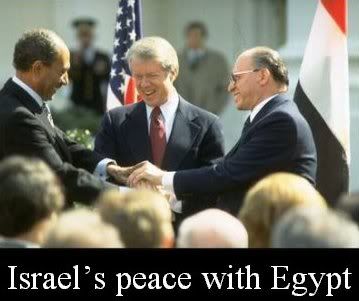 We Want Peace


---
---
Now that's a typical Israeli demonstration (as opposed to...)
---
Rabbis with Arab Muslim Palestinians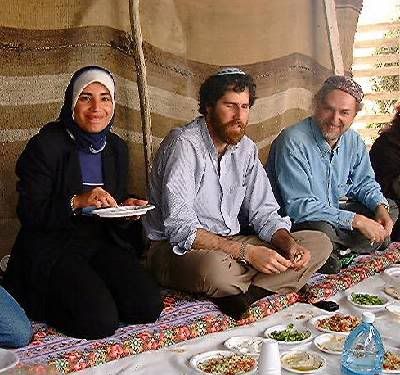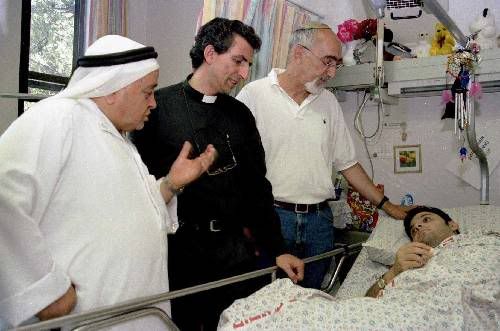 ---
IDF - Humanitarian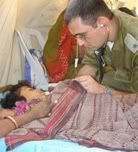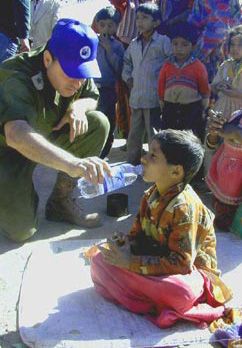 They're to protect 'Palestinian' Arabs too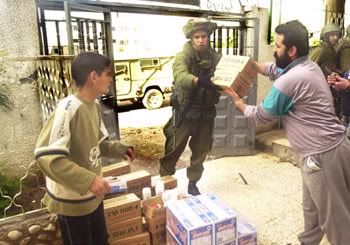 Soldiers providing food for 'Palestinian' Arabs at the height of Genocide Bombers attacks on innocent unarmed Israelis.



IDF Soldiers on humane aid to Sri Lanka's victims (2004)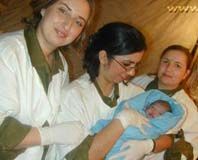 IDF Soldiers deliver a baby at their field hospital founded for the poor in India


---
---
Israel Humanitarian - General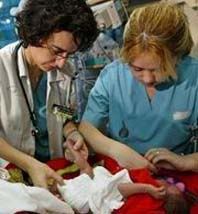 An Iraqi Boy's life, saved in Israeli hospital
---
---
---
HELPING AROUND THE WORLD



israaid.org.il
Opening Hearts

A team of Israeli doctors repairs more foreign young hearts for free than any other country in the world

Parents in Moldova, Ethiopia, Gaza and Hebron send their children — weak, lethargic, their skin sometimes tinged blue from lack of oxygen — to a hospital in Holon, Israel. Three weeks later, returned to their parents, the youngsters are able to kick around a soccer ball. The open-heart surgery and rehabilitation have been offered completely free of charge by an altruistic team of volunteers at Israel's Wolfson Hospital's pediatric cardiology department.


---
Israeli Hospital Treats Wounded Palestinians

By Julie Stahl CNSNews.com Jerusalem Bureau Chief February 09, 2007

http://www.cnsnews.com/news/viewstory.asp?Page=/ForeignBureaus/archive/200702/INT20070209e.html

Ashkelon, Israel (CNSNews.com) - Despite the ongoing Israeli-Palestinian conflict, Israel continues to treat Palestinians in its medical system, including an Israeli hospital in this southern coastal city that is helping those wounded in recent internecine fighting in the Gaza Strip.

Barzilai Medical Center has treated sick and wounded Palestinians for more than a decade but over recent weeks many more "severely injured" Palestinians than usual have been hospitalized there, said Dr. Ron Lobel, the hospital's medical director.

This week 11 Palestinians were in Barzilai's wards, among them Tawfik, a 23-year-old from Jabaliya in the Gaza Strip who was shot in the leg by a Hamas gunman.

His father, Ahmad, told Cybercast News Service that his son had entered a Fatah-supporting neighbor's house with others, to try to break up trouble between the neighbor and Hamas gunmen.

When Tawfik, who was unarmed, refused to leave a Hamas member shot him. He was in the hospital in Gaza for 19 days before being transferred to Barzilai, said his father, who spoke in Hebrew, a language he learned working as a vegetable merchant in Tel Aviv for more than 20 years.

According to Lobel, none of the hospital staff has a problem treating any patient who comes to the hospital. Everyone receives the same treatment in the same wards regardless of ethnic origin or nationality, he said.

"We deliver the service equally whether they come from Gaza or whether they come from Sderot," said Lobel, referring to a nearby Israeli town.

The hospital also treats Israelis who have been wounded by Palestinian rocket attacks launched from the Gaza Strip on Sderot and surrounding areas. Lobel admitted his staff would not place victims of such attacks in wards with Palestinians.

Barzilai is the closest Israeli hospital to the Gaza Strip -- 4.2 miles from the border as the crow, or rocket, flies - and as such, it receives the most critically ill patients from the Palestinian-administered territory, said Lobel. The orthopedic, surgery and vascular surgery departments are most in demand.

Lobel could not say exactly how a decision is made for a particular patient to be taken to Israel, but he thinks families sometimes press the Palestinian health authorities to transfer loved ones to Israel in the hope that they will get better treatment.

"Most patients that I see feel relieved that they are finally in a quiet place."

Patients may be accompanied by a family member, who is provided with hotel accommodation and meals for the length of the patient's stay as well as daily transportation to and from the hospital, he said.

Shlomo Dror, spokesman for the Israeli government office that deals with activities in the Palestinian areas, is responsible for issuing entry permits for Palestinians requiring medical treatment.

Dror told Cybercast News Service Israel maintains a connection with Palestinian hospitals and Health Ministry officials but not with the health minister himself, who is a Hamas member.

Israel tries to help the Palestinians as much as possible, Dror said. Last year, some 80,000 Palestinians from the West Bank and 40,000 from Gaza came to Israel for medical treatment they would not have received otherwise in the P.A. areas.

Palestinian doctors typically approach the hospitals in Israel requesting help. Once the hospital gives approval, the patient must be cleared by the security services before a permit can be issued.

The P.A. pays for the medical treatment at the same rate as Israeli health funds pay for Israelis. That means 40 percent of the treatment is subsidized by the Israeli government, where other foreigners would pay full price, Dror explained.

Medical diplomacy

Dror related a story of a six-year-old Palestinian child who was dying of cancer some years ago. His parents appealed to Israel to take him, even though his older brother had been a suicide bomber who blew up an Israeli bus in 1996.

The child was brought to Israel but eventually died, though the Israeli hospital helped to ease his last weeks. His father told Dror that had he known that the Israelis would treat him so well, he would have prevented his first son from becoming a terrorist, Dror said.

There are other stories, too. Israeli hospitals also treat Palestinians who have been injured in the crossfire during anti-terror operations. Those cases are paid for entirely by Israel, including the case of Maria Aman, who was seriously wounded by shrapnel during an Israeli air force missile attack on an Islamic Jihad terrorist.

And then there are the terrorists who try to take advantage of the system. In 1995, two suicide bombers arrived in Israel by ambulance and then detonated their devices at a soldiers' bus stop and hitchhiking station, killing 21 Israelis, Dror recalled.

Although the security services might not agree with him, he said, he believes it is worthwhile to risk things going wrong to provide medical help to Palestinians in need.

Lobel, who was formerly chief medical officer of the Israeli civil administration in the Gaza Strip, said he has maintained good relations with Palestinian doctors for many years.

"Sometimes the relations are warmer when the times are calm and in times of crises it gets a little bit colder, and then we start again."

He said he believes the good relationships between professionals bodes well for future relations between non-professionals.

Ahmad said he had not been afraid to bring his son to Israel for treatment. No one forced them to come and they had been received very well by the hospital staff, he said.

Most of the people in Gaza don't care about one armed faction or another, he added.

"They want to live. What do I care about Hamas or Fatah? I want someone to employ me. I want to live and be able to have an income to raise my [seven] children."

Asked whether he thought there could ever be peace between Arabs and Jews, Ahmad replied: "We are all cousins. We need to live in this land as we should."
---
More Palestinians entering (HUMANE/HUMANITARIAN) Israel on health grounds

http://www.imra.org.il/story.php3?id=33112

ISRAEL-OPT: More Palestinians entering Israel on health grounds 90% of applicants granted permits when reason is medical

ISRAEL-OPT: More Palestinians entering Israel on health grounds www.irinnews.org/Report.aspx?ReportId=70200 BEIT EL/TEL AVIV, 15 February 2007 (IRIN - UN Office for the Coordination of Humanitarian Affairs ) - More and more Palestinians are gaining permission to enter Israel and East Jerusalem for medical reasons - one of the few ways they can still obtain a permit.

Behind an oversized desk, Dalia Bessa, the Health Coordinator for the Israeli Civil Administration in the West Bank, answers her numerous phones in Hebrew, English and Arabic. One woman needs a permit to go to Jerusalem for cancer treatment; on another line, a report comes in about a car accident near Nablus. A moment later a Palestinian director of an East Jerusalem hospital files his request.

"We got 81,000 Palestinians permits to enter Israel for health reasons in 2006, a rise of 61 percent from 2005," Bessa says from her office in Beit El, near Ramallah. Without those permits, no hospital will grant entry to a Palestinian patient.

She believes the increase is due to the Israeli security barrier, which limits Palestinians' movements, and a strike in the medical sector. She expects even more Palestinians to require permits in 2007.

While fewer and fewer Palestinians from the West Bank, and none from Gaza, are able to enter Israel to work - a situation unlikely to change - Bessa says 90 percent of applicants are granted permits when the reason is medical.

Aid blocked

Karni Crossing, the main commercial crossing into the Gaza Strip, is frequently closed by Israel due to intelligence alleging imminent attacks.

The Israeli human rights organisation Gisha has filed a High Court petition demanding that Karni be open longer so that aid can get through to Gaza. A hearing is set for the end of February.

Meanwhile, the United Nations Relief and Works Agency (UNRWA) owes more than US$1 million in penalty fees to storage companies at the Ashdod Port in southern Israel, since it is unable to transfer containers in and out of the Gaza Strip quickly enough. This is wasted aid money, UNRWA officials say.

Shlomo Dror, a spokesman at the Israeli Ministry of Defence, says that without the international aid organisations there would be a humanitarian crisis in the Palestinian areas. "We don't want a crisis like that," Dror emphasised. "But, if one did emerge, we would have to go in [to the Palestinian areas] and help. But we want the Palestinian Authority to take responsibility, not us."

Gabi Ashkenazi replaced Dan Halutz on Wednesday as the Israeli Chief-of-Staff but the coordination branches are expected to remain the same. However, work with the Palestinian side may improve if the Palestinians establish a unity government, as the military will not deal with Hamas.

Major Peter Lerner, in charge of humanitarian coordination in the Gaza Strip, explains that the army has implemented changes. "Before 2003, we had three people doing this. Now 21 people coordinate humanitarian affairs in the Palestinian areas," he says, "leading to better services and operations."



---
Super Kind Israel GIVES to Abbas
After all the crimes he has done in cooperation with the terror group 'Al Aqsa Martyrs Brigade' [connected to "moderate" Fatah) as well as letting Jihadi Hamas grow...
But Israel is still the GIVER.
Israel frees tax funds for Abbas http://www.theaustralian.news.com.au/story/0,20867,21961500-2703,00.html
Israel Defense Forces Pours Humanitarian Aid Into Gaza (July 2007)http://www.israelnewsagency.com/gazaidfisraelhumanitarianaidhamasterrorismun66070207.html
(GEM humanitarian) Israel approves West Bank refuge for Palestinians fleeing Iraq (July 2007) http://www.iht.com/articles/ap/2007/07/30/africa/ME-GEN-Israel-Palestinians-Iraq.php
---
Fatah fighters' escape to Israel and what it means

By R. Abraham Cooper and R.Yitzchok Adlerstein [August 2008]

Even for the complex Middle East it was a moment of exceptional irony. Some 180 Fatah loyalists fleeing a series of shootouts and summary executions by Hamas

on the streets of Gaza ran for the border -- banking on the mercies of the enemy they usually target.

Remarkably, Israeli soldiers braved Hamas fire to save the Palestinians. Palestinian Authority President Mahmoud Abbas, however, opted to return the fighters to Gaza. The first group of 35 returnees was promptly arrested by Hamas.

Seeing the danger to their erstwhile foes, the Israel Defense Forces balked at transferring the rest of the Fatah men, while the Association for Civil Rights in Israel appealed to Israel's Supreme Court to block the forced repatriation. Finally, Israel prevailed upon Abbas to give safety to his own followers, and they were sent to Jericho.

The reaction in the Arab world to this incredible turn of events is instructive. Writing in Beirut's Daily Star, columnist Rami Khouri offered an assessment of the larger issue:

"This is the latest and most troubling example of how a once-grand and noble Palestinian national liberation movement has allowed itself to degenerate into ineptitude.... As Fatah and Hamas battle it out like a bunch of armed neighborhood gangs, it will not be surprising to see some friends of Palestine quietly walk away, mumbling that if the Palestinians wish to kill each other and destroy their own society, they are free to do so."

Writing in Al-Hayat, Mohammad Salah goes even further:

"The flight by Ahmad Hilles and other Palestinians to Israel in search of safety away from the bullying and aggression of Hamas affirms that the Palestinian issue is on its way to disappearing, evaporating and being forgotten. It also proves that Israel, for many Palestinians, is a refuge or objective one seeks and heads toward when Palestinians oppress each other."

The border episode should have been cheered by nongovernment organizations and church groups who insist that peace will come to the Middle East not through governmental fiat, but when people on both sides recognize the humanity of the other.

Other developments, however, indicate that we are a long way off from moving beyond widely held stereotypes in the Arab World that depict Christians as bloodthirsty crusaders and Jews as the offspring of pigs and monkeys. The reaction to a University of Haifa course shows just how much toxicity prevails in the Arab street.

Professor Ofer Grosbard, assisted in a project by 15 Muslim students, quoted verses from the Quran that would help Muslim psychologists reinforce in their religious patients concepts like respect, responsibility, honesty, dignity and kindness. Their selections were vetted by three Islamic clerics.

Nonetheless, the project drew furious responses. Speaking to Gulf News, Dr. Abdullah Al Mutlaq, of the Senior Ulema Board in Saudi Arabia, insisted that the project should not be trusted by Muslims, because it is run by Jews who openly show their hatred to Islam and Muslims, and that Grosbard's interpretation of the Quran's lessons in human dignity and kindness would give Muslims the wrong impression of their religion. Not surprisingly, officials of the Palestinian Authority concurred.

Don't expect the caretakers of the global civil society to challenge the Arab world anytime soon. Some self-appointed activists, operating in the rarified moral high ground of nongovernmental organizations, refuse to be impacted by the facts. For even as Israelis fought to obtain the safety of Arab fighters on Aug. 5, two boats in Cyprus were preparing a mission to burst through Israel's sea blockade into an embrace with Hamas. The success of the mission was to be measured by Google hits on BBC and Iranian media coverage, not by any humanitarian cargo for the beleaguered residents of Gaza.

Israel has consistently allowed such supplies in and arranged passage for many critically ill patients to Israeli hospitals. This despite the fact that at least one ill woman from Gaza used the privilege of shuttling back and forth to an Israeli hospital to try to smuggle a bomb that would blow up the very facility and doctors who treated her.

Most nongovernmental organizations (NGO) that see themselves as protectors of Palestinian interests remain blind and silent, both about the Israeli largesse and the rupture of Palestinian society. Have they ever wondered what issues Israelis grapple with, what their needs are in the Gordian knot we call the Holy Land?

Did anyone consider the reaction of the parents of Gilad Shalit to the Fatah rescue? Shalit is the Israeli soldier kidnapped near that very crossing where the Fatah members were saved by other Israeli soldiers.

And what of the bereaved families of Vadim Nurhitz and Yossi Avrahami, two Israeli reservists who took a wrong turn into Ramallah? Taken to a PA police station, they were brutalized and dismembered by a mob. Rather than protect the two soldiers, a PA policeman at the station participated in the lynching.

For too many, repeating empty mantras about the "occupation" is much easier than rethinking the nature of a future Palestinian state and how it would treat its own citizens or its Jewish neighbors. Indeed, too few in the international community care enough to demand a modicum of accountability from the Palestinians.

These events present a microcosm of a clash not between two governments but of two fundamentally different cultures. Nothing will ever change until the world comes to understand the truths that led the Fatah fighters to choose the Israeli enemy over their Palestinian brothers?
http://www.jewishjournal.com/opinion/article/fatah_fighters_escape_to_israel_and_what_it_means_20080820/
---
... Next, Harrison looks at definitions of fascism. The phenomenon is not confined to the political Right, since the USSR was as fascist as the Third Reich. Nor is it absent in the Third World. The inability to distinguish between people and their leaders is a fallacy often made by patronising Western intellectuals. As for the accusation that Israel is a "racist, apartheid" state, the author argues that it is instead a nearly textbook example of a multicultural society. There are Black Israelis and Arab Jews and anyone can convert to Judaism. In Israel the holy places and right to worship of all religions are respected, which is not the case over vast areas of the planet.
http://www.amazon.co.uk/Resurgence-Anti-semitism-Liberal-Opinion-Philosophy/dp/0742552276
---
Darfur Refugee Debunks Israeli Apartheid


http://backspin.typepad.com/backspin/2007/07/darfur-refugee-.html
Israel to donate $5 million to Darfur refugees Foreign ministry receives recommendation to donate millions in aid, equipment to victims of Darfur genocide
Itamar Eichner Published: 05.09.07, 10:14 / Israel News
http://www.ynetnews.com/articles/0,7340,L-3397639,00.html
Darfuri Refugee Thanks British Jewry
by Justin Cohen - Thursday 7th August 2008
A Darfuri refugee this week made an emotional plea to Anglo-Jewry to continue supporting those forced to flee the region as he thanked the Jewish News for its efforts to halt deportations to Sudan
Pouring out his heart this week, the 32-year-old recalled how he was forbidden from speaking his own language at school "because the Arab government wanted us to be more Arabic" and how Black Africans had to sit at the back of the class.
http://www.totallyjewish.com/news/national/c-9772/darfuri-refugee-thanks-british-jewry/
Egyptian troops execute another Darfur refugee
Israel Today, Israel - Aug 6, 2008
Egyptian troops have killed at least 20 African refugees trying to reach Israel this year alone. In at least one incident late last year the Egyptians even ...
Thousands of Sudanese refugees from Darfur have been in Egypt for years. Recently, many have begun making the long difficult trek across the Sinai desert to escape the oppression and discrimination they experience at Egyptian hands
http://www.israeltoday.co.il/default.aspx?tabid=178&nid=16830
A Sudanese killed as he attempts to cross into Israel
Thursday 21 August 2008 02:46. Printer-Friendly version Comments...
August 20, 2008 (ISMAILIA) — Egyptian police shot dead a 27-year-old Sudanese man while he was trying to sneak across the border into Israel. This is second killing during this month.
Since January 2008, Egyptian authorities arrested a587 illegal African migrants attempting to cross border to Israel. 172 were from Sudan and mostly from Darfur troubled region.
The killing of Ibrahim Tayeb Juma, which took place at night on Monday, brings to 20 the number of African migrants killed at the border so far this year.
http://www.sudantribune.com/spip.php?article28346
---
The Israeli answer to Iranian Islamic call for Genocide:
Iranian boy is treated for brain tumour at Israeli hospital Telegraph ^ 11 Oct 2008 Carolynne Wheeler
http://www.telegraph.co.uk/news/worldnews/middleeast/israel/3178088/Iranian-boy-is-treated-for-brain-tumour-at-Israeli-hospital.html
---