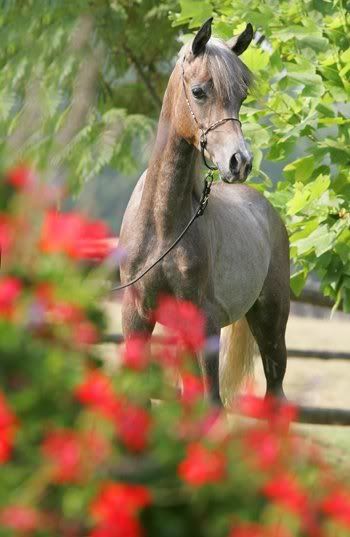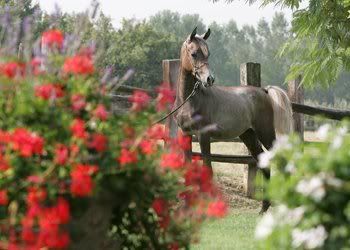 BT CZELTIC++++ 2006 Grey Polish Arabian Colt
Sired by *Census and Out of BT Czelbe (x Ejaz)
Born to us on May 14th, 2006, BT Czeltic is quite a treasure that we've been waiting on. He is sired by our best Sport Horses and has lines to our greatest stallions. He is *Census' son and you can certainly tell by his attributes. Being the son of an Atticus son, BT Czeltic has a bright future set ahead of him. We believe that he is going to be one of our main breeding stallions sometime ahead in the future. We're very proud of what this breeding has produced and we hope that BT Czeltic will be all that we've hoped for him to be. He's a sweet, but very tempramental colt. Although he loves to be handled and loves the attention, he can't stand to see another horse get attention if he's not. He needs to be the center of attention, no matter the circumstances. You can tell the judges love this colt by his clearly god-given conformation that has lined him with the best in the SIM world today. He's a promising colt that has handled his debut wonderfully and came home as a International Reserve Champion Colt, National Reserve Champion Sporthorse Colt, and National Champion Colt. We actually sold his mother, BT Czelbe, shortly after the colt's debut because he was our main reason for breeding her and working with her like we did.






- None as of now.






Suitable for Show Jumping
AHAC Points: 1113
AHAC Title: Legion of Masters (++++)
Monetary Earnings: $5,500



AHAC 2006 Menton International
International Reserve Champion Colt
Champion - Weanling Colts
Champion - Sporthorse Colts
AHAC 2006 Canadian National Championships
National Reserve Champion Sporthorse Colt
Champion - Sporthorse Colts
Top Ten - Weanling Colts
AHAC Elran Cup 2006
Top Ten - Weanling Colts
AHAC 2006 Region 1 Championships
Top Ten - Weanling Colts
Top Ten - Sporthorse Colts
AHAC Mooslargue International 2006
Top Ten - Weanling Colts
AHAC Qatar 2006
Top Ten - Weanling Colts
AHAC Merrist Wood 2006
ResChampion - Weanling Colts
ResChampion - Sporthorse Colts
AHAC 2006 US Nationals
National Champion Colt
Champion - Weanling Colts
AHAC 2006 All Nations Cup
Top Ten - Weanling Colts
AHAC 2006 Region 2 Championships
Top Ten - Weanling Colts
Top Ten - Sporthorse Colts
AHAC Tulip Cup 2006
Top Ten - Weanling Colts
AHAC 2006 Ströhen International
Top Ten - Weanling Colts
AHAC 2006 Sporthorse Nationals
Top Ten G2 - Junior Sporthorse Stallions
AHAC 2006 Ajman
Top Ten - Weanling Colts
2006 Adelbert Arabian Showcase
Overall Reserve Champion Colt
Champion - Weanling Colts
The Jubilee Showcase 2006
Champion - Weanling Colts
AHAC 2006 Middle East Championships
Top Ten - Weanling Colts
Top Ten - Junior Sporthorse Stallions
2006 Jawhar Arabian Sporthorse Show
Top Ten - Junior Sporthorse Stallions
AHAC 2006 European Championships
Top Ten - Weanling Colts In-Hand
Top Ten - Junior Sporthorse Stallions
The Baahir Arabian Cup 2006
ResChampion - Weanling Colts
AHAC 2006 Israel National Championship
Top Ten - Weanling Colts
Top Ten - Junior Sporthorse Stallions
AHAC 2006 Egypt International
Top Ten - Weanling Colts
Top Ten - Junior Sporthorse Stallions
AHAC 2006 Dubai International
Top Ten - Weanling Colts
AHAC 2006 Salon du Cheval
Top Ten - Weanling Colts
Top Ten G2 - Most Classic Colts
AHAC Sharjah 2006
Top Ten G2 - Junior Sporthorse Stallions
AHAC Asil Cup 2006
Top Ten - Weanling Colts
AHAC 2007 Region 1 Championships
Top Ten - Yearling Colts
Top Ten - Junior Sporthorse Stallions
Top Ten - Get of Sire
The Haakim Cup 2007
Top Ten - Yearling Colts
2007 Blackthorn Hills Homebred Invitational
Top Ten - Weanling to Two Year Old Colts
AHAC 2007 Region 2 Championships
Top Ten - Junior Sporthorse Stallions
Top Ten G2 - Yearling Colts
Top Ten G3 - Get of Sire
AHAC 2007 Ajman
Top Ten - Yearling Colts
2007 Blackthorn Hills Homebred Invitational II
Top Ten - Weanling to Two Colts
AHAC 2007 Scottsdale Show
Top Ten - Yearling Colts
Top Ten - Junior Sporthorse Stallions
AHAC 2007 Qatar International
Top Ten - Sporthorse Colts
Top Ten G2 - Yearling Colts
Top Ten G2 - Classic Head Colts
Top Ten G3 - Get of Sire
2007 Fayette Arabian Youngstock Show
Top Ten - Yearling Colts
Top Ten - Classic Head Colts
AHAC 2007 Dubai International
Top Ten - Yearling Colts
Top Ten - Classic Head Colts
AHAC 2007 Ströhen International
ResChampion - Yearling Colts
Top Ten - Classic Head Colts
Top Ten G3 - Get of Sire
AHAC 2007 Egyptian National Championships
Top Ten - Get of Sire
Top Ten - Classic Head Colts
Top Ten G2 - Sporthorse Colts
Top Ten G2 - Yearling Colts
AHAC 2007 Sharjah International
Champion - Classic Head Colts
ResChampion - Sporthorse Colts
Top Ten - Yearling Colts
Top Ten - Get of Sire
Golden Valley Arabian Youngstock Show 2007
Top Ten - Sporthorse Colts
Top Ten G2 - Yearling Colts
AHAC Abu Dhabi 2007
Champion - Yearling Colts
BT Sitwat Arabian Show 2007
Top Ten - Yearling Colts
Badi Arabian Event 2007
Top Ten - Yearling Colts
AHAC 2007 U.S. Nationals
ResChampion - Yearling Colt Breeders Sweepstakes
Top Ten - Get of Sire
Money Earned: $3500
AHAC Arabian Breeders World Cup 2007
Top Ten - Sporthorse Colts
AHAC Wels International 2007
Top Ten - Yearling Colts
Top Ten - Get of Sire
Top Ten - Classic Head Colts
AHAC Tulip Cup 2007
Top Ten - Get of Sire
AHAC 2007 Jordan National Championships
Top Ten - Yearling Colts
AHAC 2007 European Championships
Top Ten - Sporthorse Colts In-Hand
AHAC 2007 Dutch National Championships
Champion - Yearling Colts
2007 AHAC Israeli National Championships
ResChampion - Yearling Colts
2007 Blackthorn Hills Homebred Invitational III
Top Ten - Weanling to Two Year Old Colts
BT Rizwana Arabian Spectacular 2007
ResChampion - Yearling Colts
AHAC 2007 Salon Du Cheval
Top Ten - Yearling Colts
AHAC 2007 Brazilian National Championships
Top Ten - Yearling Colts
Top Ten - Sporthorse Colts In-Hand
AHAC Sharjah 2007
Top Ten - Sporthorse Colts In-Hand
Top Ten - Yearling Colts
AHAC 2008 Region 1 Championships
Top Ten - Sporthorse Colts In-Hand
AHAC 2008 Canadian Nationals
Champion - Two Year Old Colt Breeders Sweepstakes
Top Ten - Two Year Old Colts
AHAC 2008 Region 2 Championships
Champion - Most Classic Colt
Top Ten - Classic Head Colts
Top Ten - Sporthorse Colts In-Hand
AHAC Ajman National Show 2008
ResChampion - Two Year Old Colts
AHAC Abu Dhabi 2008
Champion - Classic Head Colts
Top Ten - Two Year Old Colts
AHAC 2008 Dubai International
Top Ten - Two Year Old Colts
AHAC 2008 Arabian Masters
ResChampion - Most Classic Colt
AHAC 2008 Sharjah International
Top Ten - Two Year Old Colts
AHAC Arabian Breeders World Cup 2008
Top Ten - Two Year Old Colts
Top Ten - Classic Head Colts
Top Ten - Sporthorse Colts In-Hand
AHAC 2008 U.S. Nationals
Top Ten - Two Year Old Colts
AHAC Wels International 2008
Top Ten - Two Year Old Colts
Top Ten - Most Classic Colt
AHAC Travagliato 2008
Champion - Two Year Old Colts
Top Ten - Classic Head Colts
AHAC Tuilp Cup 2008
ResChampion - Most Classic Colt
Top Ten - Two Year Old Colts
AHAC Buckeye 2008
Top Ten - Sporthorse Colts In-Hand
AHAC Arabica 2008
Top Ten - Classic Head Colts
AHAC 2008 Jordan National Championships
Top Ten - Two Year Old Colts
Top Ten - Classic Head Colts
AHAC 2008 Menton International
Top Ten - Sporthorse Colts In-Hand
AHAC 2008 Czech National Championships
Top Ten - Sporthorse Colts In-Hand
AHAC Emerald Trophy 2008
International Champion Sporthorse Stallion/Colt
Champion - Sporthorse Colts In-Hand
Top Ten - Classic Head Colts
AHAC Asil Cup 2008
Top Ten - Classic Head Colts
AHAC 2008 Scandinavian Open Championships
ResChampion - Two Year Old Colts
AHAC Brussels Arabian Trophy 2008
Top Ten - Two Year Old Colts
AHAC British National Championships 2008
Top Ten - Two Year Old Colts
AHAC Vilhelmsborg 2008
Most Classic Arabian in Show
Champion - Most Classic Colt
Top Ten - Two Year Old Colts
AHAC Moroccan Nationals 2008
Top Ten - Two Year Old Colts
AHAC Norwegian National Championships 2008
Top Ten - Two Year Old Colts
AHAC Merrist Wood 2008
National Champion Colt
Champion - Two Year Old Colts
Top Ten - Sporthorse Colts In-Hand
AHAC Middle East Championships 2008
ResChampion - Two Year Old Colts
AHAC Dutch Nationals 2008
Top Ten - Classic Head Colts
AHAC European Championships Verona 2008
Top Ten - Two Year Old Colts
Top Ten - Sporthorse Colts In-Hand
AHAC Egypt International 2008
Top Ten - Most Classic Colt
Top Ten - Sporthorse Colts In-Hand
AHAC Brazilian Nationals 2008
ResChampion - Most Classic Colt
AHAC Verona National Championships 2008
Top Ten - Two Year Old Colts
AHAC St. Petersburg Open 2008
Top Ten - Two Year Old Colts
AHAC Sharjah 2008
Top Ten - Most Classic Colt
AHAC Region 1 Championships 2009
Top Ten - Colt Futurity
AHAC Canadian Nationals 2009
ResChampion - Sporthorse Colts In-Hand
Top Ten - Colt Futurity
AHAC Ajman National Show 2009
Top Ten - Colt Futurity
AHAC Scottsdale Arabian Horse Show 2009
Top Ten - Sporthorse Under Saddle Futurity
AHAC Voghera 2009
Top Ten - Sporthorse Under Saddle Futurity