"New Kids on The Block are back on the block after fifteen years. Jonathan Knight is now 39, Donnie Wahlberg 38, Joey McIntyre 35, Danny Wood 38 and Jordan Knight is 37. And you? Are you ready for the NKOTB Reunion (click to see the timeline)?".
Evelyn Melendez Knight
NKOTB Jordan Knight (currently 38) married Evelyn Melendez on September 12, 2004.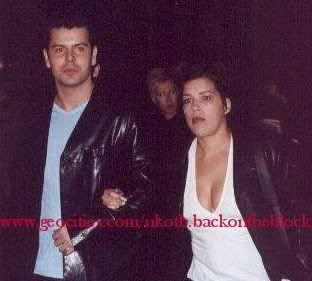 Jordan Knight became a father on August 25, 1999 when his son Dante Jordan Knight was born. Jordan's wife Evelyn Melendez gave birth on February 21, 2007 to the couple's second child, Eric Jacob Knight, now 5 months. Older son Dante Jordan is 7 years old, and has quite a bond with his baby brother.
Right now, all Dante wants to do is take care of his brother, so we don't have any jealousy issues. Dante is very protective, so it really bothers him when Eric cries. I think they're going to be very close.
Unlike some new parents, Jordan doesn't seem to mind the all-nighters, saying,
I am a night owl, so that actually works out well. I like to stay up until 4 or 5 in the morning, so I can take care of him if he wakes up, and let my wife sleep.
As for a third child, Jordan isn't quite sure.
Our hands are full with two, but we'll see. Fatherhood is the best thing I've ever done. I love being a dad. My life is very full. (Source: People)
Jordan is a family man and has managed to keep his family life under wraps in this era of digital and instantaneous news.
Disclaimer
These pages are not meant to break copyrights or any laws!
This website holds no copyrights on the material presented. All information and materials presented on this website were obtained from freely-accessible sources on the Internet, and are believed to be public domain, unless otherwise noted. Pictures & Articles included are copyright of their respectful owners. No attempt has been made to disguise rightful ownership of said materials. If we have disregard something please e-mail us and we will remove it immediately ! we have NOT the copyright of the pictures and articles. If you have the copyright and want us not to use something e-mail us and we will remove it immediately!