TO
PROPHECIES FOR THIS HOUR:
2008
THIS PAGE IS BEING RE-DESIGNED -
PLEASE BE PATIENT - THANK YOU

BEST IF VIEWED WITH INTERNET EXPLORER

This page is to share prophetic words birthed in heaven,
delivered to God's prophets via His Holy Spirit.
There are many sources for God's word to be published. I am
asked to bring you those that are true,
relevant, important for this hour.

It is not my intent to violate any copyrights - most
prophetic words proclaim that we should "share them with friends"
And as a prophet of God, I'm not sure how a Word from the
Lord can be copyrighted when we didn't originate
the message. And I am quite sure this is something God will
deal with all of His chosen 'mouthpieces' about
one way or another.

The main page here deals with the current year.
Links to prophetic words from 2004-2007
are also available.

This has always been a major undertaking and because of how
this ministry (In His Unfailing Love) is about to break forth,
there probably won't be time for me to feature many other
words - as with this year, it didn't happen very often, only
on the MySpace bulletin board which is easier because it
only requires cut and paste. Here it involves html coding,
a page design for each link, etc. The Lord is needing me in
other areas too, like Signs of the Times and Truths, as well
as minstry to many individuals as well as mentoring, plus
MySpace - and let's not forget the time He requires of me
personally in His presence...as always I am blessed of God
to be of service to Him in any way He asks. Therefore,
know that He keeps me in His perfect will day and night,
so nothing will ever be behind or lacking - it will be what
He wants it to be!

WHAT THE LORD
HAS SPOKEN
REGARDING 2008
(THUSFAR):

Spoken To His Messenger
(WILL UPDATE AS HE SPEAKS)....

Take the coal, Cleanse my lips, Here I am.
As The Lord Speaks via His Messenger
Beginning December 8th, 2007 through December 19th, 2007 @ 3:13 A.M.
The Lord has had me reading Jeremiah chapter 1 for 11 days.
Tonight He is asking me to release His Word unto all the true
prophets, chosen from before the foundations of the earth.

"This is your inauguration day,' saith the Lord. "I have chosen
you. I have encouraged you. I have broken you of all self and
opposition to serving Me whole-heartedly. You have allowed Me
to deliver you from self...you are free from all desire to speak
anything that is NOT of Me. You have surrendered your mouth and
all rights to it, and you are now ready to allow ONLY ME to speak
through you."

NOTE FROM HIS MESSENGER: In the seer realm (3:01 A.M.) I see Him
touching the coal of fire to the lips of the true, humble, broken
prophets.

"WHO HAS EARS TO HEAR,' saith the Father. "If you have EVER been
commissioned before, HUMBLE YOURSELVES - THIS is MY last-day commissioning -
this is MY commission upon you to PREPARE THE WAY FOR MY ARRIVAL.
Then part two...the conferring of My authority upon your life...not
only are you to now become commissioned for these final days, but you
are to become EMPOWERED by My Spirit. It IS a new season. It IS a
new day. I have MADE YOU AN OVERSEER OF THE NATIONS FOR MY GLORY.
Your mission is two-fold - to prophesy My divine judgment, and to
prophesy My divine mercy. The last are NOW FIRST - it is time for
the "last" to move forward in representing Me, conferring
MY AUTHORITY and commissioning you in this final hour. Even when
the tasks I set before you seem difficult, YOU HAVE BEEN DIVINELY
ENABLED BY ME to go forward. THIS DAY I touch My coal to your lips
through My representatives, that that My true mouthpieces shall
then speak as you are given utterence by MY SPIRIT. "

"My Messenger delivering this, MY MESSAGE, is given My authority
to commission you and confer upon you My authority. She represents
me and acts on My behalf. I have chosen a few others - RECOGNIZE
those upon whom I bestow My authority. Not all have received it
FROM ME - DISCERN My true messengers in this hour,"
saith the Most High.

NOTE FROM THE LORD: "Not just anyone is permitted
to commission - MY CHOSEN PROPHETS are MY ONLY MESSENGERS in this.
Those with the MOST AUTHORITY are those who have true Hebrew bloodlines...
beware of the FALSE - those people who spew out prophet words by
others yet HEAR NOT FOR THEMSELVES - I DO NOT SPEAK THROUGH THEM -
they are the counterfeit and will be swallowed up for their deception.
SO IT SHALL BE DONE," SAITH THE MOST HIGH. He adds, "NEVER FORGET THAT
EVEN SATAN BELIEVES IN ME AND CAN RECITE MY WORDS....that doesn't
man he represents me. WOE UNTO THE DECEIVERS IN THIS HOUR..."
(January 2nd, 2008 @ 1:37 A.M.)

CONFIRMATION OF THE ABOVE WORD:
HAHAHA - MORE CONFIRMATION!!! IN THE MARGIN OF THE NOTEBOOK WHERE I
SCRIBED THE WORD "Take The Coal, Cleanse My Lips, Here I Am" AS THE
LORD SPOKE IT - HE HAD ME WRITE IN THE MARGIN AT 3:06 A.M.: "LAST
YEAR HE BEGAN HAVING ME COMMISSION HIS TRUE PROPHETS WITH A SWORD
ON EACH SHOULDER, SING OVER THEM, AND HAD ME GIVE THEM A GOLDEN
JEWELED CROWN"

THIS following word WAS UTTERED FORTH TODAY BY BILL BURNS
(NOTE THE COMMENT FROM THE LORD ABOUT BEING COMMISSIONED WITH THE
LAYING ON OF SWORD ON THE SHOULDER TO DEEM YOU KNIGHTED...
HALLELUJAH!!!:):

Prophetic Utterance through Bill Burns

December 19, 2007: It is time for you, My people, to believe My word
and act like you believe. It is time for you to arise and activate
your faith and nurture a strong developing faith that will prevail
over all of the works of the enemy. For too long, the devil has
brought delusion, and he has promoted lies among you. I am the
Lord of Hosts who comes to you to lay My sword upon your shoulder
to deem you knighted for such a time as this to be a warrior in
the Kingdom of God, never to retreat or back up. I say to you,
if you will arise and draw near to Me and resist the devil he
will indeed flee from you, and you shall have the victory, says
the Lord.

ALL GLORY HONOR AND PRAISE BE UNTO YOU O LORD!!!
YOU WHO CONFIRM THAT WHICH I SPEAK ON YOUR BEHALF,
TIME AFTER TIME AFTER TIME...I ADORE YOU...I AM YOURS...

HIS MESSENGER
12-19-2007 @ 5:38 PM

EVEN MORE CONFIRMATION OF "TAKE THE COAL, CLEANSE MY LIPS..."
EVEN MORE CONFIRMATION of "TAKE THE COAL..." HALLELUJAH! Someone sent this to me via MySpace:

Burning Fire
By Dianna Jackson
Posted 23-12-07

My wonderful children:
I love you so much. You are the jewel that I have kept hidden for
a time. You have been through a lot of worldly pressing from
physical health to financial trouble. I have allowed these things
to come upon you to make you strong and be over-comers. I have
placed coal on your lips so you can speak boldly of my love and
glory. I am pouring down my anointing fire into your spirit. You
will feel the heat in your hands and I will direct you to the
individuals I want you to touch. Don't hold back the fire and
don't question whom I am sending you to touch. You are the sparks
that will cause a big explosion. Be still and know my voice. Don't
try to use your mind to reason things out. What I am about to do
your mind cannot understand. If you hold back and don't listen
to my voice I will cause the fire to burn-out of you and go to another.
You are coming into the day were you give out gifts to your loved
ones. Clean out your closets, cabinets, and any other place where
I have given you an abundance of things. Even if you feel you
don't have much to give, I will show you the areas. Give to the
poor and people you don't know any of the extra things that you
have. I want to pour out my storehouses onto you. Give the extra
tunic because I am going to give you a royal robe. Give your jewels
away because I will replace the fake with real and precious gems.
Give the extra tools in your garage away because I will give you
the tools I have in heaven for you. If you have a free minute go
to a neighbor and watch their children so they may have some
free time. My heavenly portal is open for all who want to be
blessed. Spread out your arms to others for I want to fill
them to overflowing.
My fire has come down go spread it around.
"Abba, Father I want your fire may it never burn out. Cause
everyone who reads this e-mail to feel that fire burn inside
of them. May they feel it on their faces, heart, hands, and
feet? I pray that we will boldly go where you send us either
locally or to the nations. May your glory shine forth and may
we have a God encounter so transformation will come forth. Amen"
May the explosion occur and many blessings,
Posted by Lucy on Monday, December 24, 2007 at 1:20 PM


"2008 - Another Word of Many..."
December 22nd - 23rd, 2007
11:34 PM - 1:37 A.M.
As you know, the Lord speaks through me year round. I do not honor
worldly new year - He has me celebrate the Jewish New Year (which,
this year, fell in September).

I am finally released to post everything He has uttered forth for 2008.
As you will note He spoke much of this the week BEFORE worldly 'new year'
but is just now permitting me to post them here.

Thus saith the Lord:

"This is the hour of fine-tuning your spiritual hearing, and spiritual
seeing. I will give you PRECISE INSTRUCTIONS for your next step in
MY perfect will for your walk...not only divine blueprints from My
heavenly war room, but you will also know where I am STRATEGICALLY
PLACING YOU, positioning you for this next wave of My divine
purposes. You MUST KNOW WHAT I WOULD HAVE YOU TO DO IN THIS HOUR....
YOU MUST KNOW WHERE I WOULD HAVE YOU TO RESIDE. I AM POSITIONING YOU
GEOGRAPHICALLY. IF you are in a home and YOU KNOW THAT I HAVE PUT
YOU THERE AND THAT I WANT YOU TO STAY THERE, then DO NOT LOSE IT.
Your home and even your backyard are FOR MY GLORY and may one day
soon become a city of refuge for other believers. If you do NOT
NOW OWN property, there are those of you that I AM calling to
BUY LAND - NOT for yourself, but for MY GLORY. Again, these will
be places of refuge for fellow believers. YOU MUST KNOW WHAT YOU
ARE TO DO IN THIS HOUR. YOU CANNOT 'THINK' THAT YOU KNOW, for
there is a WAY that SEEMS right to a man but it is NOT MY WAY.
YOU MUST KNOW WHAT I WOULD HAVE YOU TO DO IN THIS HOUR," saith
the Most High Father God, With His Son Jesus, King of Kings, and
Lord of Lords.

Proverbs 12:15
The way of a fool is right in his own eyes: but he that hearkeneth
unto counsel is wise.
Proverbs 12:28
In the way of righteousness is life: and in the pathway thereof
there is no death.
Proverbs 14:12
There is a way which seemeth right unto a man, but the end thereof
are the ways of death.
Proverbs 16:25
There is a way that seemeth right unto a man, but the end thereof
are the ways of death.
Proverbs 21:2
Every way of a man is right in his own eyes: but the LORD pondereth
the hearts.
Isaiah 30:21
And thine ears shall hear a word behind thee, saying, This is the
way, walk ye in it, when ye turn to the right hand, and when ye turn
to the left.
Isaiah 45:13
I have raised him up in righteousness, and I will direct all his
ways: he shall build my city, and he shall let go my captives, not
for price nor reward, saith the LORD of hosts.
Isaiah 58:2
Yet they seek me daily, and delight to know my ways, as a nation that
did righteousness, and forsook not the ordinance of their God: they
ask of me the ordinances of justice; they take delight in approaching
to God.
Hosea 14:9
Who is wise, and he shall understand these things? prudent, and he
shall know them? for the ways of the LORD are right, and the just
shall walk in them: but the transgressors shall fall therein.
Luke 20:21
And they asked him, saying, Master, we know that thou sayest and
teachest rightly, neither acceptest thou the person of any, but
teachest the way of God truly:
Acts 13:10
And said, O full of all subtilty and all mischief, thou child of the
devil, thou enemy of all righteousness, wilt thou not cease to pervert
the right ways of the Lord?
2 Peter 2:21
For it had been better for them not to have known the way of
righteousness, than, after they have known it, to turn from the
holy commandment delivered unto them.
AS I WAS TYPING THE ABOVE THE LORD SAID (ADDED): "THIS IS THE YEAR
OF PRECISION. THIS IS ALSO THE YEAR TO PREPARE THE WAY FOR MY
COMING." (December 23rd, 2007 @ 1:29-1:31 A.M.)(Also just heard
Him say again the word "FINE-TUNING" 1:33 A.M.) And even more:
"This is the year of steadfast obedience; this is the year I
reward My true and faithful obedient ones. This is the year that
you walk in THAT THING THAT WAS PROPHESIED OVER YOU BY THE TRUE
PROPHET(S) I HAD SENT UNTO YOU...GO YE THEREFORE AND WALK IN THE
FULLNESS OF YOUR CALLING," SAITH THE LORD GOD OF HOSTS...
12/23/2007 @ 1:36 A.M.

Who has ears let him hear what the Spirit saith...


THE ROAR OF HIS SPIRIT:
HEARKEN UNTO THE WORD OF THE LORD
I wish you could hear what it sounds like right now - winds are
blowing with gusts up to 60 mph - beyond the force of the wind,
the entire earth here is literally rumbling.

The Lord would say unto you:

"Oh how long will My people stand for that which is NOT OF ME.
How long will they compromise and LOOK LIKE THE WORLD - for truly
they do NOT LOOK ANYTHING LIKE ME and I AM greatly saddened by
their unwillingness to stand for Me....to stand for all that I
stand for. The world is doing a much better job changing My
people into THEIR likeness than My people are at representing Me
to the lost. VERY FEW are they who walk according to My perfect
will day in and day out...very few are walking the narrow path.
WHY DO YOU CARE SO MUCH ABOUT OFFENDING PEOPLE? WHY DO YOU
COMPROMISE? You have perverted My words when I said "Be all
things to all men"....YOU are to COME OUT FROM AMONG THE WORLD
AND BE SEPARATE. The ONLY PERSON WHO CAN BE ALL THINGS TO ALL
MEN IS ME, and I NEVER compromised My righteousness, My holiness
for the sake of 'keeping the peace' or 'no making waves'.
Therefore it is ONLY AS YOU DIE TO SELF AND LOOK LIKE ME that
YOU can be all things to all men - because it will be I that is
presented unto them and NOT YOU. I AM THAT I AM. I change NOT.
Yet YOU change with every blowing wind...one day hot, the next
day cold, the next day in between. DO YOU THINK YOU LOOK LIKE ME?
WHY DO YOU PORTRAY IMAGES OF YOUR "SELF" AT ALL? Do you NOT want
people to SEE ME when they look at you? Or do they just SEE YOU?
YEA, THE WINDS OF MY SPIRIT ARE BLOWING - THIS IS A BRAND NEW
DAY. You will either represent Me, or you will be released.
Because I will not tolerate double-mindedness any longer. I AM
not now nor have I ever forced you to LOVE ME...I AM not now
nor have I ever forced you to walk in My perfect will. The
options stand before you - CHOOSE THIS DAY WHOM YE WILL SERVE.
But DO NOT SAY THAT YOU ARE MINE then keep COMPROMISING, then
KEEP walking in the spirit of rebellion and anti-christ and
deception and flesh. It would be better if you WALK AWAY from
Me rather than STAY and live a lie. Because you are ACCOUNTABLE
for every moment with Me and yea, you shall answer for every
word, ever deed done not only for Me and My Kingdom but done
AGAINST Me and My kingdom. THIS IS THE HOUR FOR THE STRAIGHT
AND NARROW WAY. SURRENDER UNTO ME - ALLOW ME TO GET YOUR LIFE
STRAIGHT BEFORE ME....beginning now and especially in your
year 2008....before it's too late..." saith the Father, and
the Son.

(NOTE FROM HIS MESSENGER: The morning of 12-23-2007 at 2:11 A.M.
Holy Spirit had me look up an old nursery rhyme:

One, Two, Buckle My Shoe
One, two,
Buckle my shoe;
Three, four,
Knock at the door;
Five, six,
Pick up sticks;
Seven, eight,
Lay them straight;

He began early this morning speaking to me to about how He was
going to talk to you all about the straight and narrow way...)

Psalm 5:8
Lead me, O LORD, in thy righteousness because of mine enemies;
make thy way straight before my face.
Isaiah 45:2
I will go before thee, and make the crooked places straight:
I will break in pieces the gates of brass, and cut in sunder
the bars of iron:
Matthew 7:14
Because strait is the gate, and narrow is the way, which leadeth
unto life, and few there be that find it.
Luke 3:5
Every valley shall be filled, and every mountain and hill shall be
brought low; and the crooked shall be made straight, and the rough
ways shall be made smooth;
James 1:8
A double minded man is unstable in all his ways.
James 4:8
Draw nigh to God, and he will draw nigh to you. Cleanse your
hands, ye sinners; and purify your hearts, ye double minded.
Who has ears to hear...
His Messenger
December 23rd, 2007
2:11 A.M. - 10:02 P.M.

TWO CONFIRMATIONS:
CONFIRMATION NUMBER 1:
SUSAN CUMMINGS POSTED THIS AFTER THE LORD SPOKE THE ABOVE THROUGH ME -
it serves as confirmation

Do Not Deviate From My Plan
December 23, 2007

Do not deviate from My Plan. Do not walk away from what I have set you
into. It is not your plan that you are walking out, but it is Mine.
You cannot work it, or direct it, or accomplish it without Me. But
you continue to look around for ways to help Me out. You cannot
continue to do this and remain in My Perfect will. My Will is for
you to walk in that rest that I have for you, hand in hand with Me.
You must focus your faith and trust in Me to lead you.
When you strive to work out My Plan, your way, you undermine all that
I have done within you and around you to position you where you are.
Then you feel the disunity that you have created by your actions that
you have initiated. It is at this point that you allow your emotions
to dictate to you how to preserve yourself in your situation and you
begin the downward spiral of striving with Me, and of performing to
keep your place.
You cannot keep a place, or a position that you have made. It is a
fleshly work that is only fueled and sustained by the self-life and
the soul ego. You must lay your works down and remain in the
position of rest in Me. I have to continually remind you to remain
focused and to trust Me. You must learn to trust Me. You must decide,
if you are to walk solidly in My Ways. You must focus your faith in Me.
My Plan for you is one of Life, Health, and Liberty in Me. Your works
cannot produce this, nor even sustain this, for they do not originate
from Me, the true Source of all Life. Every attempt that you make
to help Me, or to direct My Hand, only causes you to begin to
revert back to what you were before I lifted you out of it. Do you
truly want to walk with Me or not? Then you must not deviate from My
Plan for you, you must embrace it, and become it.
You must allow all of your identity to be merged with Mine, till
we are a perfect blend, and become a full Union of Light. I am
Light, and all of the inner darkness that is resident within you
is being eradicated as you continually press into Me to know Me,
as you continue to walk with Me, and as you continue to surrender
more of yourself to Me. We are becoming One, in every aspect of
your being, your personality, your identity, and in your life.
The more you allow Me to conform you into My Image, the more
you will not deviate from My Plan or from My Ways, but you will
remain in Me.
I have given you My Plan. I have shown you the Path. I have
given you understanding and I am bringing you along the Way. Walk
in it. Do not deviate. Do not look at yourself, or at the
circumstances, but keep your eyes upon Me. I am your Source, and
your Life, and out of Me will flow your provision, your healing,
and your strength. I am your Life. I am faithful to walk with
you in your Journey and to keep you in it, till I come for you.
Strengthen yourself in Me as I faithfully overshadow you in
every way. For you shall see what My Hand will bring everyday.
I have set the Course and the Pace, and have given you My Grace.
Seek Me and Find Me and walk in My Joy today.
Posted by His Messenger on Monday, December 24, 2007 at 12:40 AM

CONFIRMATION NUMBER 2:
Words from the Lord through Marsha Burns:

December 26, 2007: Be still and discern the shaking, for the voice
of the Lord has come forth to shake the foundations of the earth.
This is a spiritual earthquake to loose the chains of darkness and
set captives free. I call to those who have become complacent in
their places of confinement and restrictions, limited by hindering
forces, and I call to you to come forth and shake off the
restrictions that you have allowed to rule over you. Loose
yourself from your chains and rise up in the liberty of My Spirit,
says the Lord. Acts 16:26 Suddenly there was a great earthquake,
so that the foundations of the prison were shaken; and immediately
all the doors were opened and everyone's chains were loosed.
Posted by His Messenger on Wednesday, December 26, 2007 at 4:16 PM


DREAM: More Word For 2008
(PRELUDE): In 2006 a woman moved here to Indiana from New Jersey -
she said that the Lord was calling her to walk along side me and
that she knew she was to humble herself and become my armor bearer.
She came with her son and they went to live in the local homeless
shelter. Once she got there she had many opportunities to stand
up for God (as did Daniel, his cousins, etc) and not bow to the
things of man - but she chose to go along with the status quo.
Slowly she became more proud, until at one point she lauded
herself as "Mother Abraham" to all the homeless center residents,
and turned against me. To this day I pray for her (to this day
she slanders me all over myspace and has dedicated herself to
campaigning (literally) to tell the world that I am 'false'. )
All of this because she would not humble herself to God's authority.
The reason I am once again bringing this up is because any time
the Lord wants to show me the enemy in prophetic dreams He now
uses this woman (Angela). He told me that she was to my life
what Judas was to His life. And overall it is HIM she is against
and not me. Angela also has 4 individual women who stand along
side her - the Lord said they are her evil minions. He brings
them in dreams also, having them represent evil.
I reference that because He gave me a dream - and SO - the Lord
gave me this DREAM early on December 25th, 2007:
There was a really huge old house - the kind that they now split
up into duplexes and worse - big rambling two and three story
houses; the Lord had me running this house and many people were
welcome to come and live there who did not have a place to
stay. But the anti-christ forces were now in evidence all
around the world and so many people would hide in this big
old house. I would minister peace and trust and faith to
them. Some of them would turn off the lights in fear, hiding -
it reminded me of the days of the Jews as Anne Frank has
described or as was depicted so wonderfully in "The Pianist"
and the movie, "The Hiding Place" about Corrie Ten Boom. You
should be able to see the situation through the eyes of
your spirit. But then there was a knock on the door and
Angela walked in with her son - and they pretended to be
humble and she was sobbing (but there were no tears). The
Lord has commanded me to walk in love so I ushered them in.
They began to infiltrate the house and whisper lies to the
inhabitants - they were promoting themselves and trying to
get people to go out into the street, saying there was no
danger, that the forces of the New World Order wouldn't hurt
them. And one day she led them to the house (the evil forces)
and we were all captured.
The next scene: we were all in a concentration camp with
barbed wire fences. We were all given one bottle of pure water
to drink for every four people...and it had to last for many
days. There were drinking water fountains placed here and
there, but the water was poisoned and caused lung deterioration,
diseases. They did medical procedures on many of the men -
sticking long tubes into their rib cages and drawing out
blood and fluids. The compound was surrounded by water. I
was holding our group's bottle of water trying to take my
medicine and someone bumped me and our water spilled out.
People were ganging up on me angrily because I accidentally
spilled the water - and I woke up - it was 11:15 A.M.
Then the Lord spoke (from 11:18 - 11:20 a.m.) and said
"This is the year of the traitors. As you know all things
hidden are being revealed, and you will come to see those
who have betrayed "you" thus betraying Me (and Christ IN you).
Many of the so-called Christians walking in darkness, the evil,
shady ones SHALL BE REVEALED. Many will be surprised at those
who will turn against them, but have I not said, "I NEVER
ASKED YOU TO TRUST IN MAN, I ASKED YOU TO LOVE MAN AND
TRUST ME." KEEP YOUR EYES UPON ME beloved and you will not
be hurt as these evil ones are exposed to My light. Evil
shady ones SHALL BE REVEALED IN 2008."
Later at 12:43 P.M. He added: "What is on the inside of
these evil persons shall manifest externally (on the outside)".
In His Unfailing Love,
His Messenger
12-25-2007
11:00 A.M. - 12:43 P.M.

CONFIRMATION via DEVORAH:

Yes. The L-RD is wooing all of His chosen and offering us the opportunity
to become transparant.
It is the beginning of the separation of wheat from tares, pure
refined silver from dross, pure new wine from the dregs.
"Do a quick work L-RD."
Those who are not and choose not to be transparant are filled with
a thick black smokey looking substance(s) that prevents The Light
from penetrating their soul. Those who are transparant are able
to discern this evil in others.
Please allow me to share what the L-RD revealed to me on the
9th of AV (August 14th 2005).
On the 9th of AV (the calendar date for gentiles changes each year)
August 14th, the L_RD woke me at 3:03 am to the sound of a
HEAVY rain...I was surprised by the noise of the rain, (very
large drops that sounded as if they were 3 to 4 inches across when
they landed) there was NO FOREWARNING of thunder and lightening.
(He will come like a thief in the night) I reached for my keys
to go roll up the windows in my car and was searching the L_RD
for answers. What does this mean L_RD? What is this?
The L_RD answered, `This is the beginning of the Latter Rain.`

What does that mean to you and me? It means that His Spirit is
pouring out MORE to those who will receive. It means that we must
prepare for the attacks that will come and to intercede for
those who stand in the gap. It means that IF we wish to be on
the side of The Most High G_D, we must be prepared to have clean
hands and pure hearts, willing vessels to His purification
process and willing to go and do that which He says to go and do.
Since the L_RD woke me at 3:03 and told me this was the beginning
of the latter rain, I knew it was a revelation statement for the
end times. I looked for Revelation 3:3 and this is what it says
in the AMP. Rev 3:3 So call to mind the lessons you received
and heard; continually lay them to heart and obey them, and
repent. In case you will not rouse yourselves and keep awake
and watch, I will come upon you like a thief, and you will not
know or suspect at what hour I will come.
However, as I looked for latter rain in the concordance, this is
what caught my eye...Jer 3:3 Therefore the showers have been
withheld, and there has been no spring rain. Yet you have the
brow of a prostitute; you refuse to be ashamed.
The L_RD is saying in Jeremiah, that we walked in unbelief, sin,
away from Him and wondered where our blessings were. But, even in
the wondering, we did not ask HIM why, we did not ask for His
cleansing in and of us, we just continued to walk in our ungodly ways.
With the revelation that the latter rain has begun, and knowing
that the latter rain is designed to `fatten` the grain on the
crops Before Harvest...and, knowing that the wheat and tares
grow side by side, know this also---that those who will mature
in the L_RD will receive POWER, those tares will receive a false
power and be plucked out of the ground.
For those who have ears to hear and eyes to see.
In His Service
Posted by Devorah on Wednesday, December 26, 2007 at 11:47 P

MORE CONFIRMATION VIA Glenn H. Jackson:

December 31st 2007:

+ I say to you, My beloved ones, that the day shall come,
and now is, when My people shall begin to cry out to Me from
a pure heart, and they shall seek My counsel and they shall
regard My holy apostles and prophets, and the Word that is
spoken forth from My Throne Room. It is not My desire to see
My children wallow in their despair, but the "desperate"
situations that they have "allowed" themselves to be ensnared
in are clearly a product of their intense desire to lean upon
their own understanding, rather than the godly wisdom that
resides within them in the person of My Spirit. Have I not
said in My Word, "put your trust in the Lord your God and you
will be established?" Have I not also said, "Put your trust in
My prophets and succeed [2 Chronicles 20:20]?" Men who seek to
operate in and form plans based on their "own" fleshly wisdom
[self-agenda] will continue on in their plans in an effort to
establish them. It is when with their five physical senses,
they begin to discern "failure" that they will turn to Me with
a pure heart and, thus, put themselves in a position to hear
My voice. I will not waste the time of My servants, the holy
apostles and prophets, in sending them to speak My Word to
those who have hardened their hearts against Me; for quite
simply they would only "pretend" to hear, with no intent of
heart to act on what was spoken to them. The days of My Glorious
Church are at hand, and truly, truly I say to you, I shall now
begin to exalt those who have humbled themselves before Me in
the eyes of all My people. It must be clearly understood that
the days of carnality in My church are at an end - for have I
not desired a "spotless and unblemished" Church? And, indeed,
My glory [the weight of My presence] shall fill the earth. I
say to you again, I shall honor to a great degree those who
have laid aside the things of this world for the sole purpose
of drawing near to Me. Indeed, I will do exceeding abundantly
beyond their fondest dreams, and I will "thrill" their hearts
to the core. For it is the time for the "revealing" of My sons
and daughters in the earth - and truly I say to you, both
the religious church and the world will see all those who
are truly Mine [Malachi 3:16-4:3]!


SET UP THE DOORS UPON THY GATES
Saturday, December 29, 2007

And the Lord said and is saying, "MY PEOPLE THINK THAT IT DOESN'T
MATTER WHAT THEY WATCH WITH THEIR EYES OR SEE WITH THEIR EARS.
BUT IT ALL MATTERS. YOUR EYES ARE GATES! YOUR EARS ARE GATES!
SATAN LOOKS FOR ANY AND ALL WAYS TO ENTER. WHAT YOU ALLOW
IN BECOMES PART OF YOU. THEREFORE I AM SAYING UNTO YOU,
WHAT ARE YOU ALLOWING IN? WHAT ARE YOU FILLED WITH? ARE
YOU FILLED WITH MY WORD AND ONLY THE THINGS OF HEAVEN? OR
ARE YOU FILLED WITH THINGS FROM THIS WORLD? THOSE THINGS
NEVER LEAVE! I REMOVE THEM FROM YOUR REMEMBRANCE, BUT IF
YOU THEN PARTAKE OF THEM AGAIN, THEY ARE RIGHT THERE WAITING.
THEREFORE FILL YOUR EYES WITH ONLY ME! FILL YOUR EARS WITH
ONLY MY WORDS AND TRUTHS AND WISDOM! FOR TRULY YOU ARE
ACCOUNTABLE FOR WHAT YOU HEAR AND SEE. WHAT ARE YOU HEARING?
WHAT ARE YOU LISTENING TO?"
He showed me a teaching someone did (I do not know them) that
used the book of Nehemiah as a metaphor for living the spiritual
life. They used the Temple to represent our heart (where God
meets with us); the city of Jerusalem to represent our mind,
the walls of the city to represent our spiritual walls and the
health of our relationship with Christ, and the gates of the
city to represent our ears, eyes, and mouth. If we have built
strong spiritual walls with no gaps, then no evil can get in.
Even attacks are helt at bay because there is no entry point.
Ah but then if the gates are not guarded - the bad things can
come in and enter our city (mind) and our temple (heart).
Therefore we are to NEVER underestimate that which we see and
that which we hear, even that which we speak.
This may seem a simple little message but truly the Lord has had
me speaking about the importance of our gates for a very long
time. I cannot tell you how unsettling it is to find out that
with very little prompting, we have all this JUNK within us
that has NOTHING to do with Him and His Kingdom and His glory.
May this special little reminder save your life tonight...
literally and spiritually.
He made our eyes, that we might see HIM.
He made our ears, that we might hear HIM.

(7:12 PM - 7:14 PM - I am in the seer realm right now and I
cannot describe what I am seeing - it is the Father creating
us from the beginning, making us into His likeness and Him
purposely fitting our forms with eyes and ears for His uses
alone - it is almost as if listening to any other 'voice'
of any type or viewing anything else that isn't Him is a
betrayal...cheating on Him...denying Him...this is a very
powerful image...how truly HE CREATED US FOR HIMSELF...and
not only that we might behold HIM but that HE might move
through us, speak through us, see through the eyes He
created in us...)
Deuteronomy 4:9
Only take heed to thyself, and keep thy soul diligently, lest
thou forget the things which thine eyes have seen, and lest
they depart from thy heart all the days of thy life: but teach
them thy sons, and thy sons' sons;
Deuteronomy 11:7
But your eyes have seen all the great acts of the LORD which he did.
Deuteronomy 11:18
Therefore shall ye lay up these my words in your heart and
in your soul, and bind them for a sign upon your hand, that
they may be as frontlets between your eyes.
2 Chronicles 7:15
Now mine eyes shall be open, and mine ears attent unto the prayer
that is made in this place.
Ezra 9:8-9
And now for a little space grace hath been shewed from the LORD
our God, to leave us a remnant to escape, and to give us a
nail in his holy place, that our God may lighten our eyes,
and give us a little reviving in our bondage. For we were
bondmen; yet our God hath not forsaken us in our bondage,
but hath extended mercy unto us in the sight of the kings
of Persia, to give us a reviving, to set up the house of
our God, and to repair the desolations thereof, and to
give us a wall in Judah and in Jerusalem
Nehemiah 6:16
And it came to pass, that when all our enemies heard thereof,
and all the heathen that were about us saw these things, they
were much cast down in their own eyes: for they perceived that
this work was wrought of our God.
Job 10:4
Hast thou eyes of flesh? or seest thou as man seeth?
Job 11:20
But the eyes of the wicked shall fail, and they shall not escape,
and their hope shall be as the giving up of the ghost.
Job 13:1
Lo, mine eye hath seen all this, mine ear hath heard and understood it.
Job 15:12
Why doth thine heart carry thee away? and what do thy eyes wink at
Job 21:20 His eyes shall see his destruction, and he shall drink of the
wrath of the Almighty.
Job 31:1a
I made a covenant with mine eyes;
Job 34:21
For his eyes are upon the ways of man, and he seeth all his goings.
Job 38:17
Have the gates of death been opened unto thee? or hast thou
seen the doors of the shadow of death?
Job 42:5
I have heard of thee by the hearing of the ear: but now mine eye seeth thee.
Psalm 19:8
The statutes of the LORD are right, rejoicing the heart: the
commandment of the LORD is pure, enlightening the eyes.
Psalm 25:15
Mine eyes are ever toward the LORD; for he shall pluck my feet
out of the net.
Psalm 26:3
For thy lovingkindness is before mine eyes: and I have walked in thy truth.
Psalm 36:2
For he flattereth himself in his own eyes, until his iniquity be
found to be hateful.
Psalm 94:9
He that planted the ear, shall he not hear? he that formed the eye,
shall he not see?
Psalm 101:3
I will set no wicked thing before mine eyes: I hate the work of
them that turn aside; it shall not cleave to me.
Psalm 115:5
They have mouths, but they speak not: eyes have they, but they see not:
Psalm 116:8
For thou hast delivered my soul from death, mine eyes from tears,
and my feet from falling.
Psalm 118:23
This is the LORD's doing; it is marvellous in our eyes.
Psalm 119:37
Turn away mine eyes from beholding vanity; and quicken thou me in thy way.
Psalm 119:82
Mine eyes fail for thy word, saying, When wilt thou comfort me?
Psalm 119:123
Mine eyes fail for thy salvation, and for the word of thy righteousness.
Psalm 119:148
Mine eyes prevent the night watches, that I might meditate in thy word.
Psalm 121:1
I will lift up mine eyes unto the hills, from whence cometh my help.
Psalm 123:1
Unto thee lift I up mine eyes, O thou that dwellest in the heavens.
Psalm 131:1
Lord, my heart is not haughty, nor mine eyes lofty: neither
do I exercise myself in great matters, or in things too high for me.
Psalm 141:8
But mine eyes are unto thee, O GOD the Lord: in thee is my trust;
leave not my soul destitute.
Psalm 145:15
The eyes of all wait upon thee; and thou givest them their meat in due season.
Proverbs 3:7
Be not wise in thine own eyes: fear the LORD, and depart from evil.
Proverbs 4:23
Keep thy heart with all diligence; for out of it are the issues of life.
Proverbs 4:24-26
Put away from thee a froward mouth, and perverse lips put far
from thee. Let thine eyes look right on, and let thine eyelids
look straight before thee. Ponder the path of thy feet, and
let all thy ways be established.
Proverbs 20:12
The hearing ear, and the seeing eye, the LORD hath made even both of them.
Proverbs 23:12
Apply thine heart unto instruction, and thine ears to the words of knowledge.
Proverbs 23:26
My son, give me thine heart, and let thine eyes observe my ways.
Proverbs 27:20
Hell and destruction are never full; so the eyes of man are never satisfied.
Proverbs 30:12
There is a generation that are pure in their own eyes, and yet
is not washed from their filthiness.
Song of Solomon 4:9
Thou hast ravished my heart, my sister, my spouse; thou hast
ravished my heart with one of thine eyes, with one chain of thy neck.
Isaiah 30:21
And thine ears shall hear a word behind thee, saying, This is the
way, walk ye in it, when ye turn to the right hand, and when ye
turn to the left.
Isaiah 32:3
And the eyes of them that see shall not be dim, and the ears of
them that hear shall hearken.
Isaiah 42:20
Seeing many things, but thou observest not; opening the ears, but
he heareth not.
Jeremiah 5:21
Hear now this, O foolish people, and without understanding; which
have eyes, and see not; which have ears, and hear not:
Ezekiel 3:10
Moreover he said unto me, Son of man, all my words that I shall
speak unto thee receive in thine heart, and hear with thine ears.
Ezekiel 23:25
And I will set my jealousy against thee, and they shall deal
furiously with thee: they shall take away thy nose and thine
ears; and thy remnant shall fall by the sword: they shall take
thy sons and thy daughters; and thy residue shall be devoured by
the fire.
Ezekiel 40:4
And the man said unto me, Son of man, behold with thine eyes, and
hear with thine ears, and set thine heart upon all that I shall
shew thee; for to the intent that I might shew them unto thee art
thou brought hither: declare all that thou seest to the house
of Israel.
Matthew 11:15
He that hath ears to hear, let him hear.
Matthew 13:15
For this people's heart is waxed gross, and their ears are dull
of hearing, and their eyes they have closed; lest at any time
they should see with their eyes and hear with their ears, and
should understand with their heart, and should be converted,
and I should heal them.
Acts 7:51
Ye stiffnecked and uncircumcised in heart and ears, ye do always
resist the Holy Ghost: as your fathers did, so do ye.
Acts 28:27
For the heart of this people is waxed gross, and their ears are
dull of hearing, and their eyes have they closed; lest they
should see with their eyes, and hear with their ears, and
understand with their heart, and should be converted, and I
should heal them.
2 Timothy 4:3
For the time will come when they will not endure sound doctrine;
but after their own lusts shall they heap to themselves teachers,
having itching ears;
2 Timothy 4:4
And they shall turn away their ears from the truth, and shall
be turned unto fables.
via His Messenger
December 29th, 2007
3:00 A.M. - 7:56 P.M.


MORE FROM THE LORD FOR 2008
December 30th, 2007: The Lord has been speaking to me literally
all day - here are the things you should know (and the times at
which He spoke them):
1:42 AM He said that the enemy has really stepped up his game,
bringing counterfeit images of that which the Lord is going to
do, trying to usurp the TRUE moves of God through counterfeit
measures - for example there is a TV show called "Pushing
Daisies" where a guy touches a dead person, they wake up
and tell him who killed them, then they are dead again.
Well THIS IS THE YEAR OF RAISING THE DEAD (the year that
it begins here for it has begun across the oceans in places
of faithfulness - NOW is the hour)...so the enemy has sent
it to be portrayed through worldly means - it is an attempt
to diminish the glory and praise the Lord is due as He
performs these great miracles…there is another movie coming
to theaters in 2008 about a man who can 'transport' through
time and space and go anywhere in the world he chooses.
This is yet another example of the counterfeit for the Lord
has proclaimed that more of His saints will begin to experience
being translated in the Spirit. Do you see the subtlety of
that which the enemy tries to do? Making it something 'seen'
or 'normal-ish' so that it is nothing to get excited about?
It's like when the 9/11 towers fell and people just stood
there in stunned disbelief saying, "It was like watching a
movie". It DULLS THE SPIRITUAL SENSES to see things portrayed.
This is a great tie in to the word of the Lord about your
GUARDING YOUR GATES for 2008. GUARD AGAINST DESENSITIVITY.
1:47 AM The Lord said this is the year to walk in power for
healing and deliverance like never before. In the seer
realm I saw myself (as a forerunner which means it's not
just for me) walking through hospital cancer wards
(especially children') and ALL WERE HEALED by His power
and His presence and His Glory.
1:51 AM He said "Watch the forerunners - what has happened
in their lives will begin to happen in YOURS - SEEK my
wisdom in humility," saith the Most High.
4:14 PM 2008 is the year for healing to be LOOSED -
receive the Word of the Lord - STRENGTH LOOSED
4:24 PM He has and is releasing FAITH TO BELIEVE, FAITH
TO RECEIVE (who has ears...)
4:24 -4:25 PM He has been talking to me all week about
His faithful stewards who have HIS HEART when it comes to
finances and who are faithful in little and have been
promised MORE financially for His Glory to be a blessing
and He said "Funds are coming to you - funds are going to
chase you down NOT TO ADD UNTO YOURSELF but to be His
CONDUIT OF BLESSING"
4:26 PM He spoke : Diabetes, teeth, feet shall be healed

4:38 PM "Watch your children change this year" and then in
the seer realm He showed me a tornado sweeping through their
lives (many of you have begun to see the beginnings of change
already) and the Lord shows me this tornado of HIS GLORY
sweeping through their lives, rearranging it all - removing
people, adding people, just EVERYTHING they thought they knew
about their lives will change FOR HIS GLORY. THIS IS THEIR
HOUR saith the Lord.
4:39 PM He showed me people who looked dreary - who get up,
proceed through their day, go to bed - over and over - who
think things are in a "dull" sort of routine in their life,
wondering when God is going to do that thing that He said He
was going to do through them - you feel as if you are in an
endless holding pattern - NOT to the point of giving up on
Him but hearing yourself cry out at various times during
your day, "LORD!!!!" "LORD!!!". The Lord says unto you
"The wait is OVER." You will see the fruits of your
faithful waiting, your resting in Him."
4:40 PM He says some of you are running from your
wilderness experience - THIS IS THE YEAR OF YOUR MOLDING
AND FASHIONING - THIS IS THE YEAR OF YOUR DESERT - IT WILL
BE NOT AS HARSH AS SOME OF YOUR PREDECESSORS BUT NONETHELESS
YOU MUST GO THROUGH YOUR TIME IN THE WILDERNESS. Jesus,
Moses, Paul, Job, Joseph…pick a saint - there MUST BE
TIME where He BREAKS YOU OF SELF. The Lord says
"SUBMIT THIS YEAR…or go your own way."
5:07 PM I have been hearing this for several days - and
I haven't NOT reported it but He had said wait and also He
said many would be disappointed by hearing this. Oftentimes
He gives me scriptures for the year (which I expect soon)
but also themes. I say unto you via the Lord that the
Book of Job is to be a significant book in believers lives
this year. WHO HAS EARS - discern WHERE you are at
concerning the wisdom in that book…some will go through
it but others are coming OUT of it. STUDY IT saith the
Lord, LEARN from it.
MORE AS HE UTTERS IT FORTH.....
His Messenger
December 30th, 2007 (see times above)

CONFIRMATION of 5:07 PM utterance:
The Lord spoke through me that the Book of Job was going to be
important in 2008 - it was mentioned on one of the lists He
had me post - just now in the news story about the woman
being kicked off the Texas bus for reading the bible - the
original story from MyFox Dallas had an image to go with
the story of SOMEONE HOLDING BIBLE OPEN TO THE BOOK
OF JOB!!! They could have picked ANY BIBLE
CHAPTER/BOOK/PAGE to have it opened to - whoa!!!
(original word about JOB posted 12-30-2007 @ 5:07 PM: I have
been hearing this for several days - and I haven't NOT
reported it but He had said wait and also He said many
would be disappointed by hearing this. Oftentimes He
gives me scriptures for the year (which I expect soon)
but also themes. I say unto you via the Lord that the
Book of Job is to be a significant book in believers
lives this year. WHO HAS EARS - discern WHERE you are
at concerning the wisdom in that book…some will go
through it but others are coming OUT of it.
STUDY IT saith the Lord, LEARN from it.)
CONFIRMATION:
NEWS STORY:
Bible-Reading Woman Kicked Off Fort Worth Bus

Last Edited: Monday, 31 Dec 2007, 9:02 PM CST
Created: Monday, 31 Dec 2007, 3:48 PM CST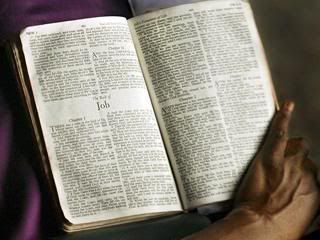 (ACTUAL IMAGE POSTED WITH NEWS STORY!!!)

FORT WORTH -- A Fort Worth woman wants an apology from the city's
mass transit system because of how she was treated Saturday while
on her way to church. Christine Lutz claimed she was kicked off
The T for reading the Bible aloud to her children.
Lutz said she was sitting in the back of the bus, but wasn't
being disruptive. She claimed she was stunned when the bus
driver interrupted her reading.
"She asked me to stop reading my Bible," Lutz told FOX 4.
"I said, 'No, I'm reading the Bible, I'm teaching the kids,
I'm going to continue.' And I continued."
Lutz said the next thing she knew, the bus had pulled over and
she was being escorted into a supervisor's van, which then took
her and her family to church.
Officials at The T said the incident had nothing to do with what
Lutz was reading, just the fact that she was simply making too
much noise. Signs on the bus warn against playing radios
and loud behavior. Transportation officials claimed they
asked Lutz to quiet down, and when she refused, they were
forced to remove her from the bus.
"If she were reading 'Moby Dick' or reciting the Pledge of
Allegiance or reading anything else, the same thing would
have occurred," said The T's Joan Hunter.
But the Liberty Legal Institute, which has fought many legal
battles over religious issues, said The T is out of line.
"I'm extremely shocked that a bus driver would pull over and
take time out of his busy schedule in order to kick off a
lady and her two kids while they're trying to read the Bible
on their way to church," said Hiram Sasser of the Liberty
Legal Institute. "They should be ashamed of that."
Lutz said all she is looking for is an apology. She said in
her mind, what happened this past weekend was religious
persecution, and she refuses to go along for the ride.
SEE THE STORY IMAGE FOR YOURSELF IN ITS ORIGINAL CONTENT:
CLICK HERE


THE FATHER ADDS....
The Father's REQUEST FOR US FOR THIS COMING YEAR COMES VIA SONG:

(LYRICS)

Turn your eyes upon Jesus
Look full in His wonderful face
And the things of Earth will grow strangely dim
In the light of His glory and grace

Proverbs 4:28
Let thine eyes look right on, and let thine eyelids look straight before thee.

WHO HAS EARS TO HEAR...
via His Messenger
December 30th, 2007
5:46 PM


CHARITABLE WHAT???
The Lord allowed me to take a nap, in preparation for prayer
tonight (December 31st, 2007) - He woke me up at 5:40 PM and
started talking to me about those who call themselves "HIS"
and money and here is what He said:
"CHARITABLE DONATIONS??? NO!!! How DARE YOU take that which
I ask you to GIVE on MY BEHALF and then try to gain MONEY from
it on your worldly taxes each worldly new year? You would not
have ANYTHING if I didn't give it to you - NOTHING - therefore
when you GIVE you are GIVING BACK THAT WHICH IS MINE,
DISTRIBUTING THAT WHICH IS MINE TO THAT PLACE OR PERSON UNTO
WHICH I ORDAIN IT TO GO. YOU have NO RIGHT to then "claim it"
as something YOU DID....that was part of the lie of the flesh,
the doctrine of money and riches that was NOT FROM ME. How
do you get to bless yourselves from something that was not
yours to begin with? WHO IS YOUR SOURCE? AM I your Blessing
and Giver of all good things or do you have to wheedle it out
of man? HAVE I NOT COMMANDED that your left hand isn't to
know what your right hand is doing??? WHO DO YOU THINK YOU
ARE TRYING TO GET A RETURN ON MY MONEY? It is either MY GOOD
PLEASURE to bless you or it is not. I AM your reward AND
your Rewarder. NOW is the time to do ALL THINGS MY WAY...
not some...ALL. If you do this thing your way, do not look
to Me for further blessing. So let it be done." saith the Lord.
via His Messenger
December 31st, 2007
5:40 PM


A BLANKET OF WHITE...
WOW - the Lord just told me to look outside - BEAUTIFUL - heavy white
snow blanketing EVERYTHING - we are under a winter storm warning -
up to 10 inches (maybe more) tonight - and the Lord had me take a
picture of the pristine, sparkling blanket of WHITE and said:
"My cleansing is available to ALL who wholly
repent with their whole heart..."

In His Unfailing Love,
His Messenger
12-31-2007
11:33 PM

P.S. IT's THUNDERING TOO - hahaha GOD IS SO AWESOME - snow and
winter thunder...truly He is SPEAKING LOUDLY....11:44 PM

P.P.S. PRAISE GOD - it's LIGHTNING TOO

"He speaks in thunder and lightning and voices...the sound of
suddenlies...the sound of the Bridegroom speaking to His beloved -
breaking in...the sound of heaven...He will never stop speaking,
He will never stop loosing the yearnings of His heart...night
after night, day after day, the passions of His heart bursting
forth....deep is calling unto deep..."
(NOTE FROM HIS MESSENGER: HE DID THIS LAST YEAR TOO WHEN HE HAD
ME PRAY - IT WAS POURING DOWN RAIN, THUNDERING AND LIGHTNING - SEE
"2007" FOR CONFIRMATION)

UPDATE:
The Lord sent me help - we've had more than a foot of snow with
another 10 to 12 inches on the way - there is NO WAY I could
have used my shovel to dig out of my driveway - the Lord sent
the neighbor man who did my house, my neighbor's house and the
entire top of our road - NO CHARGE - just being 'neighborly'...
God is SO GOOD!!!

HIS WORD: "I REWARD FAITHFULNESS..."


REVELATIONS THE LORD HAS GIVEN UNTO ME IN 2008:
ALL WORDS BELOW ARE THOSE RECEIVED AND RELEASED VIA
HIS MESSENGER

(Note: You can see more of what the Lord is
saying prophetically via His Messenger
at His TRUTHS and Signs of the Times pages)

WORD VIA HIS MESSENGER:
THERE IS A REASON FOR THE SCARCITY OF POSTS HERE -
FIRST, THE SITE WAS ALMOST OUT OF SPACE - IT'S
A FREE WEBSITE AND FOR MORE SPACE IT COSTS MONEY
WHICH IN THE NATURAL I DO NOT HAVE BUT MY FATHER
IN HEAVEN SUSTAINS ME IN ALL WAYS ACCORDING TO HIS
PERFECT WILL!!!) - IF THE LORD WANTS IT BIGGER,
HE WILL PROVIDE THE WAY, FOR IT IS HIS MINISTRY
AND NOT MINE; SECOND, HE HAS ME POSTING REGULARLY
ON MYSPACE - IT'S MUCH MORE EASILY ACCESSIBLE
WITH NO SPACE LIMITS. SOME DAY PERHAPS HE WILL
AFFORD ME THE TIME TO FILL IN ALL THE BLANKS
WITH ALL THE WORDS HE HAS SPOKEN THIS YEAR -
PERHAPS HE WILL ALSO SEND ME HELPERS - BUT AS
OF YET NO ONE HAS MEASURED UP TO HIS STANDARDS
(THOSE WHO ARE WILLING TO DIE COMPLETELY TO SELF,
THOSE WHO ARE WILLING TO BE OBEDIENCE ALL OF
THE TIME WITHOUT COMPROMISE). FINALLY, HOPEFULLY,
YOU ARE ALL PAYING ATTENTION TO ALL THE THINGS
HE IS SPEAKING ON "SIGNS OF THE TIMES" - HE IS
TRULY SPEAKING MUCH!!!
THANK YOU FOR YOUR CONTINUED PATIENCE.
09-26-2008 @ 7:31 P.M.

ADDITIONAL NOTE: 10-26-2008 @ 6:04 PM
THE LORD'S BIGGEST REASONS FOR NOT
PERMITTING ME TO POST ALL HERE IS
BECAUSE HE WILL NOT ALLOW ME TO CAST
HIS PEARLS BEFORE SWINE. WHO HAS EARS...

Phew - You guys just
WILL NOT LET HIM
CRUCIFY YOUR FLESH
October 29th, 2008
7:42 PM - 8:35 PM
WORD OF THE LORD
October 26th, 2008
8:05 P.M.
HOUR OF THE POWER-LESS:
CRYSTAL CATHEDRAL SPLITS:
THIS HAD TO HAPPEN,
AND IS ONLY THE BEGINNING
October 26th, 2008
3:30 PM - 5:43 PM
"SOON AND VERY SOON...,"
SAITH THE LORD
October 15th, 2008
4:30 A.M.
CALIFORNIA JUDGMENT:
ANOTHER DAY,
YET MORE CONFIRMATION
October 15th, 2008
2:19 A.M.
CALIFORNIA JUDGMENT:
CONFIRMATION
October 14th, 2008
4:18 A.M.
CALIFORNIA:
"ONLY THE BEGINNING...,"
SAITH THE LORD
October 12th, 2008
4:27 P.M.
I AM HIS
WALKING ULTIMATIM
FOR HIS GLORY
October 7th, 2008
"AND SO IT BEGINS,"
SAITH THE LORD
October 7th, 2008
CALIFORNIA: WORD
October 7th, 2008
12:09 A.M.
IMAGE FROM WALL STREET:
IN WHOM DO YOU TRUST?
September 29th, 2008
3:09 P.M.
"TRUE AMERICANS?"
"VOTE" - ???
WORD OF THE LORD:
09-26-2008
September 26th, 2008
1:07 P.M.
HE'S HERE...
August 28th, 2008
8:46 P.M.
SOARING - It Happened
Yet Again
August 26th, 2008

VISION OF AMERICA:
GHOST TOWNS, DEATH
August 1st, 2008
1:00 P.M. - 1:15 P.M.
CRITICAL
JUNCTION
July 23rd, 2008
3:30 P.M. - 3:57 P.M.
TRIAL BY FIRE: "THIS IS
THE HOUR OF
YOUR PREPARATION"
July 14th, 2008
2:01 PM - 3:05 PM
A STORM IS COMING
July 13th, 2008
7:15 P.M.
"GOD IS BRINGING
DOWN ONE OF
MAN'S BIGGEST IDOLS
March 14th, 2008
4:00 PM - 4:32 PM
"WOE UNTO YOU
WHO HAVE FORGOTTEN
'THE LEAST OF THESE' -
FOR YOU HAVE
FORGOTTEN ME"
saith the Lord.
March 2nd, 2008
9:15 A.M.
DOES satan
HAVE YOU PEGGED?
February 24th - February 29th, 2008
5:07 A.M - 2:41 A.M.
PROPHETIC DREAM
RE: LOUISIANA
February 22nd, 2008
8:00 P.M.
COUNTERFEIT
February 18th, 2008
3:47 A.M. - 4:01 A.M.
ELECTION 2008:
GOD'S PERFECT WILL -
DO YOU KNOW IT???
February 12th, 2008
11:56 P.M.
DAMASCUS ROAD:
THIS IS THE HOUR
January 11th, 2008
12:38 A.M.
WORD FOR AFRICA
01-07-2008
January 7th, 2008
10:00 PM - 10:56 PM
YET AGAIN -
ANOTHER CONFIRMATION
January 7th, 2008
4:15 P.M.
"I AM Going To
Overwhelm You With An
Avalanche Of My Glory!"
January 6th, 2008
2:12 A.M. - 2:46 A.M.
THE LORD CONFIRMS
YET ANOTHER WORD
SPOKEN BY THIS PROPHET
OF ALMIGHTY GOD
January 5th, 2008
9:29 P.M.
THAT WATERED-DOWN GOSPEL IS
GOING TO GET YOU KILLED
January 3rd, 2007
2:00 - 3:07
CLICK HERE FOR:

CLICK HERE FOR:

CLICK HERE FOR:

CLICK HERE FOR:

The Lord has shown me a web site that offers daily exhortations.
The first one was posted January 22nd, 2006, and thus far they
have daily been 'right on'. I am therefore providing a link
to that site here. This is what the site entails:
""Exhortations From The Father" is a daily word(s) from the heart of
the Father exhorting and encouraging those who are seeking first the
Kingdom - those who desire to be righteously motivated in all things
pertaining to true Christian service. It is my earnest and fervent
prayer that through these words you will daily receive direction,
confirmation and revelation which will help you to enter into the
fulness of your destiny and Kingdom-position. May the Father
continually bless you with deep insight into the fulness of His plan
for the Glorious Church - and your perfect part in it - in this most
critical and glorious hour! --Glenn H. Jackson"

If for any reason the accuracy/truthfulness changes, it shall be
removed. In that not everything spoken daily is for every person
daily, you will need to prayerfully discern those messages that the
Father is speaking unto you personally.

NEW FROM THE LORD VIA GLENN JACKSON:
"Walking In The Fullness Of Our Inheritance" is a daily devotional
which will be focused on various topics concerning the true Christian
life - with a view to one entering into the fullness of their precious
inheritance, in Christ."

Please note that this page is ALWAYS CHANGING
as new propetic words are released. Therefore it shall
continually remain:
This page hosted by

Get your own Free Home Page