Dan Rieskamp has just joined the legends club on this site. Not only has he discovered one of the Sandy's powerful Ohio locations which did not switch to Hardees in 1973, he has also provided color pictures of Andy's which was the owner's way of preserving his incredible Sandy's location!!!! Known as the Glenway location which was Sandy's #27, it was soon followed by a sister Cincinnati location on Beechmont which was store #28. Beechmont appears to have closed before 1973 but amazingly Glenway Sandy's continued basically as Sandy's all the way into 1982 under a different name!
Thanks for your Web Site and the memories of HiLos; Big Scots, French fries, Shakes, and good times! Sandy's opened in 1961 and closed in 1982. The restaurant was located at the corner of Muddy Creek and Glenway Avenues on the west side of town in Cincinnati, Ohio.
I lived right down the street from Sandy's and attended school and church at Our Lady of Lourdes just across the street from the restaurant. As a matter of fact, Hilos were sold at the church festival until just two years ago (2003)! The former manager, along with and his wife and son, also former employees of Sandy's, made and served the Hilos! Hilos are also served up at the local High School Football games and other sporting events! I think I can make a pretty good Hilo myself now using Butternut Burger Buns, Tone's onions, and American cheese slices!
My dad brought me and my family to Sandy's when I was a kid and my Uncle Norm used to bring hamburgers to the house. If you dyed your hair green on Saint Patrick's Day, you could have all the hamburgers that you could eat! I remember my oldest brother Bernie sending me down to Sandy's to get him some food and eating about half of the fries on the way home! He asked me if I had lost some fries on the way back but he knew just what had happened when he saw the smile on my face!
The manager changed the name of Sandy's to Andy's during the "Hardee's takeover time" to avoid a lawsuit. Sandy's closed in 1982 and has since become a lot for Christmas trees, used cars, and more recently, a bank. Sandy's Hamburgers! Good food! Good times! Good memories! - Dan Rieskamp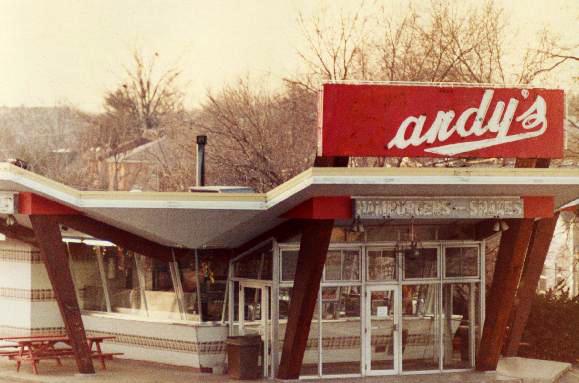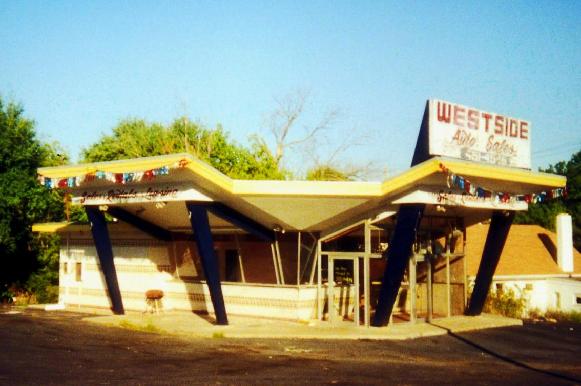 Sadly, Sandy's classic drive-in building was torn down but the lot is still being used today, now as Franklin Savings Bank.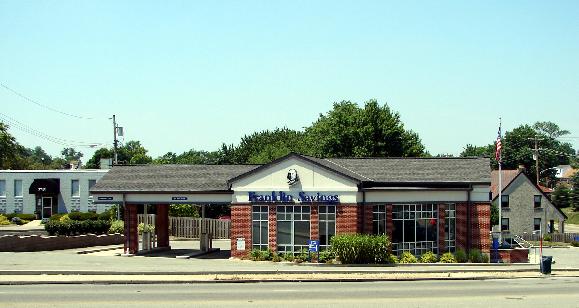 Notice the "S" missing on a close-up of the sign!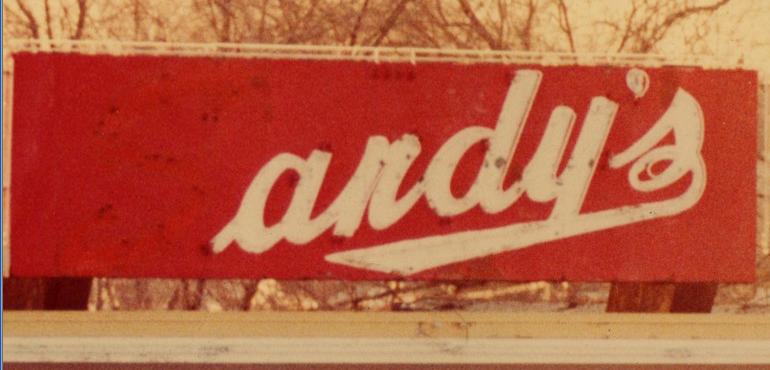 Here is the picture of Andy's in glorious black & white. The owner of Sandy's/Andy's was certainly a hero!
Big special thanks to Dan who provided this previously unknown (to this site) history of Cincinnati Sandy's as well as the fantastic pictures. INCREDIBLE!!!!
Glenway Sandy's lives on!!! Sandy's incredible Hi-Lo's are alive and well in Cincinnati during their Westside Streetfest! Cincinnati never forgot their great taste & the Hi-Lo's are still enjoyed now some 40 years after they were first introduced across the nation! Unbelievable! If you are in the area and would like to enjoy a Hi-Lo, go to this website www.westsidestreetfest.com for further details!
If you have any memorabilia, pictures or stories of Sandy's in Cincinnati, Ohio or elsewhere, please email me!