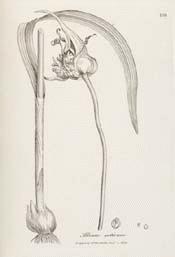 Garlic
(Allium sativum LINN.)
Garlic
Botanical: Allium sativum (LINN.)
Family: N.O. Liliaceae
---Synonym---Poor Man's Treacle.
---Part Used---Bulb.
---
---Description---The leaves are long, narrow and flat like grass. The bulb (the only part eaten) is of a compound nature, consisting of numerous bulblets, known technically as 'cloves,' grouped together between the membraneous scales and enclosed within a whitish skin, which holds them as in a sac.
The flowers are placed at the end of a stalk rising direct from the bulb and are whitish, grouped together in a globular head, or umbel, with an enclosing kind of leaf or spathae, and among them are small bulbils.
To prevent the plant running to leaf, Pliny advised bending the stalk downward and covering it with earth, seeding, he observed, may be prevented by twisting the stalk.
---Cultivation---The ground should be prepared in a similar manner as for onions.
The soil may be sandy, loam or clay, though Garlic flourishes best in a rich, moist, sandy soil. Dig over well, freeing the ground from all lumps and dig some lime into it. Tread firmly. Divide the bulbs into their component 'cloves' - each fair-sized bulb will divide into ten or twelve cloves - and with a dibber put in the cloves separately, about 2 inches deep and about 6 inches apart, leaving about 1 foot between the rows. It is well to give a dressing of soot.
Garlic beds should be in a sunny spot. They must be kept thoroughly free from weeds and the soil gathered up round the roots with a Dutch hoe from time to time.
When planted early in the spring, in February or March, the bulbs should be ready for lifting in August, when the leaves will be beginning to wither. Should the summer have been wet and cold, they may probably not be ready till nearly the middle of September.
The use of Garlic as an antiseptic was in great demand during the past war. In 1916 the Government asked for tons of the bulbs, offering 1s. per lb. for as much as could be produced. Each pound generally represents about 20 bulbs, and 5 lb. divided up into cloves and planted, will yield about 38 lb. at the end of the growing season, so it will prove a remunerative crop.
---Constituents---The active properties of Garlic depend on a pungent, volatile, essentialoil, which may readily be obtained by distillation with water. It is a sulphide of the radical Allyl, present in all the onion family. This oil is rich in sulphur, but contains no oxygen. The pecular penetrating odour of Garlic is due to this intensely smelling sulphuret of allyl, and is so diffusive that even when the bulb is applied to the soles of the feet, its odour is exhaled by the lungs.
---Medicinal Action and Uses---Diaphoretic, diuretic, expectorant, stimulant. Many marvellous effects and healing powers have been ascribed to Garlic. It possesses stimulant and stomachic properties in addition to its other virtues.