Greetings, it's Sunday Morning!
It's 6:30 am. And I'm not dreaming.
I opened my eyes to a serene winter landscape. Our first snow, and it is breathtakingly and pristinely beautiful! If I sound like a girl from Hawai`i seeing her first snowfall, well, some things don't change. The first snowfall is still a thrill!
I kissed DH, O and Freddy B awake, and looking in wonderment at the frosted scene, we snuggled even closer under the covers. That's when DH remembered CBS TV's Sunday Morning. This is my all-time favorite TV show, hands down.
In an impossibly early time slot -- 6 am on Sunday, well, all I can say to CBS is: Get Real. Your top-quality programming is being wasted, as even your most loyal fan (that would be me) struggles valiantly to get up to watch it, these days, in the dark, mind you, often missing much of it as I did this morning, and sometimes, drat, even missing it altogether.
I leapt out of bed and clicked on the set, just in time for the opening of the segment on author, John Irving. Funny how my "teachers" appear before me so unexpectedly! And how fortuitous that I'd showed up to "class" in the nick of time.
There was John Irving on the screen.

Courtesy of Random House, publisher of John Irving's books
John Irving is the author of the novel and Academy Award-winning screenplay, Cider House Rules. We saw it belatedly only a month ago after our friend, Cia, highly recommended it. He also wrote the delightfully ironic novel, "rich with lu-lu-lunacy and sorrow," The World According to Garp, which was also made into an unforgettable movie starring Robin Williams, Glenn Close and Mary Beth Hurt. Both novels are among my most favorite of favorites.
Wonderfully opinionated and thought-provoking, John has pleasured me greatly with his ability to weave colorfully brilliant stories around life-affirming themes of human kindness, tenderheartedness, forgiveness, healing and love as redemption.
"Good night, you princes of Maine,
you kings of New England."
~ Dr. Larch, character in The Cider House Rules
Ahhhhh, the good doctor's evening benediction will live with me forever. For those who have not yet read or seen Cider House Rules (and please do), I'll clue you in: The doctor at the orphanage delivers the same phrase to the boys every night: "Good night, you princes of Maine, you kings of New England." One night, a boy asks, "Why does Dr. Larch say that every night?" Another replies, "He does it because we like it."
This scene resonated with me. To this day, I cherish the warm memory of Grandmother Satsuma's nightly whisper: "Oyasuminasai." She'd say it like a prayer with a love so deep and palpable as she'd gently stroke my forehead as I fell asleep. It meant far more to me than just, "Good night.". My heart heard: "Sleep gently and bless you, my dear one." Like those boys in the orphanage, I liked Grandmother Satsuma's nightly ritual very, very much.
John has a God-given gift of skillfully and cleverly wrapping exuberant, yet compassionate words around such profound human experiences as rejection, loss and grief. His words make me laugh and cry at the same time. Sweetly, his honest and endearing work, addressing controversial questions on race relations, abortion, and incest, touches my heart, helping me to become a better, more compassionate human being.
Born on March 2, 1942, John is much younger than I expected, only 59, very handsome and vigorous, living with his beautiful wife, Janet, also his literary agent, in Vermont.
His blood boils when he talks about "puerile and pompous" Tom Wolfe, who has accused of John of writing irrelevant fiction. Harrumph!
Umm, and just who is Tom Wolfe?
John is now working on his next book which is, like his others, somewhat autobiographical, about a boy looking for a father who absconded when he was born. He, himself, has never met his biological father, but not for lack of opportunity. His cousin once gave him his biological father's phone and address, but John never called and says he's never lost sleep over "it". He has certainly written a lot of words around "it", and I am grateful for his mode of catharsis: writing with his heart.
He, himself, is the father of three boys, and a very involved one. When his older two boys were in school, he was a teacher and their wrestling coach before becoming a full-time writer. He says that he learned perseverance with high school wrestling, and applied it to his writing. He shared that he had the lowest SAT scores in the history of Philip Exeter Academy, where his step-dad taught. He has dyslexia. Can't spell to save himself. Thank goodness for the long-suffering editors of the world.
Readiness and the eagerness to write and rewrite until the work is perfect made all the difference in the world. "Put your head down, gut it out and keep going," he says.
Now that's inspiring. So...what has that guy Tom Wolfe ever done to inspire young people, wrestlers and writers?
The last scenes of the Sunday Morning segment showed John typing on...on...on... I could scarcely believe my eyes...on an IBM Selectric typewriter! No computer?
John, John, John. I must introduce you to Spell Check, my saving grace. And to an online dictionary: Merriam-Webster. On second thought, never mind. You're doing just fine, John. I like your style.
"Don't fix what ain't broke."
Sunday Morning's last segment of a capella nature scenes of elegantly peaceful, yet soul stirring scenic shots is the one I always wait for, watching it with bated breath. Today, the site is Haleakal'! Gorgeous scenes of silverswords, windswept volcanic terrain, and a spectacular sunrise fill the screen. We've done the sunrise trip and the bike ride down and Sunday Morning's scenic vignette is almost as beautiful as actually being there.
We also know how icy cold it is up there on that dormant volcano, and we were happy to be revisiting Haleakal' from the warmth and comfort of our bed, under a fluffy, down comforter with two furry dogs warming our feet. Mahalo nui (Big thanks), Sunday Morning, for this gorgeous visual reveille from our homeland.
Err...and if I may be so bold to enlighten the illustrious and otherwise impeccable Charles Osgood? Charles, of the beautifully paced, sonorous, yet velvet voice, who I adore?
Here's a quick lesson on the pronunciation of Hawaiian words:
Haleakal' is pronounced: hah leh ah ka LAH', accent on the last syllable which is elongated. Pronounced thusly, it means "house of the sun."

Not [hah leh ah kah' lah] as Charles unwittingly pronounced it, which means "pink house." Common mistake, but I must admit, I tee-hee'd a little, which was nothing compared to the titters in Hawai`i. (Hawaiians are too polite to guffaw)
I once wrote elsewhere: "Whether kama`'ina (Hawai`i-born) or malihini (newcomer), all can strive to be respectful of the Hawaiian language by making a conscious, concerted effort to spell and say Hawai`i's place names and words correctly." Until it was rescued by a dedicated few who were committed to its preservation, the Hawaiian language was a rapidly dying language.
Click the following to read about the fight to save the Hawaiian language and how it may flourish:
Here's my personal offering on the Net intended to help those, especially in the media, who are respectful and supportive of cultures fighting for their survival. I am sure they would not wish to perpetuate linguistic inaccuracies that only hasten the demise of threatened languages, nor wish to engage in the slaughtering of place-names, especially one as sacred as Haleakal'.
For those who wish to go beyond lip-service and wish to make a real difference in preserving a beautiful language in its original form, I offer you a bit of help, while encouraging you to keep up with your stories about our homeland:
A Hawaiian Language Pronunciation Guide
Good show, Sunday Morning! As we say in Hawai`i: "Shaka!"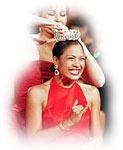 Photo courtesy of The Honolulu Advertiser
Miss America, 2001, Angela Perez Baraquio
flashing the shaka sign (Hawai`i's version of "Thumbs up!")
Folks at Sunday Morning:
Any chance that you'll broadcast your shows at a later time, when I have half a chance to wake up and watch it in its entirety?
How about rebroadcasts? For example, I often watch Oprah at night when her shows are rebroadcast a week later, because, working, I am unable to watch her during the day.
Otherwise, given today's show, I am now motivated to learn how to program that VCR by next week.
"See" ya, then.


More info on the Net for your perusal:
Random House's John Irving Homepage
An Irvingophile's website: John Irving is God
The Salon Interview: John Irving
A very unofficial John Irving page
MotherJones' Outspoken: John Irving
Films from John Irving novels
Keep Passing Open Windows
Book Page Interview: John Irving


"Life is a Gift."
Sincerely,
September Morn
P.S. If you would like to share a portion of yourself with words, in response to this journal entry, you may do it here.