MALAYSIA ACUPUNCTURE TREATMENT AND HERBAL TREATMENT
Our new centre has been officially opened by our Malaysia Health Minister Y.A.B Dato Lee Kim Sai at the opening ceremony on 31st January 1993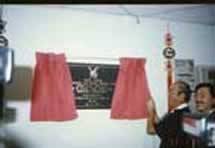 We have all this special HERBAL FORMULAS to Treats/Treatment the followings with Herbs HERBAL MEDICINE
CHRONIC PANCREATITIS TREATMENT
- Malaysia Acupuncture Treatment and Herball Treatment Centre
-- : CHRONIC PANCREATITIS - RESEARCH BY MALAYSIA MASTERTOLE ACUPUNCTURE HERBAL TREATMENT/Treatment with Thetole Neuro Acupuncture and Herbal Medicine.
The pancreas secretes the enzymes necessary to digest the food, produced by the duct cells, and insulin used for the transport of sugars, made by the islets of Langerhans Islands cells, into the blood.
The pancreas is a soft, elongated gland situated at the back of the upper abdominal cavity behind the stomach. It is divided into the head (through which the common bile duct runs as it enters the duodenum) and the body (which extends across the spine and the tail), which is close to the left kidney and to the spleen.
The pancreas has two main functions :
Produce sing a series of enzymes which help in the digestion of food. Enzymes produced in the pancreas are important in the digestion of proteins, carbohydrates and, particularly, fats. Bicarbonate is also produced in large amounts to neutralize the acid produced by the stomach.
2: Produces in a series of hormones which are important in maintaining a normal level of sugar in the blood. The best known of these hormones is insulin. Insulin deficiency of this hormone results in the development of diabetes. Another hormone (glucagons) helps to raise blood sugar, and several other hormones control intestinal function.
MASTERTOLE'S WAY of medication has done over hundreds of chronic pancreatitis cases and it has proven records of full recovery, all cases is being treated between 2 weeks to 2 months of intensive Treatment.
--: PANCREATITIS SYMPTOM - MALAYSIA ACUPUNCTURE HERBAL MEDICAL TREATMENT RESEARCHED
Any inflammation of the pancreas is called pancreatitis.
Acute pancreatitis results in severe inflammation of the gland and patients may be seriously ill.
Chronic pancreatitis may be cause by repeated attacks of acute pancreatitis or as the result of other injuries to the pancreas.
Damages to the pancreas occurs as the result of digestive enzymes leaking into the pancreas and starting to digest it. This sets up inflammation, and when the inflammation settles, the scarring process distorts the pancreas making further attacks of inflammation likely. Then a bigger episode will occurs. Resulting of prolonged damage to the pancreas, the pancreas fails to produce enough digestive enzymes to permit adequate digestion of food. This may leads to weight loss and the frequent passage of pale greasy stools which contain excess amounts of fat. Further, the destruction of the cells which produce insulin may lead to the development of diabetes.
--: CAUSES OF CHRONIC PANCREATITIS - MALAYSIA ACUPUNCTURE HERBAL MEDICAL TREATMENT RESEARCHED
The most common cause of chronic pancreatitis is long-term excessive alcohol consumption. There is a direct relationship between the amount of alcohol consumed and the risk of developing chronic pancreatitis.
Other causes include :
high levels of calcium in the blood
IN-BORN, present at birth
cystic fibrosis
high blood fats
Drugs (Some Chemical medication -can cause pancreatitis)
in a number of cases no specific cause can be identified, a condition known as idiopathic pancreatitis.
--: SYMPTOMS OF CHRONIC PANCREATITIS - MALAYSIA ACUPUNCTURE HERBAL MEDICAL TREATMENT RESEARCHED
The symptoms of many.
Pain occurs in most patients at advance stage of the disease. This may vary in intensity from mild to severe. It may last for hours or sometimes days at a time and sometime strong painkillers also gets no effect (cannot stop the pain MALAYSIA MASTERTOLE'S NEURO ACUPUNCTURE can stop the pain immediately usually after 30 minutes). It often radiates through to the back and can sometimes be relieved by crouching forward. It is commonly brought on by food consumption and so patients may be afraid to eat. It is also commonly severe through the night. The pain varies in nature, being gnawing, stabbing, aching or burning, but it tends to be constant when at late stage and May comes and go in waves. It may sometimes burn itself out but can remain an ongoing problem.
The mechanism of the pain is the obstruction of Qi in the organ. Some patients will have obstruction to the small ducts in the pancreas by small stones, and this is thought to cause back pressure and destruction of the pancreas. There is no relationship between the severity of the pain and the severity of the pancreatic inflammation.
The pain is often difficult to diagnose and can be mistaken for pain caused by virtually any other condition arising from the abdomen or lower chest.
The pain caused by pancreatitis may be a little same to pain caused by a peptic ulcer, irritable bowel syndrome, angina pectoris, gallstones.
Diabetes is also a common symptom which affects over half of all patients with long-standing chronic pancreatitis. Long-standing chronic inflammation results in scarring of the pancreas which destroys the specialize areas of the pancreas which produce insulin. Deficiency of insulin results in diabetes. Diabetes causes thirst, frequent urination and weight loss
Diarrhoea occurs in just under half of patients. Normally, all the fat in food is broken down by enzymes from the pancreas and small intestine, and the fat is then absorbed in the small bowel. With a reduced level of digestive enzymes the fat is not absorbed. When the fat reaches the large intestine, it is partially broken down by the bacteria in the colon. This produces substances which irritate the colon and result in diarrhea. The undigested fat also traps water in the faces, resulting in pale, bulky, greasy stools which are difficult to flush away. They may make the water in the toilet look oily, smell offensive and may be associated with wind.
Weight loss occurs in virtually all patients with chronic pancreatitis. It is due to failure to absorb calories from food, and diabetes may also contribute to this. In addition, patients may be afraid to eat because eating brings on the pain. Depression is also common in chronic pancreatitis and this can also reduce appetite and lead to weight loss.
Jaundice (when patients develop yellow eyes and skin) occurs in about a third of patients with chronic pancreatitis. It is usually due to damage to the common bile duct which drains bile from the liver to the duodenum. The common bile duct normally passes though the head of the pancreas. In long-standing chronic pancreatitis, the scarring in the head of the pancreas narrows the common bile duct. Some degree of narrowing may occur in up to half the patients with chronic pancreatitis but when the narrowing is severe, it prevents the bile draining from the liver into the duodenum. It then spills back into the blood and the patient's eyes and skin become yellow.
Vomiting after meals is a less common symptom but can occur as a result of severe pain. It may also be due to duodenal ulceration, which is often connected with chronic pancreatitis. In rare cases, the duodenum may be narrowed as a result of scarring secondary to chronic pancreatitis.
The patient will also feels very tire and dizzy from the pain and the episode. Some of them may not be able to stand up.
All of these could be treated by MALAYSIA MASTERTOLE'S way of medication, between 2 weeks to 2 months of intensive treatment by MALAYSIA Master Tole.
--: LIFE SHORTENING EFFECTS OF PANCREATITIS - MALAYSIA ACUPUNCTURE HERBAL MEDICAL TREATMENT RESEARCHED
Chronic pancreatitis is associated with a reduction in life expectancy.
Only half of the patients with a diagnosis of chronic pancreatitis will survive for longer than seven years following diagnosis data from UK, which can be avoided with MALAYSIA MASTERTOLE'S WAY of herbal strengthening. There is also an increased rate of cancer of the pancreas in patients with chronic pancreatitis and this accounts for a fifth of the deaths. Other causes of death include complications of diabetes and complications of alcoholism. Even when the pain and inflammation is gone you still needs to take some of our Pancreas Herbs to lengthen your life time.
MALAYSIA MASTERTOLE'S WAY of MEDICATION will guild you to your recovery of this problem and guild you to belong your beautiful life.
The old Chinese saying'" Health is your Greatest Wealth "
MALAYSIA MASTERTOLE'S Herbal medicine for pancreatitis is very effective and has gone through 145 years of research. The herbs will eliminate the infected pancreases and stop the pain. Then the herbs will strengthen the pancreases and pre long your live.
The strengthening is done through the pancreases, spleen and Qi system.
--: HIGH CHOLESTEROL LEVEL (HYPERCHOLESTEROLAEMIA) - MALAYSIA ACUPUNCTURE HERBAL MEDICAL TREATMENT RESEARCHED
Cholesterol is one of the body's fats (lipids). Cholesterol and another lipid, triglyceride, are important building blocks in the structure of cells and are also used in making hormones and producing energy. To some extent, the cholesterol level in blood depends on what you eat but it is mainly dependent on how the body makes cholesterol in the liver. The Qi lever in your Liver and Kidneys.
Having too much cholesterol in the blood is not a disease in itself, but can lead to the hardening and narrowing of the arteries (atherosclerosis) in the major vascular systems.
For the sake of simplicity, there are two sorts of cholesterol: a 'good' sort called high density lipoprotein (HDL) and a 'bad' sort called low density lipoprotein (LDL).
HDL has a useful effect in reducing tissue cholesterol and taking it back to the liver. HDL actually protects against atherosclerosis. LDL may contribute to diseases of the arteries (cardiovascular disease).
The proportion of LDL-cholesterol to HDL-cholesterol that influences the degree to which atherosclerosis is likely to cause problems (heart attack).
LDL-cholesterol level can be lowered by eating a low fat diet and, if required, taking herbal medicine. HDL-cholesterol level can be raised by exercising.
The significance of any particular cholesterol level cannot be assessed without taking into account the ratio between good and bad cholesterol (either total-cholesterol/HDL-cholesterol ratio or LDL-cholesterol/HDL cholesterol ratio) or the presence of other cardiovascular risks, such as smoking, diabetes and high blood pressure (hypertension). It is possible for someone to have a high level of total cholesterol and still have a relatively low cardiovascular risk because of an absence of other risk factors or because their family history is free from coronary disease.
Anyone with an established track record of cardiovascular disease such as angina pectoris, a previous myocardial infarction, coronary angioplasty or coronary bypass surgery should seek advice to keep their Total Cholesterol level below 5.2mmol/l or their LDL below 3.2mmol/l.
Cholesterol levels can run in families. If the inherited cholesterol levels are very high, this is called familial hypercholesterolaemia (hypercholesterolaemia (FH)) or familial combined hyperlipidemia(FCH) where the triglyceride levels are very high as well. Levels can also be influenced by the part of the world you live in: cholesterol levels in northern European countries are higher than in southern Europe and much higher than in Asia. It is known that the relationship to food is significant, but there is no doubt that genes also play a part. High cholesterol is also seen in connection with other diseases, such as reduced metabolism (due to thyroid hormone problems, for example), kidney diseases, diabetes and alcoholic's.
--: SYMPTOMS OF HIGH CHOLESTEROL IN THE BLOODSTREAM - MALAYSIA ACUPUNCTURE HERBAL MEDICAL TREATMENT RESEARCHED
High level of cholesterol in conjunction with other adverse factors increases the risk of developing atherosclerosis and cardiovascular disease.
Atherosclerosis resulting in narrowing of the arteries. This does not occur suddenly, but builds up over many years during which cholesterol and fat have been deposited in the artery walls. The result is that the arteries become constricted and hardened, their elasticity disappears and the volume of blood able to travel through them is reduced.
The symptoms are therefore the consequences of cardiovascular disease. They depend on the degree of narrowing, may cause ruptures, and also the organ supplied by the affected arteries.
In the brain, an atherosclerotic carotid or cerebral (brain) artery might block with clotted blood (thrombus) or a smaller intracerebral vessel may rupture causing a local hemorrhage. Both these circumstances result in a stroke (Chong Fung).
In the heart, narrowed coronary arteries cause angina, and ruptured plaques cause coronary thrombosis (myocardial infarct), which may lead to reduced heart function (heart failure) if a significant amount of heart muscle is damaged. The obstruction of Qi in the Heart.
Carotid arteries in the neck can become narrowed and may lead to clots forming in the neck and floating downstream into the brain, causing a stroke (CVA) or recurrent temporary strokes (transient ischemic attacks, also known as TIAs).
Leg pain on exertion can be experienced due to atherosclerosis in the arteries that supply the lower limbs (intermittent claudicating). If a major peripheral vessel to a lower limb blocks suddenly, an acutely ischemic leg will occur which may be limb-threatening. In the worst cases of chronic lower limb atherosclerosis, this can lead to a leg so starved of blood that it cannot survive and requires amputation. Which could be treated by MALAYSIA MASTERTOLE'S medication in a very short course of treatment.
Commonly for some people affected to have the disease in several arteries throughout their circulation including the aorta (the main artery in the chest and abdomen, the renal (kidney) arteries and the mesenteric (intestinal) vessels.
Cholesterol Treatment
It will takes between 10 days to 2 months of intensive treatment to clear up the high-unwanted cholesterol and to restore your body conditions.
--: FAMILIAL HYPERCHOLESTEROLAEMIA (FH)) - MALAYSIA ACUPUNCTURE HERBAL MEDICAL TREATMENT RESEARCHED
Familial hypercholesterolemia is - raised cholesterol levels in the blood - hypercholesterolemia - are generally caused by a poor diet and lifestyle in combination with the way an individual produces cholesterol in their liver. You Liver's Qi is low and need to be restoring with MALAYSIA MASTERTOLE'S WAY OD MEDICATIONS.
In some individuals (1 in 500 of the population), the high cholesterol level in the blood is caused by a specific genetic defect. People with inherited or familial hypercholesterolemia (hypercholesterolemia (FH)) are lacking in the low-density lipoprotein (LDL) receptors that remove cholesterol from the bloodstream.
Raised cholesterol level in the blood is present from birth and it leads to an early development of atherosclerosis and vascular diseases. The disease is transmitted from generation to generation in such a way that children of a person with hypercholesterolemia (FH) have a 50 per cent risk of getting hypercholesterolemia (FH). The disease does not skip generations which means that children and grandchildren of family members who do not have a defective gene are therefore not at risk from hypercholesterolemia (FH). BUT there is a way to reduce the change of getting a hypercholesterolemia (FH) kid by taking our special "hypercholesterolemia (FH) herbal medicine ".
The ailment is mostly treated with special herbal medicines and special diets. Treatment with genetic manipulation is still at the experimental stage.
--: SYMPTOMS OF FAMILIAL HYPERCOLESTEROLAEMI - MALAYSIA ACUPUNCTURE HERBAL MEDICAL TREATMENT RESEARCHED
People with hypercholesterolemia (FH) cannot feel that they have a raised cholesterol level, but they might have symptoms of cardiovascular disease, which develops as a result of the narrowing of the arteries.
The symptoms can include :
Pressing, crushing pain behind the breastbone, possibly radiating to the arm or to the neck, associated with physical exertion or cold (angina pectoris).
if the symptoms become more severe and sustained it may be a sign of an acute coronary thrombosis (heart attack).
The development of atherosclerosis begins in childhood and can be compared to calcium deposits in a water pipe. Gradually, the opening gets smaller and smaller, the inner surface becomes more irregular, the blood can no longer flow freely, leading to symptoms.
When the blood supply to the tissue stops, the tissue dies. This means that if a blood clot is situated in one of the vessels of the heart (the coronary arteries), the area of the heart muscle supplied by that vessel is injured irreversibly. Scar tissue forms and the heart are left weakened.
--: WHY DO YOU GET RAISED CHOLESTEROL? - MALAYSIA ACUPUNCTURE HERBAL MEDICAL TREATMENT RESEARCHED
Hereditary, food and environmental factors affect the cholesterol level. Today we know of several hereditary disorders that cause significantly raised LDL-cholesterol.
The cholesterol level in northern European countries is higher than in southern Europe and much higher than in Asia. We know that diet is a major factor but there is no doubt that genes also play a part.
Raised blood cholesterol can also be a feature of the following diseases:
hypothyroidism (under active thyroid gland)
kidney diseases
diabetes
alcohol abuse.
The progress of hypercholesterolemia (FH) varies greatly. However, in a particular family it tends to follow a similar pattern.
The risk of a fatal heart attack before the age of 40 is significantly higher in those with hypercholesterolemia (FH) than among the general population.
Research shows that 50 per cent of men and 40 per cent of women with hypercholesterolemia (FH) have had a blood clot in the coronary arteries before the age of 60.
About one third of patients with hypercholesterolemia (FH) show no symptoms until sudden cardiac death.
--: TREATMENT BY MALAYSIA MASTERTOLE'S WAY OF CHOLESTEROL MEDCIATIONS
The intensive treatment will need 2 weeks per course of Neuro Acupuncture and special MALAYSIA MASTERTOLE'S Cholesterol herbal medicine and dieting.
For herbal medicine treatment alone you may need 60 days or more to get you out of the serious symptom for most patients.
For people who just has high cholesterol recently ( less then 1 year) the special MALAYSIA MASTERTOLE'S Cholesterol herbal medicine can Treatment in 60 days treatment the research has shown up to 95% completely treated and 10% needs another 30 days of the special herbal medicine.
There are in 2 different form, one in dry herbs that you have to boiled and the second one is in powder form you can take it twice a day, anytime.
The herbs will eliminates all those bad cholesterol from your blood, increase your blood flow and strengthen your spleen and kidney's conditions. All of these can be achieved in 60 days of our Special Cholesterol Herbal Medicine of MALAYSIA MASTERTOLE'S.
When you want to order please give the following details :
1. Age, Sex, Locations, Daily routine work
Medical History,
Daily food intake (types),
Height, weight and cholesterol report or medical report readings.
You can e-mail to us all the answer and we can help you from here.
PLEASE LET YOUR FRIENDS KNOW ABOUT OUR SITE AND SERVICE.
| | |
| --- | --- |
| | Our centre has been officiated by Malaysia Health Minister Y.A.B. Dato' Lee Kim Sai at the opening ceremony on 31st January 1993. Chinese Master intended to share his forefather's expertise by conducting a formal training institute for those who interested to learn acupuncture skills. |
THE TOLE ACUPUNCTURE-HERBAL MEDICAL CENTRE SDN BHD MALAYSIA
Suite 4.08, 4.10, 4th Floor, Medical Specialist Floor,
Menara KH (Menara Promet),
Jalan Sultan Ismail, 50250 Kuala Lumpur.
Malaysia
Tel No: 603-21418370 / 21451671
Fax No: 603-27326887


E-mail: