DIY Explore In Hatyai do not contain any third-party endorsement or advertisement except from the host Yahoo. Unlike sites like "Thaivisitor Hatyai After Dark", we do not accept any kickbacks, payments or favours in return for information or positive reviews provided. You need not have to register as a member in order to access the information provided.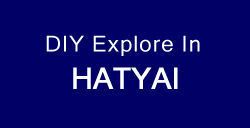 Travel Agency
There are many travel agencies in Hatyai, especially in the city centre. These travel agents provide a comprehensive range of services for travellers including flight and coach reservations, hotel bookings, foreign exchange facilities, local tours, car or van rental, airport transfers, ticket for erotic dance shows etc.
All inbound coaches to Hatyai will stop outside the travel agencies that they are affiliated to, so travellers need not have to waste time looking for one. However do note that you are not obligated to use their services, and can go to any other travel agencies for your needs. Prices of the services varies among the travel agencies, so you may want to shop around if you can.
Travel agents around town can nearly give better rates for hotel rooms compared to walk-in rates. When you express your interest on a hotel to them, they will inform you of the rate, as well as contacting the hotel for room availability. If there are rooms available of your choice, then you shall make payment to the travel agent, upon which you be given a hotel voucher. You shall use this voucher to check into your hotel. Remember not to lose this voucher as it is a form of receipt that you have made your hotel booking.
You can also book your airline tickets through these travel agents. Service charge is between 100 to 150baht.



Beware of touts outside the travel agency offices. They will try to misled you that they are from the travel agency office, and will offer you a free ride to your hotel in their minivan or any other forms of vehicle. There is no such free service provided by the travel agencies. These touts are not employees of the travel agencies, and their purpose is to bring you to places later where they can get commission from the establishments. So please do avoid them, and just flag a tuk-tuk or motorcycle taxi to bring you to your hotel. You may read more about it on this page





Here are some of the travel agencies in Hatyai take from a website. In the forums, the recommended ones are Chan Travel, Davis Tour and Lovely Tour.
| | | | |
| --- | --- | --- | --- |
| Travel Agency | Address & Telephone No | Travel Agency | Address & Telephone No |
| 99 Coachland Enterprise & Tour | 142 Niphat Uthit 3 Road, Tel 074-223 621 | M & R Tours | 194/3 Niphat Uthit Road, Tel 074-354 877 |
| Archipelago Travel Service | 5 Sheutit Road, Tel 074-223 059 | Manee Tour & Travel Service | 33 Sheutit Road, Tel 074-231 830 |
| Angel Travel Service | 118 Niphat Uthit 2 Road, Tel 074-245 620 | Mices 2004 Travel | 26 Prachathipat Road, Tel 074-235 086 |
| AS Travel Service | 65/3 Sheutit Road, Tel 074-237 325 | New Asia Tours & Travel | 45/1 Sanehanusorn Road, Tel 074-354 177 |
| Blueship Travel Co Ltd | 2 Soi Por Au Sanon, Niphat Uthit 3 Road, Tel 074-261 014 | New Hoover Tour | 160 Niphat Uthit 3 Road, Tel 074-245 502 |
| Boss Tour & Travel Service | 26/1 Kimpradit Road, Tel 074-261 316 | New Indah Tour | 140 Niphat Uthit 3 Road, Tel 074-232 218 |
| C&P Tour Hatyai | 129/1 Niphat Uthit Road, Tel 074-233 388 | NV Tour & Service | 7 Sheutit Road, Tel 074-354 445 |
| Chan Travel | 24/2 Sanehanusorn Road, Tel 074-223 729, 074-231 950 | P&B Tour | 221 Niphat Uthit 1 Road, Tel 074-238 858 |
| Davis Tour & Travel Service | 9 Sheutit Road, Tel 074-236 593 | Pacific Airbooking Co Ltd | 149/1 Niphat Uthit 2 Road, Tel 074-225 092 |
| Gold Travel | 53 Sanehanusorn Road, Tel 074-233 917 | Pan Siam Enterprise & Tours | Tours 115 Niphat Uthit 2 Road, Tel 074 237 494 |
| Happy Tour | 42 Prachathipat Road, Tel 074-351 475 | S&L Fantastic Tour | 194/5 Niphat Uthit 1 Road, Tel 074-239 351 |
| Hatyai Inter Top Tour | 149 Niphat Uthit 3 Road, Tel 074-354 397 | Saeng Travel Service | 135 Niphat Uthit 2 Road, Tel 074-233 566 |
| Hatyai JR Tour | 18/7 Sanehanusorn Road, Tel 074-243 287 | Siam Enterprise & Tour | 230 Niphat Uthit 2 Road, Tel 074-354 656 |
| Hatyai 707 Tours | 132/2 Niphat Uthit 3e Road, Tel 074-243 138 | Siam Holiday & Tour | 37 Sheutit Road, Tel 074-235 970 |
| Hatyai Lucky Tour | 129/10 Niphat Uthit 3 Road, Tel 074-236 596 | Sing Thai Tour Express | 72/3 Sheutit Road, Tel 074-245 910 |
| Hatyai Smile Tour | 19 Sheutit Road, Tel 074-221 574 | Sintavee Tour | 27/1 Niyomrat Road, Tel 074-354 995 |
| Hatyai Variety Travel Service | 32 Prachathipat Road, Tel 074-351 280 | Super Oriental Holidays Tour | 14/1 Sheutit Road, Tel 074-354 053 |
| Holiday Travel Service | 139/1 Niphat Uthit 3 Road, Tel 074-231 845 | Thaksin Tour | 151/23 Niphat Uthit 2 Road, Tel 074-355 791 |
| Hock Thai Travel Co Ltd | 1 Preedarom Road, Tel 074-233 075 | Thanaporn Tour | 219 Niphat Uthit 1 Road, Tel 074-262 390 |
| I Travel & Service | 79/7 Thamnoonvithi Road, Tel 074-223 026 | TR Inter Tour | 19 Kimpradit Road, Tel 074-354 387 |
| JP Overseas Call & Fax Centre | 30, Sheutit Road, Tel 074-354 224 | TS Tour & Service | 60 Sanehanusorn Road, Tel 074-247 847 |
| Lovely Tours | 132/5 Niphat Uthit Road, Tel 074-232 738 | Yuyi Travel Enterprise | 145 Niphat Uthit 3 Road, Tel 074-354 214 |
| | | | |