DIY Explore In Hatyai do not contain any third-party endorsement or advertisement except from the host Yahoo. Unlike sites like "Thaivisitor Hatyai After Dark", we do not accept any kickbacks, payments or favours in return for information or positive reviews provided. You need not have to register as a member in order to access the information provided.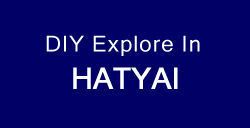 What You Need To Be Cautious About
Warning Against Revealing Your Identity and/or Personal Information To Forum Members
Recently in Sam's forum, a member's personal info was posted by another member in the midst of a cyber dispute. Another member whereabout in Hatyai was also being revealed, leading to phone calls being made to the victim's hotel room to harass him. The source of these information leaks have been identified.
Click here to read about the full details of the incidents, the advice for all forum members, as well as tips on how to protect one's identity and personal information from falling into the hand of unscrupulous forum member in Haytai.
Female Escort
Do not ever engage the services of non-IC holders, and/or any non-registered ladies found in the KTV brothels. All thai ladies who want to work in a KTV brothel must be registered by the brothels with the authorities, and the minimum age is 20 years old. Those who caught having sex with an under 20 yrs old female escort and/or non IC-holder will be in deep trouble. So don't take the risk, and if in doubt, check their identity card.
Occasionally, police from Bangkok will come down to Hatyai to do spot-checks on the brothels. Please note that they are even empowered to check the rooms of the hotels, so please be aware of the risk. If you are caught with an non-IC holders of below 20 yrs of age in a hotel room, then you are in for trouble with the police.
If you get a freelance escort from a disco or pub, do take note that they are not under the control of any establishments like KTV brothels. Therefore there are risks like theft, and the escorts disappearing without your knowledge. Furthermore, unlike those escorts from KTV brothels, these free lancers do not go for medical checks for STDs. This also applies to those who are non-IC holders, and underage girls (below 20years of age).
However irrespective of where you get your escort from, always practice safe sex and use the necessary protection.
Handphone Theft
Do not leave your handphone or any valuables on the desk when you are using the computers in internet cafes. Always keep them in your pockets. There was a case reported in the forum where the victim's handphone was stolen was he left it at the tabletop while surfing the net.
Beware of the KC trap in Hatyai
Many of us go to Hatyai for female escort as they offer the best value for money. For 1500 to 2000baht, they will accompany you till 8-9am the next morning. Some offer great services and treat you like their boyfriend instead of as a customer. In the forum, it is normally referred to as having that "girl friend experience" or GFE for short. This is to make you feel that you are the "special one" to them, and will always return for them as often as possible. This tactic is known in Sam's forum as the "Kum Cheng" trap or KC trap. "Kum Cheng" refers to close feelings in the hokkien dialect. The ultimate aim of getting you into their KC trap is simply for your money.
There is a mantra for cheongsters here - "Find, Fuck, Forget" - the " 3 Fs". The idea is to find the escort you like, enjoy yourself, then forget about her and look for other targets the next time. This is one of the surest way to avoid falling into this KC trap. Some samsters cheonging Hatyai, both new and old, have fallen into this trap either on their own, or being led into it by someone (a Singaporean residing in Hatyai) they met in Hatyai. These samsters have even being encouraged to "sponsor" these escorts - ie buy her out of the KTV brothel, and pay for her accomodation and monthly maintenance in order that she does not work in that line again. In so doing, the person who act as a middleman by introducing his "aces" to these samsters will benefit financially from this arrangement.
It has been discusssed extensively in the forum before, and the consensus is that successes in such a relationship is more of an exception rather than a norm. Those who advocate such a relationship in Hatyai will has his own ulterior motive for doing so. If you are not in one, please be wary about it. If you are in one now, then you may want to re-think about your relationship with your "tirak". Having said that, it is still up to the individual to decide what they want out of Hatyai - just have fun, find a wife/gf, or be a carrot ready to be chopped.
Others
Always try to find hotels with a safe in the room and keep all your valuable in it whenever possible. You may chose to leave your valuables in the hotel's safe deposit box if your room doesn't have a safe.
Make sure that you lock with whatever locks the hotel provides to the room. IIf you are able to, make sure you lock your bags whenever you leave the hotel room. It would be more difficult for someone to steal a whole bag then just a camera or small item.
Always leave your passport at the front desk even though you come as a group and the hotel requires only 1 passport as security deposit. This is a very important document that you cannot afford to lose.
Take out only enough money that you intend to tip the girl. Avoid roaming the street alone in the night, and always move around in a group.
Be alert to conman masquerading as good samaritan in the forums. (click to read about it)