Product Reviews
---

Nokian Hakkapeliitta NRW 195/55R15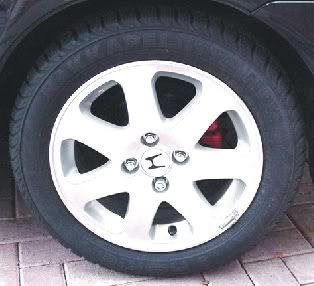 I woke up to three inches of snow on the roof of the SiR on Monday. As dissappointed as you would have thought I might be (being a golfer and all), I was excited to put my new Nokian Hakkapeliitta NRW 195/55R15 tires, mounted on my stock rims, on for the first time. I also picked up a set of Macguard wheel locks from the same place I got the tires - Steelcase Tires & Mags in Toronto (905-479-8884, located at Woodbine and Steelcase Rd.).
Make sure if you are getting wheel locks for the stock Honda wheels that you get the ones with the radiiused base (convex to match the concave seat on the wheel). My Konig GT-Rs have the flat seat, which means I have to use different lug nuts and different locks for each of my sets of wheels...
The Nokian NRWs are a bit of a mystery to me with respect to their "winter tire" rating. They were reccomended to me as a good snow tire that does not sacrifice dry traction, as the city streets of Toronto are usually pretty bare. I do insist on having a winter tire for those rare times where there is snow, slush and ice, as well as to save wear and tear on my summer tires and wheels. The European Nokian tire site lists the NRW as a pure winter tire for "alpine" conditions. The North American Nokian tire site actually lists them under all-season as a good snow/slush/ice tire that can handle hot weather. Either way they are listed as a good winter tire that does not sacrifice dry handling and provides a quiet ride - pretty much exactly what I was looking for.
Impressions: since I have only 100kms on them I have to reserve dry traction evaluations for when they are scrubbed in (ie. the release agent is worn off - see below for updates). For now all I can say is they are quite slippery! And this was in the dry (none of the snow stayed on the ground).
As for ride, they are VERY cushy compared to my Toyo Proxes FZ4 205/50R15s. This can be attributed to two factors:
One is that the Toyos have a bit of a stiffer sidewall, seeing as they are a bit more performance oriented and also have a higher speed rating (V rated vs. the Nokian's H). A higher speed rating typically means a stiffer sidewall in order to be able to withstand the higher sustained speeds.
The other factor is the fact that the Toyos have a marginally shorter sidewall compared to the Nokians. A 50 series 205 should have roughly the same sidewall height than a 55 series 195, but the 205 is acutally a bit shorter. I noticed this when comparing my Toyos to the stock Michelins. The Nokians seem to be even a bit taller than the Michelins (possibly due to the deeper tread for winter), resulting in an even bigger difference (roughly 1" in overall diameter between the Toyos and the Nokians). Now according to the trusty tire diameter calculator at my club's webpage, this results in a difference of under 2% between the stock and either the tall Nokians or the short Toyos, which is considered within acceptable parameters, so the difference should not pose any problems in terms ofspeedo/odo/ECU etc.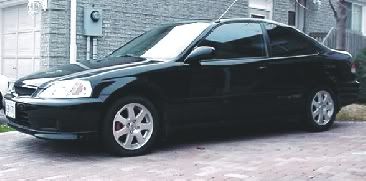 Now all I have to to is wait for them to scrub in (to test dry traction), and wait for some snow to stay on the ground (to test snow/slush/ice traction).
Update 99/11/21
After scrubbing them in I have found that dry traction on these tires is quite good. I haven't pushed them nearly as far as the Toyos (I want the Nokians to last as long as possible), but I have driven them fairly aggressively.
Overall, I would say their dry traction is pretty darn good for a snow tire, but quite a bit "squirmy". The car feels like it is floating on jello for a split second when quick maneuvers are required, like fast lane changes. Both the softer sidewall and the large, soft tread blocks attribute to this phenommenon. Again, outright grip is quite good for a snow tire, but squirmyness is the predominant impression.
Now if some snow would actually stay on the ground for me to test their snow/ice traction...
Update 99/12/01
Grip in the wet on these puppies is AWESOME. Just amazing. Better than a lot of tires in the dry. Those sipes really work...
Update 00/02/11
Grip in snow and slush is exceptional with these tires. Wheelspin and some sliding are evident during semi-aggressive accelleration and cornering, but grip is far above average, and the amount of control in snowy/slushy conditions is excellent.
Again, on wet pavement, these tires are amazing.
---