Project 1999 Civic SiR Coupe

What's New

---
09-01-14
Discover Auto Collision has moved. Check out their website at http://www.discoveryautocollisioninc.com/
---
08-11-15
WRX in winter stealth mode:
---
07-05-23
Long story short, the B16A2 in the SiR puked a rod. The result: new car, an '07 Subaru Impreza WRX Wagon. Scwheeet...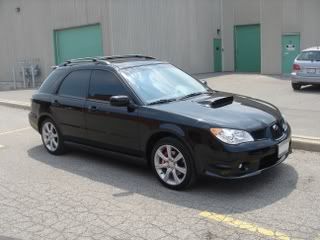 The turbo power is addictive, the versatility of the wagon body style is indespensible, and the AWD rocks in the rain and snow.
She cost a pretty penny, but the finance rates that Subaru was offering at the time, compared to Honda, meant that car that listed for almost $10,000 more than the new Si will end up costing less than half of that difference more at the end of financing.
So the SiR is gone to a new home with a nice B18C5 Type R motor swap. I'll definitely miss her...
---
07-04-10
Cribbed from the HADA Forum: The Wheel and Tire Bible.
---
06-12-21
Just a note to people in the east end of Toronto looking to get emissions tested. I used Emission Check today and the experience was as pleasant and easy as an emissions test can be. This is one of those facilities that only does emissions testing. You drive in a big bay, pop your hood and gas cap, and walk into the nice waiting area. You pay, wait for your vehicle, which you can see through the big glass windows, then walk out and drive away when it's done. Very clean facilities, very friendly staff. Warden north of Ellesmere: www.emissioncheck.ca.
I usually go to Canadian Tire for emissions testing (I don't actually know why, maybe out of mistrust of the "smaller guys"), but I had such a bad experience just trying to get the test done this time that I tried this alternative. Basically, I called Canadian Tire at Laird and Eglinton to see if they take appointments, and they said no, just come on down and we can do it. So I battle the rush hour traffic to get over there, which I managed to do within 10 minutes of calling them (its about 1km from my place) and when I get there the guy says, "we can't do any more emissions testing today, come back tomorrow". The guy was a jerk to begin with, was not apologetic at all, and not even the least bit friendly from the get-go. So, stupid me, I go back the next day as instructed. Different guy this time: "sorry, there is nobody here this evening that does emissions testing". WTF? And this guy is just as non-friendly and non-apologetic as the last guy. I would think even the most basic level of customer service would allow for an apology and some sort of effort to please a customer, but no. The guy ignored me when I first walked in then grudgingly served me when he had no other choice.
OK, since I've already started to vent, I'll go that little bit further. I bought an air pump that plugs into the lighter socket. The company I used to design for made a version of these so I know how they fail left right and centre. Mine failed after about 1.5 years, but lo and behold right in the literature that comes with it, it says 2 year warranty. So I take it back to Canadian Tire and get the, "it only has a one year warranty, so go away". WTF?
I used to go out of my way to shop at Canadian Tire (instead of, say, Wal Mart). Now I am going to have to find some other Canadian-owned place to buy my Mobil 1 and car wash soap. Any suggestions?
Vent over...but yea, Emissions Check, two thumbs up, and thanks to CTC for pushing me there...
---
Update 06-09-23
Just waxed & ready for winter. Used Mother's 3 step - highly recommended.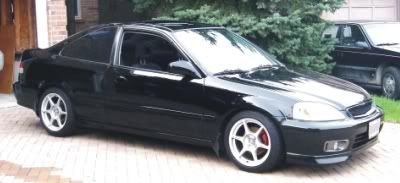 ---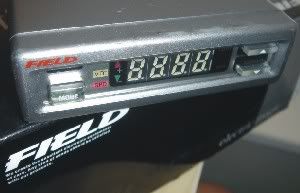 Update 06-04-02
Picked up a Field VFAC to go along with the ITR cams because VTEC switchover for the ITR cams is a bit higher than the stock switchover on the B16A2. The ITR cams are also optimized for a higher redline than the stock B16A2, but upgraded valve springs and an upgraded ECU are necessary to do this, so this will not be happening in the near future.
---
Domestic vs. Import:
From In the Lair of Consumer Reports, Jim Kenzie, Toronto Star, Saturday, March 4, 2006.
Why don't the poor-scoring companies chean up their act?
"Motivation, money and focus," summarizes [Consumer Reports Auto Center senior director] David Champion. "New-car development is where everyone wants to be; fixing existing products isn't as much fun, and it's hard to get good people to work on that."
Are the Japanese car makers really that much better at it, as the reliability results seem to indicate?
"Absolutely," says the British-born Champion. "Our ratings and our subsribers' reports back that up.
"They just seem to have a more thorough approach. They also seem to have a more reliable supplier base."
Aren't domestic and European contenders closing the gap?
"No question," says Champion.
"Our surveys indicate that when new, there isn't much difference between the manufacturers any more. But as the cars age, especially five years out and longer, we see Toyota and Honda particularly doing well, Ford is about average for all makers and about equal to BMW. The other domestics and Europeans trail, and Volkswagen is worst of all."
---
Cool Video:
History of the Type R: Link.
---
Update 06-03-04
Woo hoo! Integra Type R cams, 2001 (the good ones).

---
Tech Link
How to identify Honda VTEC cams: http://www.ff-squad.com/tech/temp/VtecCams.htm
B-series cam spec page: http://www.allmotorhonda.com/techpages/camspecs.htm
(Yes, I'm picking up a set of ITR cams...grin...)
---
News Link
Hondas win car, truck of the year: Link.
From http://en.autos.sympatico.msn.ca.


---
Tech Link
Very informative wheel tech info page: www.rsracing.com/tech-wheel.html
---
Honda Civics Top Stolen Vehicle List
From: http://autonet.ca/Insurance/story.cfm?story=/Insurance/2005/11/30/1330673.html
The Insurance Bureau of Canada has released its latest list of Canada's most-stolen vehicles and four of the top 10 spots are occupied by Civic models.
The Top Ten stolen vehicles are:
1. 2000 Honda Civic SiR 2-door
2. 1999 Honda Civic SiR 2-door
3. 1996 4 wheel drive Chevrolet/GMC Blazer/Jimmy S Series 2-door
4. 1994 Honda Civic Si Hatchback 2-door
5. 1993 Volkswagen Corrado 2-door
6. 1995 Honda Civic Si Hatchback 2-door
7. 1992 Chrysler/Dodge Caravan and Voyager
8. 2002 all wheel drive Subaru Impreza WRX, 4-door
9. 1999 Volkswagen Golf GTI Hatchback 2-door
10. 1993 Honda Civic Si hatchback 2-door
---
Update 05-11-20
Consumer Reports Best and Worst in Reliability
Of the 31 cars that earned top rating, 29 were Japanese. Of these, 15 were from Toyota and its Lexus division and eight were from Honda. Some redesigned or new Japanese models from Toyota and Honda, however suffered "first-year blues." The new Scion tC and the redesigned 2005 Acura RL, Toyota Avalon, and Honda Odyssey earned only average reliability scores, for example.
Of the 48 cars that earned the lowest rating, 22 carry American nameplates, 20 are European, 4 are from Japan (all from Nissan and its Infiniti division), and 2 are from South Korea.
Some European models, which have had poor reliability in our previous surveys, improved slightly. The six-cylinder BMW X5 and X3, for example, earned average Ratings and are now the first European SUVs reliable enough to be recommended. However, most European models still scored far below average.
Hybrids from both domestic and Japanese manufacturers continue to have above-average reliability, including the Honda Accord and Civic Hybrids, the Toyota Prius, and the Lexus RX400h, which received top scores.
Most reliable (Vehicles listed in scoring order, starting with the best score.)
SMALL CARS: Toyota Echo, Honda Civic (2005), Toyota Prius, Honda Civic Hybrid (2005), Toyota Corolla, Subaru Impreza (non-turbo)
Least reliable (Vehicles listed in scoring order, starting with the best score.)
SMALL CARS: Chevrolet Cobalt
---
Update 05-11-05
Received a set of replacement sleeves from Omnipower for the front coilovers. It seems that some of them have been cracking and tearing apart, so Omnipower made new stronger ones and will send customers out a set as long as the customer sends the old ones back.
The new sleeves have a much thicker wall thickness around the base of the stub (roughly 13mm vs. the old one which was approximately 3mm), a longer stub, and more threads inside the sleeve. Overall wall thickness seems thicker, as well. Image shows old sleeves on top, new on bottom.
Upon closer inspection of my old sleeves, it appears one was beginning to crack (right one in photo), and the other had stress marks and was about to start cracking (left one in photo). Good thing I got the replacements when I did.
Two thumbs up to Omnipower for realizing their error and doing something about it. These coilovers have been great otherwise. If you are looking for a reasonably inexpensive coilover, and do not mind a lack of damping adjustability, these are the ticket.

---
Archive of "What's New"
---
What is a Civic "SiR"?
This is the Canadian model Civic SiR, which is basically the same as the U.S. 1999-2000 Si, but the SiR has ABS and heated side mirrors.
In 1996, American Honda dropped the Si badge and called the top of the line Civic model the EX (127hp SOHC VTEC D16Y8 engine). Honda Canada continued to use the Si badge for the exact same car (127hp SOHC VTEC D16Y8).
I would guess that Honda Canada looked at the fact that the '92 to '95 125 horsepower D16Z6 Civic Si coupe was essentailly the same car as the '96 127 horsepower D16Y8 coupe (the engines are almost identical) and decided that the Si badge should stay.
When Honda decided to bring the DOHC VTEC 160hp B16A2 Civic to North America, American Honda ressurected the Si badge, while Honda Canada used the SiR badge, since they were still selling a Civic called the Si.
So for 1999 and 2000, Canadian Si = US EX, Canadian SiR = US Si. The same is true for the new 2002 and later civic hatchback - the Canadian model is the SiR, and the US model is the Si.
2006 marks the end of the SiR badge in North America with the introduction of the 2006 Si coupe in Canada and the United States.
---


Contents:
Reviews:
Tech: