AUTO
what's new
autocross
reviews
tech
mods
why?
links
forum
contact

---
---
---
---
Product Reviews
---
Toyo Proxes T1-S 205/50R15
The Toyo Proxes T1-S is an ultra-high performance summer tire designed for optimum traction in both wet and dry conditions. This tire was the spec tire for the Speedvision World Challenge previous to the adoption of the RA-1.
The tires were purchased for my 1999 Civic SiR from Steelecase Tires 'n Mags on Steelecase Road north of Finch, west of Woodbine. They replaced my worn out Toyo Proxes FZ4 all season tires that were worn out after about four summers.
Purchased in May 2001, these tires are pretty much at the end of their useable life, after three summers and approximately 40,000kms of use. They saw only summer duty, as well as two autocross events this season. This is a summer only tire; if you live in an area that sees below freezing temperatures during the winter, you will need to run winter tires as the grip with the T1-S falls off sharply when temperatures approach freezing.
These tires have a remarkable amount of grip, wet or dry. They have large, v-shaped grooves that allow water to disperse to the outside of the contact patch, preventing hydroplaning. There is also a solid ridge of rubber down the centre of the tread, and large, solid tread blocks at the edges/shoulders of the tread that together resist the squrim normally associated with a tire with such large grooves. These factors, combined with a sticky but long-ish wearing silica tread compound, result in a tire that is great in both wet and dry conditions. There are several other tires on the market that take advantage of a similar "v-shaped groove with solid centre tread block" design, including the Dunlop SP9000, Goodyear Eagle F1, Yokohama AVS Sport, and the Michelin Pilot Sport (all pictured below). However, price-wise, the T1-Ss are typically $20 to $60 less per tire than these other premium name brand models.
Overall, this tire was a huge step up in grip from my previous FZ4 tires, which is to be expected when going from a high performance all season tire to an ultra-high performance summer only tire. While not as grippy as a DOT R-compound tire like Toyo's own Proxes RA-1 or the Yokohama 008RSII that I now run in Solo II (replaced in Yoko's lineup by the A032R), the T1-S has an amazing amount of traction for a tire that can last over 40,000kms.

There is sometimes a misconception that an all season tire will be better in the wet than a summer only tire, but in this case that is absolutely not true. The wide grooves and silica tread compound of the T1-s make it one of the best tires on the market for wet conditions.

There are a couple of drawbacks to consider with these tires. One is cost: there are many other lower performance all season tires out there that will last longer, and if you are the type that does not mind running an all season tire through the winter, you can save on having only one set of tires instead of two. What you will not have with this all season tire setup (vs. a set of summers and a set of true winter tires) is maximum grip in the winter (for safety), and maximum grip in the summer (for both safety and fun). That said, compared to other ultra-high performance tires, the T1-S are quite reasonable in price.

The second drawback is comfort: while these tires have a relatively soft sidewall compared to other ultra-high performace tires on the market, they are still stiffer than a typical all season tire. The result is a stiffer ride, a higher degree of tramlining, and a higher lever of tire noise when cruising, especially as the tire wears out. However, the degree of increase in harshness, tramlining, and noise is minimal, especially considering the performance advantages. In fact, my FZ4s were more noisy than the T1-Ss.

If you are looking for an ultra-high performance summer tire (which is to say you are willing to trade tread life and comfort for grip and response), these are a great choice and one of the most popular tires in this segment today. That said, I am in the market for a new set of summer tires for next season and I may be considering other options depending on price and reported tread life. If I can find a tire with almost as much grip, but lasts maybe 1/2 to 1 summer season more, or a tire with similar grip and tread life, but costs a bit less, I will go for it. However, my initial research indicates that this tire may not exist, so it is not out of the question that I may find myself on a set of new T1-S's next season (and I will not be unhappy about it).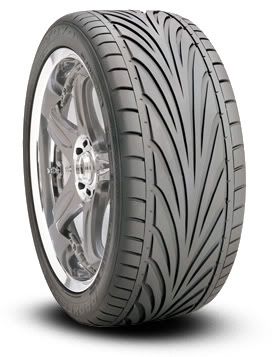 Update April 2005
With a new set of 16" wheels must come a new set of tires, and the T1-S's were quite worn out anyway. I replaced my 205/50R15 T1-S's with a set of 205/45/R16 Dunlop SP Sport FM901 tires from Steelecase Tires 'N Mags. Now, a comparison between the grip levels of the T1-S's and the FM901's may not be 100% fair, as along with the 16" wheel and tire upgrade came an Omnipower coilover suspension upgrade as well. The result is astonishing grip from the FM901's and coilovers, far beyond the grip levels of the T1-S's and stock suspension. Although it is difficult to judge, I beleive the grip of the FM901's alone is only a bit better than the T1-S's, but better nonetheless. Although the widths are the same, the shorter sidewall of the Dunlops might be contributing to this to a degree. To top it off, the Dunlops are inexpensive, too! Look for a review soon...
Toyo has replaced the T1-S at the top of their street tire lineup with a new model, the T1R (right), which is said to have more outright grip at the expense of some wet grip.
---